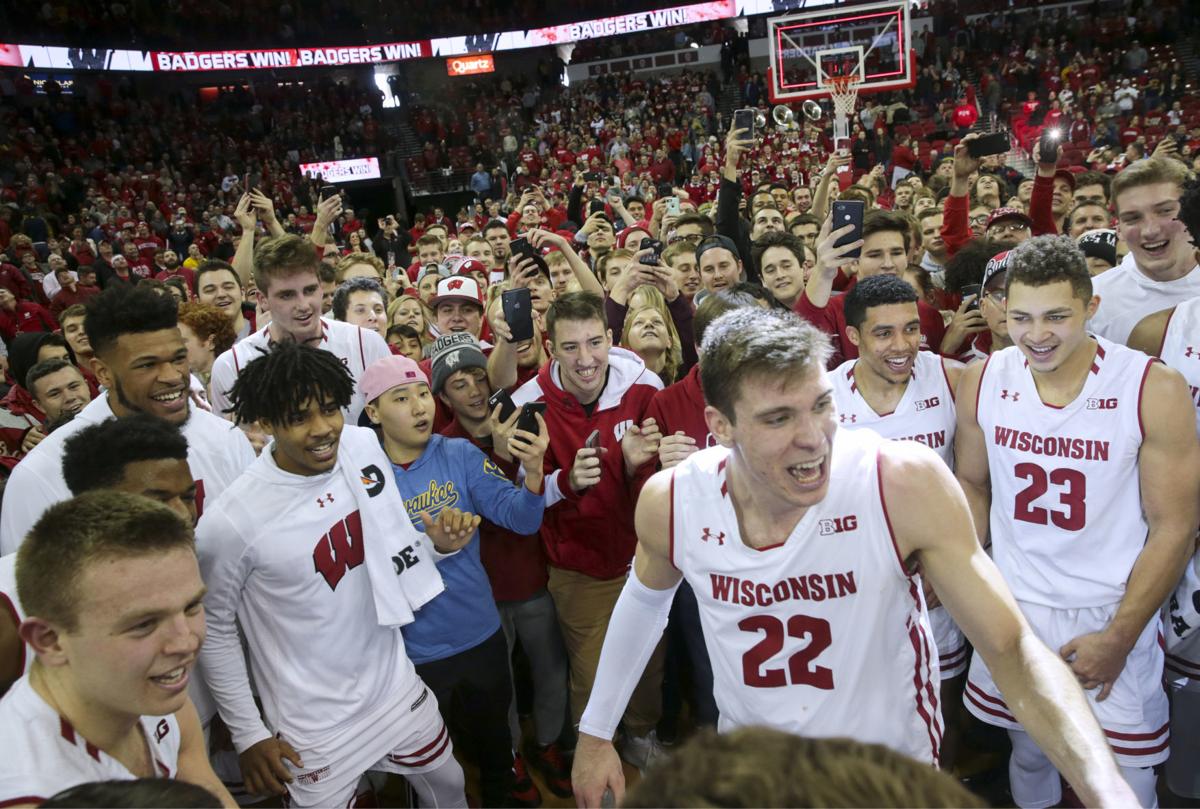 Yes, the University of Wisconsin men's basketball team finally finished off a Big Ten Conference opponent in a close game.
But the turning point in the Badgers' 64-54 victory over second-ranked Michigan Saturday at the Kohl Center came well before the closing minutes.
The sequence went like this:
With UW trailing 44-43 in a back-and-forth game, Ethan Happ spun around his taller defender for a left-handed layup, putting the Badgers in the lead for good with 7 minutes, 35 seconds to play.
Next, Happ stole the ball from Michigan point guard Zavier Simpson and dove on the floor to corral the loose ball, quickly calling a timeout before the Wolverines could tie him up.
When play resumed, Happ got the ball inside the Michigan defense and kicked it out to guard Kobe King, whose wide-open 3-point shot gave UW a 48-44 lead.
Finally, after a Michigan miss, UW had the ball out under its basket and guard D'Mitrik Trice lobbed the inbounds pass to the front of the rim, where Happ caught it and laid it in, a perfectly designed and executed play that pushed UW's lead to six and forced Michigan to play catch-up the rest of the way.
The common denominator in that game-deciding stretch? Clearly, it was Happ.
UW's 6-foot-10 senior, a preseason All-American, had a hand in almost everything UW did in the program's biggest victory since it upset No. 1 overall seed Villanova in the NCAA tournament two years ago. The win ended a string of four tough losses in five games for UW and re-affirmed the early season notion that the Badgers can compete with anyone when they play with consistency.
Wisconsin State Journal reporter Jim Polzin asked Badgers fans on Twitter what they thought of Wisconsin's stunning 64-54 win over the 2nd-ran…
UW got solid scoring from the supporting cast and played defense well enough to hold Michigan, now 17-1, to its lowest point total of the season, but Happ's effect on the game was immeasurable. His stat line − 26 points, 10 rebounds, seven assists, two steals and only one turnover − spoke volumes about his play. What it didn't say, however, was that Happ was the primary defender on freshman sensation Ignas Brazdeikis, who entered the game as Michigan's leading scorer and exited it without a point.
"Happ is not a preseason All-American, he's a postseason All-American," Michigan coach John Beilein said. "He's tremendous. He's just a difficult (matchup). We doubled him and all of a sudden you get seven assists and they're hitting 3s."
You have free articles remaining.
But Happ's most important contribution may have been his energy. When he hit the floor for the loose ball, his teammates went wild.
"That's our All-American," guard Brad Davison said. "I don't know how many All-Americans dive on the floor for loose balls, but ours does. That's something that we all feed off of. We always feed off his energy. Whether it's in games or in practice, that's the responsibility that he has. It was huge. Those little things don't go unnoticed by our team and by our coaching staff. When he has energy, it's infectious for the rest of the team."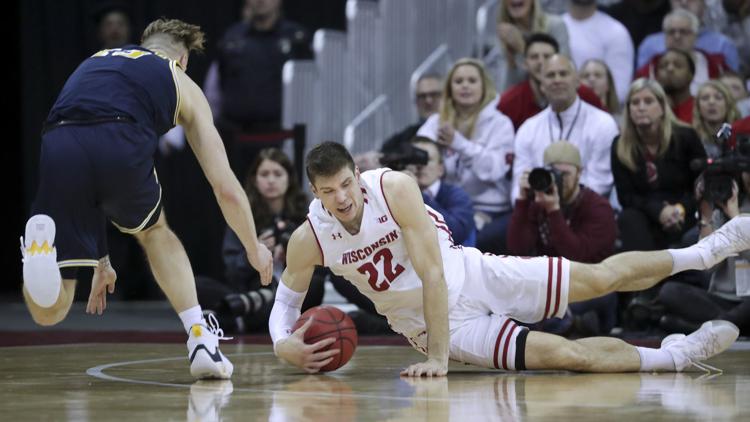 As much as the win was re-affirming for UW, it was also a sign that Happ is back. During UW's difficult five-game stretch, he struggled with turnovers and missed shots while playing against a string of NBA-bound big men. But when the Badgers needed Happ Saturday, he was there for them.
Coach Greg Gard took him out of the game at the 10:57 mark of the second half to let him catch his breath until the 8:00 television timeout. Gard ran out of patience, though, and sent Happ back in with 8:25 left.
Happ had missed five of his seven second-half shots to that point, but he was relentless the rest of the way. He made five of his final six shots and tipped in the one he missed. He also foiled Beilein's Hack-A-Happ strategy. Trailing by three points, the Wolverines twice fouled him intentionally late in the game. Though Happ went only 2-for-4 from the line, he made the first one both times to make it a two-score game.
"I thought he was a little fatigued, trying to play a little too fast," Gard said. "I put him back in just before the 8:00 media (timeout) in the second half and I thought from that point on he was terrific. He played like an All-American, played like a senior. Defensively, he did some good things on Brazdeikis, which was mostly his matchup. Not all the time, but to hold him to what he did and do some good things defensively, I thought that was a good sign. He's a big-time player that at the time when the game was on the line made some plays."
Because he did, UW can take on an entirely new outlook this season. After a stretch where its offense toggled between very good and hopelessly anemic, UW is 12-6 overall and 4-3 in the Big Ten.
The Wisconsin Badgers men's basketball team upset the 2nd-ranked Michigan Wolverines, 64-54, on Saturday at the Kohl Center in Madison. 
Could this win do what a 77-76 victory over fourth-ranked Michigan State did for UW three years ago, in Gard's first season? The Badgers were 9-9 overall and 1-4 in the Big Ten at the time, and the victory kicked off a stretch where they won 11 out of 12 games.
"I think it can have a similar effect," Happ said, "but the biggest thing for our team is to not get complacent. We played really well today, but we're not going to act like that's going to automatically carry over. We have to do it in the next couple of days at practice and come out and play the same way every game."
If the Badgers follow the example Happ set Saturday, that just might happen.