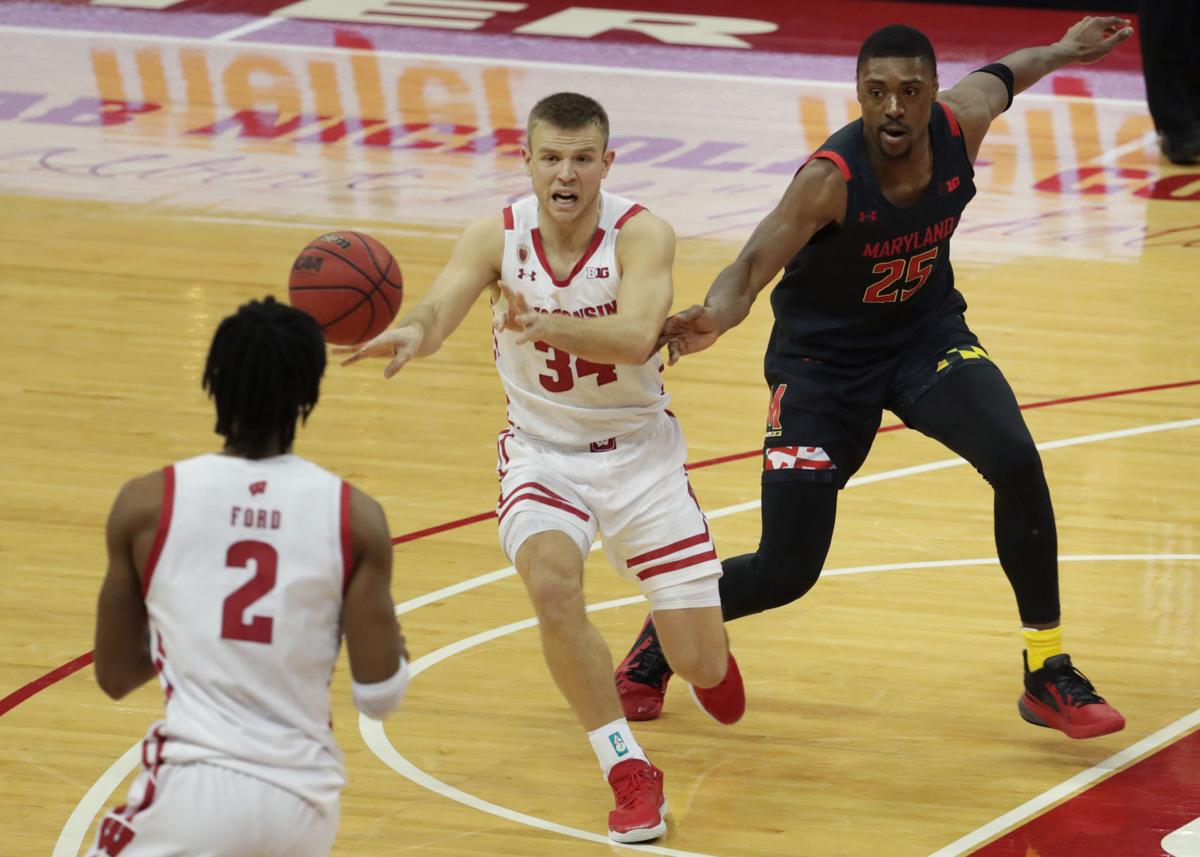 Indeed, between dousing each other with water and dancing around the room, it looked like a scene from March, not December.
That's not saying the Badgers didn't deserve to celebrate. They most certainly did. They hadn't won at Michigan State since 2004, snapping a 12-game losing streak, and they played extremely well, running up 85 points, their most at Michigan State since 1976.
Unlike the wire-to-wire excellence the Badgers showed at Michigan State, they played well only in short spurts against the Terrapins. They struggled to string together productive stretches on offense and defense. Especially on defense.
Offensive lulls happen in basketball. One way UW traditionally has worked through those lulls is by being consistent on defense. Against Maryland, they weren't up to the task.
UW didn't play particularly well in the first half but still led 28-24 at the break. However, Maryland's four-guard lineup spread out UW's defense in the second half and the Terps used penetration and high pick-and-rolls to attack the rim time after time, dousing the UW bandwagon with 46 second-half points.
"We gave up way too many points in the second half," guard D'Mitrik Trice said. "(Coach Greg Gard) told us the numbers and they were almost two points per possession and that really hurt us in the second half. They got a lot of layups and a lot of easy buckets. That's what gave them confidence and then it didn't help that we weren't scoring very much on the other end. That just leads to them getting confidence in attacking the rim and making plays for other people. Next thing you know we're down and we're trying to scrap and claw our way back."
Of course, finding consistency is elusive in basketball, especially at UW where coordinated team play is stressed on both ends of the court. The Maryland scoring binge that sent UW to its first Big Ten Conference loss wasn't just due to one thing.
The Badgers failed to match the Terps' energy in the game and didn't have what would have been an energized home crowd after the Michigan State win to help them find some. They also faced what for them was a tough matchup with Maryland's small lineup, forcing Gard to use only one of his two big men, Nate Reuvers and Micah Potter, at the same time. Finally, defense is always a work-in-progress for UW at this point in the season because players must learn to be in the right place at the right time, which made defending Maryland's small lineup a relatively new experience for this team.
Put it all together and you had one of the worst halves of defensive basketball in recent UW history.
"We've played some teams that do different things," Gard said. "I think any time you've got that many ballhandlers on the floor it puts you in a position where you end up exchanging a lot of things and playing different combinations of lineups. They played small a fair amount of both halves. I thought that at times gave us trouble even though we went to just playing one big at a time. ... Did we get spread out too much? Did we get out of our gaps too much? But you give up a 3 here and there and then you start getting nervous and you creep out a little bit more and you create some gaps. They were able to take advantage of every mistake we made."
Maryland's second-half offensive numbers were staggering and they stemmed from the Terps attacking the rim relentlessly. They missed their first five shots of the second half, then made 16 of 20 the rest of the way, including 11 of their last 12. They were 18-for-20 on layups and dunks for the game. They scored 26 of their 38 points in the paint and shot 12 of their 15 free throws in the second half.
"We got some things going on the break and then we just started moving," Maryland coach Mark Turgeon said. "I've been on these guys since the Clemson game to move their bodies, move the ball, cut hard. It's not hard to do. We started cutting harder. We started changing sides with the ball. We started making good reads and putting pressure on them with the dribble. That was really the difference."
If history is any indication, the Badgers will find an answer for that at some point this season. Monday, they had none.
"I think we got a little spread out," forward Aleem Ford said. "There's going to be mistakes defensively, but I felt like as a team defense we weren't in the right spots for each other. Of course, they're going to punch gaps and I thought we could have done a little better job of closing those gaps, being helpside and trying to negate those drives really. They did a good job of moving the ball, attacking the rim and looking for other guys."
Clearly, UW's defense is not yet up to par. When it finds its consistency, there will be plenty of reason to celebrate.
---
Photos: Badgers come up short against Terrapins