There is an interesting phenomenon regarding Big Ten Conference men's basketball that occurs every year about this time.
No matter what happened the season before, no matter what the conference returns in terms of elite players and veteran teams, experts from around the nation look at the Big Ten prior to the season and see a lot of good and very little great.
With the exception of Michigan State, which is ranked No. 1 in The Associated Press preseason Top 25 poll for the first time, a similar thing has happened this season. The Spartans are capable of breaking the Big Ten's 19-year NCAA championship drought, but the rest of the conference draws a large yawn. As usual, people just don't see many elite teams in the Big Ten.
Heck, maybe there aren't any elite teams in the Big Ten. But it's interesting to see where the conference stood entering last season and compare it to the start of this season.
The Big Ten landed only four teams in the 2018 NCAA tournament, its lowest number since it also had four in 2008 and cause for considerable alarm in Big Ten country. Michigan reached the 2018 national championship game, but the other three Big Ten teams went 4-3 and didn't get past the first weekend.
When it came time to choose the preseason Top 25 a year ago, the results showed how unimpressed the voters were with the conference. Only three teams — Michigan State, Michigan and Purdue — earned spots in the poll last October.
Fast forward to the end of the 2018-19 season and the conference, despite those low expectations, put eight teams in the NCAA tournament, more than any other league and a record for the Big Ten. The conference did well once it got there, too. Every team except the University of Wisconsin won at least one game, its overall tournament record was 13-8 and three teams — Michigan State, Purdue and Michigan — reached the second weekend, with the Spartans advancing to the Final Four.
It wasn't just the postseason where the Big Ten showed up, either. The conference flexed its muscle in the kenpom.com computer rankings, with 11 teams finishing in the top 52 and no team lower than 84th. For comparison purposes, the Pac-12 had six teams ranked 94th or lower and the ACC had five ranked 97th or lower.
But was the Big Ten's impressive show of strength reflected when the Top 25 preseason poll came out two weeks ago? Nope. The conference had just four teams in the poll — Michigan State first, Maryland seventh, Ohio State 18th and Purdue 23rd. Only two other teams — Illinois and Michigan — even received votes.
And when the preseason all-America selections came out, Michigan State point guard Cassius Winston was a unanimous choice on the five-man team, but Penn State forward Lamar Stevens was the only other conference player who received a vote.
None of this matters, of course. The polls only generate discussion — everywhere except the NCAA selection committee suite, that is.
But it has become apparent by now that the only thing that will convert the naysayers is a national championship for the Big Ten. There likely will be nine or 10 conference teams in the hunt for an NCAA bid this season, but that's not how conferences are measured. Right or wrong, national championships are how conferences are measured.
It's not like the Big Ten hasn't had its chances. Last year was the eighth trip to the Final Four for Michigan State under coach Tom Izzo. In the past 19 seasons, Michigan (twice), Michigan State, UW, Ohio State, Illinois and Indiana have reached the national final. The Big Ten has put 14 teams in the Final Four since 2000, tying the ACC for the best mark during that time. But it's titles that count and the ACC has won seven of them since 2000, three each by Duke and North Carolina and one by Virginia last year.
With that in mind, Michigan State might be the Big Ten's best chance in years to win the conference's first NCAA title since the Spartans did it in 2000. Izzo's team returns Winston, the reigning Big Ten Player of the Year, along with power forward Xavier Tillman and wing Aaron Henry, both of whom played very well down the stretch last season. If wing Joshua Langford can come back from a foot injury that will sideline him until at least January, the Spartans will be loaded.
Elsewhere, Maryland and Purdue return deep, veteran teams that could get into the national discussion. Ohio State and Illinois are expecting breakthrough seasons under third-year coaches. And you can't really have a Big Ten race without UW involved, can you?
Whatever happens, the Big Ten will be entertaining. Going to a 20-game conference schedule last year was a huge success. It generated a great race for the regular-season title and helped all Big Ten teams increase their strength of schedule, important when the NCAA hands out tournament bids.
But until the day comes when someone hands out the NCAA championship trophy to a Big Ten team, the conference won't get the respect it deserves.
Top five NCAA tournament locks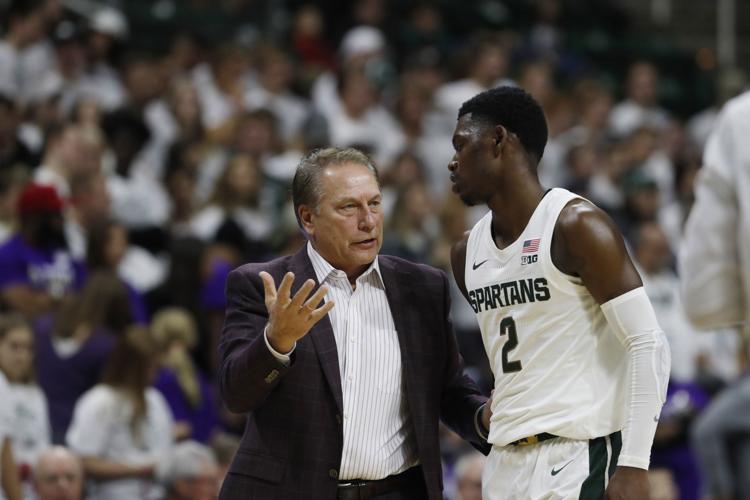 1. Michigan State: The Big Ten title has already been conceded to the Spartans. It's the NCAA title they're after.
2. Maryland: With an elite point guard and dominant big man, Terps are covered at the two most important positions.
3. Purdue: How critical was Carsen Edwards to Boilermakers' success? We'll find out as most of the others return.
4. Ohio State: Big Ten's best freshman class should lead to a breakthrough season in Chris Holtmann's third year.
5. UW: All-American Ethan Happ is gone and returning group is largely unknown. Expect that to change in a hurry.
Top five teams on the NCAA bubble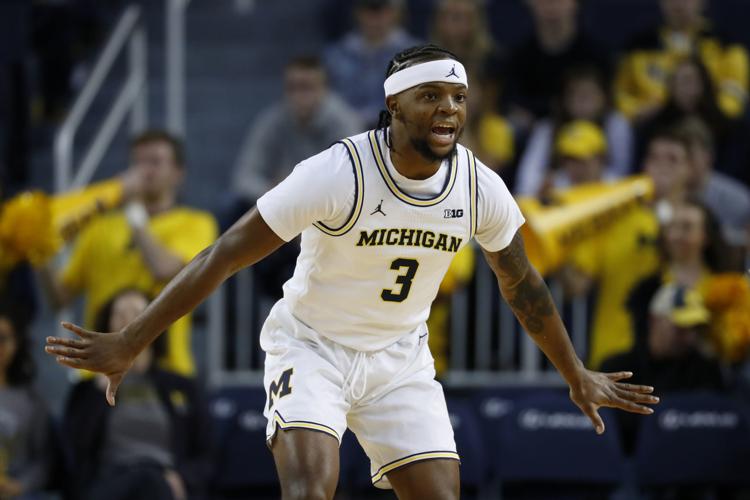 1. Michigan: Zavier Simpson (above) is a great leader, but the top three scorers all left school early for the NBA draft.
2. Illinois: Brad Underwood has his system in place and a stable roster, making the Illini the Big Ten's wild card.
3. Iowa: There is uncertainty following point guard Jordan Bohannon's hip surgery, but Hawkeyes are solid elsewhere.
4. Penn State: With depth, experience and a star in Lamar Stevens, Nittany Lions could land first NCAA bid since 2011.
5. Indiana: Romeo Langford and Juwan Morgan are hard to replace, but Hoosiers should be bigger, stronger inside.
Top five coach of the year candidates
1. Tom Izzo, Michigan State: Solid veterans inside and outside could result in Izzo's first NCAA title since 2000.
2. Chris Holtmann (above), Ohio State: Buckeyes have been good in his first two seasons, but now he has his house in order.
3. Brad Underwood, Illinois: Illini haven't been good in his first two seasons, but he, too, has his house in order.
4. Greg Gard, UW: Expectation are low due to loss of Ethan Happ. Then again, expectations are always low for Badgers.
5. Steve Pikiell, Rutgers: Deeper Scarlet Knights could surprise despite Eugene Omoruyi's late transfer to Oregon.
Top five coaches with something to prove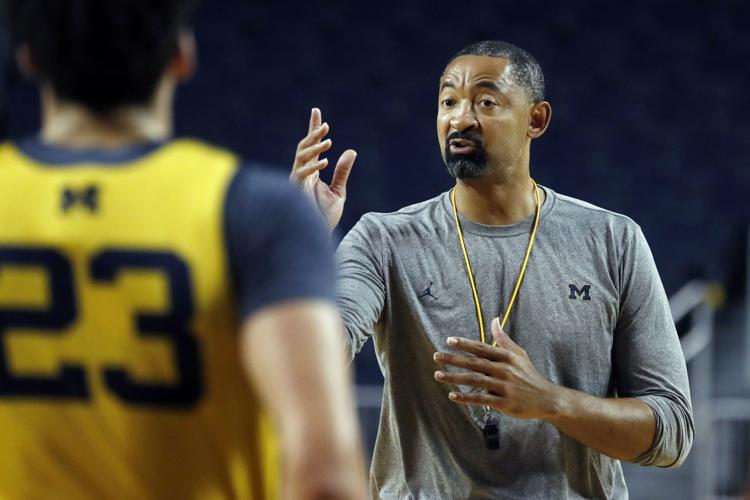 1. Juwan Howard (above), Michigan: Filling John Beilein's shoes would be hard for someone who has college coaching experience.
2. Mark Turgeon, Maryland: Turgeon always has talent, but Terps have made the Sweet 16 just once in his eight years.
3. Chris Collins, Northwestern: That NCAA tournament bid in 2017 seems like a long way off for rebuilding Wildcats.
4. Archie Miller, Indiana: Hoosiers are 35-31 in Miller's two years and Indiana fans aren't known for their patience.
5. Patrick Chambers, Penn State: Eight years is a long time to go without an NCAA bid. Nine might be too much to ask.
Top five point guards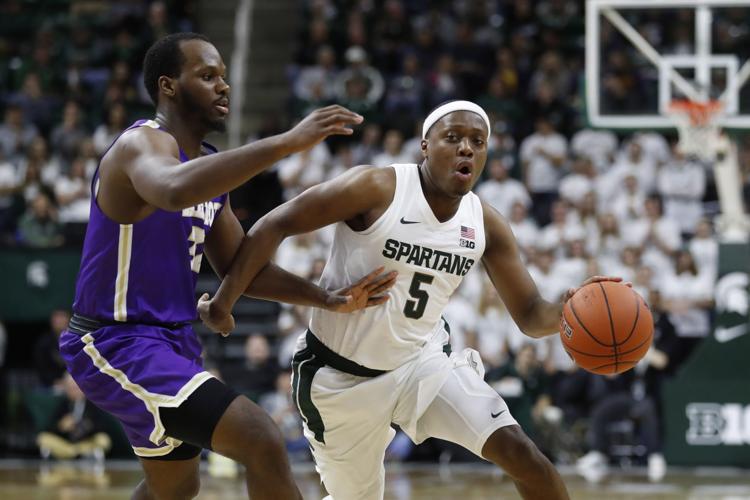 1. Cassius Winston (above), Michigan State: Next step for reigning Big Ten Player of the Year will be to improve his defense.
2. Anthony Cowan, Maryland: Terps' leading scorer the past two seasons must reduce turnovers, improve 3-point shooting.
3. Ayo Dosunmu, Illinois: Big Ten's most exciting player will be asked to do it all night, every night as a sophomore.
4. Zavier Simpson, Michigan: The ultimate team leader, Simpson will need to upgrade his scoring during senior season.
5. Geo Baker, Rutgers: Junior can score, distribute and defend. All he needs to do now is cut back on his turnovers.
Top five transfers
1. Jahaad Proctor (above right), SG, Purdue: Grad transfer helps fill Carsen Edwards void after averaging 19.5 points at High Point.
2. Micah Potter, C, UW: When the Ohio State transfer becomes eligible, he's a physical, experienced big who can shoot.
3. Akwasi Yeboah, SF, Rutgers: Hot-shooting grad transfer from Stony Brook was first-team America East Conference pick.
4. Cam Mack, PG, Nebraska: Junior-college transfer signed with St. John's but will now lead Fred Hoiberg's uptempo game.
5. Marcus Carr, PG, Minnesota: Sit-out transfer led Pitt in assists and steals during his freshman season two years ago.
Top five player of the year candidates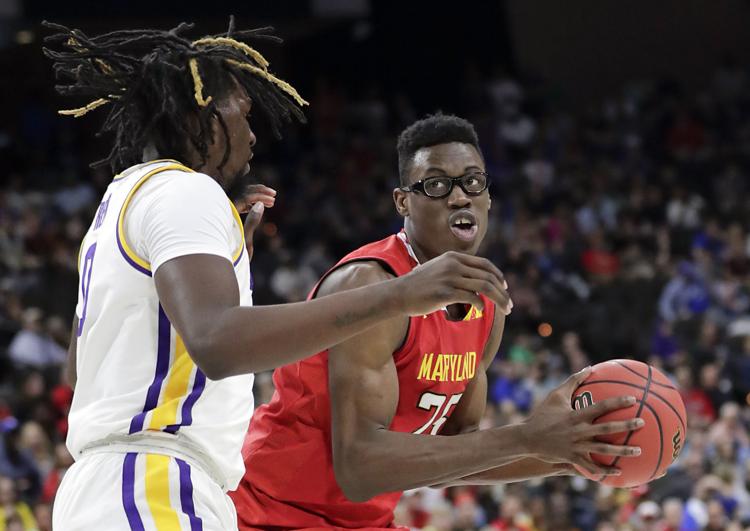 1. Cassius Winston, PG, Michigan State: Winston is a scorer, passer and leader who enters final season on a mission.
2. Jalen Smith (above), PF, Maryland: Smith considered jumping to the NBA but should explode with one season under his belt.
3. Lamar Stevens, SF, Penn State: Tough-minded competitor carried Nittany Lions on his back throughout last season.
4. Xavier Tillman, PF, Michigan State: Nick Ward's injury opened the door for Tillman last year and now Ward is gone.
5. Anthony Cowan, PG, Maryland: Cowan has some Cassius Winston in him. If he has big junior year, Terps could contend.
Top five freshman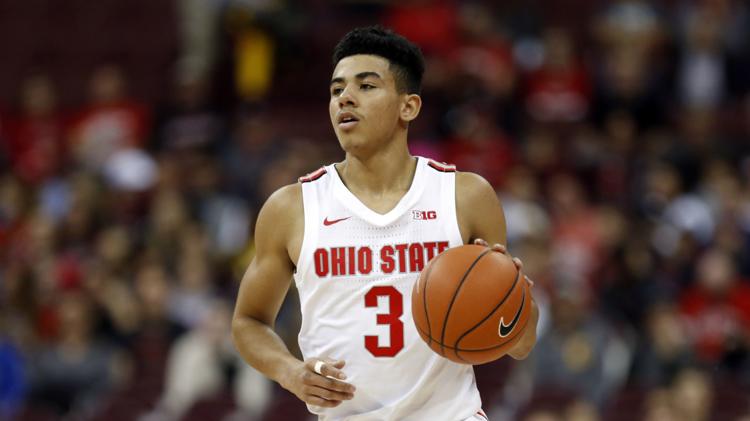 1. Trayce Jackson-Davis, PF, Indiana: Son of ex-NBA player Dale Davis is only 2019 McDonald's All-American in Big Ten.
2. D.J. Carton (above), PG, Ohio State: It's only a matter of time before instinctive Carton takes over for transfer CJ Walker.
3. E.J. Liddell, PF, Ohio State: His versatile offensive game and shot-blocking ability should land him a major role.
4. Franz Wagner, SF, Michigan: Franz isn't as tall as older brother Moritz but could start due to his outside skills.
5. Rocket Watts, SG, Michigan State: His shooting will be needed immediately with Joshua Langford out until January.
Top five breakout players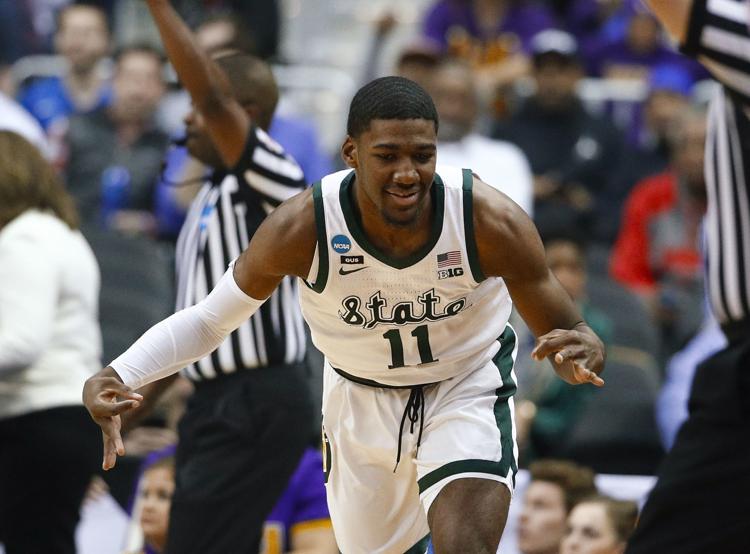 1. Aaron Henry (above), SF, Michigan State: The 6-foot-6 wing showed late in season he can score, rebound and defend.
2. Aaron Wheeler, PF, Purdue: Athletic swing forward oozed potential despite seeing limited action as a freshman.
3. Isaiah Livers, SF, Michigan: With top three scorers gone, Wolverines will turn to Livers, a 3-point specialist.
4. Kobe King, SF, UW: A knee injury held him back, but added confidence should bring out versatile offensive game.
5. Rob Phinisee, PG, Indiana: Natural-born leader started fast as a freshman but faded after suffering a concussion.
Top five shooting guards
1. Joe Wieskamp (above), Iowa: Unexpected player absences should leave Wieskamp, a 42.4% 3-point shooter, with plenty of shots.
2. Joshua Langford, Michigan State: Terrific talent played only 13 games last year and is out until January this year.
3. Devonte Green, Indiana: Senior shot 41% from 3, but he'll be asked to do more than fire away from outside this year.
4. Trent Frazier, Illinois: After ceding the point guard spot to Ayo Dosunmu, junior shot 40.6 percent from 3-point land.
5. Brad Davison, UW: Junior will be a full-time shooting guard this season, which should aid his long-range consistency.
Top five small forwards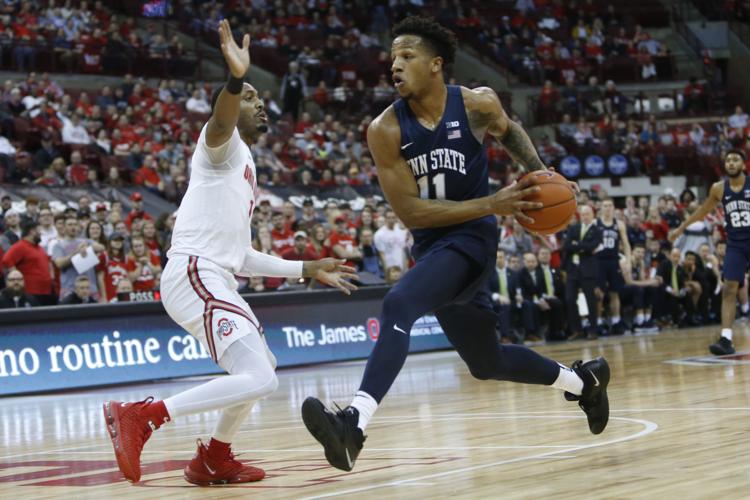 1. Lamar Stevens (above), Penn State: Conference's most well-rounded big was second in scoring, seventh in rebounding in Big Ten.
2. Aaron Henry, Michigan State: Versatile sophomore came on late and already has Tom Izzo talking about his NBA future.
3. Nojel Eastern, Purdue: An elite defender and rebounder for the position, junior is expected to expand offensive game.
4. Isaiah Livers, Michigan: Big Ten's leading 3-point shooter at 42.6% as a sophomore, Livers will take on a larger role.
5. Jerome Hunter, Indiana: After missing freshman season with a leg injury, versatile scorer finally is back practicing.
Top five power forwards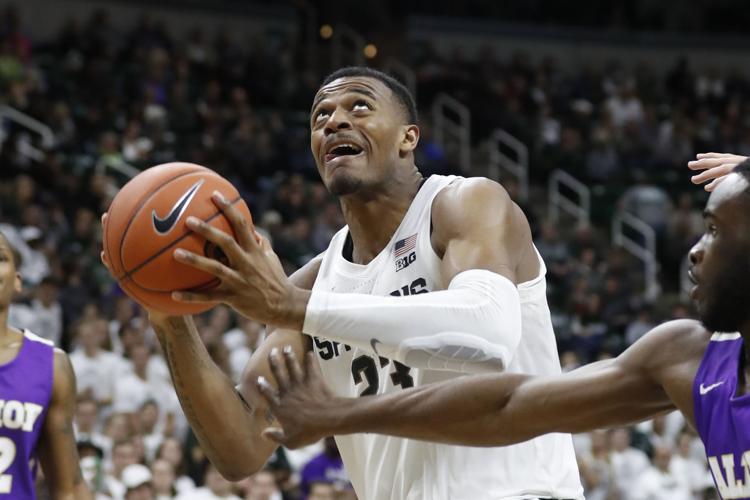 1. Jalen Smith, Maryland: Averages of 11.7 points and 6.8 rebounds as a freshman should soar with Bruno Fernando gone.
2. Xavier Tillman (above), Michigan State: After averaging 13.3 points and 8.1 rebounds in last 13 games, he is ready to rumble.
3. Nate Reuvers, UW: Someone has to fill Ethan Happ's shoes and junior has worked on his body and his game for two years.
4. Trevion Williams, Purdue: Athletic big was great in stretches last season, will play more in tandem with Matt Haarms.
5. Giorgi Bezhanishvili, Illinois: Sophomore can finish inside and shoot from outside, which he'll do more of this year.
Top five centers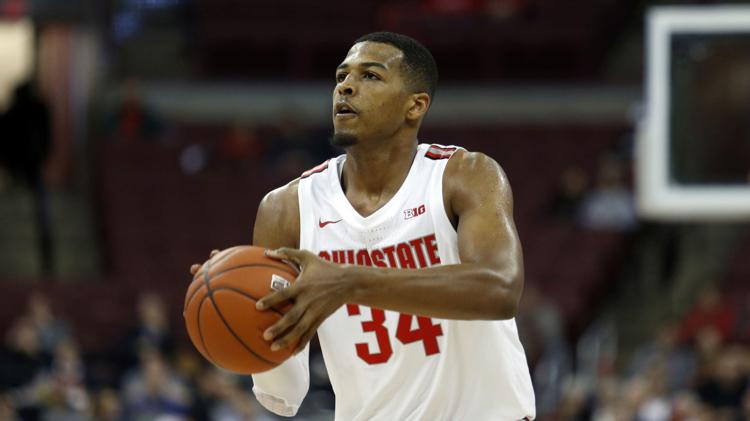 1. Kaleb Wesson (above), Ohio State: Returned after testing NBA waters and is working on becoming more than a low-post scorer.
2. Matt Haarms, Purdue: The 7-footer led Big Ten in blocked shots at 2.1 per game and in field-goal shooting at 63.2%.
3. Luka Garza, Iowa: Showed nice touch by scoring 13.1 points per game but must make more impact as defender, rebounder.
4. Daniel Oturu, Minnesota: Sophomore can do it all — score, rebound, block shots. Now he has to do more of all three.
5. Jon Teske, Michigan: He's expected to become more of a low-post scorer and who better to learn from than Juwan Howard?
Top five rebounders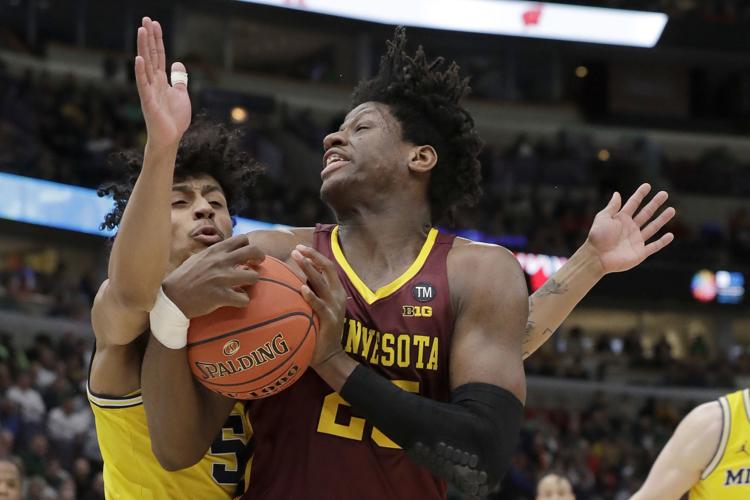 1. Lamar Stevens, SF, Penn State: Swing forward is Big Ten's top returning rebounder after averaging 7.7 boards per game.
2. Daniel Oturu (above), C, Minnesota: His 7.0 average was amazing since sidekick Jordan Murphy left few rebounds for anyone else.
3. Xavier Tillman, PF, Michigan State: Became the beast on the boards the Spartans needed after Nick Ward went down.
4. Mike Watkins, C. Penn State: Productivity has never been Watkins' problem. Availability has been an issue, though.
5. Jalen Smith, PF, Maryland: Averaged 6.8 rebounds despite frequent foul trouble and limited minutes as a freshman.
Top five defenders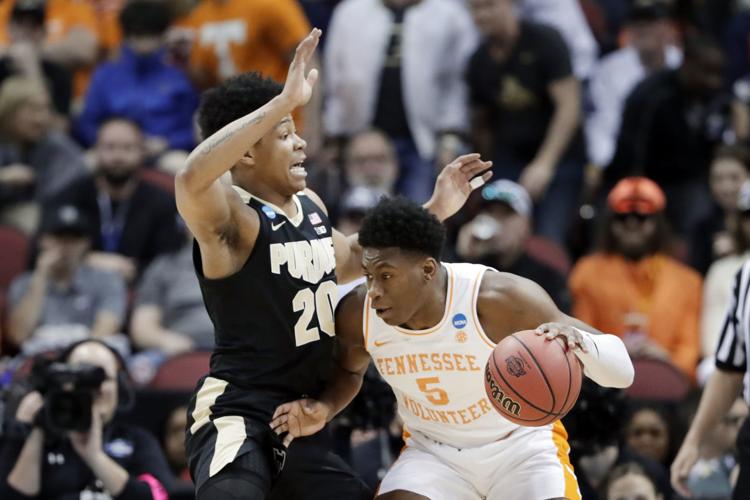 1. Zavier Simpson, PG, Michigan: A lockdown defender who finished fourth in the Big Ten in steals with 1.4 per game.
2. Nojel Eastern (above left), SF, Purdue: The 6-foot-6 junior swingman can guard any position on the floor except maybe center.
3. Matt Haarms, C, Purdue: At 7-foot-3, he led Big Ten in blocked shots with 2.1 per game and altered many others.
4. Geo Baker, PG, Rutgers: Scarlet Knights' do-everything leader was second in the Big Ten with 1.6 steals per game.
5. Nate Reuvers, PF, UW: Was fourth in Big Ten with 1.8 blocked shots per game and has improved his strength, quickness.
Top five shooters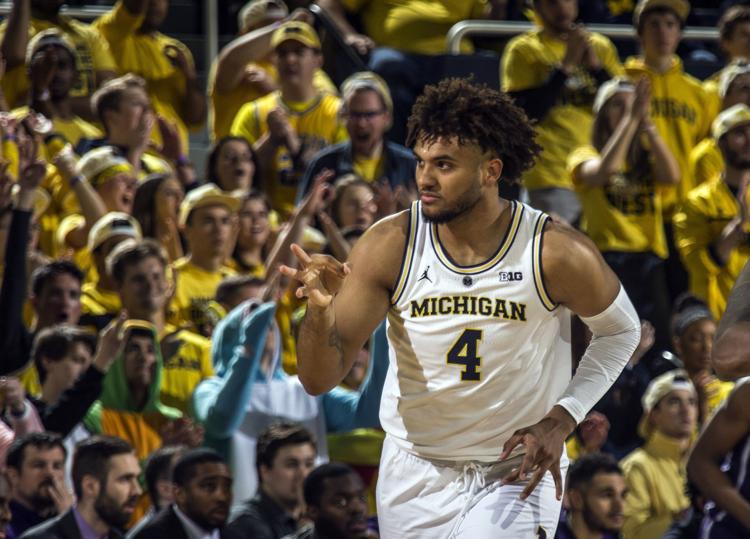 1. Isaiah Livers (above), SF, Michigan: Led Big Ten with 42.6% from 3-point arc but will get more defensive attention this year.
2. Joe Wieskamp, SG, Iowa: Sophomore was second in Big Ten at 42.4 percent on 3s and might be conference's purest shooter.
3. D'Mitrik Trice, PG, UW: Junior led nation in 3-point percentage early on, now he must sustain it for 30-plus games.
4. Aaron Wiggins, SG, Maryland: Shot 41.3 percent from 3 as a freshman sixth man and his role will only increase.
5. Gabe Kalscheur, SG, Minnesota: Hit 41% of his 3s to rank eighth in Big Ten and looks to build on that as sophomore.
Top five non-conference games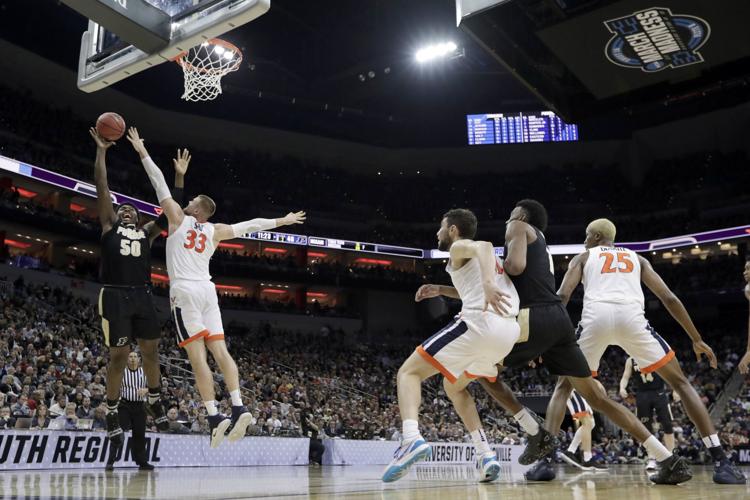 1. Michigan State vs. Kentucky, Nov. 5, New York: Spartans, No. 1 in the preseason poll for the first time, open against No. 2 Wildcats.
2. Virginia at Purdue, Dec. 4: Many of the faces have changed, but a rematch of last year's Elite Eight doozy (above) qualifies as must-see TV.
3. Duke at Michigan State, Dec. 3: Spartans vs. No. 4 Blue Devils also features Cassius Winston vs. Tre Jones, two elite point guards.
4. Villanova at Ohio State, Nov. 13: No. 10 Villanova is just the start for No. 18 Buckeyes, who play North Carolina and Kentucky later.
5. Maryland at Seton Hall, Dec. 19: Seventh-ranked Terps' non-conference schedule is a breeze, except for a game at No. 13 Seton Hall.
Top five conference games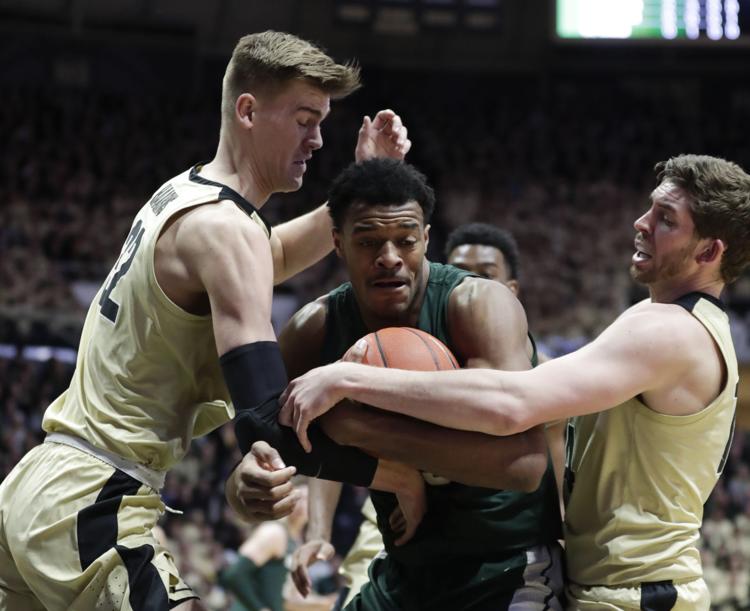 1. Michigan State at Purdue, Jan. 12: Spartans suffered first Big Ten loss at Purdue last year and this is the teams' only meeting.
2. Michigan State at Maryland, Feb. 29: The teams meet two weeks earlier in East Lansing, but second game could decide Big Ten title.
3. Purdue at Maryland, Jan. 18: Another battle of contenders that meet only once, only this time the Boilermakers are on the road.
4. Illinois at Maryland, Dec. 7: Early part of Big Ten schedule lacks marquee matchups, but this one should tell if Illini are legit.
5. Purdue at Ohio State, Feb. 15: Another expected contender that the Boilermakers face just once. Is anyone noticing a pattern here?
Five toughest conference schedules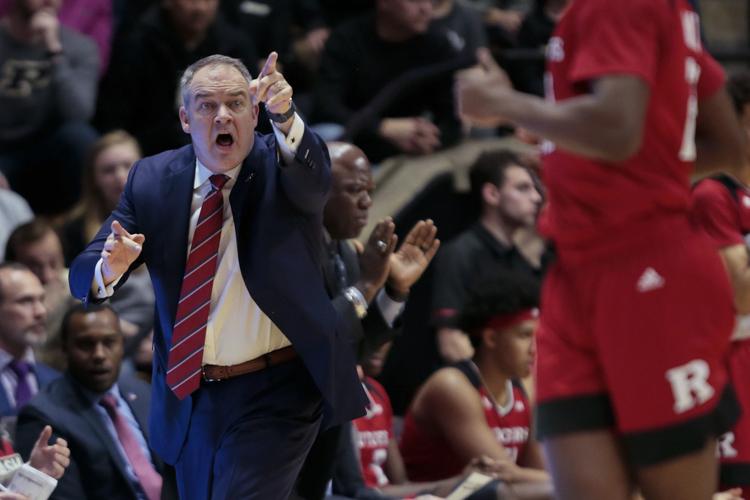 1. Rutgers: Knights have home-and-homes with Illinois, Maryland, Michigan, Purdue and UW, plus games at Iowa, Michigan State, Ohio State.
2. Michigan: Double-plays include Illinois, Iowa, Michigan State, Ohio State and Purdue, plus the one game with Maryland is on the road.
3. Illinois: Half of the Fighting Illini's 20 games are against likely NCAA teams Michigan State, Maryland, Purdue, Michigan and Iowa.
4. Michigan State: Spartans face Purdue and Indiana only on the road. Those two dealt MSU three of its four Big Ten losses last year.
5. Nebraska and Northwestern: Other than their two meetings, it's hard to find another possible win on the schedule for either one.
Five easiest conference schedules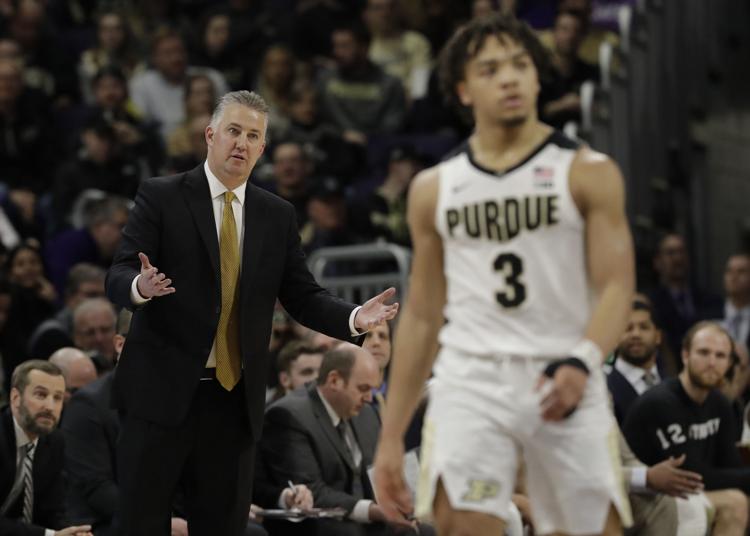 1. Purdue: Boilermakers play the other three Big Ten teams in preseason top 25 — Michigan State, Maryland, Ohio State — just once each.
2. UW: Badgers could set themselves up nicely if they take care of business in home-and-homes with Indiana, Minnesota, Nebraska, Rutgers.
3. Ohio State: Buckeyes play Illinois, Purdue, Iowa and Michigan State only once each, giving them ample opportunity to make a run.
4. Iowa: Hawkeyes' single-play games on the road are with Indiana and Michigan State and Northwestern. Hey, two out of three isn't bad.
5. Penn State: Lions get single-plays with Illinois, Maryland, UW, Michigan and Purdue, three of them at home. Time to make hay, PSU.
---
Tom Oates has been a staff member of the Wisconsin State Journal sports department for 30 years and its editorial voice for more than 15, traversing the state and country to bring readers a Madison perspective on the biggest sports stories of the day — from UW athletics to the Green Bay Packers, Milwaukee Brewers and Bucks, as well as local teams such as the Mallards and Mustangs.