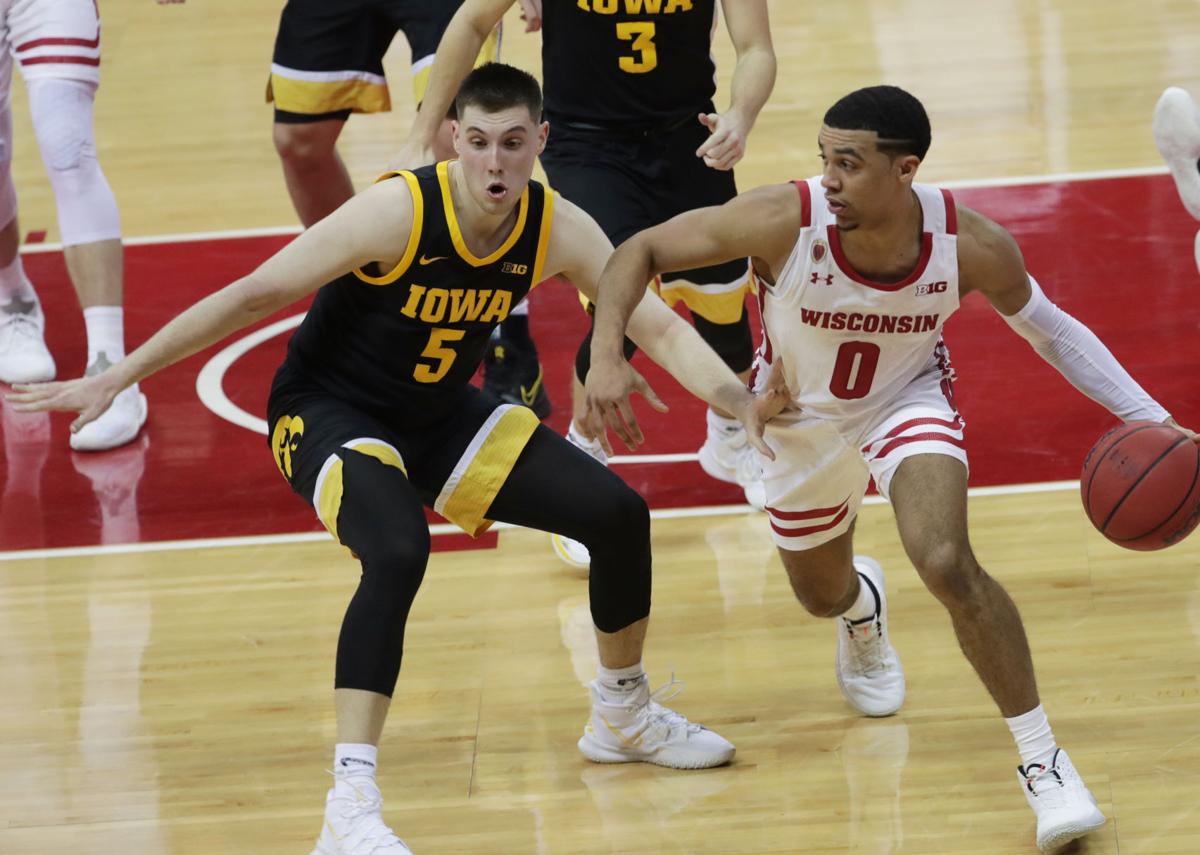 Apparently, it doesn't matter who the University of Wisconsin men's basketball team is playing, the Badgers are going to struggle on offense.
Not for the entire game, mind you. But at some point in games against the best teams on its schedule, UW has hit a deep drought and it lasts long enough to sabotage any chance they had of winning.
It happened again Thursday night, against Iowa of all teams. To put it charitably, the Hawkeyes aren't known for their defensive prowess, but that didn't matter against UW's on-again, off-again offense.
The 21st-ranked Badgers went stone cold in the first half, fell behind the 11th-ranked Hawkeyes and never could close the gap in a 77-62 defeat at the Kohl Center. For the first 15 minutes of the opening half, UW's offense looked as disjointed and ineffective as it has at any point in what has become a horribly frustrating season. Inside, outside, the Badgers couldn't hit a thing.
The loss came on the heels of UW's 67-59 home loss to third-ranked Michigan on Sunday, only in that game the timing was reversed. UW had a double-digit halftime lead over the Wolverines when its offense stalled out and Michigan passed it near the end.
Michigan is a very good defensive team and, for awhile anyway, UW made Iowa look the same. By shooting 25% (9-for-36) from the field in the first half, UW created a deficit just large enough that it couldn't come all the way back against an explosive Iowa team with the highest offensive efficiency rating in the country.
"We've struggled (on offense)," coach Greg Gard said. "That's no secret in terms of trying to score at the level we should be scoring or need to score at. I thought we had the pace where we needed to have it."
Holding Iowa's high-scoring offense in check, which UW did fairly well until the final 9 minutes of the game, depends in part on maintaining a slower pace. But sooner or later, you have to make shots and UW didn't do that in the opening half.
The exquisite scoring balance UW showed early in the season has disappeared. In the first half, center Micah Potter and point guard D'Mitrik Trice were 6-for-12 from the field. The rest of the Badgers were 3-for-24.
With 6:00 to play in the opening half, UW was 4-for-30 from the field and 3-for-12 from 3-point range. Do the math and you'll see that is 1-for-18 from inside the arc.
Iowa has 6-foot-11, 265-pound Luka Garza in the paint defensively, but he's known more for his offense than his defense. Still, the Badgers couldn't hit anything close in at the start and the frustration, as it so often does with UW when it shoots poorly in recent games, set in and soon spread to other areas on offense.
"Especially early, we had a lot of things right at the rim, which is what we wanted," Gard said. "We wanted things in the paint early, but obviously you've got to convert. ... Against this team, you can't waste possessions because they're so explosive so quickly on the other end."
The Badgers took a few rushed or ill-advised shots in the half, but most of their looks were decent. They just didn't go in, something that has happened a lot to UW during the Big Ten Conference season.
"The whole first half we were getting really good looks, not only from 3-point territory but a lot of really good looks inside, whether it was on back cut or post touches," guard Brad Davison said. "They kind of let us have what we wanted in the first half but we just weren't converting. ... I thought we took really good shots in the first half, they just didn't fall."
Potter said the Badgers weren't patient enough when they got the ball inside, rushed their shots and didn't aggressively play through contact. The outside shooting? That's been hit and miss all season.
"Very frustrating," Potter said. "Honestly, we have to stick together. That's the big thing. You can't feel sorry for yourself because then it's just going to get worse. It's something we talked about and we've just got to stay positive with everything. It's not going to be your night sometimes you're not going to shoot well, but basketball is a game of runs. You're going to go through some slumps in the game but then you'll get hot. ... So you've got to make sure you're just staying positive and shooting the next shot and staying confident."
Like many coaches, Gard doesn't talk about shooting problems much. The thinking is that shooters need to play freely and not overthink things.
The Big Ten is an unforgiving league, however, and UW's mettle will be tested as it looks ahead to the conference and NCAA tournaments next month. UW is now 0-5 against the best four teams in the conference this season.
"We're going to continue to work, we're going to keep believing in each other and we're going to stay committed and stay together," Davison said. "You win as a team, lose as a team. That's one thing about being in this league is you get everyone's best shot and you play the best teams every night. We've got to continue to stay together, continue to work together and figure things out. And, you know, March is still coming."
It's coming up fast, actually, and the Badgers had better get it together soon because the competition won't get any easier.
---
Photos: Wisconsin Badgers no match for Luka Garza and red-hot Iowa Hawkeyes