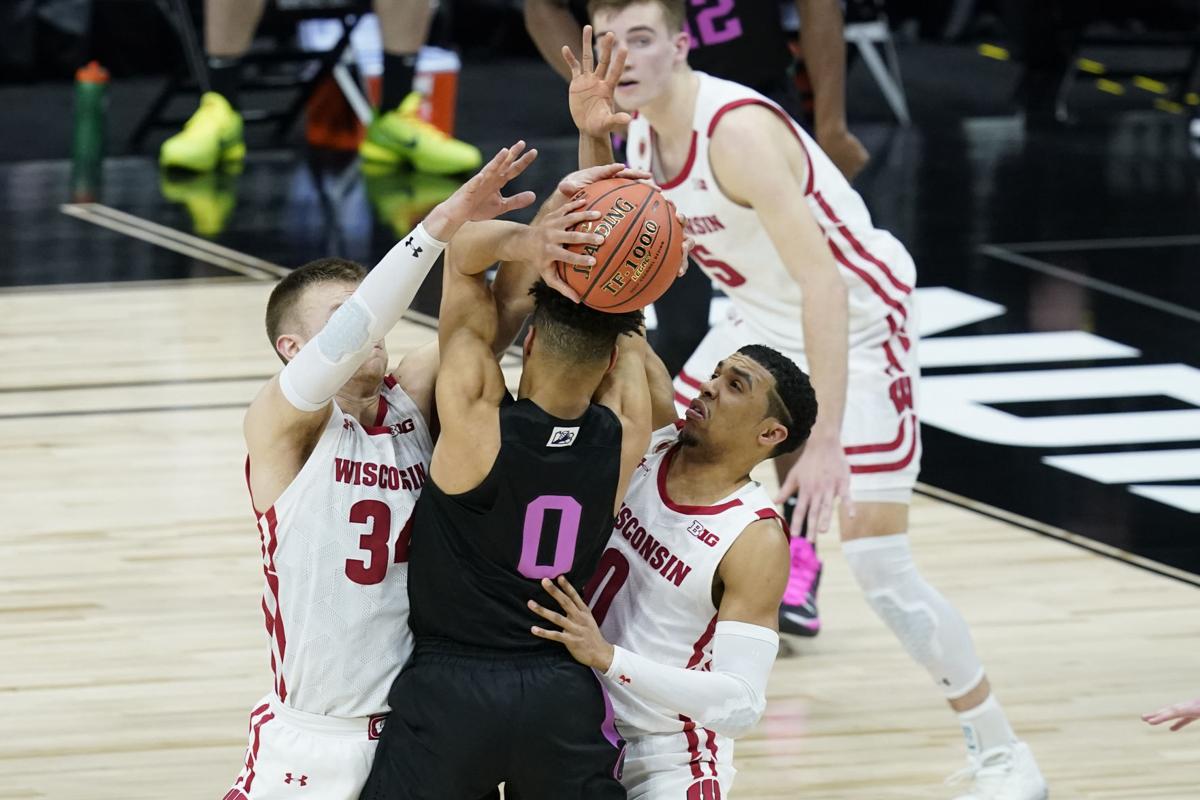 INDIANAPOLIS — The hope was that maybe, just maybe, the University of Wisconsin men's basketball team would find something beneficial in the controversial ending to its loss at Iowa Sunday.
A sense of urgency. A new resolve. A chip on its shoulder. An us-against-the-world mentality. Anything to help save a once-promising season that was fizzling out as it neared the finish line.
That's not the UW way, of course. Relying on emotions such as payback or redemption is not the approach the Badgers have followed throughout the 20 years of the Bo Ryan/Greg Gard era.
Indeed, UW's hallmark during the best stretch of basketball in school history has been to remain even-keeled, win or lose, and continue to work on individual skills and team-wide execution in preparation for the next game. The goal was to be a well-oiled machine come February and March and UW usually succeeded.
Still, the Badgers had an edge to them after losing the Iowa game, after which Gard and freshman Jonathan Davis openly questioned the officiating. Subsequently, they talked about how their record was 0-0 entering the Big Ten tournament and they had a chance to redeem themselves.
Despite having a veteran team that won a share of the Big Ten Conference championship last season, the Badgers have been unable to sustain any level of execution this season, especially during a 10-10 conference regular season. Their shooting and their interior defense, historically two of their greatest strengths, were horribly inconsistent.
But UW found out Thursday night that a little emotion can go a long way, especially when it is paired with a little execution. The Badgers had plenty of both in a harder-than-it-had-to-be 75-74 victory over Penn State in their opening game in the conference tournament at Lucas Oil Stadium.
UW didn't start quickly and didn't finish well, but in between it played much the way it did near the end of last season, when it won its final eight games to claim a share of the Big Ten regular-season title. The Badgers moved the ball well on offense and got penetration from multiple players, which led directly to a rare good shooting night, especially from long distance.
"That was some of the most energy we've played with in a long time," guard Brad Davison said. "From the start of the run in the first half all the way to the start of the second half, I thought we did a great job of making plays for ourselves, making plays for others and really locking up on the defensive end."
The amazing thing about UW's 12-for-23 shooting performance from 3-point range was that they did it at Lucas Oil Stadium, a massive NFL arena that had a smattering of fans scattered about due to COVID-19 safety restrictions. The Badgers had been shooting poorly for the last half of the Big Ten season and that didn't figure to get any better in a cavernous, near-empty football stadium.
The shooting results from the previous five games in the tournament bore that out. Collectively, the 10 teams shot 25.8% from 3-point range. Only one team shot better than 30% in the five games and that was Ohio State, which shot 33.3%.
Yet, after the Badgers gave up 10 early points in the paint, mostly on dribble drives, and let Penn State get going offensively, they blitzed the Nittany Lions with an 18-3 run to close the first half. Mostly, it was because Davison, D'Mitrik Trice and others started attacking the rim. In the first half, the two guards split eight assists and UW was also 11-for-11 from the free-throw line. Eventually, the 3-point shots started dropping and UW was on fire offensively.
"He was primed and ready to go," Gard said of Davison. "I think they all were. It's the postseason. You have to find a way to survive and move on to the next game."
The urgency didn't last as UW got tentative against Penn State's pressure defense down the stretch and allowed an 18-point lead to shrink to one before making one final defensive stand. But the breakout offensive performance was something UW can hold onto when it plays Iowa in a quarterfinal game Friday night.
Davison finished with 13 points and five assists, Trice with seven points and nine assists. Many of those assists came when they were attacking the basket, something they've struggled to consistently provide in the past.
"It's been a point of emphasis specifically with the guys that have the ability to do it," Gard said. "That's a point that we've been trying to emphasize, to have guys be more aggressive at making plays not only for themselves but for others. ... We need more of that. It makes us that much better when we can move the ball like that."
Davison said the Badgers saw their offensive performance coming.
"I think the last few games our offense has been a lot better," he said. "If you look at analytics and if you just watch, the movement, the screening, the cutting, the penetration, getting downhill and creating for ourselves and creating for others, that's been a point of emphasis for everybody on the team. That's been great. So (there are) a lot of good things to take away from this and a lot of great things to look forward to tomorrow."
Well, maybe. The Badgers haven't been great at sustaining anything this season. But now that they've seen what a combination of energy and execution can do, maybe they'll keep it up.
---
Photos: Badgers edge Nittany Lions