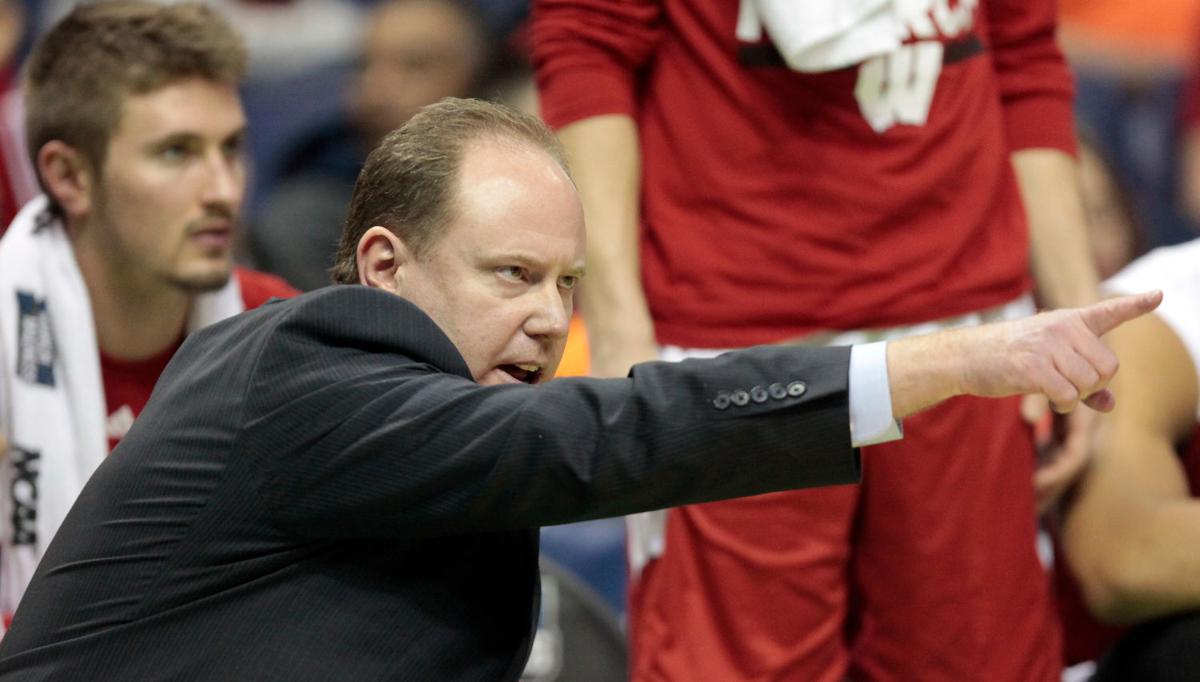 ST. LOUIS — One overlooked aspect of the Bo Ryan era at the University of Wisconsin is that the Badgers pulled off very few upsets in the NCAA men's basketball tournament.
Two, in fact. In 14 years of tournament appearances.
Hard to believe, isn't it? But the only times UW knocked off higher-seeded teams came in 2009, when the 12th-seeded Badgers upset fifth-seeded Florida State in the first round, and two years ago, when second-seeded UW upended top-seeded Arizona in a regional final.
Unless you count UW's Final Four victory over undefeated Kentucky in a battle of No. 1 seeds last year, a game in which oddsmakers favored the Wildcats by five points, that's it for tournament upsets during the greatest era in UW basketball history. Indeed, over Ryan's first 14 seasons as coach, the Badgers were 22-6 as a higher seed than their opponents and 2-7 as a lower seed.
But that was then, and this is now.
With not one but two clutch 3-point rainbows, including the final stunner from the deep corner at the buzzer, guard Bronson Koenig gave seventh-seeded UW a shocking 66-63 upset of second-seeded Xavier on Sunday night at the Scottrade Center. The victory sent the Badgers to a Sweet 16 matchup with Notre Dame, something that for long stretches during the game — and during the season — looked like it had no chance of happening.
Indeed, when Koenig emerged from a deep shooting slump in the second half and found vindication by drilling two 3s in the final 11.7 seconds, the Badgers finally had the big-time upset that had eluded them in the tournament.
"It's special," said guard Zak Showalter, who drew a charge from Xavier's Edmond Sumner in between Koenig's bombs. "But I think we believed. Before the game, we were all talking and we believed that we could beat this team. We thought what we were going to do on the court really was going to help us against this team and hopefully slow them down a little bit. What did they get, 63? So we held them under their average. That's what we're trying to do every game, just put us in position to win at the end of games and put Bronson in position to hit shots like that."
You have free articles remaining.
UW coach Greg Gard, who replaced Ryan in December, played the end game perfectly. After Showalter drew the charge with 4.3 seconds left, Gard had the Badgers quickly advance the ball to halfcourt, where he took a timeout with 2.0 seconds left. Then he drew up a play that freed up Koenig for the game-winning dagger over a defender from the right corner.
That finish had the Badgers answering questions about their best moments in a three-season stretch during which UW twice went to Final Fours and now has reached the Sweet 16.
"That shot was No. 1," Showalter said. "Ben Brust made a big shot (against Michigan) my freshman year, but I think this moment to go to the Sweet 16 is a little better. Sorry, Ben, that was awesome, too, but to contribute to this one and for 'B' to hit a shot to take us to the Sweet 16, that's pretty special."
While Koenig broke out of his slump with 20 points, forward Nigel Hayes remained in his with a 2-for-10 performance from the field. But there probably wasn't a prouder UW player afterward than Hayes, who is the team's top scorer and team leader.
Hayes put the game at No. 2 on his hit parade.
"Last year's Final Four win (over Kentucky) was No. 1, for obvious reasons," he said. "But this was No. 2. Great play, great play. That was a great series of events right there. It's going to be overlooked, but Showy's charge on their final drive is the only way we even get the ball for that opportunity. And then a great play drawn up by coach Gard and then Bronson, he's our point guard leader. We call him "Clutch Bronson" and he showed up for us big today."
Koenig wasn't alone. Unlike recent games, UW shot the ball well early and opened up a 17-8 lead. But foul trouble to all three of UW's starting big men helped Xavier storm back to take a 33-30 halftime lead and the Musketeers extended that to nine points late in the game. However, UW went on a 17-5 closing run to eliminate Xavier, which had finished second in the Big East Conference.
Amazingly, UW won even though it didn't do many of the things it seemingly needed to do to beat a team like Xavier. UW didn't stop its penetration (Xavier had the Badgers in foul trouble in both halves), it didn't force the sometimes sloppy Musketeers into turnovers (only eight), it didn't control the tempo (Xavier had 69 possessions) and it didn't shoot particularly well (42.4 percent).
What UW did, though, was tough out a victory, just as it has done 13 times in its past 16 games after a 9-9 start. That led to one of the sweetest victories anyone could remember.
"There were a lot of people that said this team wouldn't make the tournament," Hayes said. "So for us to be a team that wouldn't make the tournament, wouldn't make the top five in the Big Ten, wouldn't do this, that and the third, for us to be in the Sweet 16 right now, I think this is one of the most hard-earned wins and it's the most appreciated."
That's what happens when you finally figure out how to spring an upset in March.
The Badgers have made the NCAA men's basketball tournament for 18 consecutive years. Since 1999, they had one shot at the national championship, three visits to the Final Four, four Elite Eight trips and nine Sweet 16 appearances in that time. How UW has fared in the NCAA basketball tournament: