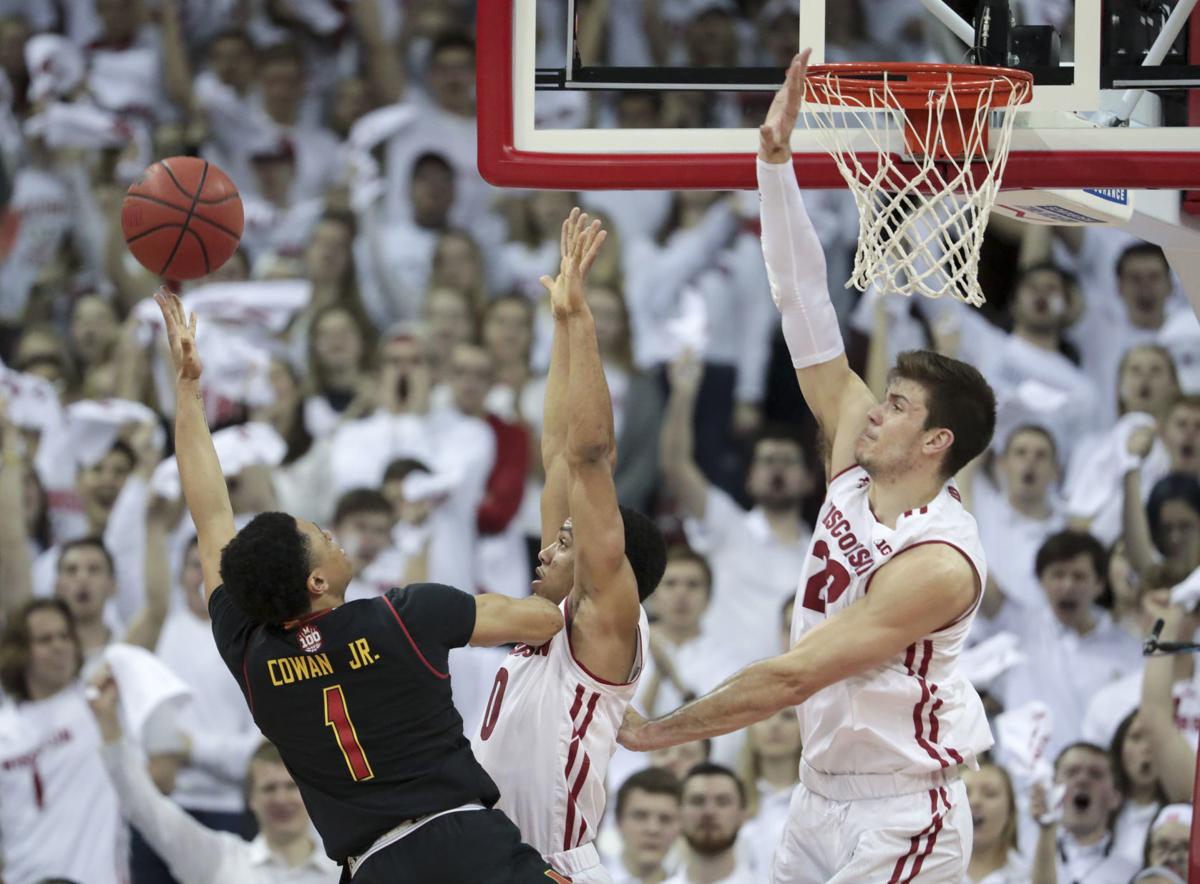 When you play 20 games against Big Ten Conference opponents, it's hard to make a case that one or two are more meaningful than the rest, especially on the first day of February.
For the University of Wisconsin men's basketball team, however, Friday night's game against 21st-ranked Maryland was dripping with importance. No amount of coach-speak could change the fact that there was lot riding on the outcome for 24th-ranked UW.
For the Badgers to get to where they want to go − and where they think they should be − a victory over the young but talented Terrapins was a must. A four-game winning streak had moved UW into fifth place in the Big Ten standings, one spot behind Maryland.
The winning streak, which began after a loss in a tale-of-two-halves game at Maryland on Jan. 14, had the Badgers talking about remaining in the hunt for a Big Ten championship despite a rough few weeks to open the Big Ten's second season. A more immediate concern was leapfrogging over Maryland for fourth place, something that means little now but could mean plenty when the seedings for the conference tournament are determined in five weeks.
Against that backdrop, UW's come-from-behind, 69-61 victory over Maryland before a loud and (mostly) white-clad Kohl Center crowd was as important as any win they've had this season. After trailing by as many as nine points in the first half, the Badgers clamped down on defense and blew past the Terrapins once they figured out Maryland's zone and their 3-point shots started falling.
Wisconsin State Journal reporter Jim Polzin asked Badgers fans on Twitter what they thought of No. 24 Wisconsin's 69-61 win over the 21st-rank…
With UW's fifth victory in a row, let it now be said: The Badgers have battled back from a 3-3 conference start and put themselves squarely in the Big Ten title picture.
The victory not only vaulted UW past Maryland, it kept it in touch with Michigan State (9-1), Michigan (9-2) and Purdue (8-2), the top three teams in the conference.
"It's a huge win," guard Brad Davison said. "At this point in the season, it's already February and every Big Ten win is huge, especially the ones at home. You've got to protect your home floor. It's a little bit more special the second time around because they got us the first time. You always want to get some payback there. They're a very talented team. They're a young team but they're extremely talented, so whenever you can compete and play against a really good team and come out on the good side, it goes a long ways."
You have free articles remaining.
It certainly could go a long ways, especially if UW can build on it. Its next three games − at sixth-place Minnesota, at Michigan and against Michigan State at home − have even more meaning given UW's win over Maryland. The Badgers' season seemed to be slipping away after an impressive start when they lost home games to Minnesota and Purdue followed by the loss at Maryland, but they caught themselves and are back playing with confidence and efficiency.
Indeed, just as important was getting the win Friday night was how UW got the win.
The 24th-ranked University of Wisconsin men's basketball team pulled away late in the second half to beat the 21st-ranked Maryland Terrapins, …
After spending too much time worrying about Maryland's twin 6-foot-10 towers − Bruno Fernando and Jalen Smith − and giving up six 3-point baskets in 10 tries in the first half, UW played great defense in the second half.
They also have shortened up the offensive dry spells that were crippling them in those early games. In their first loss to Maryland, they trailed 33-15 at halftime. This time, they trailed 36-31. The main reason is they're getting more scoring from players other than Ethan Happ, D'Mitrik Trice and Davison. Against Maryland, it was Aleem Ford who hit big 3s at the end.
Finally, they have reduced the turnovers to a trickle. They had only four against Maryland, none in the second half.
"I think, No. 1, it's the grittiness of this group," coach Greg Gard said. "Even when we lost games, the fight and the willpower has always been really high. But I think this group is starting to understand and embrace ... not that they didn't understand and appreciate the defensive end, but they really dialed it up defensively. The first half wasn't great. The second half was much better when they held them under one point per possession. But I think they understand how important that is and that edge that they have to play with on that end, knowing that there's going to be times you're not going to shoot the ball exceptionally well and that you can always rely on your defense. I think they've taken that up a level or two. And then we've done a better job for the most part taking care of the ball and making some shots at key times. But I think there's a maturity that has grown within them in terms of how good they can be defensively. They accepted that challenge and are really embracing that."
It has changed the way the Badgers are playing. Suddenly, they're playing with the confidence of a contender.
"Even late in the second half, when we were down still, there was never a doubt in any of our minds," Happ said. "That starts in the huddle with Coach Gard believing in us and believing that we can fight back from anything. I think a big part of it is, when we get down like that, we know we're not playing our best basketball and we're always not only hopeful but confident that it's going to come at some point in the game."
Those early losses left the Badgers with no margin for error. There still isn't much of a margin, but at least UW has played its way back into the discussion.