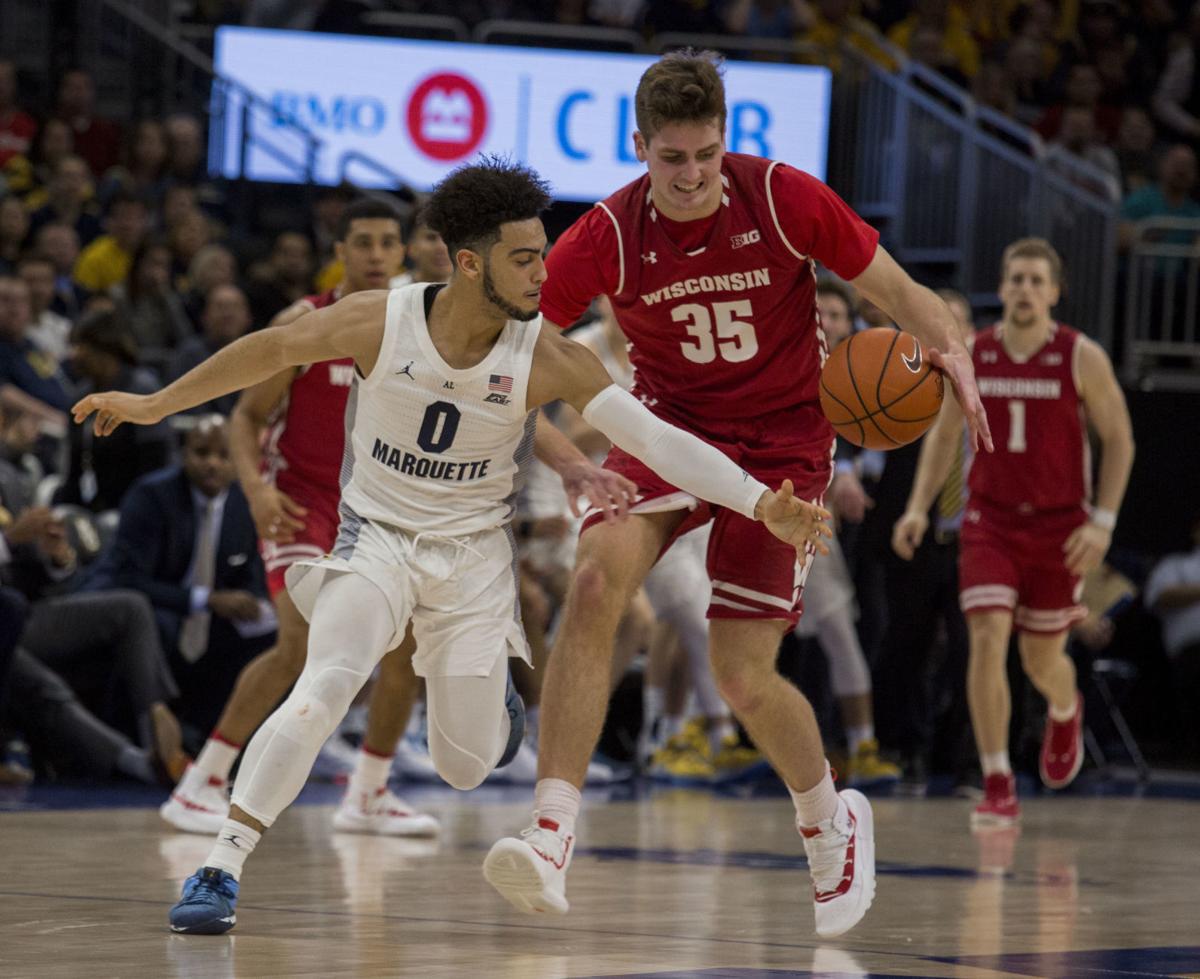 MILWAUKEE – A year ago, the University of Wisconsin men's basketball team didn't stand a chance against Marquette in their annual rivalry game.
The Badgers were struggling to find themselves at the time, had a 4-6 record, lost guards D'Mitrick Trice and Kobe King to season-ending injuries in the practices leading up to the game and, almost predictably, lost to the Golden Eagles by 19 points in Madison.
That wasn't the case when the rivals met Saturday for the first time at brand-new Fiserv Forum.
The Badgers were ranked 12th in the nation, had a 8-1 record entering the game, possessed a deeper rotation than they did the year before and battled the Golden Eagles into overtime before falling 74-69 in a hard-fought game where neither team led by more than six points.
Unlike last year, though, this was a game UW won't soon forget, and not because it was one of the better games in a rivalry that began in 1917. No, this one will stick with the Badgers for a long time because it left them kicking themselves over an opportunity lost. Or it should have anyway.
Not that Marquette didn't deserve to win. The Golden Eagles, who raised their record to 8-2, made the plays when they had to at the end and, as they have done time and again since Al McGuire showed up more than 50 years ago, made the Badgers do some very un-Wisconsin-like things.
Wisconsin State Journal reporter Jim Polzin asked Badgers fans on Twitter what they thought of No. 12 Wisconsin's 74-69 overtime loss to the M…
Though UW played strong defense and limited Marquette to 35.4 percent shooting, including a 7-for-29 night by leading scorer Markus Howard, it wasn't good enough to win because the Badgers didn't do the things they usually do best. That likely will leave them more ticked off after watching the video than they were after the game. And they weren't all that happy after dropping to 8-2 on the season.
"Obviously, extremely disappointed with the end result," coach Greg Gard said. "I thought we had several chances, but we didn't play well enough. We can be better. Credit to Marquette for causing some of that, but several of the things were self-inflicted that we need to continue to get better at."
Those things either prevented UW from pushing out to solid leads or gave Marquette openings to come back. It was particularly hard to stomach because most of the problems were things UW's program prides itself on, such as limiting turnovers and fouls, shooting free throws and 3-point shots and taking care of the defensive boards.
UW's problems began with turnovers, including six on the first 10 possessions that prevented UW from jumping out to an early lead. The Badgers, who averaged 8.8 turnovers in their first nine games, finished with 13.
The next thing to go was 3-point shooting. UW entered the game shooting 41.6 from beyond the arc, the best mark in the Big Ten, but went only 4-for-12 in the first half. Then it really went cold, failing to hit a 3 in the second half until Nate Reuvers sank one with 4:45 left. Most of the 3s were decent looks, but Reuvers' 3 was the only one UW made in the final 29 minutes of play as it finished the game 5-for-24.
Also in the second half, UW, which is renowned for playing strong defense without fouling, was whistled for its seventh foul with 12:05 to play. That put Marquette in the bonus for the rest of regulation and overtime, a big help with Howard not shooing well.
The 12th-ranked Wisconsin Badgers men's basketball team lost to the Marquette Golden Eagles, 74-69, in overtime on Saturday at the Fiserv Foru…
The Badgers also missed several chances to pad their lead in the second half by missing free throws. For the game, they were 10-for-21 from the foul line, but were a costly 5-for-12 in the second half, including key misses by Trice and Brad Davison, two of their better foul shooters. In a close game, any one could have spelled the difference.
Finally, UW couldn't secure some defensive rebounds late in the game that kept giving Marquette second chances. Twice in the final 2:30 UW forced Howard into misses from 3-point range and both times Marquette grabbed the board and ended up making a free throw. With 2:07 left in overtime, Howard missed a contested runner but Marquette's Ed Morrow powered a putback through three UW defenders for a 69-65 lead.
All of those are things that UW usually does well. Saturday, they didn't and it cost them a potential victory.
Still, UW finished a brutal 10-game, season-opening stretch with losses to only fourth-ranked Virginia and Marquette. Clearly, the Badgers are in a lot better shape than they were at this time last year.
"We're better," Gard said. "I'll state the obvious. But I think the biggest thing is in the two games (we lost), both this game and the Virginia game, we had chances and we did some uncharacteristic things that we have to get better at in those situations. Taking care of the ball. We've done that for the most part. When we don't, we see what happens, especially when you're playing good teams. I think the thing you take from this is we have a a chance to be a pretty good team. We're still a work-in-progress and the things that have prevented us from or will catapult us to being a really good team as we go through the rest of the non-conference or back into conference play are all controllable. They're all things that we can get better at because they're all specifically right under our control as a team."
They're all things UW usually does well, which makes this loss hurt even more.