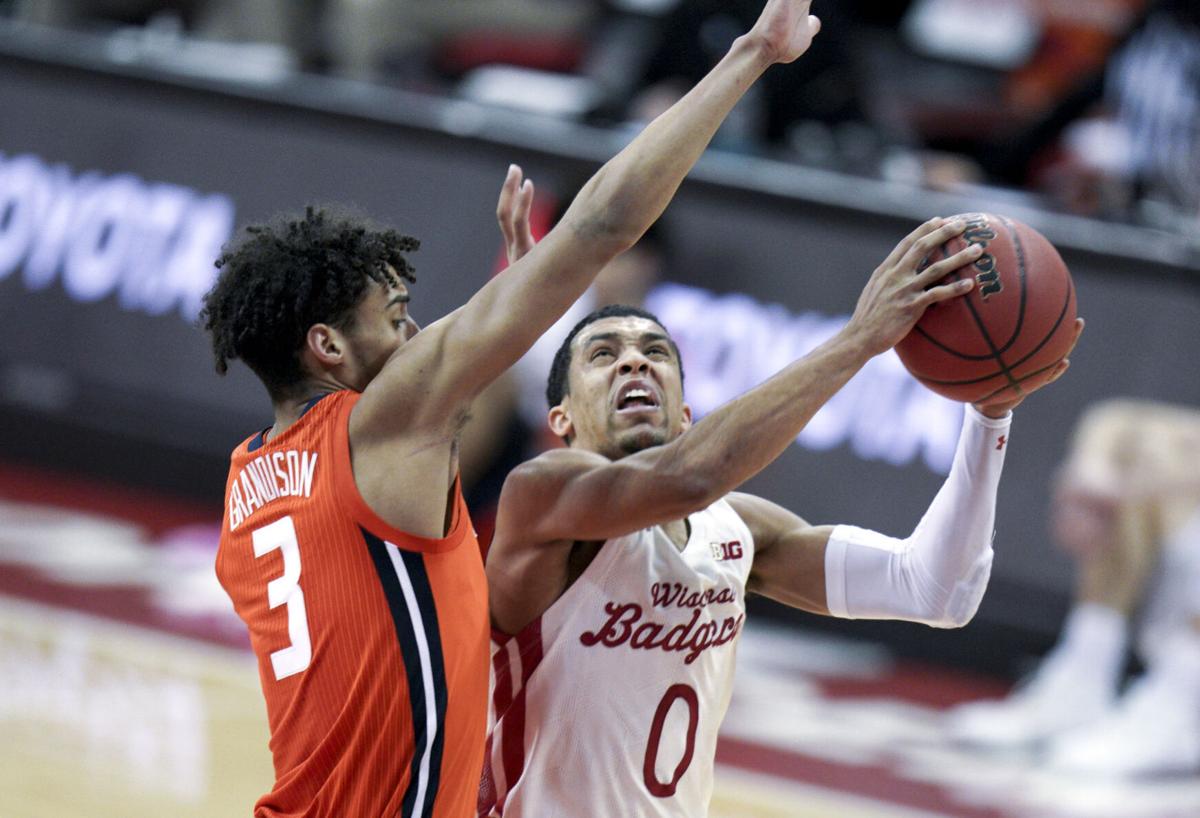 On several occasions this year, members of the University of Wisconsin men's basketball team have talked about how they want to be playing their best ball in March.
That magical month has arrived and, well, the Badgers are trending in the wrong direction.
A 74-69 home loss to then-No. 5 Illinois on Saturday dropped UW to 0-6 against ranked teams since the calendar flipped to 2021. It'll get two more chances at quality wins this week, starting Tuesday night when the No. 25 Badgers (16-9, 10-8 Big Ten) face No. 23 Purdue (16-8, 11-6) at Mackey Arena in West Lafayette, Indiana.
After that, UW closes the regular season on Sunday at No. 5 Iowa.
Senior center Micah Potter did his best to be positive following the Illinois defeat, saying he hoped a late surge led by senior point guard D'Mitrik Trice could be something the Badgers could build on moving forward.
Potter even brought up how UW's late-season surge last season — it won its final eight games to earn a share of the Big Ten title — came out of nowhere.
"And it was eight games," Potter said. "There's more than eight games left in the season if we go all the way."
It's hard to blame Potter for clinging to hope as his college career gets closer and closer to the finish line. From the outside, however, the Badgers haven't offered any evidence of late to suggest they'll go on an extended run in March.
Losing six of its past nine games has dropped UW to sixth place in the Big Ten. Any hopes of earning a double-bye in the Big Ten tournament, which begins March 10 in Indianapolis, went out the window over the weekend.
Two more losses this week likely would drop the Badgers even lower in the Big Ten pecking order. They could finish as low as a tie for seventh place if Maryland wins its last two games and Rutgers wins at Minnesota later this week.
That scenario would leave the Badgers, riding a three-game losing streak, as the No. 7 seed in the Big Ten tournament.
Regardless of where UW finishes, it desperately needs to turn things around on offense to have any chance of success in the postseason.
Trice getting hot late against the Fighting Illini — he scored 25 of his game-high 29 points over the final 9 minutes, 13 seconds, including 19 in the final 2:12 — wasn't enough to erase what had been an ugly shooting performance for the Badgers to that point.
Until UW made its final six attempts from 3-point range, five of which came from Trice, it was 4 of 25 from beyond the arc. Potter finished with 15 points but went 2 of 8 from 3-point range, missing some really good looks.
But he was hardly alone and, in some cases, it was just a continuation of extended slumps from key players.
Senior forward Aleem Ford went 1 of 7 from the field against Illinois. He's 3 of 24 over the past three games: 3 of 15 from 3-point range and 0 of 9 inside the arc.
Senior forward Nate Reuvers was 3 of 10 against the Illini. That dropped him to 9 of 35 from the field, including 1 of 10 from 3-point range, over a five-game stretch.
Senior guard Brad Davison was 1 of 9 from the field in the latest defeat. He was 1 of 6 on 2-point shots and is now 3 of 32 from inside the arc over the past 12 games and 7 of 50 over a 16-game stretch.
Davison's 2-point percentage has dipped to 22.1%. After missing a wide-open look in the paint during the first half, his shoulders slumped and he looked to the sky in disbelief. It was a picture of frustration.
Former UW coach Bo Ryan always said yelling at players wasn't going to help them make shots, and his successor shares that philosophy.
"You've got to stay positive," Badgers coach Greg Gard said. "You can't yell them into it. You've got to continue to encourage the good ones and keep trying to focus on the next ones."
UW went 3-4 in February and it ended up being a month that revealed a lot about Gard's team. The three wins came against opponents at the bottom of the Big Ten — Penn State, Nebraska and Northwestern — and the four defeats exposed the gap between the top of the conference and the Badgers.
In two losses to Illinois during that stretch, UW led for a total of 59 seconds and never by more than two points.
The Badgers' biggest lead in a 77-62 loss to Iowa was three points early in the game but that didn't last long. UW ended up trailing for the final 38:19.
UW led Michigan by 14 points in the first half and by 12 at halftime, but that ended up being a product of Michigan needing to work off some rust after coming off a three-week COVID-19 break. The Wolverines outscored the Badgers by 20 points in the second half.
Gard was asked after the loss to Illinois if there's any sense of panic from a team that began the season ranked No. 7 in the nation.
"I wouldn't say it's panic, I would say just frustration," he said. "I think that's the biggest thing, and as hard as it is, you can't get frustrated. You've got to try to stay positive and stay confident."
---
Photos: D'Mitrik Trice's hot hand not enough to lift Badgers over Illini