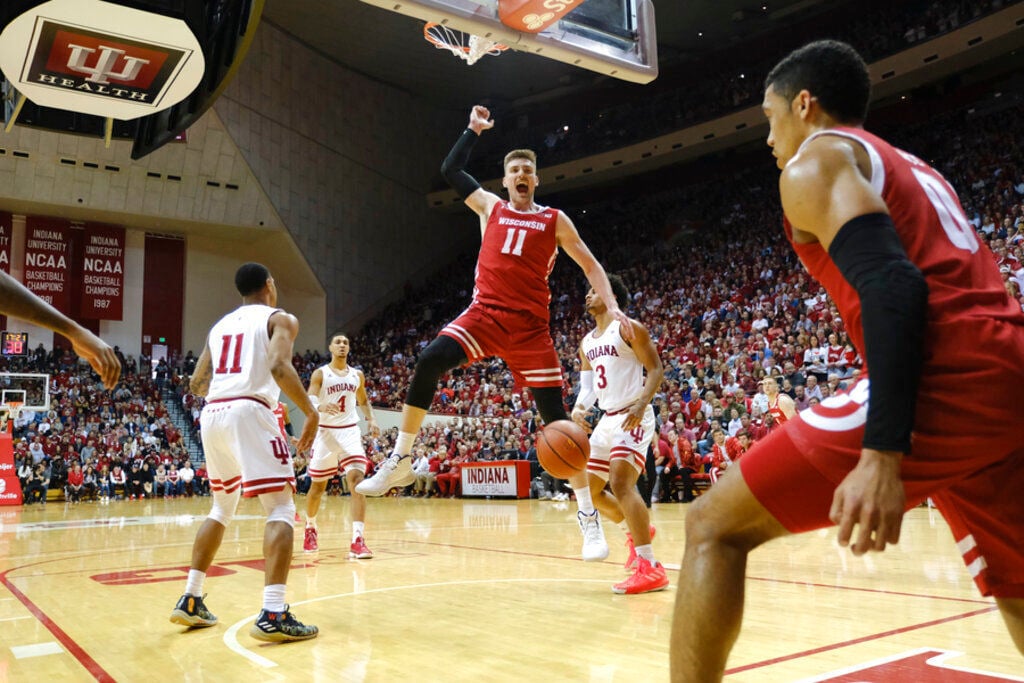 Micah Potter may be as useful off the court as he is on it this season for the University of Wisconsin men's basketball team.
A well-documented struggle to become eligible to play early in the 2019-20 campaign, only to be told no over and over by the NCAA, was a frustrating ordeal for Potter. He'd get his hopes up with each appeal that the next game could be his chance to make his debut with the Badgers, but the Ohio State transfer ultimately was forced to wait until last December to play.
"I've had lots of experience not knowing what's going to happen," Potter said.
The senior forward knows how to deal with uncertainty. That could make Potter a go-to resource for his teammates during a campaign in which UW's most unpredictable opponent will be COVID-19.
The 2020-21 season is scheduled to begin Wednesday night with a game against Eastern Illinois at the Kohl Center. Those words – scheduled to – are as necessary as ever when discussing what comes next for the No. 7 Badgers.
Games across the country have been postponed or canceled due to positive tests before the season even begins. The Badgers women's basketball team had its opener against Miami (Ohio), scheduled for Wednesday, called off just more than 24 hours before it was scheduled to be played.
Potter and his teammates are scheduled to play 26 games, a number that is expected to increase by one when a seventh non-conference game is added. But even the most optimistic people within the program are expecting hiccups.
Count director of basketball operations Marc VandeWettering, who is in charge of putting together UW's schedule, in that group. The affable VandeWettering wasn't being pessimistic – just realistic – when he suggested to coach Greg Gard last week that the lineup of games the team eventually plays will look significantly different than the schedule as presently constructed.
Meanwhile, VandeWettering is scrambling to secure UW's travel plans after finding out the Big Ten schedule not long before the rest of us did last week. And he has a list of backup opponents at the ready if a non-conference game gets canceled.
"It'll be a go on the fly, for sure," VandeWettering said. "I think what I told coach last week is, 'Hey, whenever we do announce a schedule, we'll sit and look at it and print it. But what we look back on come April is not going to be the same thing. And if it is, we pulled off a minor miracle.'
"It'll be a lot of shifting, a lot of moving parts. This is just the first announcement of a schedule."
Subject to change
The NCAA Sports Science Institute suggested in its health and safety guidelines heading into the 2020-21 season that teams conduct testing three times per week on nonconsecutive days throughout the season. Many programs around the country are on pause as the season begins due to positive tests and contact tracing.
UW had to rework its contracts for home games to include COVID-19 language. Opponents must conduct testing for all players, coaches, athletic trainers and other Tier 1 individuals within 48 hours of departing for Madison. No individual who tests positive within 14 days of the game will be allowed to even attend the game.
Opponents are tested twice after arriving in town, once upon arrival the day before the game and again two to six hours before tipoff. "All expenses related to the on-site testing will be funded by either UW or the Big Ten Conference," according to the contract for the Badgers' game against Northern Iowa on Dec. 16.
This is where "scheduled to" really gets put to the test because games conceivably could be wiped out due to one positive test.
"Anything that comes back positive is game off," VandeWettering said, "and then I'm in scramble mode."
VandeWettering has a list of Plan B opponents he's been in contact with in case of emergency. Those contracts have been updated and are ready to send out once there is a verbal agreement.
Potential backup opponents include programs within driving distance such as Drake, Northern Illinois and UW-Milwaukee. The Badgers in a pinch could play the same non-conference opponent, say UW-Green Bay, twice if necessary.
"I'm refreshing Twitter just like everybody else is to see games that are dropped, to know who's available on certain dates so that if something happens on our end, we can reach out to them," VandeWettering said. "There are going to be teams looking for days, and I've got my pulse on the ones that are being shuffled around and teams that are trying to re-do schedules because they're in quarantine and have to reshuffle the deck a little bit.
"If I had to characterize it, it's likely that it will happen at some point this year."
As for the Big Ten, there likely will be reshuffling along the way as well even though all 14 teams are testing daily. Some coaches pushed for a 26-game conference schedule – with the ACC/Big Ten Challenge accounting for the lone non-conference game – to avoid the headaches of cancellations against mid-major opponents who weren't testing as much.
But the conference decided to stick with a 20-game schedule that features four games on Christmas Day, including UW at Michigan State. Gard said UW could play a conference opponent and count it as a non-conference game if both teams need to fill their schedules due to a cancellation.
There are also some breaks in the schedule that could be filled by make-up games if necessary. For UW, it has a stretch of seven days between games in January and five days between games in late February in what VandeWettering refers to as "collapsible byes." There's also the possibility of playing make-up games after the regular season is scheduled to end March 7.
Traveling on game day within the Big Ten typically has been a no-no, but there may be some wiggle room this season to help teams avoid hotel stays. Gard also said the team may choose to fly rather than bus on some road trips, choosing less exposure on a 40-minute flight compared to a 4-hour drive. UW also could elect to go from one Big Ten road trip to the next rather than coming home in between.
All options are on the table while also considering expenses during a pandemic that has forced UW to cut costs due to lower revenue.
"Our goal this year is to get as close to 27 games as we can possibly can get," VandeWettering said. "We know that there are going to be issues for other teams – hopefully not issues for us, but you never know. You're probably going to have some hiccups along the way or some other COVID interruptions. So how can we get as close to 27 and minimize the chance of any disruptions as we can?"
Rivals unite
Let's go back to the beginning of the schedule.
Games against Eastern Illinois and Arkansas Pine-Bluff during the opening week are part of a multi-team event (MTE) hosted by UW and Marquette. The Golden Eagles will open their season at home against Arkansas-Pine Bluff, which will bus to Madison for a game against the Badgers on Friday night. Eastern Illinois will trade spots with the Golden Lions and play at Marquette two days after opening the season at the Kohl Center.
While Arkansas-Pine Bluff is the oddball on a list of regional opponents that make up the "buy game" portion of UW's non-conference schedule, there's a method to the madness: Starting with the game at Marquette, the Golden Lions are scheduled to play five games in 11 days during a tour of the Midwest that also includes games at UW, Iowa State, Northwestern and Saint Louis.
The Badgers originally were scheduled to play an MTE this week in Florida, the Fort Myers Tipoff. But Gard and UW didn't like the idea of traveling so far away from home with the possibility of one game – or the entire event – getting called off due to a positive test.
UW also turned down an offer to participate in an MTE in South Dakota. What remains is a nonconference slate with only one road trip, to Marquette.
"What we thought was going to happen is happening," Gard said about the decision to pull out of the Fort Myers event, which originally included Butler, Colorado and South Florida. "The more we can stay here, the more we can control our environment to some degree. Nothing is failsafe, but at least we've got a routine we're in here (with) our testing and our protocols around here.
"Hopefully it increases our odds and gives us a better chance to play games, and that's really the ultimate goal right now is let's try to play as many games as possible and see where it takes us."
Yes, the idea of UW and Marquette working together might make some fans squeamish. Gard even joked that it took a pandemic for the two instate rivals to start getting along.
While there's no official name to the MTE – VandeWettering suggested the "I-94 Series" – it made sense for the Badgers and Golden Eagles to work together. If one of their mutual opponents this week has to drop out, UW and Marquette can count the Dec. 4 game in Milwaukee as part of the MTE and schedule another opponent to take the place of the game lost.
VandeWettering and Marquette deputy athletic director Mike Broeker typically talk once or twice a year to confirm details for the annual matchup in a series that dates to 1917 and has included at least one game every season since 1958. Their chats have been much more frequent during the pandemic.
"We're texting back and forth almost every day, calling at least once a week, trying to make sure we have all of our ducks in a row as we try to pull this off," VandeWettering said.
Focused on next
If VandeWettering felt a sense of relief once the schedule was complete last week, it didn't last very long.
"I've dropped one thing," he said, "and added three."
VandeWettering didn't find out UW's Big Ten schedule until it was released to the public at 4 p.m. Nov. 18. That set into motion his next steps: working on securing charter flights and buses, along with hotels.
The Badgers will continue to partner with Delta for charter flights, and VandeWettering said UW is satisfied with how the company has improved its air filtration system onboard its planes. UW also has completely revamped the spec sheets it sends to hotels in an effort to make sure its traveling party is as safe as possible on the road during the pandemic.
Meanwhile, there's basketball to be played. Gard said UW's longtime program mantra – Next – will be as important as ever during a season that could be filled with distractions, positive tests and roadblocks. If any of the Badgers need help dealing with the uncertainty, they always can turn to Potter.
"We don't have to change our approach," said Gard, who is thankful he has a roster filled with six seniors and a mature group of newcomers. "That's really how we're going to approach this is just try and get better every day and take advantage of the day that we're in and embrace that."
---
Get to know the Wisconsin Badgers' 2021 men's basketball recruits
Chucky Hepburn
Hepburn was named the Gatorade Player of the Year in Nebraska last season after helping Bellevue West go 21-3 and win the Class A state title. A two-time first-team all-state pick, Hepburn averaged 17.7 points, 6.1 assists, 4.6 rebounds and 3.1 steals as a junior. Off the court, Hepburn earned the HomeSchool Papillion TeenService Award and was a Special Olympics Volunteer Award winner.
UW coach Greg Gard: "Chucky is a proven winner. Our staff watched as he led his Bellevue West team to a state championship last winter. A true point guard, Chucky brings everything we look for at that position. He leads by example, always giving maximum effort on both ends of the floor. He has tremendous vision and feel for the game, combined with the ability to score from all three levels. As much as he is able to carry his team on offense, what makes Chucky a great fit here at Wisconsin is that his defense and toughness is where he hangs his hat. A leader and role model in the community and a motivated student, Chucky is the kind of person we are excited to add to our Badger Family. We're excited to get to work with him and to help him reach his potential as a Badger in the years to come."
Chris Hodges
Hodges, who played in the same Illinois Wolves AAU program that produced former UW standout Frank Kaminsky, was named Mid-Suburban League West Player of the Year after helping Schaumburg go 25-7 and winning the MSL title while advancing to the regional finals. He averaged 15.5 points, 8.0 rebounds and 2.0 blocks per game to earn second-team Class 4A all-state honors in Illinois.
Gard: "Chris is an excellent addition to our program and member of another strong recruiting class. He impressed our staff immediately during our advanced camp and has continued to improve since. Chris has tremendous potential with his large frame and natural strength, paired with an eagerness to get better. He will immediately bring both physicality and tenacity to our program. Chris fits in well with the work ethic and culture that our program has established. He comes from a great family that has clearly taught him to value hard work and education first. We are excited to welcome both Chris and his family to the Badger Family."
Matthew Mors
Mors is the reigning back-to-back Gatorade Player of the Year in South Dakota and has been named all-state four times during a career that began when he played on the varsity in the seventh grade. He averaged 19.4 points, 8.2 rebounds, 2.9 assists and 2.1 steals per game as a junior and enters his final season as South Dakota's Class AA all-time leading scorer with 2,127 points.
Gard: "We are very excited to add Matthew to our program. He has challenged himself as a student-athlete year in and out to become as well rounded a competitor as possible, both on and off the court. As a state champion in basketball and a successful multi-sport athlete in Yankton, Matthew has gained valuable lessons that will help him become the best leader and player possible. On the court, he plays with a certain level of toughness and physicality that fits our style of play, specifically in the Big Ten. He has a versatile skill set that will allow him to be effective in the post, off the dribble and is a terrific shooter from outside. Matthew's skillset, combined with a championship mentally, has us excited to begin working with him. We're excited for Matthew to join our Badger Family and we can't wait to begin working with him to help him reach his goals as a Badger."