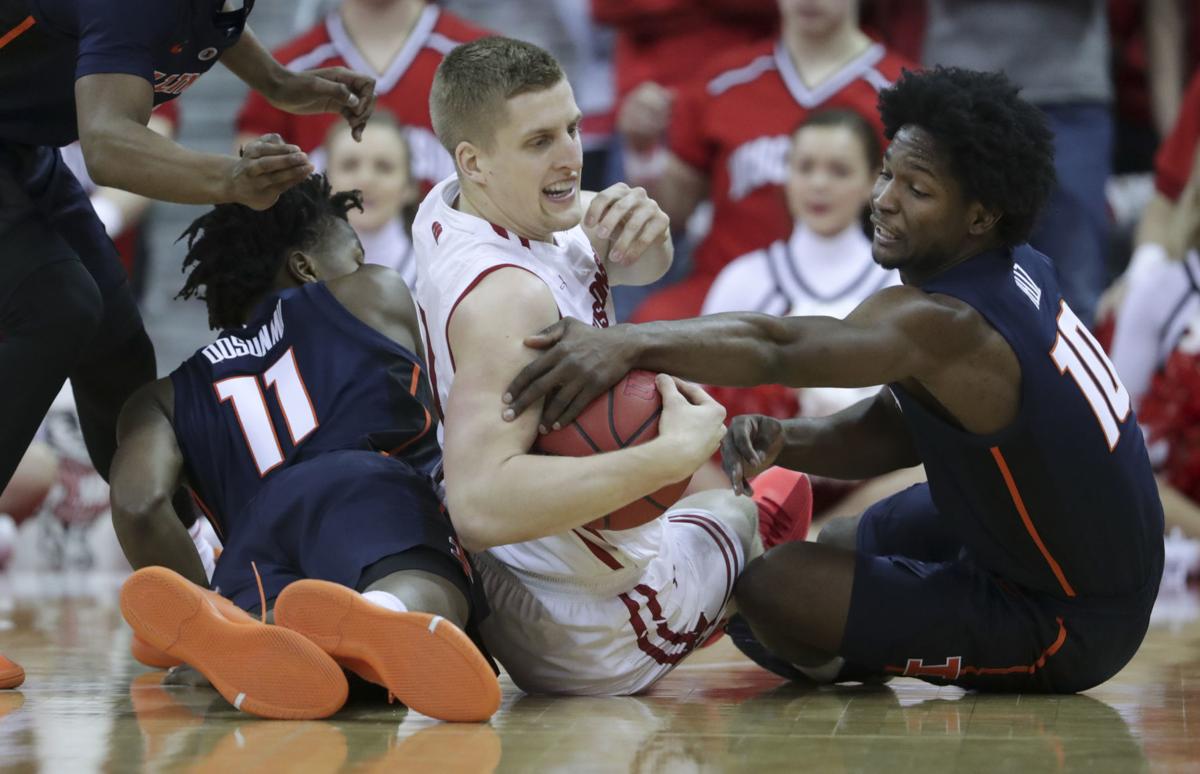 Ethan Happ went to the bench with 4 minutes, 6 seconds remaining in a close game Monday and didn't return to the court the rest of the way.
The senior center has carried the University of Wisconsin men's basketball team on his back so many times this season that it's hard to keep an accurate count. On this night – arguably the worst performance of the season for the All-America candidate – his teammates stepped up to do the heavy lifting.
The result, a 64-58 victory over Illinois at the Kohl Center, helped the No. 22 Badgers avoid an upset and remain in the hunt for a Big Ten title.
Sophomore guard Brad Davison finished with 18 points and senior forward Khalil Iverson added a season-high 16 for UW (18-8, 10-5 Big Ten), which moved into a tie with Maryland for fourth place. The Badgers and Terrapins trail co-leaders Michigan and Michigan State by two games with five remaining.
UW also got a boost off the bench from junior guard Brevin Pritzl, who grabbed a career-high 10 rebounds, and a huge putback basket in the final minute from sophomore forward Nate Reuvers. The Badgers needed it all to get past the Fighting Illini (10-16, 6-9), who arrived in Madison with a four-game winning streak.
"The nice thing about having a team," UW coach Greg Gard said, "is that you rely on different members on different nights."
Had someone told Brad Underwood prior to tipoff that Illinois would hold Happ to six points, three rebounds and two assists in 28 minutes, the Illinois coach would have taken it in a heartbeat. That the Badgers outscored the Illini 12-6 down the stretch without Happ had Underwood singing UW's praises afterward.
"That's why they're one of the top teams in the country," Underwood said. "They're a lot more than Ethan Happ. Their other guys did an unbelievable job of picking him up."
The 22nd-ranked Wisconsin Badgers men's basketball team defeated the Illinois Fighting Illini, 64-58, on Monday night at the Kohl Center in Madison. 
Davison helped UW overcome some major offensive struggles, scoring 12 points after halftime.
The Badgers settled for jump shots a little too much for most of the first half before they finally settled down and started attacking the rim. When he wasn't finding driving lanes, Davison was hitting teammates making sharp backdoor cuts.
"Just staying aggressive," Davison said. "With five games left in the season, every time you step on the court you're playing for a championship and there's got to be a sense of urgency. So when the game's on the line, you've got to try to step up and make big-time plays. And a lot of us did that today."
Iverson certainly did. In addition to his scoring – he fell one point short of matching his career high – Iverson had nine rebounds, two steals and a crucial blocked shot.
He beat the first-half buzzer with a thunderous putback dunk after a miss by Happ and provided an even bigger spark after the break, scoring 10 points in the second half. Iverson also produced five of UW's 12 offensive rebounds, which it converted into a 15-6 advantage in second-chance points.
"He's someone that everyone feeds off his energy," Davison said. "That's the Khalil Iverson we need moving forward."
Iverson has reached double figures in points four times in seven career games against Illinois, leading Underwood to say: "I think Iverson likes seeing orange and blue."
But Iverson admits there might be something to that. It's not so much Illinois' colors as it is the way it defends, an in-your-face style that wreaks havoc on the perimeter but also leaves the Illini vulnerable in the paint at times.
"I feel like more things open up that way, when teams are playing aggressive defense like Illinois plays," Iverson said. "It just makes it easier to drive and get to the basket."
Iverson also was the primary defender on freshman guard Ayo Dosunmu, who led the Illini with 13 points but went 4 of 15 from the field.
Senior guard Aaron Jordan added 12 points and freshman forward Giorgi Bezhanishvili had 10 for Illinois, which has lost to UW 15 consecutive times and has dropped eight in a row at the Kohl Center.
The Illini were in position to end that misery after turning Happ's third turnover of the game into a three-point play from Trent Frazier on the other end.
That was the final straw for Gard, who said he benched Happ because of the sloppy play and not the fact he'd be a liability at the free throw line down the stretch. The free throw by Frazier tied the game at 52 and provided a jolt of confidence to Illinois, which had beaten Michigan State at home and won at Ohio State during its streak.
After Davison hit a pullup jumper to give UW the lead for good, Iverson rejected Bezhanishvili's shot from point-blank range. That led to an easy basket by Davison which gave the Badgers a four-point cushion with 2:52 remaining.
Illinois pulled to within 60-58 on two free throws by Dosunmu with 49.7 seconds left and Pritzl missed a 3-pointer from the left wing. But Reuvers was there to collect the miss and scored with 22.9 seconds left to restore UW's four-point lead.
Iverson stole an inbounds pass, was fouled and made a free throw with 14.3 seconds to essentially seal the win and help UW end a two-game losing streak.
"Late in the game, we tried to keep the ball out of Davison and (D'Mitrik) Trice's hands and make the other guys make a play," Underwood said. "It worked until the offensive rebound."