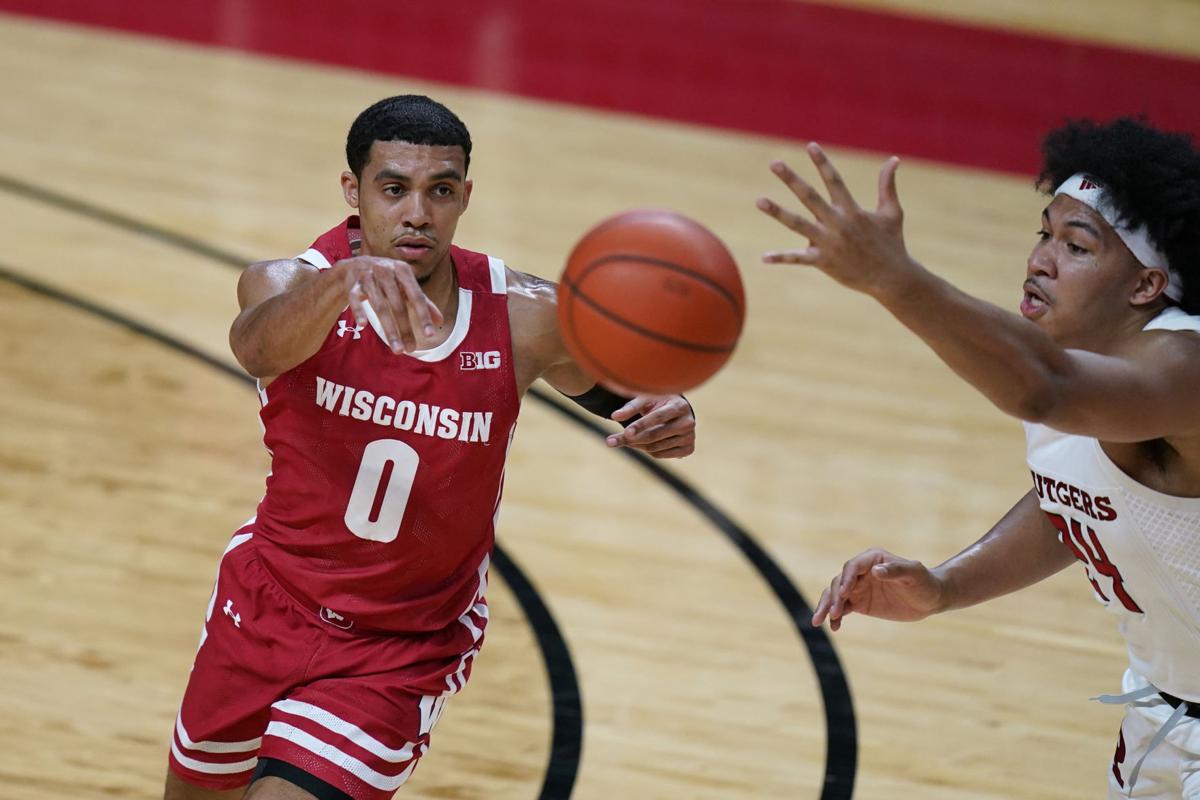 PISCATAWAY, N.J. — The University of Wisconsin men's basketball team spent a lot of time in hotels this week and, according to senior guard Brad Davison, maybe that wasn't such a bad thing.
"I think it gives you more time to be together, some more time for some soul-searching and tough conversations and to figure some things out," Davison said.
The No. 9 Badgers didn't play great Friday night at the Rutgers Athletic Center, but they played together and certainly displayed more passion than they did three days earlier.
The result, a 60-54 victory over Rutgers, helped UW salvage a split on a two-game road swing that didn't include a trip back to Madison in between.
Davison and senior forward Aleem Ford finished with 14 points apiece, while senior point guard D'Mitrik Trice added 13 and gave UW's struggling offense a huge lift down the stretch.
UW coach Greg Gard called it a "rock fight," but that's exactly what was required for the Badgers (11-3, 5-2 Big Ten) to win at the RAC for the first time since the Scarlet Knights joined the Big Ten in 2014.
"It really was such an effort and a scrap game," Gard said. "Everybody that played, that got on the floor tonight, the eight guys that played, the energy and the grit and the togetherness I thought, it's what it takes to win against Rutgers.
"You've got to play exceptionally hard and it's not always going to be pretty. It may not look good on a stat sheet, but you've got to try to match how hard and aggressive and gritty that they are."
Davison said UW's three keys coming into the game were defense, rebounding and togetherness.
Two out of three isn't bad. The defense was there and so was the unity for the Badgers, but they won despite allowing 20 offensive rebounds.
UW also survived a 6-for-25 performance from 3-point range, with several of those misses coming during an offensive drought in the second half.
"We all went into this game with a defensive mind-set," Ford said. "You're not always going to hit shots, but one thing you can control is the energy and the aggressiveness that we bring on the defensive end and I felt like we did a great job from the beginning. A big shout-out to the bench. They brought a lot of energy, they were standing and we really felt their presence today."
Reuvers has been struggling, but Gard said the move was made more because he knew UW's big lineup would have trouble matching up with the Scarlet Knights' more athletic group.
Gard put Wahl on Rutgers guard Geo Baker, and the sophomore's length contributed to the Scarlet Knights guard going 4 of 11 from the field.
Meanwhile, as important as his scoring was to a UW offense that desperately needed it, Ford was even better on the other end of the court. Ford was assigned to Rutgers star Ron Harper Jr., who was held to four points on 2-of-13 shooting.
"He's a great player, an aggressive player," Ford said. "Just trying to limit and force tough shots. He's always going to get looks, but just trying to negate how good of looks they are and trying to get him out of a rhythm. As a whole team, I felt like we did a great job of that, just playing team defense, gapping up and any shot that he took a majority of the time were tough looks."
Jacob Young scored 19 points to lead the Scarlet Knights (7-5, 3-5), who were 2 of 19 from 3-point range and 2 of 7 from the free throw line.
Trice was quiet much of the night while being guarded by Young, but he scored eight points during a 12-0 run that helped UW take control of the game in the second half.
The Badgers went 10 consecutive possessions without scoring — a stretch of 6 minutes, 39 seconds — before Ford ended the drought with two free throws.
Trice took over from there, making two 3-pointers and scoring on a drive during a run that gave UW a 54-44 lead with 4:20 remaining.
"It was good of him to step up at the right time," Gard said. "Senior point guards, the good ones, tend to do that."
The Scarlet Knights got to within 54-50 after a dunk by Myles Johnson, but Trice made a free throw with 31.4 seconds to stop the bleeding.
Senior center Micah Potter and Davison added two free throws apiece in the closing 20.9 seconds to seal the win.
Gard admitted "it wasn't the most pleasant two days" between games because everybody in UW's travel party was grumpy after the loss at Michigan. But it wasn't a wasted experience by any means.
"I think it was good for us," Gard said. "We wanted to use these two days to improve on some things and grow as a team, and it was only going to matter if we came out and played the way we needed to play tonight. I'm proud of the guys on how they did that."
---
Photos: Badgers finish strong to close out Scarlet Knights