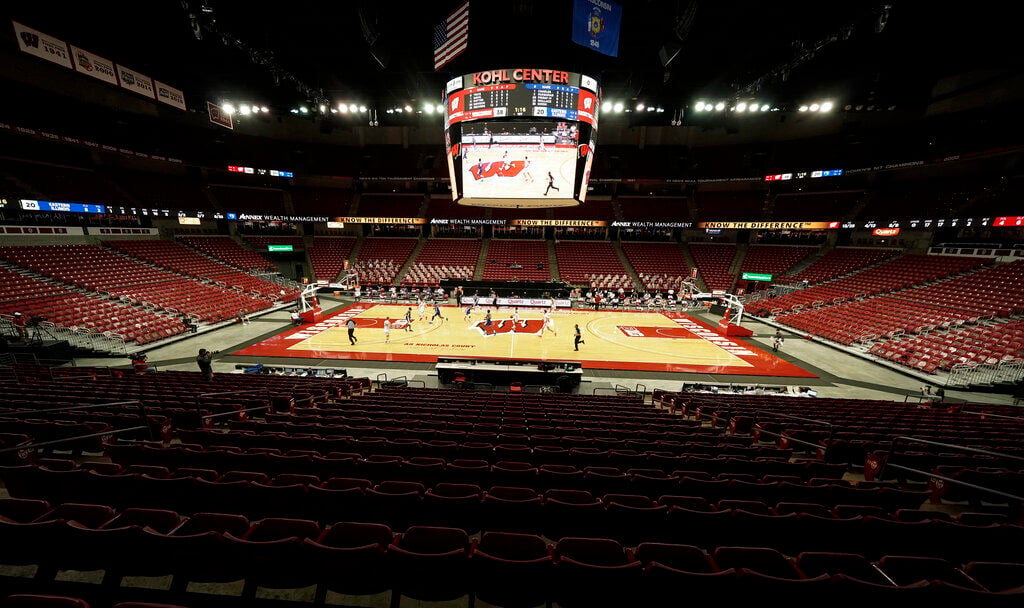 Micah Potter has been there, and he assumed most of his University of Wisconsin men's basketball teammates have been as well.
Long before Potter had arrived he arrived in Madison as a transfer from Ohio State – prior to the start of his college career, even – the senior forward had spent considerable time playing on the AAU circuit. It was there that Potter got a taste of what it was like to play an 8 a.m. game in front of, well, pretty much nobody.
"There's no one there," Potter said earlier this week. "It's an empty gym."
These days, Potter and the No. 7 Badgers find themselves in a similar situation due to the COVID-19 pandemic, only the stakes are greater. UW opened the 2020-21 season Wednesday night with a 77-67 victory over Eastern Illinois in what coach Greg Gard admitted afterward was "a very strange environment" at the Kohl Center.
The stands were empty save for some cardboard cutouts of "fans" behind the team benches. Piped-in crowd noise is better than silence, but it hardly can be considered an atmosphere. Not even parents could be in the building, though having the Reuvers, Ford, Potter, Trice and Davison families help introduce UW's starting lineup was a nice touch.
Still, it was up to the Badgers to create their own juice once the ball was tipped, and it's something Gard had addressed with his players in the weeks leading up to the opener.
"The biggest thing we have to do is make sure we can create our own energy and be consistent with that," Potter said. "I think with the veterans we've got, (plus) all the young guys are really interested in being successful and they play really hard and work really hard and they've really all bought in really well. So I think we'll do a really good job of that."
Potter's nod to UW's newcomers two days rang true during the opener. While senior forward Nate Reuvers finished with 18 points, nine rebounds and five blocks to lead the Badgers (1-0), one of the biggest takeaways from the win was the play of two members of a highly touted 2020 recruiting class.
Freshman forward Ben Carlson finished with 13 points in 17 minutes, while freshman guard Jonathan Davis had eight points in 15 minutes.
Carlson wasn't dynamic, by any means, but he always seemed to be in the right spot. He was described as smart and solid by the coaching staff that convinced him to attend UW, and those traits were on display in his debut.
"Ben, specifically, I thought looked very comfortable, probably as comfortable as any freshman we've had here in a while," Gard said. "Not that he has eye-popping numbers … but I thought he just looked in place. I thought he really was at ease on the floor."
Ditto for Davis, who made an immediate impression by scoring on a floater to end the first possession of his career. The former La Crosse Central standout immediately made a mistake on the other end, getting caught napping on a backdoor cut, but Davis made up for it by showing off his athleticism while recovering to block a shot.
Late in the first half, Davis scored with his left hand on a strong move to the basket and made some splash plays on both ends of the court right before halftime.
One of the things analyst Ben Brust, a former UW player, pointed out on the Big Ten Network telecast leading up to tipoff was how he had questions about the Badgers' depth beyond a top seven that includes reserves Tyler Wahl and Trevor Anderson.
It's only one game, but Carlson and Davis may have eased those concerns to some degree. For 40 minutes, at least, they looked they belong and are ready to contribute immediately.
"They've been playing really well in practice, and they both came in and did some great things today," Reuvers said. "That's really great to see, to have those guys come in and give us a break and still be very productive out there."
The opener was a tale of two halves for the Badgers, who used a 23-6 run to build a 23-point halftime cushion but didn't match that intensity after halftime. It's safe to say Gard reminded his players during a Thanksgiving Day practice about the importance of finishing games strongly, but he was reluctant after the game to be too critical mainly because he tinkered with lineups and expanded his bench in the second half.
A 20½-point favorite, UW's biggest lead was 27 early in the second half and it led by 18 late in the game before one final push by the Panthers (0-1). Even Panthers coach Jay Spoonhour admitted after the game that the final score was deceiving.
And perhaps, with the game out of reach and no crowd to urge them on, the Badgers simply had trouble maintaining focus on both ends of the court. Their inability to get post touches led to some bad shot selection, while UW allowed too many offensive rebounds on the other end while giving up 47 points after halftime.
"It's odd, it's a little eerie in there," Gard said of the near-empty arena. "It's like a scrimmage."
It'll be that way again Friday night when the Badgers host Arkansas-Pine Bluff (0-1), which was throttled 99-57 at Marquette on Wednesday.
UW senior point guard D'Mitrik Trice, who had 11 points, five assists, three steals and no turnovers in 29 minutes in the opener, said earlier this week that he'd given a lot of thought to playing a season without fans. He, too, had been part of those 8 a.m. AAU games.
"Honestly, to me, it will feel more like a scrimmage than like a game, and I don't know if that's a great thing or a bad thing yet," said Trice, who noted that the Badgers have typically played well in closed scrimmages over the years. "I think that for me and for most of the guys, it will take a little bit of the nerves away.
"I know talking to Johnny … it'll be different without the crowd and I think that will take away some of his nerves. He said he won't be as nervous. ... It'll open up players to be able to play more freely and a little bit more confident. I think that's going to be exciting to see and I think the guys are going to be ready for it."
---
Get to know the Wisconsin Badgers' 2021 men's basketball recruits
Chucky Hepburn
Hepburn was named the Gatorade Player of the Year in Nebraska last season after helping Bellevue West go 21-3 and win the Class A state title. A two-time first-team all-state pick, Hepburn averaged 17.7 points, 6.1 assists, 4.6 rebounds and 3.1 steals as a junior. Off the court, Hepburn earned the HomeSchool Papillion TeenService Award and was a Special Olympics Volunteer Award winner.
UW coach Greg Gard: "Chucky is a proven winner. Our staff watched as he led his Bellevue West team to a state championship last winter. A true point guard, Chucky brings everything we look for at that position. He leads by example, always giving maximum effort on both ends of the floor. He has tremendous vision and feel for the game, combined with the ability to score from all three levels. As much as he is able to carry his team on offense, what makes Chucky a great fit here at Wisconsin is that his defense and toughness is where he hangs his hat. A leader and role model in the community and a motivated student, Chucky is the kind of person we are excited to add to our Badger Family. We're excited to get to work with him and to help him reach his potential as a Badger in the years to come."
Chris Hodges
Hodges, who played in the same Illinois Wolves AAU program that produced former UW standout Frank Kaminsky, was named Mid-Suburban League West Player of the Year after helping Schaumburg go 25-7 and winning the MSL title while advancing to the regional finals. He averaged 15.5 points, 8.0 rebounds and 2.0 blocks per game to earn second-team Class 4A all-state honors in Illinois.
Gard: "Chris is an excellent addition to our program and member of another strong recruiting class. He impressed our staff immediately during our advanced camp and has continued to improve since. Chris has tremendous potential with his large frame and natural strength, paired with an eagerness to get better. He will immediately bring both physicality and tenacity to our program. Chris fits in well with the work ethic and culture that our program has established. He comes from a great family that has clearly taught him to value hard work and education first. We are excited to welcome both Chris and his family to the Badger Family."
Matthew Mors
Mors is the reigning back-to-back Gatorade Player of the Year in South Dakota and has been named all-state four times during a career that began when he played on the varsity in the seventh grade. He averaged 19.4 points, 8.2 rebounds, 2.9 assists and 2.1 steals per game as a junior and enters his final season as South Dakota's Class AA all-time leading scorer with 2,127 points.
Gard: "We are very excited to add Matthew to our program. He has challenged himself as a student-athlete year in and out to become as well rounded a competitor as possible, both on and off the court. As a state champion in basketball and a successful multi-sport athlete in Yankton, Matthew has gained valuable lessons that will help him become the best leader and player possible. On the court, he plays with a certain level of toughness and physicality that fits our style of play, specifically in the Big Ten. He has a versatile skill set that will allow him to be effective in the post, off the dribble and is a terrific shooter from outside. Matthew's skillset, combined with a championship mentally, has us excited to begin working with him. We're excited for Matthew to join our Badger Family and we can't wait to begin working with him to help him reach his goals as a Badger."