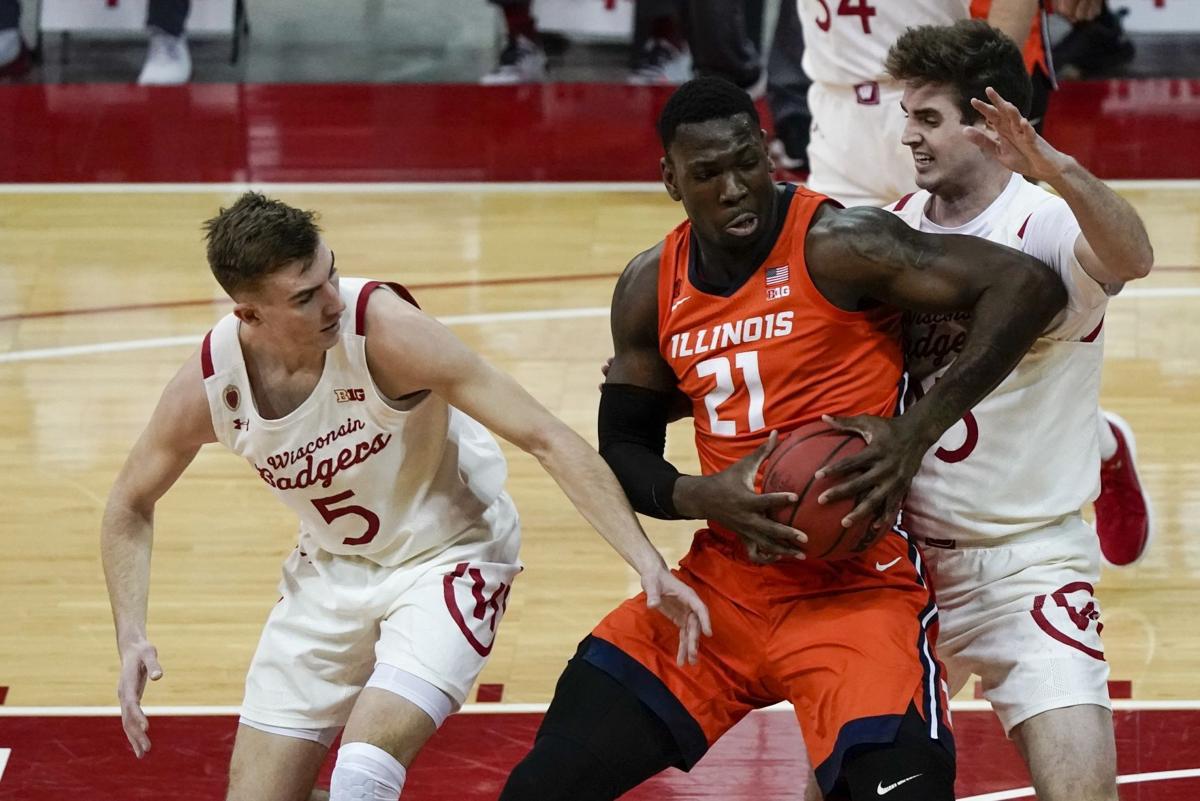 D'Mitrik Trice put on a spectacular show over the final 2-plus minutes of what almost certainly was his final home game as a member of the University of Wisconsin men's basketball team.
It was a brilliant display of shot-making by the senior point guard, who single-handedly gave the Badgers a chance to pull off what would have been a miraculous comeback.
But not even a breathtaking barrage of points from Trice could make up for what had been a miserable Senior Day to that point for UW.
The result, a 74-69 loss to No. 5 Illinois Saturday afternoon at the Kohl Center despite a game-high 29 points from Trice, dropped the No. 23 Badgers to 0-6 against the teams ahead of them in the Big Ten standings.
This one might have been the most difficult defeat of that bunch to stomach for a couple reasons: UW (16-9, 10-8 Big Ten) not only lost on a day it was honoring its seven seniors, but it couldn't beat an opponent playing without its best player.
Kofi Cockburn scored 19 points to lead the Fighting Illini, who were playing their third game in five days and their second consecutive one without star Ayo Dosunmu. The All-America candidate sustained a broken nose in a loss at Michigan State earlier in the week.
Illinois never trailed, though it nearly let a 14-point lead slip away down the stretch. Freshman guard Andre Curbelo, whose role has expanded with Dosunmu sidelined, added 17 points for the Illini (18-6, 14-4).
After another loss in a season that began with massive expectations, UW coach Greg Gard and his players tried to focus on the final few minutes rather than the poor shooting and uninspiring play that preceded that flourish.
"It sucks that we lost that game. It sucks," UW senior center Micah Potter said. "But you know what, the effort at the end is something we can be proud of and something we've got to keep momentum with going forward."
Gard added: "I though the fight and the effort was tremendous. With as bad as things were going offensively, a lot of teams would have just laid down and it would have been ugly in terms of the final score. This group has been extremely resilient."
Trice gave the Badgers a chance they probably didn't deserve based on their performance over the first 37-plus minutes of the game.
UW was shooting 27.4% from the field until making its final seven shots, including six by Trice. The Badgers missed 13 consecutive shots during a stretch in the first half and seven in a row during a drought after halftime.
Three seniors — Brad Davison, Aleem Ford and Nate Reuvers — were a combined 5 of 26 from the field.
Even Trice, who missed seven of his first 11 shots and committed a season-high four turnovers, was more problem than solution prior to his late surge.
But, just like that, he got hot and gave the Badgers hope. Trice scored 19 points over the final 2 minutes, 12 seconds, making five 3-pointers and four free throws over a stretch of seven consecutive possessions.
"I honestly don't even know what was going through my mind," Trice said. "I just knew we needed to hit some shots and make some buckets and make some plays down the stretch to be able to come back and be able to be in the position we were in. It just happened to be me finding the hot hand.
"For the most part, it's just about seeing that first one go through and then from there on it's about focusing on the next shot."
Trice's final 3-pointer of the game — he went 6 of 9 while his teammates were a combined 4 of 22 from beyond the arc — came with 6.7 seconds remaining and cut the Illinois lead to 70-69.
Illinois senior guard Trent Frazier answered with two free throws, leaving the Badgers with a chance to send the game to overtime with a 3-pointer. But UW never got a shot off. The Illini tried to foul the Badgers and eventually did, though senior guard Trevor Anderson's best option before being fouled would have been to try to get up a 3-point attempt from the left corner.
Worse yet, Anderson missed two free throws with 1.7 seconds remaining and Jacob Grandison sealed the victory for the Illini on the other end.
Two more regular-season games remain for UW, both on the road against teams above it in the standings.
"The effort at the end," Potter said, "gives me a lot of hope."
---
Photos: D'Mitrik Trice's hot hand not enough to lift Badgers over Illini