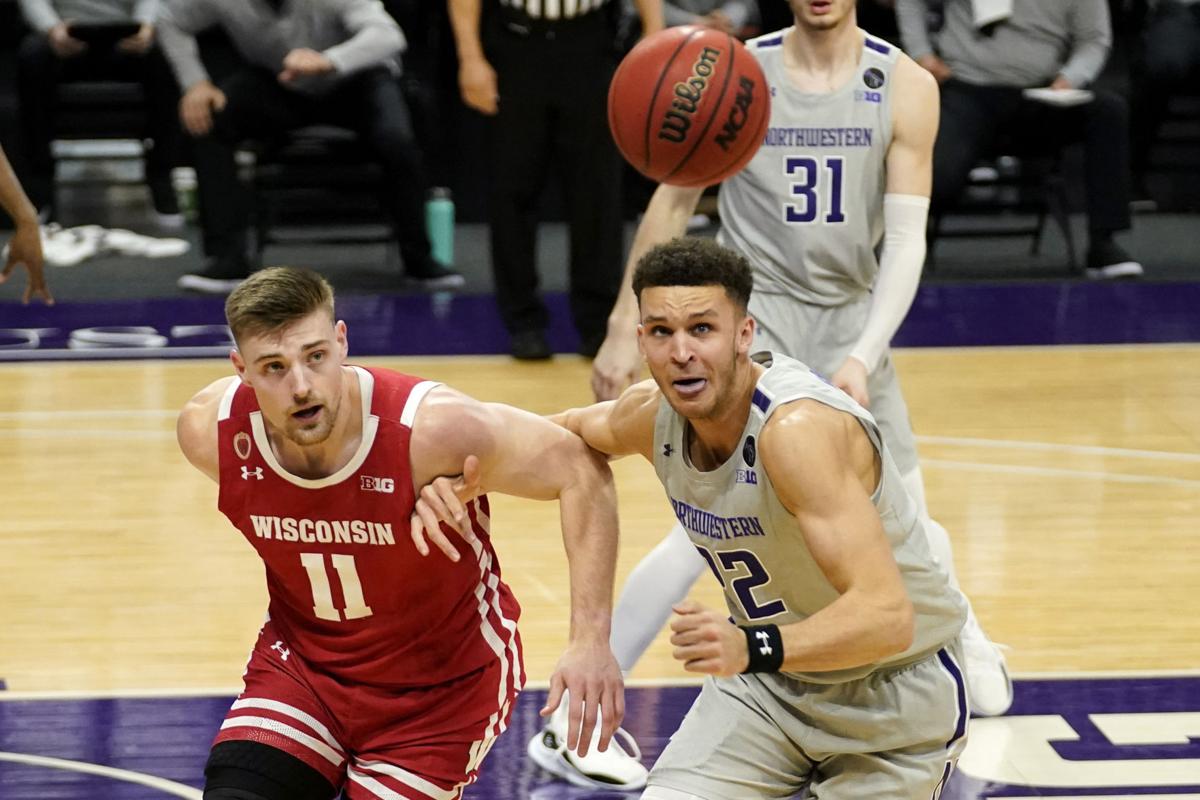 Coming off back-to-back home losses, the latest blows to a once-promising season, Micah Potter and his University of Wisconsin men's basketball teammates decided it was time to talk.
While the senior center said Sunday night he didn't want to get into the specifics of that recent team meeting, Potter did acknowledge he thought it was a productive discussion.
"It was good for us," he said. "It was really good for us."
The No. 21 Badgers looked certainly more connected on both ends of the floor during a 68-51 win over Northwestern at Welsh-Ryan Arena in Evanston, Illinois, though the level of competition could have had something to do with that.
The Wildcats, after all, are near the bottom of the Big Ten for a reason. A better measure of whether the team meeting solved any issues will come during a difficult closing stretch of three games against opponents near the top of the standings.
For now, however, the Badgers were just happy to end a two-game losing streak. They've reached double-digit wins in the conference for the 18th time in 20 years, the only Big Ten team to accomplish that feat.
"You've got to celebrate every win, no matter who it's against," Potter said. "In any situation, a win's a win. So to kind of get our confidence going a little bit, it was great to get a win. Obviously, we're nowhere near done. We've got a lot of tough ones still ahead of us. We've got to be able to respond."
Potter scored 19 points to lead five players in double figures, the first time the Badgers (16-8, 10-7 Big Ten) have done that since a win over UW-Green Bay on Dec. 1. Senior point guard D'Mitrik Trice added 13, freshman guard Jonathan Davis and senior guard Brad Davison had 12 apiece and sophomore Tyler Wahl produced all 10 of his points after halftime.
"This group has been resilient, and you have to be in this league," Gard said. "It's an unforgiving league. So if you do take one on the chin, you can't sit around and sulk about it very long because you've got somebody coming next on your schedule that can probably do the same thing to you if you're not careful."
Playing Northwestern (6-14, 3-13), which ranks last in the Big Ten in defensive efficiency in conference games, came at a good time for a struggling UW offense.
Other than settling for 3-pointers during a drought in the first half, the Badgers' offense was in rhythm. Potter was 3 of 3 from beyond the arc, Davis was aggressive and did a great job of either finishing at the rim or converting at the free throw line and Trice hit some timely shots.
UW shared the ball well and finished with 17 assists, its second-highest total in Big Ten play.
Boo Buie scored 19 points to lead the Wildcats, who have lost 13 consecutive games, but he was the only Northwestern player to reach double figures.
Northwestern's top three scorers — Chase Audige, Miller Kopp and Pete Nance — combined for 12 points on 4-of-14 shooting. UW finished with 10 steals, with Davis and Davison producing three apiece.
"We got some offense out of our defense," Gard said.
UW had gone eight consecutive possessions without scoring in the first half when senior forward Aleem Ford drove to the rim and got his contested layup attempt lodged between the rim and the backboard. It was a snapshot of how things have gone offensively for the Badgers this season.
But Trice made a jumper out of a timeout to end the drought, starting a stretch in which UW scored 19 points over 11 possessions to build a double-digit cushion heading into halftime. Potter scored 10 of those points, including a pair of 3-pointers.
After Northwestern pulled within 46-39 on a three-point play by Ryan Young with 12 minutes, 59 seconds remaining in the game, Trice made a 3-pointer to start a 10-0 run that put the game out of reach.
Afterward, Potter said the Badgers showed more "togetherness" and credited the team meeting with helping get everyone on the same page.
"And I'm not saying that we weren't together the rest of the year, either," Potter said. "The stuff that we talked about in that meeting really helped us get really, really close-knit and really will help us band together and realize this is it. For a lot of us, this is it.
"We want to make this a memorable year, we want to have fun with it, because I'm going to be honest: This is not what we wanted it to be. So all we can do is change it. Move on, use the past as motivation and continue to work and get better, learn from your mistakes and hopefully we'll have success going on the rest of the year."
UW gets some much-needed rest before hosting on No. 5 Illinois on Saturday. Backup point guard Trevor Anderson missed his second consecutive game with an upper-body injury and Gard said his status is day-to-day.
After playing the Fighting Illini, the Badgers close the regular season with games at Purdue and Iowa.
"We know we have some big tasks ahead of us," Trice said. "But with this group, I think we've got our head in the right place and on the right path and this was just a first stepping stone to getting to where we want to go at the end of the season."