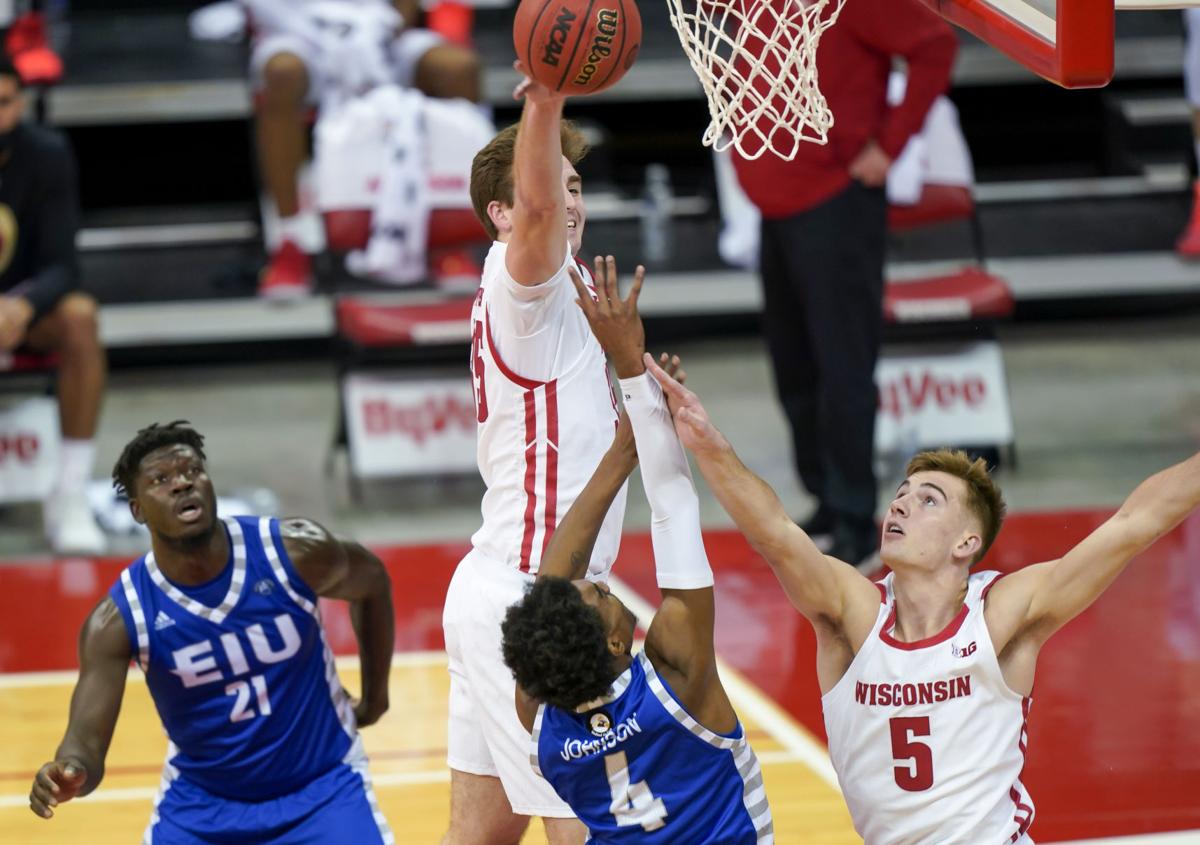 It had been 263 days since the members of the University of Wisconsin men's basketball team walked off the court at Indiana on March 7 as Big Ten Conference champions.
Ecstasy turned to exasperation four days later when the Badgers learned their postseason had been wiped out by the COVID-19 pandemic. And so began a long wait to get back on the court and pick up where they left off 8½ months ago.
UW finally was able to hit the play button again Wednesday night and got the 2020-21 season started with a 77-67 victory over Eastern Illinois at the Kohl Center.
Senior forward Nate Reuvers finished with 18 points, nine rebounds and five blocks to lead the Badgers, who never trailed and used a big run late in the first half to give themselves plenty of breathing room.
"It's great to get out there and play finally," Reuvers said.
Freshman forward Ben Carlson added 13 points for UW (1-0), while senior point guard D'Mitrik Trice had 11.
UW coach Greg Gard could tell by an increased number of minor scuffles in practice recently that his players were getting anxious to go against somebody other than their teammates. It had been a long time since UW had gone against an actual opponent, and senior forward Micah Potter said earlier this week that the Badgers were ready to get going.
"The whole run we made at the end of last year and being able to end the way we did, as sad as it was having it end early, it was the best way you could have ended," said Potter, who helped UW finish the 2019-20 regular season with an eight-game winning streak to share the Big Ten title with Maryland and Michigan State. "Being able to end that way and have that experience, we want that feeling again."
While there's a long way to go to accomplish that mission, this was a decent start. UW was sloppy on both ends of the court after halftime and got outscored 47-34 over the final 20 minutes, but there was plenty to like from the opener.
For starters, the Badgers appear to have great depth. UW returned almost its entire rotation from last season, a group that includes six seniors and sophomore forward Tyler Wahl, but Carlson and guard Jonathan Davis were impressive in their UW debuts and appear ready to provide immediate help.
Gard said he went around the locker room before the game and asked the freshmen if they had any butterflies, and each of them admitted they did. But it certainly didn't look that way for Carlson and Davis, who played 17 and 15 minutes, respectively.
"I thought they looked pretty comfortable," Gard said. "And there were a couple instances where I think the best teacher sometimes is experience, and for them to get that type of experience and have some things not go their way or make some mistakes, that's OK. That's how you learn."
The UW coaching staff was impressed by Reuvers' work in the offseason, a significant chunk of which was spent away from Madison as the program was dealing with an abbreviated summer session due to the pandemic.
Reuvers, whose primary offseason goal was working on his lower body, scored seven of UW's first nine points and had 14 by halftime.
"I think his legs are bigger (and) stronger," Gard said. "I thought he played at higher levels for longer stretches tonight than he has in the past, so that's a good sign. That endurance in conditioning combined with the increased strength was the jump we wanted him to take, and he's definitely made some strides in those areas."
Senior guard Josiah Wallace scored a game-high 22 points to lead Eastern Illinois. Senior forward Jordan Skipper-Brown added 14 points, while senior forward George Dixon, a Milwaukee native, had eight points and a game-high 10 rebounds.
UW closed the first half with a 23-6 run to build a 43-20 halftime cushion. It started with a 12-0 burst that included a 3-pointer from Potter and seven consecutive empty possessions for the Panthers (0-1).
Gard played Carlson and Davis early and often. Carlson had eight points by halftime, while Davis was impressive on both ends of the court.
In the final minute of the half, Davis followed a steal with an off-balance finish at the rim. On UW's next possession, he scored again at the basket. That came after Davis made a splashy debut by making a floater on the first possession of his career and following it up with a blocked shot on the other end.
"They've been playing really well in practice, and they both came in and did some great things today," Reuvers said of the two freshmen. "That's really great to see, to have those guys come in and give us a break and still be very productive out there."
Gard tinkered with lineups after halftime, and that may have played a role in UW's erratic play. The Badgers' shot selection was shaky at times, and they allowed Eastern Illinois to average 1.34 points per possession over the final 20 minutes.
UW will host Arkansas-Pine Bluff on Friday night. The Golden Eagles opened their season Wednesday night with a 99-57 loss at Marquette.
"It's good to get back playing," Gard said. "I'm just happy that our guys have an opportunity to play and we embrace this opportunity with every game that comes.
"Obviously, with every first game, there are things that we have to work on. I look forward on going through the film later tonight and getting back and showing some clips (Thursday)."
---
Photos: Badgers hold off Panthers in season opener