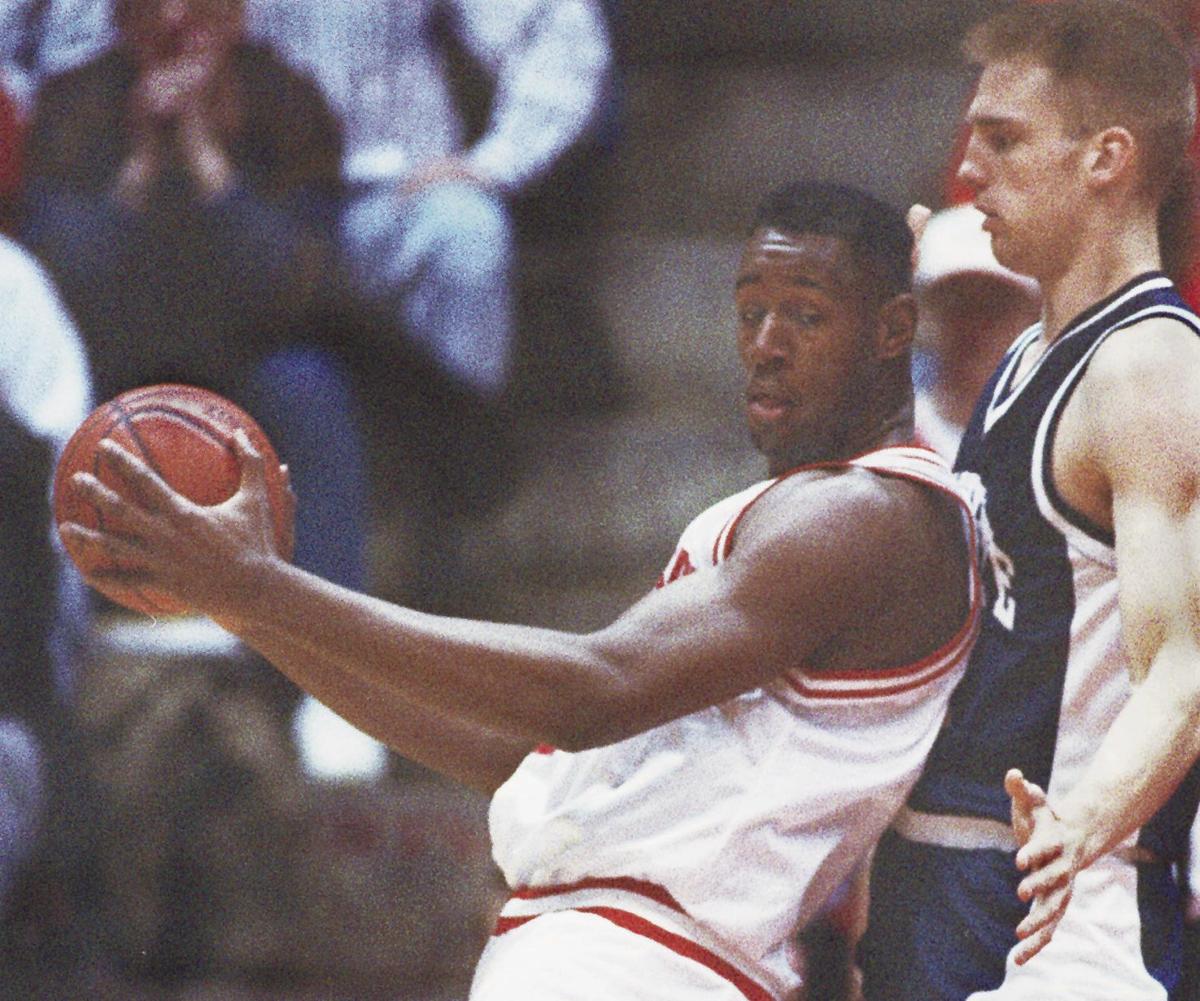 No NCAA tournament in 2020? The State Journal has you covered. Over the next two-plus weeks, we'll look back at one UW game per round, starting with the Badgers' win over Cincinnati in the opening round of the 1994 event. Coming Sunday: UW's 65-62 victory over top-seeded Villanova in the 2017 round of 32.
Rashard Griffith and his teammates were so happy, they decided to break rules.
On March 13, 1994, after the NCAA tournament bracket was revealed and the University of Wisconsin men's basketball program learned it would be ending a 47-year drought, Griffith and Co. decided to hit the streets.
Well, one street in particular.
"We were driving down State Street," Griffith said this week. "You're not supposed to drive down State Street. We were yelling out the window, honking the horns. Just enjoying that moment."
The celebration was only getting started. Four days later, the Badgers opened the tournament by beating Cincinnati 80-72 at Dee Events Center in Ogden, Utah.
UW, which was selected for the tournament despite going 17-10 overall in the regular season and 8-10 in Big Ten play, didn't need much motivation heading into the opener against the Bearcats. But the Badgers got some extra incentive anyway while watching ESPN's Digger Phelps break down the matchup with Cincinnati a day before the game.
The Bob Huggins-coached Bearcats, who were 22-9 and won the Great Midwest Conference tournament title as a No. 4 seed, were led by the trio of Dontonio Wingfield, LaZelle Durden and Damon Flint. The Bearcats, Phelps reasoned, had more firepower than the Badgers.
The words Griffith remembers hearing: Wisconsin doesn't have a chance.
"I didn't sleep through the entire night. I tossed and turned," Griffith said. "I'm like, what is this dude talking about? I'm like, 'All right, better go out and show him.' So that's what we did."
The Badgers jumped out to leads of 10-2 and 36-23. They led 40-32 at the half, but Cincinnati rallied to take a 55-54 lead with under 10 minutes remaining in the game.
But UW responded with a 22-12 run to seal the win.
What made Griffith angry about Phelps' analysis was that the Badgers had a potent trio of their own: Griffith, Michael Finley and point guard Tracy Webster.
Finley and Griffith finished with 22 points apiece against the Bearcats. Griffith also had 15 rebounds, but the most impressive part of his stat line was his 12-of-14 showing from the free throw line.
Griffith came into the game shooting 55.9% from the stripe.
"I was motivated," Griffith said. "I didn't want us just to get there and not win one game."
Webster, the heart and soul of that team, went 2 of 9 from the field and finished with four points. But he had six assists and, as he did that entire season, made sure Finley and Griffith got the touches they needed.
"As I got older, I realized what Tracy sacrificed," Griffith said of Webster, whose scoring averages went from 17.3 as a sophomore to 14.1 as a junior to 11.4 as a senior. "The Cincinnati game, Tracy did what he had to do to make sure we won."
That included helping the Badgers shake their nerves.
"He was the catalyst that made us calm down," Griffith said. "He's like, 'We're going to get into our stuff, we were going to get into a rhythm.' And that was it. That's how Tracy had control over things."
The box score from that game is deceiving in one other way. It doesn't include Howard Moore, who played only 72 minutes while appearing in 12 games as a junior that season.
But Moore was one of the most respected and beloved players on that team. Moore went on to become an assistant coach with the Badgers; he's now in the process of a long-term rehabilitation effort after being involved in a car accident last May in Michigan that killed his wife Jennifer and 9-year-old daughter Jaidyn.
"When we were practicing like (expletive), he was always that guy that would either make a play or the one to step up and say something," Griffith said. "Whether he was playing or not, Howard always had a role."
Rob Schultz, who covered the Badgers for The Capital Times and later the State Journal, remembers the interview room being packed for a question-and-answer session the following day with Phoenix coach Dick Bennett. Badgers coach Stu Jackson was up next at the podium; while Schultz and a few others stuck around to ask Jackson questions, most of the media dispersed to continue reporting on Bennett's Cinderella squad.
Griffith remembers a somber locker room, with seniors such as Webster, Jeff Petersen, Grant Johnson and Jason Johnsen shedding tears after being part of a team that breathed life back into the program.
But what Griffith focuses on most is the happy times, specifically Selection Sunday when the Badgers heard their names called and decided to share their joy with fans on State St.
It was a different emotion flowing from Webster and the seniors that day.
"That moment right there, to see them having tears of joy," Griffith said, "was very touching and very dear to me."
---
UW 80, CINCINNATI 72
BOX SCORE