The University of Wisconsin men's basketball program has developed a pipeline within its pipeline to Minnesota.
Steven Crowl, a 6-foot-10 forward/center from St. Paul, orally committed on Tuesday, giving UW a much-needed post player in its 2020 recruiting class.
Crowl averaged 19.3 points as a junior at Eastview High School and helped his team earn a berth in the Minnesota Class 4A state tournament. His stock rose this spring while playing on the AAU circuit with D-1 Minnesota, the same program that produced current Badgers Nate Reuvers and Tyler Wahl.
"I think (the Badgers) provide some comfort for him," said All Harris, Crowl's AAU coach. "It's very close to home. It's a very competitive and successful program, but they also have players that are from Minnesota that he's also very familiar with and they've had success there, also. I think that definitely helps a lot, a great deal."
Crowl is the fifth recruit from Minnesota since Greg Gard took over as UW's coach in 2015, joining Reuvers, Wahl, Brad Davison and Joe Hedstrom. Reuvers and Davison are about to start their junior seasons, while Hedstrom is a redshirt freshman and Wahl is a true freshman.
Gard recruited Minnesota heavily as an assistant under Bo Ryan, convincing eventual starters Kammron Taylor, Jon Leuer, Jordan Taylor, Jared Berggren and Mike Bruesewitz to cross the border.
Crowl, who attended a UW camp over the summer and made an official visit to campus earlier this month, chose the Badgers over offers from Minnesota, Iowa, Colorado and Northern Iowa.
He joins a recruiting class that also includes La Crosse Central siblings Johnny and Jordan Davis, a pair of 6-5 wings; and Lorne Bowman, a point guard from the Detroit area. Carter Gilmore, a 6-7 forward at Hartland Arrowhead, is a preferred walk-on in the class.
Harris said Crowl is a fundamentally sound player who has improved his athleticism and perimeter shooting.
"He can play inside-outside, do some pick-and-pop, but he's definitely a kid that enjoys rim running and playing in the post area as well," Harris said. "I think it's a great fit because (the Badgers have) always done really well with their post players.
"They'll be patient with his development, whether he comes out ready (to play) right away or if he takes some time to develop and they already got some guys there."
Getting a post player in the UW class was crucial because Reuvers, Micah Potter and Aleem Ford will be seniors in 2020-21.
The Badgers still have one scholarship remaining in 2020. Crowl's AAU teammate, forward Ben Carlson, also made an official visit earlier this month. But the Badgers aren't considered a favorite for Carlson, who also is considering Xavier, Purdue, Stanford and Iowa State.
Brandon Angel, a 6-7 forward from California, is scheduled to visit UW on Sept. 27. Angel's other two finalists are Stanford and California.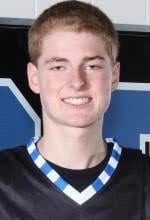 Be the first to know
Get local news delivered to your inbox!