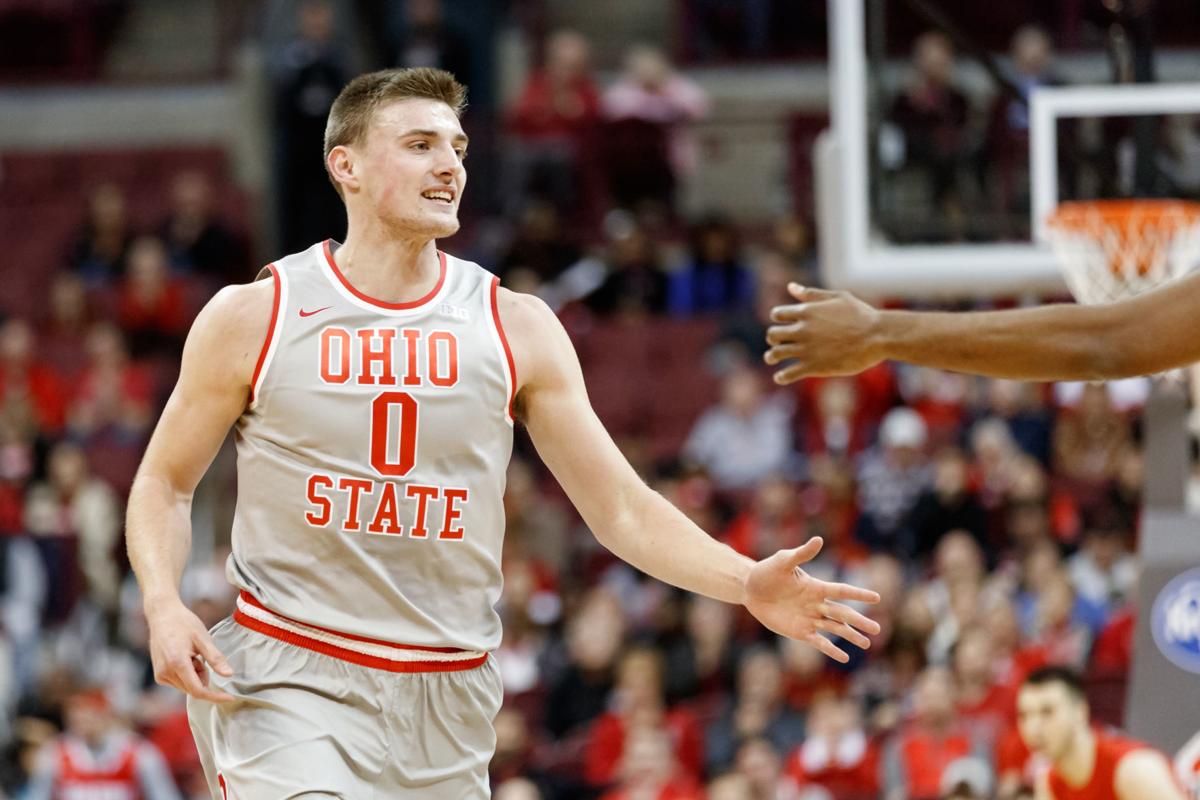 COLUMBUS, Ohio — The practices are Micah Potter's games, and the actual games are agonizing because he's forced to watch his University of Wisconsin men's basketball teammates either from the bench or hundreds of miles away.
Welcome to the life of a transfer, where moving from Ohio State to UW meant Potter had to sit out this season, per NCAA rules. Potter, a 6-foot-9 forward, knew the deal going in and isn't asking for sympathy. But let's just say it's not fun playing the role of spectator.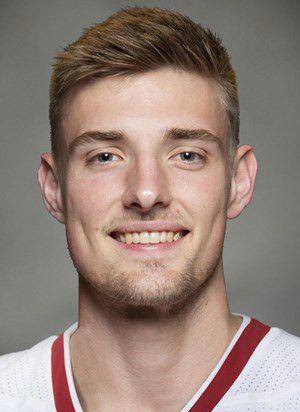 "As a competitor, you hate sitting," Potter said. "Having been in this league the last two years and knowing tendencies of players and knowing the scouting report and knowing what you can do to help, it gets frustrating. But at the same time, it's not my role and it's not my place. My role is to play and practice like a game and get these guys ready for a game. It (stinks), but it is what it is."
It's going to stink a little more than usual today when the No. 21 Badgers (21-9, 13-6 Big Ten) close the regular season against Ohio State (18-12, 8-11) at Value City Arena. UW needs a win to secure a double bye in the Big Ten tournament; a loss to the Buckeyes would drop the Badgers into a tie for fourth place with Maryland, and the Terrapins own the tiebreaker.
Meanwhile, it'll be Potter's new team vs. his old team, and he'll be watching it a time zone away in Chicago with his girlfriend, a student-athlete at Loyola.
"It's kind of weird to think about that, because I just left," said Potter, who announced his decision to leave Ohio State two days before the start of the 2018-19 regular season and joined the Badgers after the completion of the first semester in December. "It'll definitely be a game where I'm going to be on the edge of my seat hoping we win."
As usual, Potter did his part leading up to the game by performing his duties as a member of the scout team. Badgers assistant coach Howard Moore said Potter's knowledge of opposing teams and players has been invaluable this season.
You can only imagine the insight Potter has on Ohio State after playing for Buckeyes coach Chris Holtmann last season and spending the summer and preseason with the team.
"It really helps to have another perspective from another program within the league that understands what teams are trying to do and what success or shortcomings they had," Moore said. "He's been a tremendous addition."
Potter's presence has given UW senior center Ethan Happ and sophomore forward Nate Reuvers a veteran post player to go against each day in practice. Potter said he's enjoyed the back-and-forth with Happ after going against him for two seasons in the Big Ten.
You have free articles remaining.
"I think it's competitive, which makes it fun," Potter said. "We'll go at each other and he'll get me, and I'll get him back. It's fun and competitive, which I think makes most of us better players."
This is the first meeting between the Badgers and Buckeyes in 463 days. They opened the 2017-18 Big Ten campaign with a game at the Kohl Center on Dec. 2, 2017, and now will close the 2018-19 regular season against one another.
Happ hasn't fared well against the Buckeyes in his career, averaging 7.3 points and 4.5 rebounds in four games. The Buckeyes are the only Big Ten team Happ hasn't recorded a double-double against, and he was held to seven points and six rebounds in Ohio State's 83-58 rout of UW last season.
Potter played only three minutes in that meeting because he was battling a high ankle sprain. He expects Ohio State to send double teams at Happ, just as it did last season, though defending the UW star will be harder for the Buckeyes if sophomore center Kaleb Wesson remains suspended.
"One thing with him is making sure you stay down on pump fakes," Potter said. "The coaches did a good job of emphasizing that. But the biggest thing was the double teams. We had two big guys his size coming to double him every time he touched the ball."
Potter didn't put up big numbers at Ohio State, averaging 4.1 points and 2.8 rebounds in 59 games, including 16 starts. But UW players and coaches are excited about how he fits into the system both offensively and defensively.
"He's going to fit in very well on the court, but he also fits in very well off the court," UW sophomore guard Brad Davison said. "He's a great team guy, he's fun to be around, he fits in very well with everyone."
Potter has spent the past few months trying to learn the tendencies of players such as Davison, Reuvers and sophomore guard D'Mitrik Trice, a trio that will form the core of the 2019-20 team.
There's a good chance that Potter, who can play either forward or center, could move into the frontcourt starting spot vacancy created by Happ's departure after this season. Potter might not be eligible to play until the end of first semester next December, though UW will file an appeal on his behalf with the NCAA in an attempt to get him eligible for the start of the 2019-20 season.
"He'll complement Nate, whether they're playing together or they're subbing for one another," Moore said. "Depending on what we decide to do next year with combinations, I think the biggest thing is having someone with his experience that has played in our league and has had success, it brings a lot of dimensions. He's not going to be Ethan Happ, he's going to be Micah Potter and as Nate's developing and all the other young guys in the program are developing, it takes a lot of pressure off of all of them and allows them to continue to grow and mature."
Until then, Potter will play the waiting game. He wasn't allowed to travel to Big Ten road games this season, per conference rules, but Potter is expecting to be in Chicago for the Big Ten tournament and could be with the team for the opening weekend of the NCAA tournament because UW is on spring break.
As for the game against the Buckeyes? Potter says he has no hard feelings toward anybody at Ohio State, though he admits it's probably a good thing that he's not being allowed to make that trip this season.
"I think for this year, yes," Potter said. "Next year, I cannot wait to go play there. I can't wait. But this year I think it's good because I'm sure the dust isn't completely settled and if I were to see them, it would be a little awkward."
Be the first to know
Get local news delivered to your inbox!