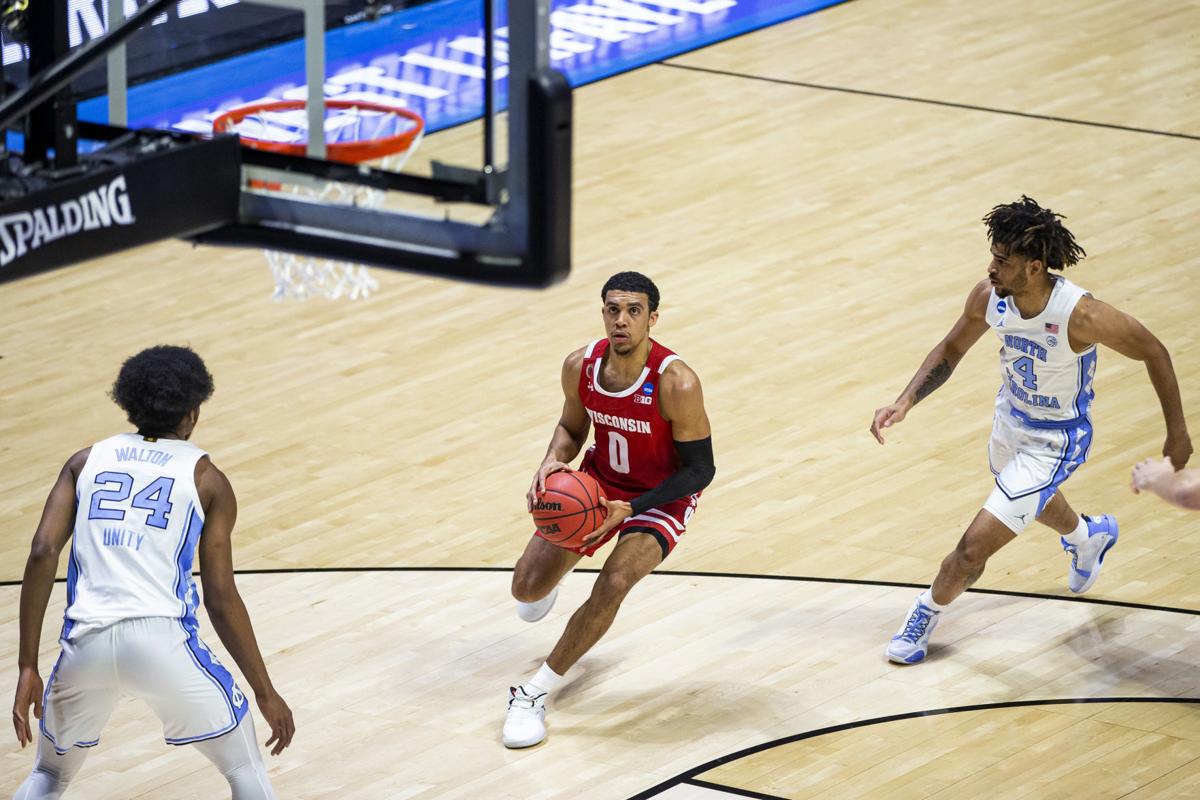 WEST LAFAYETTE, Ind. — It had been 1,462 days since the University of Wisconsin men's basketball team had experienced an NCAA tournament victory, an eternity for a program that had piled up 13 of them over the previous four seasons.
Little did anyone know at the time that a glorious win four years ago over Villanova, the top overall seed in the 2017 event, should be savored because a drought was on its way. Six days later, a group led by Nigel Hayes and Bronson Koenig got their hearts broken by Florida's Chris Chiozza. Next was the streak-ending season of 2017-18, followed by a first-round exit a year later.
Could last season's Big Ten co-champions have made a run? That forever will remain a mystery because the 2020 NCAA tournament was wiped out by the COVID-19 pandemic, leaving Brad Davison and the Badgers longing, to this day, for closure.
What happened Friday night at Mackey Arena — a resounding 85-62 victory over North Carolina — won't bring back what got taken away from the Badgers last March. But, for the first time in a while, the program and its fans got to wrap their arms around the joyous side of March Madness.
That's exactly what senior guard Brad Davison did after scoring a season-high 29 points, tied for the second most by a UW player in an NCAA tournament game.
After doing a television interview following the victory, Davison had a brief conversation with his parents from a safe distance. He left the court to cheers from UW fans, flexing his muscles at some of them and waving at another group. Before he disappeared up the tunnel, he even jumped up to give one fan a high-five.
"Extremely special," Davison said. "That's why you come to Wisconsin, not only to compete for championships in the Big Ten but to make a run in March in the NCAA tournament, especially having that opportunity missed out on last year.
Senior point guard D'Mitrik Trice had played in two NCAA tournament wins back in 2017 and surely expected there'd be plenty more to come. He did his part to end the drought by scoring 21 points to give UW (18-12) a shot at top-seeded Baylor (23-2) for the chance to go to the Sweet 16.
The Badgers and Bears are scheduled to tip off Sunday at 1:40 p.m. at Hinkle Fieldhouse in Indianapolis. CBS will televise the game.
"We're going to try to ride this wave as long as we can," Trice said. "It just feels good to get a lot of these guys their first NCAA win. I'm super excited and happy for the guys."
UW shot 50.8% from the field and 48.1% (13 of 27) from 3-point range to average a robust 1.29 points per possession and hand North Carolina coach Roy Williams his first loss in 30 first-round games.
Much of that damage came from Davison and Trice, who were a combined 18 of 30 from the field and 8 of 15 from 3-point range.
"Those are two experienced guards," UW coach Greg Gard said. "They've had a lot of possessions together. They've been in a lot of situations. Obviously, given the fact that Carolina was so big at the rim, we were going to have some scoring from the backcourt and I felt that was important.
"They got going early, I thought they got in rhythm. They were aggressive, which we had talked about a lot during the week. As they mentioned, see the ball goes in and that becomes contagious. They were both really determined tonight. You could tell in their preparation and the look in their eyes tonight that they were going to make sure we were going to take care of this thing once we got that lead."
Getting a combined 50 points from its starting guards was huge for UW, but so was the job it did against the top offensive rebounding team in the nation.
The Tar Heels (18-12) finished with 12 offensive rebounds and 12 second-chance points. They averaged over 20 in each of those categories during three ACC tournament games last week.
UW finished with a 37-34 edge in rebounding and it took a village. Davison and freshman Jonathan Davis led the way with six apiece, but four other players had at least four rebounds.
"We knew that it was going to take a team effort," Trice said. "We knew it couldn't just be on the bigs' shoulders, that the guards had to come down to rebound. I think Brad and myself and Johnny even did a great job of coming down and cleaning up the boards and our bigs did a great job of boxing out, showing our hands and being tough down there because we knew that they were the No. 1 offensive rebounding team in the country."
UW's defense was magnificent in the first half, and Davison scored the final eight points before the break to send the Badgers into the locker room with a 40-24 cushion.
That lead never slipped to single digits the rest of the way. North Carolina sophomore forward Armando Bacot scored all of his team-high 15 points after halftime and the Tar Heels made some mini-runs, but UW kept its poise and knocked down shots when necessary.
"I think we've struggled with that a few times this year, where we've had the lead and seemed to crumble a little bit," Trice said. "I think the guys did a great job of getting the right people the ball at the right time. It was just about making plays down the stretch and we were able to do that."
A win in a matchup of No. 8 and 9 seeds over a flawed opponent — albeit a blue-blood program — isn't enough to erase the stains from what's been a frustrating season for the Badgers.
But it sure beats the alternative: another year without feeling the elation of an NCAA tournament win.
"We're going to enjoy it, but also we know that we didn't come here just to win one," Davison said. "There's a lot more out there for us to get and we're excited to get back to work."
---
Photos: Badgers torch Tar Heels to kick off NCAA tournament