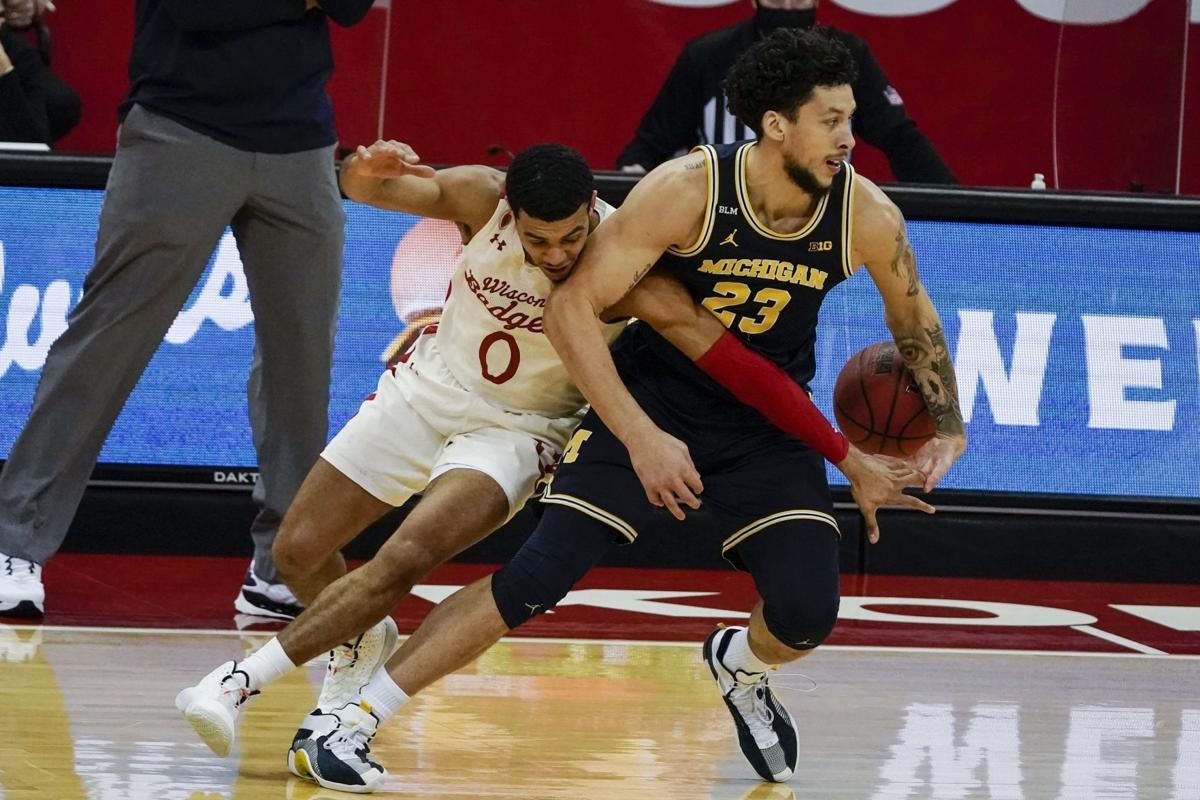 This was no sneak attack. The University of Wisconsin men's basketball knew it was coming, and that's probably the most difficult thing to digest after another disappointing defeat.
The Badgers had played one of their best halves of the season, producing an outstanding 20 minutes on both ends of the floor to produce a double-digit halftime lead. But they knew Michigan would turn up the heat in the second half Sunday afternoon at the Kohl Center and, when the Wolverines inevitably did, the home team began to wilt.
The big cushion was gone and UW tried to hold on for dear life, clinging to a lead. Eventually, that disappeared as well and the only question that remained was whether Greg Gard's team had a counterpunch left in it.
The answer: no. And the result, a 67-59 loss to the No. 3 Wolverines, was another sad sign that the No. 21 Badgers are who they are entering the stretch run of the 2020-21 season — namely, far from the elite outfit they expected to be when the campaign began.
Isaiah Livers scored a game-high 20 points to lead Michigan (14-1, 9-1 Big Ten), which outscored UW 40-20 in the second half and 13-2 over the final 3 minutes, 52 seconds.
The Wolverines hadn't played in 23 days due to a COVID-19 pause in the athletic department and may have been a little rusty in the opening 20 minutes, particularly on the defensive end.
UW expected its opponent to show more urgency in the second half but didn't — or couldn't — do anything to stop the momentum from shifting in Michigan's favor.
"We knew that they were going to make their run and it was just about withstanding that run," said senior point guard D'Mitrik Trice, who led UW with 16 points. "I don't think we punched back as well as we wanted to and we thought we would."
Franz Wagner added 14 points for the Wolverines, but the difference-maker down the stretch was freshman Hunter Dickinson. The 7-foot-1 center finished with 11 points and 15 rebounds, and Michigan turned his four offensive boards into nine second-chance points over the final 6:28.
Gard called that the "backbreaking part" of a defeat that helped Michigan become the first team to complete a regular-season sweep of the Badgers (15-7, 9-6) since the 2017-18 season.
UW had gone 8-0 against opponents it lost to earlier in the season over a span of two-plus seasons and, for a while, it appeared it might be on its way to keeping alive that remarkable streak.
The Badgers, who trailed by as many as 40 points in a 77-54 loss at Michigan on Jan 12, led by 12 points at the half Sunday after shooting 53.8% overall and going 5 of 7 from 3-point range. UW averaged a robust 1.39 points per possession in those opening 20 minutes.
The second half was a completely different story: UW shot 25.0% from the field and averaged 0.59 points per possession.
After senior guard Brad Davison made a 3-pointer on the Badgers' second possession of the second half, they finished the game with 11 consecutive misses from beyond the arc.
It wasn't so much that UW settled for perimeter shots. Rather, Michigan extended its defense and often left the Badgers scrambling to get a shot off late in the possession.
After attacking that aggressive defense in the first half, UW was more passive after halftime. Other than freshman guard Jonathan Davis, who scored eight of his 11 points after the break, the Badgers had a difficult time creating decent looks.
"We were a little lackadaisical and got uncomfortable and they saw that and they took advantage of it," said UW senior forward Aleem Ford, who matched his season high with 15 points. "We needed to attack the basket and put them on their heels more so than we did in the second half and not settle for too many contested 3s and try to get to the foul line and the basket."
Gard agreed with that assessment.
"When they are going to extend like that or teams are going to heat us up a little bit," he said, "we've got to make plays and break people down and convert and not turn the ball over."
UW's half-court defense was solid but failed too often at the most important part of a possession: finishing it.
The Badgers were up 53-50 with under 7 minutes remaining when Dickinson collected a miss. Livers took advantage of the extended possession by driving by Micah Potter for an easy score.
Two possessions later, Dickinson grabbed a miss by Livers and drew a foul. His two free throws gave Michigan its first lead since early in the game.
Three possessions after that, Dickinson grabbed an offensive board and fed Livers for a 3-pointer from the left wing that put the Wolverines in front 59-57 with 2:46 left.
The next trip down the floor, Dickinson's putback with 1:52 left gave Michigan the lead for good.
"He's a load," Gard said. "He's skilled, he's got great footwork, great balance, he's big and strong and he's got a nose for the ball. He plays how you want your post players to play."
Whether or not that last line was a dig at his own post players is unclear, but it was deserved if that was Gard's intention.
Potter and UW senior forward Nate Reuvers played a combined 40 minutes and neither of them grabbed a single rebound in the game.
When that astounding stat was recited to Gard after the game, he acknowledged the obvious: That the Badgers needed more — anything, really — on the glass from their two experienced post players.
"Yeah," he said, "we need multiple rebounds from each of them."
Not that Gard is in the clear when it comes to evaluating this result. His experienced team's inconsistency continues to be baffling as the season gets closer and closer to the finish line.
The biggest indictment was this: UW led for 30 minutes of the game and by as many as 14 points late in the first half. When the surge it expected from the Wolverines came, the response from the Badgers was weak.
"That's a really, really good team," Gard said. "You've got to play a full 40 minutes against really good teams and we're not at the point that we're doing that."
---
Photos: Badgers struggle in second half as Wolverines storm back