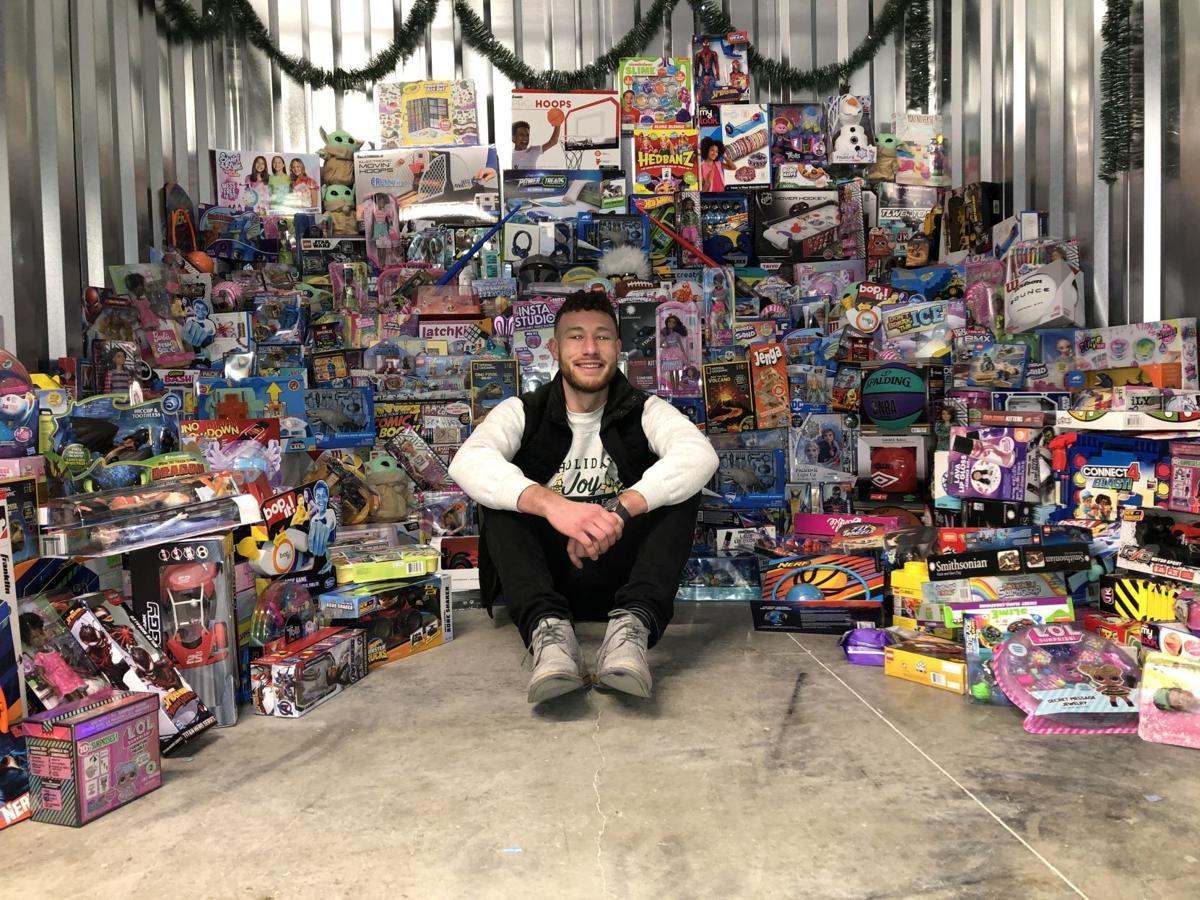 Nathan Dupont gets some interesting looks from fellow shoppers when he's standing in line at the store with hundreds of dollars' worth of toys in his possession.
The 27-year-old Madison resident has been asked how many kids he has. Another person wondered if he worked for Santa Claus.
Dupont always apologizes for making them wait and explains that the mass purchasing is part of a charity toy drive.
"People are always really interested and just think it's cool," he said, "so that buys me a little bit of patience at the registers."
What Dupont has branded the Holiday Joy Drive resulted in 921 toys valued at over $12,000 being donated to children throughout the Madison and Milwaukee areas.
For Dupont, it's a way to make an impact in two communities that matter dearly to him. He's a native of Hales Corners, southwest of Milwaukee, and attended Whitnall High school.
From there, Dupont came to Madison. He graduated from UW-Madison in 2016, spending two years as a student-manager with the men's basketball program during that time. He also was an intern for the school's Badgers Give Back community outreach program.
"Anyone could do this, and that's the beautiful thing about this," said Dupont, who works at Hiebing, a marketing and advertising agency in downtown Madison. "It just requires a little bit of persistence and effort. I know a lot of people want to give and sometimes it's just difficult to find out where to start or where to give and what happens what you donate. And I just wanted to offer people an easy way to give back and show one donation, two donations, a family's donation, a group donation can add up to something really impactful for kids that deserve it."
Once Dupont collects donations and buys the toys, he delivers them to the Boys and Girls Club of Dane County and the Boys and Girls Club of Greater Milwaukee.
The 2020 Holiday Joy Drive was so successful Dupont had to rent a storage unit in Madison to hold the toys and rented a U-Haul van to drive toys to Milwaukee.
"We're only able to do our work because of people like him," said Alex Murray, the director of special events for the Boys and Girls Club of Dane County. "Now is such a time where that support and that generosity and that kindness is needed. You can never be short on kindness or generosity and he has always had such an upbeat character and attitude. He seems like he's loved every second of it and we've loved partnering with him on this. We're thankful for him and others like him."
When Dupont started the Holiday Joy Drive in 2018, he said he expected to collect a few dozen toys. The number ended up being 131, and rose to 344 in 2019.
Dupont wasn't sure what to expect this year with the COVID-19 pandemic taking its toll on the economy.
But Dupont relied on what he learned from the Badgers Give Back program and the first two years of the Holiday Joy Drive and was determined to deliver at a time when he knew underprivileged children needed help the most.
Dupont said he got plenty of help from his friends. His girlfriend, Jana Cozine, lives in Rochester, Minnesota, and has been a big help. When they've seen each other, typically every other weekend, Dupont and Cozine have spent part of that time shopping for toys.
One friend organized a toy drive at work in place of a gift exchange. Another ran a 50/50 raffle with the money raised going to the Holiday Joy Drive.
"Everyone is kind of taking it and running with it in their own way," Dupont said. "It really belongs to all of us. The generosity that people have shared over the past three years has really built upon itself into something bigger than I would have ever imagined."
Murray said it's been "pretty spectacular" to watch Dupont turn what started as a modest goal turn into something so large.
"We make it a goal each and every year to send the kids home with presents and try to support families with gifts," Murray said. "To give you some context: We do the shopping sprees and a bunch of other things, but we also like to get our families sponsored. We usually do about five per year. This year, we had 34. Which one, showed you the need, but because we were able to get all 34 sponsors it shows you a lot about the Madison community. It shows you the kindness, the generosity that everyone has and realistically it's from people like Nathan."
Dupont accepts donated toys and collected about $9,000 of cash donations through his Venmo account. He made the most of that money by looking for deals; when a store was offering $25 off after buying $100 worth of toys, Dupont pounced.
During one trip to the Target store in Fitchburg earlier this month, Dupont spent about $1,300 while dividing his haul into 11 separate purchases.
Yes, it's time-consuming and holds up the line. "But," Dupont said, 'it's so worth taking the time to do that."
---
Fave 5: Sports reporter Jim Polzin shares his most memorable stories from 2020
Calling these my favorite stories from 2020 isn't accurate because a couple of them weren't particularly enjoyable to report and write. But trying to get to the bottom of the Erik Helland saga and, later, the COVID-19 outbreak on the UW football team definitely can be classified as memorable. The remarkable run to a share of the 2019-20 Big Ten Conference regular-season title by the UW men's basketball was a blast to cover, and I included a Senior Day piece on Brevin Pritzl and my game story from the championship-clinching win at Indiana. Finally, I chose a story I did this season on how Greg Gard got started in coaching 30 years ago in tiny Hazel Green.