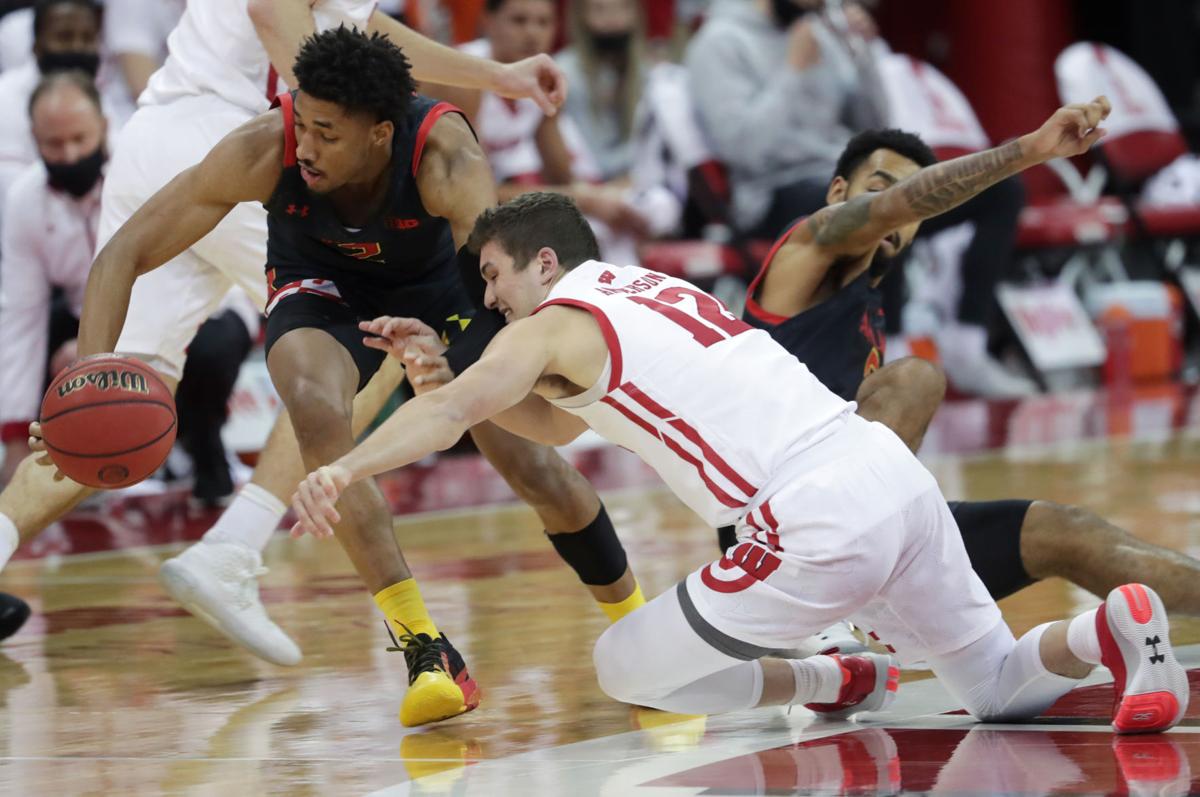 There's a pretty simple formula to contend for a Big Ten title that includes holding serve at home while playing .500 ball on the road.
Three days after putting an impressive check in the latter category with an emotional win at Michigan State, the University of Wisconsin men's basketball team failed to decipher what should have been the easier part of that championship equation.
The result, a 70-64 loss to Maryland on Monday night at the Kohl Center, may come back to haunt the No. 6 Badgers down the road.
Junior guard Eric Ayala scored all 17 of his points after halftime to help the Terrapins knock off a top-10 opponent for the first time in nearly five years. Maryland (6-3, 1-2 Big Ten) played like a team desperate for a win and UW didn't match that urgency, particularly in the second half.
"We knew they were going to come in and be hungry," UW senior forward Aleem Ford said. "Coach told us before (the game) that they needed this one, so we knew that they were going to come in and be aggressive so it was just a matter of how we responded to that and how we matched that energy.
"The end of the game pretty much told that — we know we have a target on our back and we need to be more aggressive in the way we play and the way we approach the game, and tonight we didn't do that."
While nine Big Ten teams are ranked this week, the Terrapins aren't in that group and had lost three of their previous four games. They entered the game as double-digit underdogs but didn't act like it from tipoff until the final buzzer.
Maryland coach Mark Turgeon admitted after the game that he was angry at first with the Big Ten for making the Terrapins play a road game at Purdue on Christmas Day followed by the trip to Madison three days later.
"It's actually probably the best thing that happened to us," Turgeon said after his program's first win over a top-10 opponent since it beat No. 3 Iowa on Jan. 28, 2016. "We really grew in the last five days. A lot of meetings, a lot of just being together. We were terrific in practice yesterday, so we kind of knew our guys were going to compete."
Senior point guard D'Mitrik Trice scored a game-high 25 points to lead the Badgers (8-2, 2-1), while Ford added 10.
UW never really got in a rhythm offensively against Maryland, which switched between a man-to-man defense and a 3-2 zone.
The Badgers cost themselves points with their lack of efficiency in high-percentage scoring areas: They went 9 of 19 on shots at the rim and, even worse, 8 of 15 at the free throw line. Sophomore forward Tyler Wahl was 2 of 6 from the stripe, while senior guard Brad Davison missed the front-end of two bonus situations.
But the bigger issue was on the other end of the court. The Terrapins scored 38 points in the paint, using ball screens and their athleticism to go downhill against the Badgers over and over in the second half.
Afterward, it was easy to forget that Maryland had a scoring drought of 7 minutes, 32 seconds that extended over both halves or that it was shooting 38% from the field with 12 minutes to play in the game.
From that point on, Maryland made 11 of its final 12 shots from the field and scored 36 points over its final 19 possessions. Most of that damage was done at the rim, or at the line after the Terrapins drew fouls on drives to the basket.
"I thought we were a step slow all night on both ends of the floor. Why? I'll watch the film and try to dissect that, figure it out and help these guys get a little better," UW coach Greg Gard said. "They were able to get us in some ball-screen situations and we didn't stop the ball at times and they did a good job of attacking and finishing and we made some decisions that allowed them to get out."
Gard was searching for lineups that worked, particularly in the second half, and never found one.
Maryland went small at times, surrounding 6-foot-7 sophomore forward Donta Scott (12 points) with four guards, and the Badgers didn't have an answer defensively. Senior center Micah Potter, UW's leading scorer, played only nine minutes after halftime. That was two more minutes than freshman guard Jonathan Davis, the Badgers' most athletic player, was on the floor in the second half.
Gard was leaning toward going small as well until senior forward Nate Reuvers came to life and scored eight consecutive points for the Badgers to give them a 49-48 lead with 6:19 remaining.
But Maryland's Aaron Wiggins (15 points) answered with a three-point play and the Terrapins scored on 10 of their final 11 possessions. After Trice made a 3-pointer to pull UW within 60-59 with 1:58 remaining, Scott scored on the next two possessions, including an emphatic dunk with 58.4 seconds left that gave the Terrapins a five-point cushion.
"We just believed from the beginning that we could come in here (and win)," Turgeon said. "We're growing."
The Badgers don't have time to mope because No. 21 Minnesota, which rolled to an 81-56 win over Michigan State on Monday night, visits the Kohl Center on Thursday.
"It's better that it happened now," Ford said, "so we can learn from our experiences to where we're better in the long run."
---
Photos: Badgers come up short against Terrapins