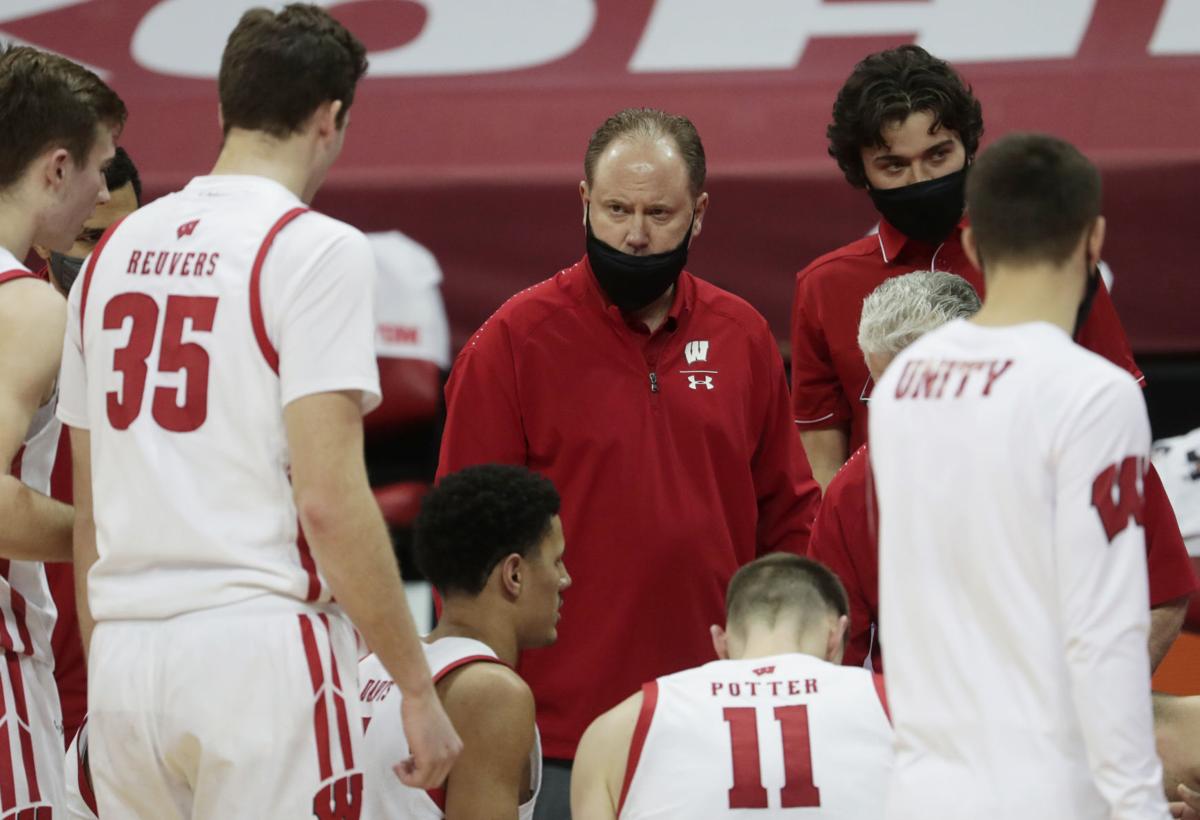 It didn't take long on Sunday for word to reach the members of the University of Wisconsin men's basketball team that Greg Gard had stepped out of character during his postgame news conference.
Following the 77-73 loss at Iowa, Gard passionately defended senior guard Brad Davison for what the coach feels is unfair treatment by Big Ten Conference officials and others.
The final straw for Gard was Davison being called for a Flagrant-1 hook-and-hold foul late in the game. Gard called it a "joke" and said the hook-and-hold call has become the "Brad Davison rule."
Gard said Tuesday he spoke with officials in the Big Ten office a day earlier and voiced his concerns. If Gard was punished for his comments in any way, the conference has yet to announce it.
"They heard me out and got good dialogue back and forth with that and we were able to move on," Gard said.
The Badgers (16-11), meanwhile, will move on to the Big Ten tournament this week and may have something to rally around as they make the transition from a disappointing regular season to the postseason. UW opens play at Lucas Oil Stadium in Indianapolis on Thursday night against either Penn State or Nebraska.
Davison wasn't made available to the media either after the Iowa game or on Tuesday, when an interview session included Gard, senior point guard D'Mitrik Trice and sophomore forward Tyler Wahl.
Trice was asked about Davison's reaction to Gard's comments.
"Brad was honestly ecstatic that Coach went above and beyond of what he expected Coach to do, and he's continuing to fight for it now and Brad sees that," Trice said. "He's been smiling and happy. Even after the game, he gave a little talk to us even before Coach even said anything to the media. Brad's attitude has been at an all-time high. He's continued to be Brad, and that's who he is: an uplifting, enthusiastic kind of guy."
Trice said he was personally inspired by what Gard said in defense of Davison.
"I had to tell him personally that I really appreciated it and I thanked him for that because that really shows that he cares for the players, cares for this team and it really lit a fire under us even after the game," Trice said. "We could have went out there and played Iowa again right after the game once Coach was talking about those things and we saw on social media the things that he was saying in the postgame conference.
"It just lit a fire under us and I think we're excited. We came with a lot of passion (Tuesday) in practice and it was a really good day. We're just going to continue to use that momentum to push us forward and continue to play for one another."
Gard was not only upset with the officiating but also voiced his displeasure with a graphic shown during the ESPN broadcast of UW's 77-62 home loss to the Hawkeyes on Feb. 18. While officials were reviewing whether Davison deserved a Flagrant-1 foul for elbowing Iowa's CJ Fredrick in the face during a drive to the rim in the second half of that game — he escaped punishment that time — ESPN filled the time by showing some changes that had been made to Davison's Wikipedia page.
Play-by-play Bob Wischusen laughed while reading that Davison's position had been changed to "school threat" and a line had been inserted that said, "as a junior, he became the emotional leader on the team and averaged 2.3 dirty plays per game."
Gard said UW received apologies from Wischusen, analyst Dick Vitale and an ESPN producer but added the damage already had been done.
Wischusen kicked off that segment by asking a question: Has Davison's reputation preceded him?
Twice during his career, Davison has received Flagrant-1 fouls for making contact with the groin of an opponent while chasing the player he was guarding around a screen. The second incident — late in a close loss at Iowa last season — led to the Big Ten suspending Davison for one game for what it called "a pattern of similar behavior that has been previously established."
UW senior center Micah Potter went to bat for Davison following the loss Sunday, calling him a "gold standard for a teammate." Potter was glad to hear Gard had Davison's back as well.
"From a player's perspective, it feels good," Potter said. "It's great having a coach that has your back. There's that mutual respect level where we'll fight for him, he'll fight for us regardless of the consequences."
Trice honored
Trice was the only member of UW to crack the All-Big Ten awards.
Trice, who is averaging a team-high 13.7 points and 3.9 assists, was named to the third team by both the media and coaches.
Iowa senior center Luka Garza was named Big Ten Player of the Year for the second consecutive season.
He was joined on the media's first team by Illinois junior guard Ayo Dosunmu, Illinois sophomore center Kofi Cockburn, Michigan freshman center Hunter Dickinson and Indiana sophomore forward Trayce Jackson-Davis.
The coaches' first team included Garza, Dosunmu and Cockburn along with Ohio State sophomore forward E.J. Liddell and Purdue sophomore forward Trevion Williams.
Dickinson was named Freshman of the Year, and Michigan's Juwan Howard was named Coach of the Year. The Defensive Player of the Year went to Maryland senior guard Darryl Morsell while Illinois freshman guard Andre Curbelo was named Sixth Man of the Year.
The All-Defensive team consisted of Morsell, Illinois guard Trent Frazier, Michigan State forward Aaron Henry, Penn State guard Jabari Wheeler and Rutgers center Myles Johnson.
Dickinson was joined on the All-Freshman Team by Curbelo, Iowa's Keegan Murray and Purdue teammates Zach Edey and Jaden Ivey.