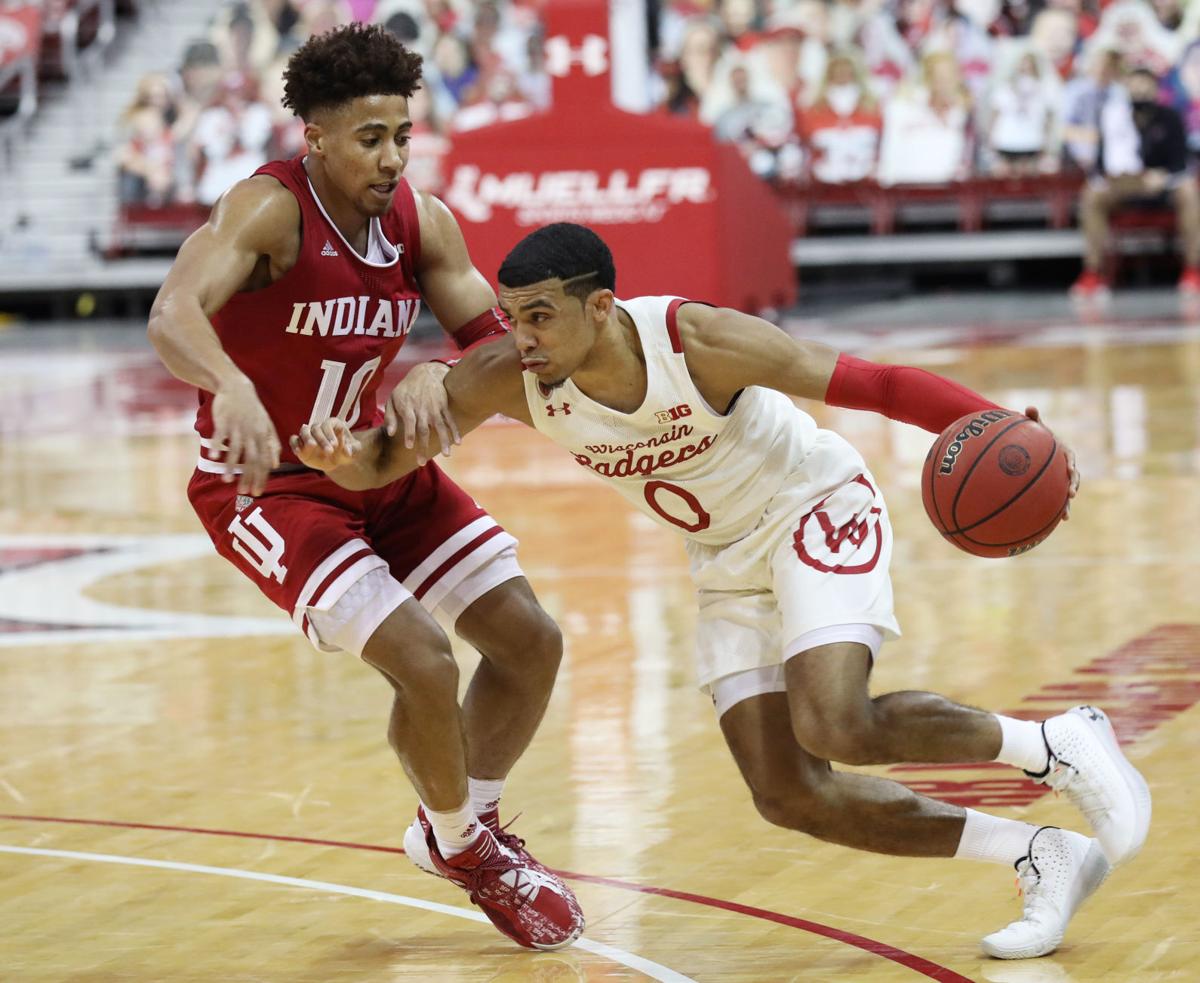 There was a déjà vu feeling circulating throughout the Kohl Center Thursday night, even for some of the members of the University of Wisconsin men's basketball team.
Ten days earlier, the Badgers' defense had been picked apart during the second half of a home loss to Maryland. It was happening again with another athletic team, Indiana, causing the problems this time around.
Two significant things happened to make this outcome different for UW: Its defense finally buckled down before it was too late, and it got an offensive spark from an unlikely source.
Sophomore forward Tyler Wahl, known more for his defense than his outside shooting, delivered a pair of 3-pointers in the second overtime to help the No. 8 Badgers escape with an 80-73 victory over the Hoosiers.
Senior point guard D'Mitrik Trice said afterward that UW's mantra in the huddle during timeouts late in the game was the need to continue to fight. The Badgers (10-2, 4-1 Big Ten) did that to avoid what would have been another crushing blow on their home court heading into a key stretch that includes road games at No. 10 Michigan and No. 15 Rutgers next week.
"I've got to tip my hat to the guys who didn't give up, kept fighting and continue to make plays," Trice said.
Trice was certainly part of that group. He finished with a team-high 21 points and seven assists and made clutch shots in the final minute of regulation and overtime to give UW a chance.
Wahl took over from there, hitting a pair of dagger shots in front of the UW bench on back-to-back possessions in the second extra session. The first came from the left corner and gave the Badgers a 74-70 lead; the second, from the left wing, made it a seven-point cushion and gave Wahl a career-high 12 points.
There was no hesitation on either of those shots despite the fact Wahl was 2 of 9 from 3-point range this season — and 8 of 37 for his career from beyond the arc — up to that point.
"I just kind of let them fly," Wahl said.
The Hoosiers no doubt were willing to take their chances with possessions ending in Wahl shooting from the perimeter, but it's notable that his teammates showed confidence in him in those situations. UW senior guard Brad Davison made an extra pass to find Wahl on the first attempt, and Trice delivered an assist on the next one.
"For him, it was about confidence and that's typical for any young player," UW coach Greg Gard said. "It's always exciting when you see somebody take another step in their development and obviously for Tyler, it's going to continue to be what he can do from shooting the ball and the consistency from 3. Happy for him because he needed that, that was a good boost for him."
UW wouldn't have even gotten to that point had it not stopped the bleeding on the defensive end.
Maryland made a living in the paint against the Badgers in the second half less than two weeks ago, and Indiana followed the same blueprint after halftime Thursday.
The Hoosiers (7-5, 2-3) finished with 44 points in the paint but had only three baskets in that area over the final 15 minutes, 55 seconds of the game.
Trice said a change in mind-set was important, but so was Gard's decision to go with a defensive lineup he could count on down the stretch.
A dunk by sophomore forward Trayce Jackson-Davis gave Indiana a 54-50 lead with 6 minutes, 47 seconds left. At that point, the Hoosiers had 30 points in 20 possessions during the second half and were on their way to ending a 17-game losing streak at the Kohl Center.
But Gard pulled senior center Micah Potter and senior forward Aleem Ford in favor of Wahl and senior forward Nate Reuvers. Those two were joined on the court by Trice, Davison and freshman guard Jonathan Davis for most of the remainder of the game.
The Hoosiers were held to 19 points in 24 possessions after the aforementioned dunk by Jackson-Davis. That was also the final field goal of the game for the Indiana star, who finished with a game-high 23 points on 10-of-16 shooting but had only a free throw over the final 16:46 of the game.
"We just got better defensively, I think that's the biggest thing," Gard said. "We were able to find the lineup and ride that and find a way to get enough stops and keep ourselves in the game."
UW's deficit had grown to 56-50, but Wahl followed a steal with a dunk to key a 7-0 run. Trice's floater with 21.1 seconds remaining in regulation helped force overtime and his step-back jumper with 11.6 seconds left sent the game to a second session.
"He's a great player and he's saved us in a lot of (tough) positions," Wahl said of Trice, who's averaging 22.3 points over a four-game stretch. "I'm glad to have him on my team."
Trice feels the same way about Wahl. Earlier in the day, they were the final two UW players on the court after the team's shoot-around session. Wahl, as usual, was working with UW assistant coach Alando Tucker on catch-and-shoot situations.
Wahl, who had made improving his outside shot a top priority in the offseason, stayed confident even though his production from that area early in the season hasn't been as good as he hoped.
He thought those 3-pointers in the second overtime were going in and, according to Trice, so did Wahl's teammates.
"Of course, honestly," Trice said. "I see him work on it every day."