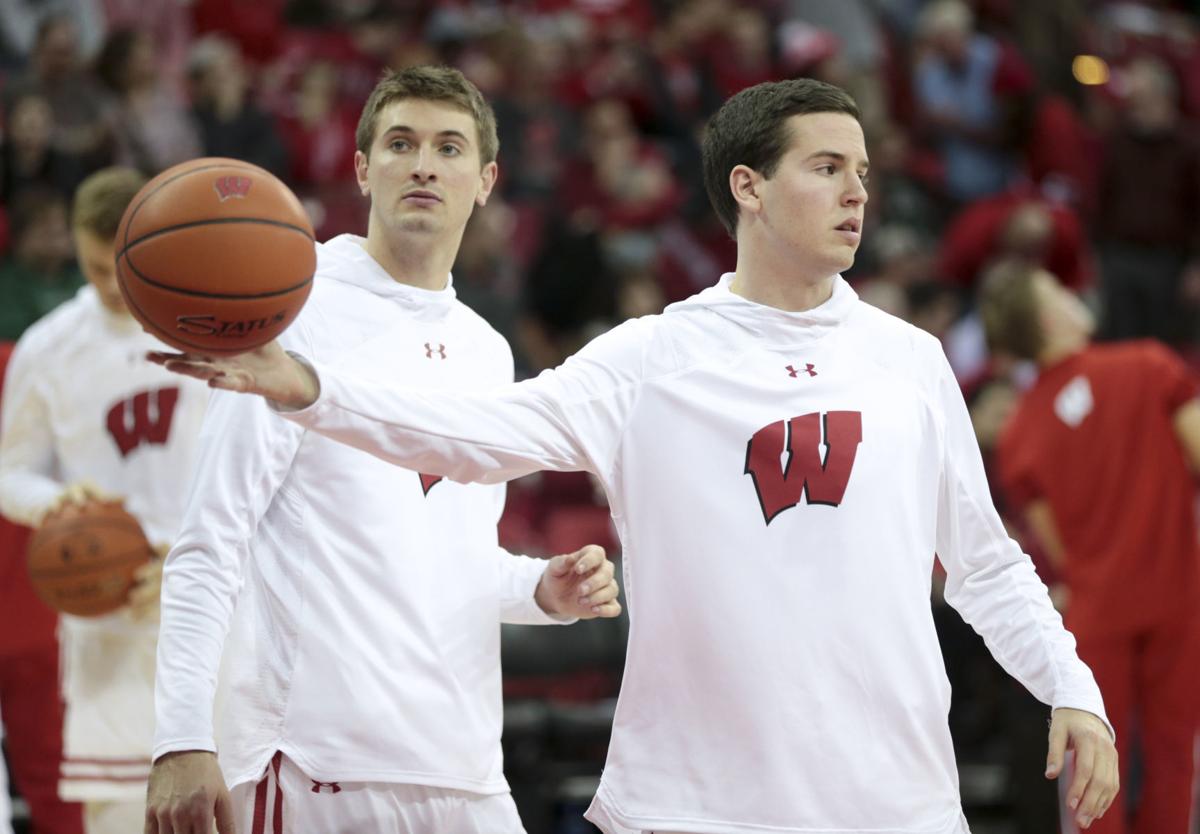 They had been roommates for all of two weeks when Aaron Moesch decided it was time to deliver a bold statement to Matt Ferris.
"Ferry," Moesch said, "you're going to be in my wedding."
It didn't matter to Moesch that there were no marriage plans in his immediate future or that his friendship with Ferris was barely a year old. He had learned enough about Ferris to know that when that big day came, Moesch wanted him to be part of it.
Three years later, the University of Wisconsin men's basketball teammates are still roommates and remain the best of friends. Ferris, Moesch and T.J. Schlundt will be honored today when the Badgers (14-16, 7-10 Big Ten) host No. 2 Michigan State (27-3, 15-2) on Senior Day at the Kohl Center.
Moesch, Ferris and Schlundt will graduate together in May with the same double-major in the School of Business: finance, investment and banking; and risk management and insurance.
How does Schlundt describe the tag-team that is Ferris and Moesch?
"Goofballs," Schlundt said. "They're inseparable. It's been that way for a few years now. They're characters. It's pretty cool to be friends with them."
Moesch, a fifth-year senior, arrived on campus one year before Ferris. They've had about 10 classes together over the past four years, one of which was RMI 300: Principles of Risk Management.
The professor of that class, Joan Schmit, could count on looking out at a group of 250-plus students and seeing the smiling faces of Ferris, Moesch and a handful of other student-athletes off to her right in the front row.
"Ferris and Moesch were always together," said Schmit, the chair of the risk and insurance department. "They arrived together, they sat together, they left together, they did everything together."
Part of the reason Ferris and Moesch get along so well is they share several common interests. The list includes country music, going to concerts, the Green Bay Packers, the Pardon My Take podcast and Baker Mayfield.
Another is traveling. When they took separate trips to Europe last year — Moesch's itinerary included Sweden, Germany, France, England, Ireland and Iceland; Ferris hit Belgium, Montenegro and the Netherlands — they made sure to plan accordingly so they could meet up in Denmark for a day.
There, in a Copenhagen bar, they had a few beers while playing their favorite board game, Settlers of Catan.
It was that game that nearly drove a wedge between the two one day last season in the apartment they shared with Zak Showalter.
"The friendship," Showalter said, "almost ended."
Ferris and Moesch had agreed to trade resource cards, but Ferris would only do it on one condition: that Moesch wouldn't build a road in a specific spot. Moesch agreed and the two shook hands to seal the deal.
Moesch then proceeded to break the deal and built the road exactly where Ferris didn't want it. Ferris got up, went to his room and stewed. He eventually returned and finished the game, but he wasn't happy about it.
"All's fair in love and war and Catan," Moesch said, "that's all I have to say."
That Moesch, Ferris and Schlundt all arrived as walk-ons makes for a unique Senior Day.
As UW coach Greg Gard notes, the three have seen the highs and lows during their run with the Badgers.
Moesch went to the Final Four as a freshman; the following year, Schlundt and Ferris were freshmen on a team that fell one win short of a national title.
Two trips to the Sweet Sixteen came after that, but then came this season. "A reality check," Ferris said.
But, as both pointed out, there's a lot of lessons to learn from this season that they can apply in the next chapter of their lives.
Ferris has a job lined up as a district manager with Aldi, a supermarket chain. Moesch landed a job as a project manager at Epic Systems.
Schlundt only recently decided to not return for a fifth season at UW, saying he was "just tired, not as engaged and motivated as I used to be."
He hopes to land a job as an insurance salesman, and Schmit said there's no question he'll find success in that career.
She used three words to describe Ferris, Moesch and Schlundt: smart, thoughtful and respectful.
Moesch and Schlundt were rewarded with scholarships prior to this season, but they'll always be walk-ons at heart.
Gard said there are challenges that come along with being a walk-on, including putting in the same number of hours in the weight room and in practice without getting the attention the top players receive.
Gard said it's important for walk-ons to "have the right approach and right mindset in our locker room" so chemistry doesn't get disrupted.
"All three of those guys," Gard said, "have really been about Wisconsin, first and foremost."
There's a scene in the movie "Good Will Hunting" in which the character played by Robin Williams talks about his late wife and all of her "wonderful little idiosyncrasies," one of which was passing gas in her sleep.
"Those are the things I miss the most," he concludes.
After three years of living together, Moesch and Ferris have detected plenty of idiosyncrasies in one another.
Moesch tells long stories and, according to Ferris, "goes through probably a bottle of ketchup a week. Puts it on everything – eggs, potatoes, and the strangest is pickles."
Ferris, meanwhile, will make himself a meal — say eggs and toast — and let it sit 20 minutes before eating it. And if somebody has left out dishes in their apartment, a safe bet is the culprit was Ferris.
"I love the little things about him," Moesch said. "That's the stuff I'm going to miss."
Their run as roommates might not be over, however. Showalter and his fiancée, Annie Tamblyn, are looking to purchase a house in Madison, and Moesch and Ferris may join them as roommates.
That says a lot about Tamblyn, but it also says a lot about Ferris and Moesch.
"And," said Showalter, who had the same double-major as Ferris and Moesch, "it says a lot about all of us being finance people that are trying to save a dime and benefit all parties involved."
Be the first to know
Get local news delivered to your inbox!