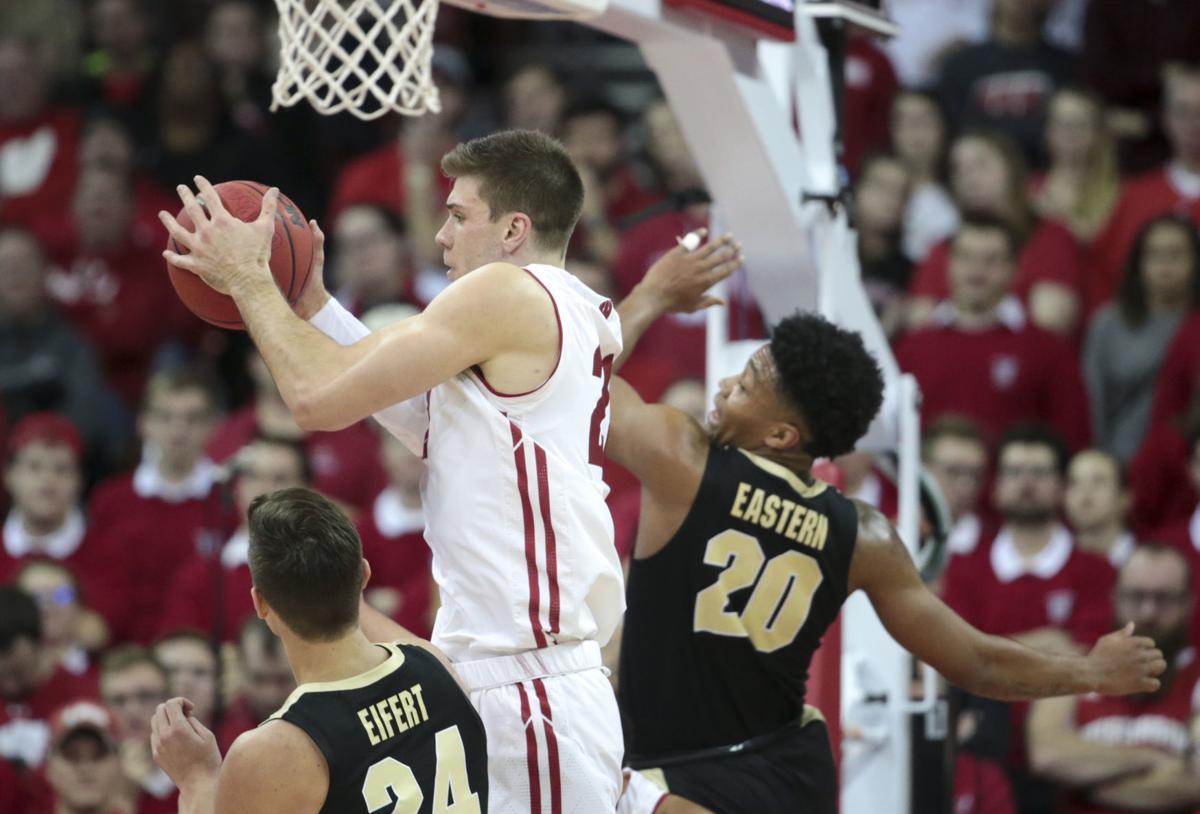 COLLEGE PARK, Md. — The fifth of his six assists vs. Purdue on Friday night was Ethan Happ at his distributing best.
After his path to the basket was blocked by a double team, the senior center on the University of Wisconsin men's basketball team didn't panic. Happ regrouped, turned away from the basket and delivered a perfect pass to teammate Aleem Ford for a wide-open 3-pointer.
A sloppy version of Happ was on display three possessions later when he again attempted to connect with Ford, this time underneath the basket. Happ dribbled to the edge of the paint and tried to thread the needle while on the move, but his left-handed bounce pass was deflected and eventually went off Ford and out of bounds.
That aforementioned assist moved Happ into sole possession of fifth place on UW's all-time list. The aforementioned turnover was one of nine in the game for Happ, a major factor in the Badgers' 84-80 overtime loss to the visiting Boilermakers.
A day later, given time to reflect on that career-high total and watch most of them again in the team's video review session, Happ was blunt in his assessment of what happened. "There were several that I could have done differently, where it wasn't necessarily what Purdue was doing, it was self-inflicted," he said.
The miscues marred an otherwise brilliant performance by Happ, who, as usual, carried UW on his back while producing team highs in points (31), rebounds (13) and assists.
The game featured the good and bad of how Happ fills up a box score. He's already the program's all-time leading rebounder and could finish No. 1 in points and blocked shots as well. He'll also be second in steals and likely third in assists.
But Happ is also closing in on a statistical milestone that isn't as flattering. Two turnovers on Monday night, when the Badgers (11-5, 3-2 Big Ten) play Maryland (14-3, 5-1) at the XFINITY Center, will give Happ 300 for his career.
He'd become the first UW player to hit that mark since Michael Finley had 318 turnovers from 1991-95. The only other players with 300-plus turnovers since UW began recording the stat at the start of the 1977-78 season are Claude Gregory (396) and Wes Matthews (320), the latter accumulating that total in three seasons.
Some context is required at this point: Happ, who has been called the most unique player in the nation by coaches and commentators alike, essentially plays the role of point center. He's had his hands on the ball a lot while playing over 3,500 minutes in his career and, over the past two seasons, he's been the focal point of an offense without a consistent complementary threat.
Meanwhile, the tempo UW plays at also must be considered. Unlike Finley, who played in a fast-paced system, Happ and the Badgers typically operate in low-possession games where turnovers are even more costly.
While Happ ranks fifth in assists at UW, he's last among the top 10 players on that list in terms of assist-to-turnover ratio. His 1.16 ratio is slightly lower than Finley's 1.17 mark.
"When we see him handle the ball and put team teams on their heels and get some opportunities, it looks great and everyone writes about that and praises that," Badgers assistant coach Howard Moore said. "But when things don't go our way, obviously that's a concern. You've got to live with a little bit of that. But (UW coach Greg Gard) has always cautioned on the point of him being safe with the ball and not being risky."
'Easily controllable'
UW finished with a season-high 17 turnovers in the loss to Purdue. Of the eight players who saw action, sophomore guard Brad Davison was the only one who didn't turn the ball over at least once.
Badgers assistant coach Dean Oliver called it a "nightmare game" and said almost all of the turnovers were avoidable.
"They were all easily controllable by our guys," he said. "Just make a better play. Make an easier play. Make a smarter play and a lot of those would have been avoided."
Even after giving the ball away on nearly a quarter of its possessions against the Boilermakers, UW ranks sixth nationally in turnover percentage, per KenPom. But giveaways have been a major issue in four of the team's defeats.
The Badgers turned the ball over on three consecutive possessions late in a home loss to Minnesota earlier this month. They had 13 turnovers in losses to Marquette and Virginia, the latter total coming in a game with only 58 possessions.
"There have been crucial moments where we got away from" fundamentals, Oliver said.
As a whole, however, UW has made great improvements in that area.
After finishing in the top five nationally in turnover percentage in each of Bo Ryan's final seven seasons, the Badgers finished 106th, 71st and 67th in that category the past three seasons.
The Badgers turned the ball over on 17.1 percent of their possessions in 2015-16, when Gard took over for Ryan after 12 games. They were at 17.0 percent the next season and 16.8 percent in 2017-18.
That average is down to 14.3 percent this season, which would be the fourth-best mark for the Badgers in the 18 seasons of the Ryan/Gard era. Senior forward Khalil Iverson has cut down his turnover numbers, as has Davison after moving from point guard to shooting guard.
But Happ's turnover total has increased this season. At exactly three per game, it'd be the highest rate of his career.
"He has the ball a lot, so he's going to have some turnovers every now and then" Oliver said. "But there are ones that he can eliminate, and he's got to eliminate. It's just an awareness, catching yourself in the moment and making the easy play and not trying to make the home-run play."
Slowing down
Two of Happ's turnovers against Purdue were debatable. He was tied up in the first half after receiving an ill-advised pass from Davison. While Happ was credited with the turnover — the jump ball favored the Boilermakers — Davison deserved blame for the loss of possession.
Early in the second half, Happ went up for a shot and had the ball poked away by Purdue's Trevion Williams. The play easily could have been ruled a blocked shot and rebound for Williams; instead, he was credited with a steal and Happ was assessed a turnover.
Whether the final tally was seven, eight or nine turnovers, Happ is the first to admit the total was way too high.
Happ turned the ball over on UW's opening possession of the game when he got off balance and lost the ball on a drive to the basket. He was also whistled for a carry and a traveling violation in addition to four turnovers off passes, all of which were forced.
"I think the biggest thing is when he gets the ball, not trying to do too much," Moore said. "I liked it (Friday) when he got it and kind of scanned the defense a little bit. When he gets it and he's a rush and wants to go, go, go, that's when he gets in trouble."
Happ is already doing so much for the Badgers that it may sound outrageous to suggest he could do more. He's dealing with double teams, likely feeling fatigue from being on the floor so much and banging bodies in the post, and has a massive amount of pressure on his shoulders as the star of the team.
But even if he can eliminate an average of one turnover per game the rest of way and avoid having games like he did against Purdue, that could be significant in close games over the second half of the season.
Is that possible? Typically, players are who they are at the midway point of their senior year. Expecting dramatic improvements in flawed parts of their games is an unlikely proposition.
But Oliver, for one, is optimistic Happ can clean up his play.
"He's a student of the game. He wants to win badly," Oliver said. "Part of it is he wants to do things, wants to do more than he needs to do at certain times and could just make an easy play vs. kind of forcing it when it's not there.