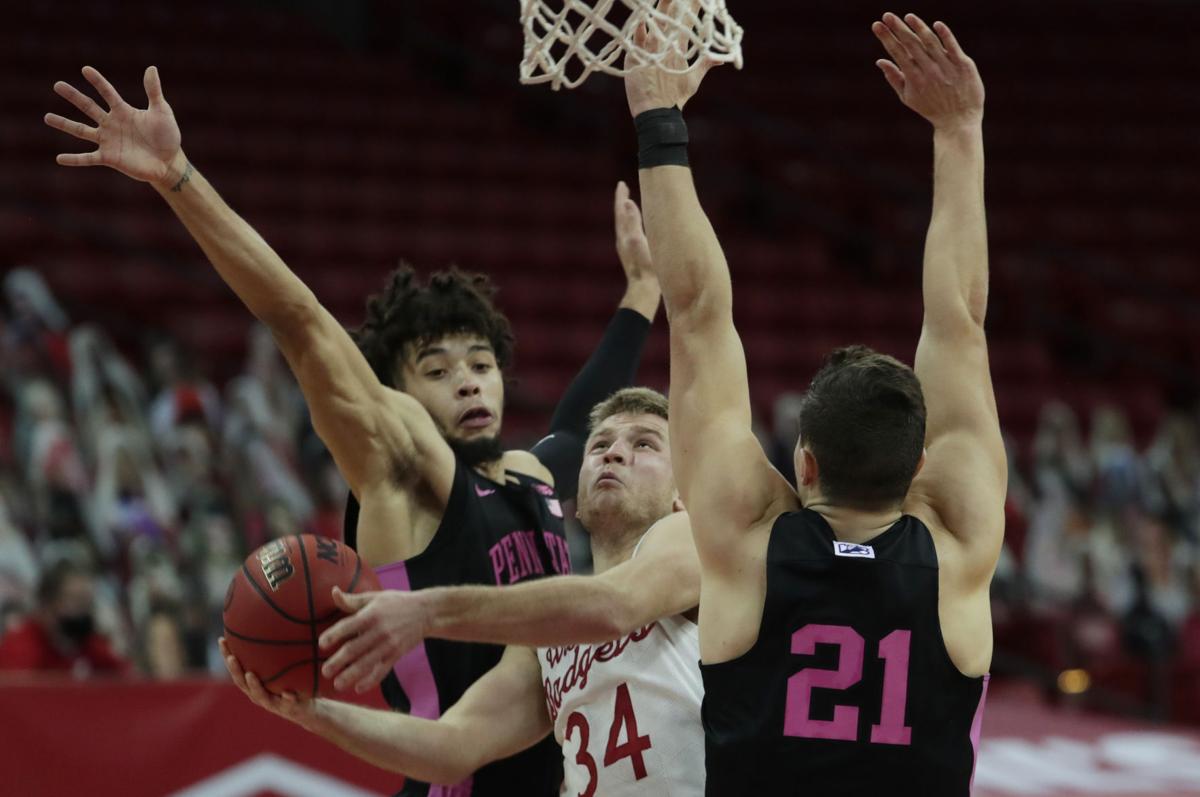 The University of Wisconsin men's basketball team has done a good job of turning the page after losses this season, getting more experience in that area than it would have imagined by this point of a campaign that began with massive expectations.
The No. 19 Badgers added another tally to their bounce-back total Tuesday night at the Kohl Center, where freshman guard Jonathan Davis scored a career-high 17 points in a 72-56 victory over Penn State.
Three days after a 10-point loss in State College, UW (14-5, 8-4 Big Ten) used a dominant second half to turn the tables on the Nittany Lions. That's now five times this season that UW has followed defeats with a win, making sure a setback doesn't turn into a skid.
"We've all been in this league, we know how tough it is," UW senior guard Trevor Anderson said. "Maybe to the outside, certain people don't understand that. But every day is a grind in this league.
"So (we're) just not dwelling on a bad performance or a couple missed shots, bad defense or whatever the case may be. Moving on, flipping the script and just getting back to work the next day at practice and then just moving forward. That's stuff we like to do as a unit."
Senior guard Brad Davison added 13 points and senior center Micah Potter had 12 for the Badgers, who blitzed the Nittany Lions (6-8, 3-7) in the opening 6-plus minutes after halftime to break open a close game.
Penn State ended a 13-game losing streak to the Badgers with the win on Saturday, but a different drought continued in the rematch: The Nittany Lions are now 0-17 at the Kohl Center and have lost 20 consecutive games overall in Madison since a 78-67 win at the UW Field House on Jan. 26, 1995.
Anderson called it a "cool situation" getting to play the same opponent it had just lost to, and UW coach Greg Gard thought his team looked motivated after a sloppy performance the first time against Penn State.
The two biggest differences between the first game and the second? UW's defense was much better, and so was its shooting.
The Badgers allowed the trio of Myreon Jones, Izaiah Brockington and John Harrar to combine for 55 points in the first game. That number dropped to 32 this time around, with Jones leading the Nittany Lions with 14 points on 6-of-15 shooting and Harrar adding 10.
Penn State shot 39% from the field overall — it was at 45% in State College — and went 6 of 24 from 3-point range.
The biggest point of emphasis after Gard and his staff reviewed that game was transition defense. Exactly how many fast-break points the Nittany Lions scored on Saturday is unclear due to a glitch in the stats program that gave them more than they earned, but Gard didn't need a precise total to know it was too many.
This time, Penn State didn't score at all in transition.
"If you would have saw (us) watching film, the day after Penn State, you would understand why we were getting back a little more diligently than last game," Anderson said. "When we're focused and locked in and everybody's on the same page and connected, these are some of the results we get."
Gard agreed with that assessment.
"I think the biggest thing obviously was to get back and get our defense set," Gard said. "I thought we took better shots, we were able to get in the paint a little bit more. It was a simple formula or a simple fix, but we still had to go play, and getting our defense set is obviously primary, no matter who we're playing."
Finally making some shots may have provided a little extra bounce in UW's step as well.
After going 7 of 28 from 3-point range in State College, the Badgers went 9 of 18 from beyond the arc in the rematch.
The biggest surprise was Davis, who went 4 of 4 from long distance. He was 4 of 17 on the season going into the game and had missed nine in a row since he made one in the first half of the Big Ten opener against Nebraska on Dec. 22.
"I've been dealing with a little bit of confidence issues the past couple games," said Davis, who had 14 points after halftime Tuesday. "I haven't really been attempting a lot of 3s but to see that first one in a while go down was a really good feeling."
On a night when senior point guard D'Mitrik Trice was held scoreless, it didn't matter because plenty of others were there to step up. That included the bench trio of Davis, Anderson and senior forward Nate Reuvers, who combined for 35 points.
Anderson finished with nine points and three assists in 12 minutes.
"You've always got to come out aggressive," Anderson said. "I try to just be a point guard, whatever that looks like, if we need scoring, if we need a couple assists, get the pace up, whatever that is, I just try to bring that off the bench."
Davison made a 3-pointer at the buzzer to end the first half and added two more during a 15-2 run by UW to open the second half. That surge turned a two-point halftime lead into a 48-33 cushion.
Gard's biggest gripe was how sloppy his team was with the ball. The Badgers finished with a season-high 15 turnovers, including 11 in the first half.
Afterward, Anderson closed his portion of the news conference with a request: "Make sure somebody asks Johnny about his six turnovers," he said.
And so, a reporter did, asking what would stick with Davis more: the career-high 17 points or the career-high six turnovers?
"Definitely, the turnovers," Davis said. "I've got to work on being stronger with the ball in practice."
---
PHOTOS: BADGERS RESPOND WITH DECISIVE VICTORY OVER NITTANY LIONS