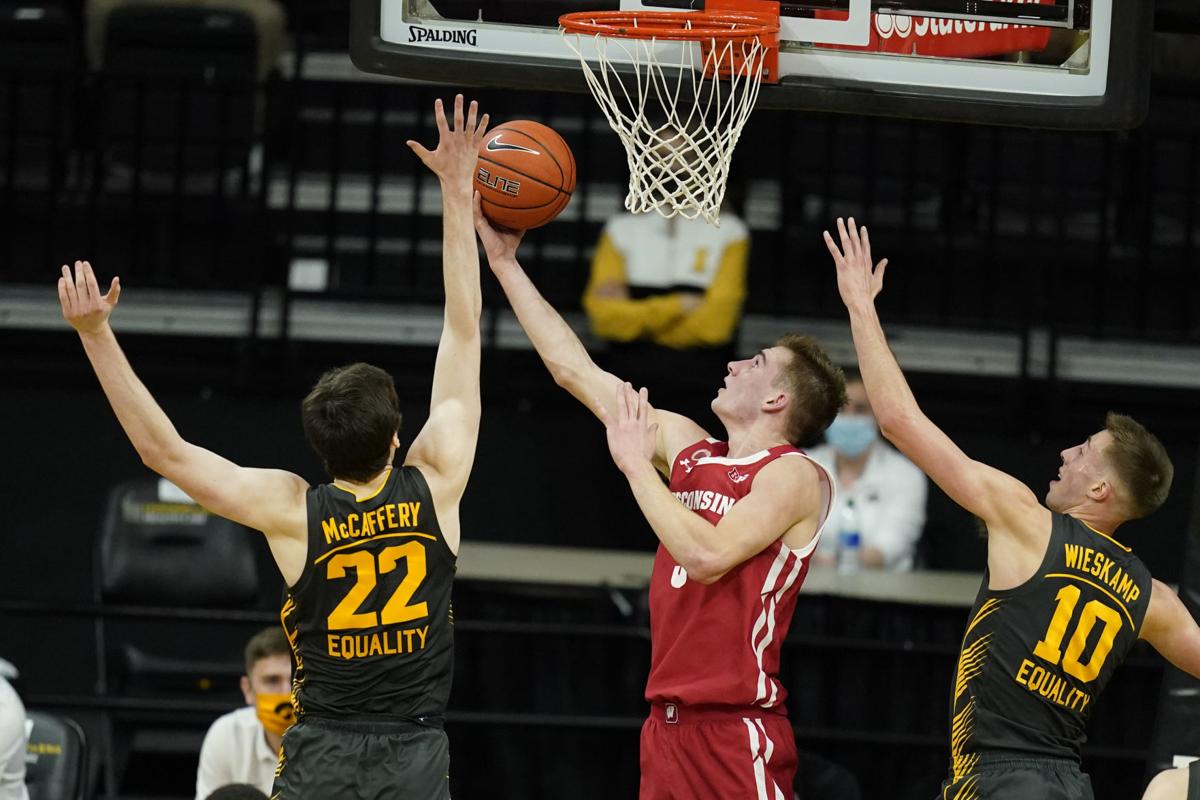 IOWA CITY, Iowa — Greg Gard reached his breaking point Sunday afternoon at Carver-Hawkeye Arena.
It wasn't just a case of the University of Wisconsin men's basketball coach blowing off steam following another frustrating loss to a quality opponent, this one a 77-73 setback against No. 5 Iowa that left the No. 25 Badgers sitting at .500 in Big Ten play at the end of their disappointing regular season.
This wasn't a spur-of-the-moment outburst from a hot head, either. The normally mild-mannered Gard had plenty of time to cool off between the final buzzer and the start of his postgame news conference, yet his temperature only seemed to rise during those 30 minutes.
What followed was unexpected and likely will earn Gard a fine at the very least. A coach who has one technical foul in 185 career games and typically chooses his words carefully while discussing officiating went all-in on the Big Ten crew who worked the game Sunday without being prompted.
Gard was angry with a Flagrant-1 hook-and-hold call on Brad Davison late in the game; the latest, Gard feels, in a pattern of the UW senior guard being targeted by officials.
"It appears to have become a 'Brad Davison rule,' " Gard said. "And it's become, quite frankly, a joke. Anytime there's a foul or a question, the opponents are yelling to the officials about the monitor, to go to the monitor. I saw the play. If college basketball's headed in this direction, we're in big trouble. Really, it sickens me that we have games decided like this and this is where it's at."
"I feel bad for Brad Davison," Gard said. "The kid's a great kid, plays his ass off, but he continues to get screwed by this and how the officials and the league and opponents have continued to just call that out and put a spotlight on that. … It's become sickening, really. It's made a mockery of college basketball."
Was the call on Davison correct? That's open to interpretation of a subjective rule. Davison cut through the lane and was pushed by Iowa's Keegan Murray while going for a pass, drawing a whistle on the freshman forward. But officials went to the monitor and determined Davison used his left arm to clamp down on Murray.
A common foul was called on Murray, and Davison made two free throws to cut UW's deficit to 74-73 with 21.5 seconds remaining. But Murray was awarded two free throws as well, and made both.
Davison wasn't made available to the media after the game. After Gard went off, UW freshman wing Jonathan Davis took his own shot at a crew that included Bo Boroski, D.J. Carstensen and Courtney Green.
"The officiating crew screwed us on that call with Brad," Davis said. "Every game I feel like it's something going on with Brad, he's got a Flagrant call against him or a review. I thought they really messed up the game today."
Blaming the loss on the officiating would take UW (16-11, 10-10 Big Ten), which was 0-8 against the teams that finished above it in the standings, off the hook.
The Badgers got 23 points from senior center Micah Potter, 14 from Davison and 11 from Davis. They lost despite averaging 1.52 points per possession in the second half, showing some punch on offense that has been missing for most of Big Ten play.
But getting hot after halftime doesn't erase the fact that the Badgers once again wasted too many quality scoring chances. They missed 16 attempts from 3-point range in the game and roughly half of those were wide-open looks. One came after the chaos with Davison, when senior forward Aleem Ford missed badly on a great look from the left wing that would have tied the game with about 10 seconds remaining.
Rebounding was another factor in the defeat. Murray and Luka Garza, who finished with 21 points and 16 rebounds, killed the Badgers on the offensive glass. One of the biggest plays of the game came when Ford didn't get a body on Murray after a missed free throw by Connor McCaffery with 44.8 seconds left in the game, keeping alive a possession that proved to be critical.
Much like its loss at Purdue earlier in the week, UW showed progress against a good opponent. But the little things all added up to another defeat for the Badgers, who finished the season by losing five of their final six games and head into the postseason on a three-game skid.
"It stings," Potter said after UW lost to an Iowa team that played the final 28:16 without its second-best player after junior forward Joe Wieskamp injured his right ankle in the first half. "Losing sucks."
While Gard blew up about the Davison call, there was one on the previous possession that was questionable and, ultimately, more costly.
After Murray outworked Ford for the offensive rebound on McCaffery's miss and called timeout, Iowa got the ball to senior guard Jordan Bohannon curling around a screen. If there was contact from UW senior point guard D'Mitrik Trice, it was light and typically the kind that gets ignored in the final minute of a close game.
Instead, Bohannon sold it well and Boroski, who was standing a few feet from the play on the right wing, called Trice for his fifth foul on the game. Bohannon was awarded three free throws and made them all to give the Hawkeyes (20-7, 14-6) a 74-71 lead with 34.3 seconds left.
Gard said he hadn't watched video of the foul on Trice and didn't want to comment. That may be for the better, in retrospect.
The Badgers will open the Big Ten tournament at Lucas Oil Stadium in Indianapolis on Thursday night as the No. 6 seed. They'll face either Penn State or Nebraska.
By that point, Gard no doubt will have heard from the Big Ten regarding his critical comments. Bring it on, he says.
"I'm just trying to protect a player that is constantly … they've put a spotlight on him and I've asked the league to stop it," Gard said. "They've allowed it to get out of hand. …
"The kid is a great kid, he's done a phenomenal job for our program, he's been a great representative of this university and I'm just tired of him constantly getting put in that light. It's got to stop. I'll be happy to take a call from the league. They know my number, they know where I'm at."
---
Photos: Badgers close regular season with loss to Hawkeyes