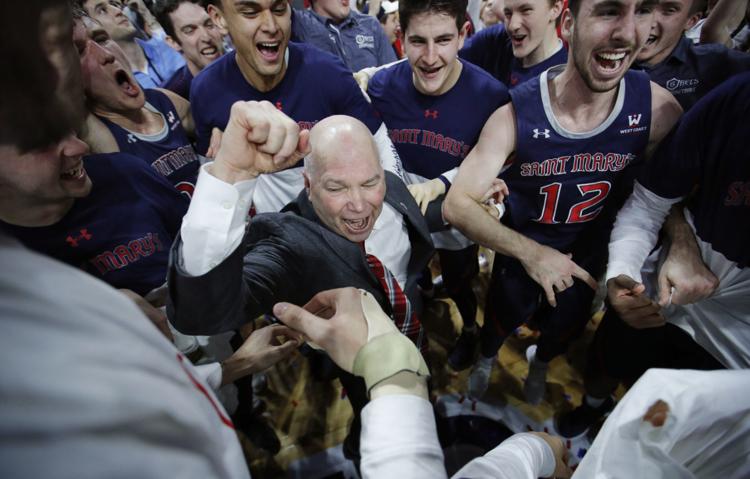 NOV. 5 — SANFORD PENTAGON IN SIOUX FALLS, SOUTH DAKOTA
COACH'S CORNER
Randy Bennett (above) is 414-174 with seven NCAA tournament appearances in 18 seasons with the Gaels. Bennett took over a program that went 2-27 in 2000-01 and increased Saint Mary's win total in each of the first four seasons. The Gaels have won at least 20 games in 12 consecutive seasons.
BIG MAN ON CAMPUS
Senior guard Jordan Ford's scoring average has made a jump every season, from 2.3 as a freshman to 11.1 as a sophomore to 21.1 last season. Ford shot 41.2 percent from 3-point range and 80 percent from the foul line while scoring at least 20 points in 19 games, including 30 or more on two occasions.
SCOUTING REPORT
The Gaels return 88.5 percent of their scoring and 80 percent of their rebounding from a team that finished 22-10, including 11-5 in the West Coast Conference. The only significant loss was 6-10 forward Jordan Hunter, who averaged 7.9 points and 6.7 rebounds per game. Junior forward Malik Fitts averaged 15.2 points and 7.6 rebounds per game, shooting 40.6 percent from 3-point range. Senior Tanner Krebs (8.9), who shot 39.8 percent from beyond the arc in 2018-19, and junior Tommy Kuhse (6.2) join Ford in an experienced backcourt. Aaron Menzies, a 7-3 senior center, sat out last season with a hand injury. He averaged 11.3 points, 8.9 rebounds and 2.3 blocks at Seattle in 2017-18.