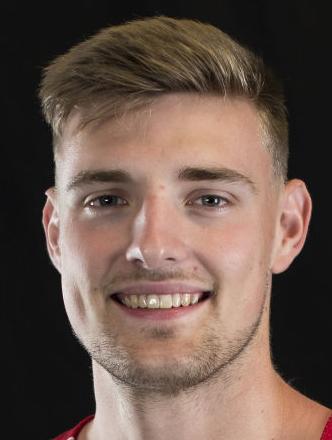 The Micah Potter saga is nearing an end.
Potter, a junior forward who is eager to officially begin his career with the University of Wisconsin men's basketball team, will have a clear understanding by Thursday of when that debut will come.
The telephonic hearing granted to Potter by the NCAA is scheduled for midday on Thursday, according to a UW official. As is stated in a document listing the policy and procedures of the NCAA Division I Committee for Legislative Relief (CLR), this hearing is the final step of what has been a long process: "The decision by the committee is considered final with no other appeal opportunity."
As of now, Potter is ineligible to play for the Badgers until the end of the first semester. He already has sat out four games and could miss as many as six additional games until UW plays its first game following the end of the semester, a Dec. 21 matchup with UW-Milwaukee at the Kohl Center.
Here's a look at what's taken place so far and a general rundown of the key players involved in this hearing — or legislative relief appeal teleconference, as the NCAA calls it — and what takes place on it.
How we got here
Potter left the Ohio State program a few days prior to the official start of the 2018-19 season. After considering his options, Potter announced he was transferring to UW but remained enrolled at Ohio State until the end of the first semester.
Potter arrived in Madison last December and began practicing with the Badgers. Even before Potter joined the team, UW knew it would be appealing for a waiver on his behalf to get him eligible by the start of the 2019-20 season.
A closer look at the rule that has left Potter on the sidelines to this point: NCAA transfer rules require student-athletes to spend a year sitting out at their new institution. The point of this is to help students get better acclimated at their new school.
One of Potter's arguments from the start has been that his transition from Ohio State to UW was smooth. He earned a grade-point average of 3.3 better during the spring and summer semesters at UW after posting a 3.5 GPA during his final semester at Ohio State.
In other words, getting acclimated at UW wasn't an issue. Furthermore, Potter argued that it was unfair that he had to sit out three semesters — he didn't play a single minute last season — when other transfers around the country are being granted immediate eligibility without missing any games.
UW filed its waiver on Potter's behalf in late June. The waiver UW filed on Potter's behalf included letters of support from Ohio State athletic director Gene Smith, Buckeyes coach Chris Holtmann and former coach Thad Matta. The Big Ten office also offered its blessing for a transfer between programs within the conference.
Once that waiver was denied by NCAA staff in Indianapolis, UW appealed that decision and it went to the CLR, a group of seven voting members made up of Division I athletic department, compliance and conference officials from around the country.
UW filed a request for reconsideration and Scott Tompsett announced that he was representing Potter. Tompsett, of the Kansas City-based Tompsett Collegiate Sports Law, primarily represents coaches involved in NCAA major infractions cases but has worked on behalf of student-athletes.
Potter's case once again went back to the NCAA staff level in Indianapolis, where it was denied. It then went to the CLR, which also denied it a second time.
Potter submitted a written request to the chair of the CLR asking for a telephonic hearing. That request was granted.
The unknown
What we do know, according to Badgers coach Greg Gard, is that UW disagrees with the NCAA's rationale for denying Potter's waiver. But the NCAA doesn't comment on cases, citing privacy issues, and Potter, his attorney and UW have been tight-lipped about what the NCAA's rationale was.
While that leaves the rest of us confused, it makes sense to keep some information under wraps until this is all over.
You have free articles remaining.
Some view Potter's case as a slam dunk and readers have asked why it's gotten to this point. Here's how I've explained it, based on an interview last month with NCAA personnel that was on background and designed to help me better understand the process.
Potter's case wasn't specifically discussed — again, because of privacy issues. Here's what I learned from that conversation, though:
Whether it's the team of NCAA staff members or the CLR, the people making the decisions on transfer waivers are provided 13 guidelines to follow by its member institutions.
Those assertions range from "no participation opportunity at previous institution" to "egregious behavior" to "family member injury or illness" to "financial hardship."
Let's pretend those guidelines are buckets. From what I can gather reading through the guidelines, Potter's case doesn't fall neatly into any of those 13 buckets and that may be the reason why his waiver was denied.
A caveat: Even if a case doesn't fall under any of the 13 guidelines used by NCAA staff, an official acknowledged to me that the organization can provide relief under the totality of the circumstances.
Plus, you could make a case that there should be a 14th bucket. Call it the Common Sense Bucket. If so many others around the country are getting waivers despite not missing any games at all, how can you possibly make a model student-athlete sit out 1½ seasons of competition?
I've tried not to make specific comparisons between Potter's case and others, such as Ohio State quarterback Justin Fields or Miami (Fla.) quarterback Tate Martell, two high-profile transfers on the gridiron; or any on the basketball court, for that matter.
Here's why: Comparing transfer waivers is, for the most part, an apple-to-oranges comparison. Rarely are two cases exactly alike. There's also a lot of unknown. When an institution argues for a waiver on behalf of an athlete, the reasons for doing so are often kept private. There's just a lot we don't know and probably never will.
The hearing
Which brings us to the hearing on Thursday.
From what I understand, that teleconference will include Potter, Tompsett, UW athletic director Barry Alvarez and UW associate athletic director for compliance Katie Smith. It's possible it also could include Walter Dickey, a special assistant to Alvarez and longtime faculty member of the UW Law School.
According to the CLR's list of policy and procedures, here's a rundown of what takes place in these hearings:
* Once all the parties are introduced, the CLR has 10 minutes "to describe the facts of the appeal, the applicable precedent and the rationale for the staff's decision."
* UW would then have 10 minutes and Potter would get another 10 minutes "to describe the case and explain the reasons for requesting that the staff's decision be overturned or modified."
* The CLR will then have an opportunity to ask questions.
* Once all questions have been answered and the hearing has concluded, all non-CLR members would leave the call. The CLR staff would then deliberate and, once a decision has been reached, UW will be notified of the result.
The CLR, according to policy, "may affirm, modify or overturn the staff's decision."
So Potter should know at some point on Thursday where he stands. It's possible he'll be declared eligible by the time the Badgers host UW-Green Bay on Thursday night at the Kohl Center.
Or it's possible his waiver will be denied once again. If that's the case, he'll have to wait until Dec. 21 — exactly a month from Thursday — to make his debut.
---
Preview: Badgers vs. UW-Green Bay