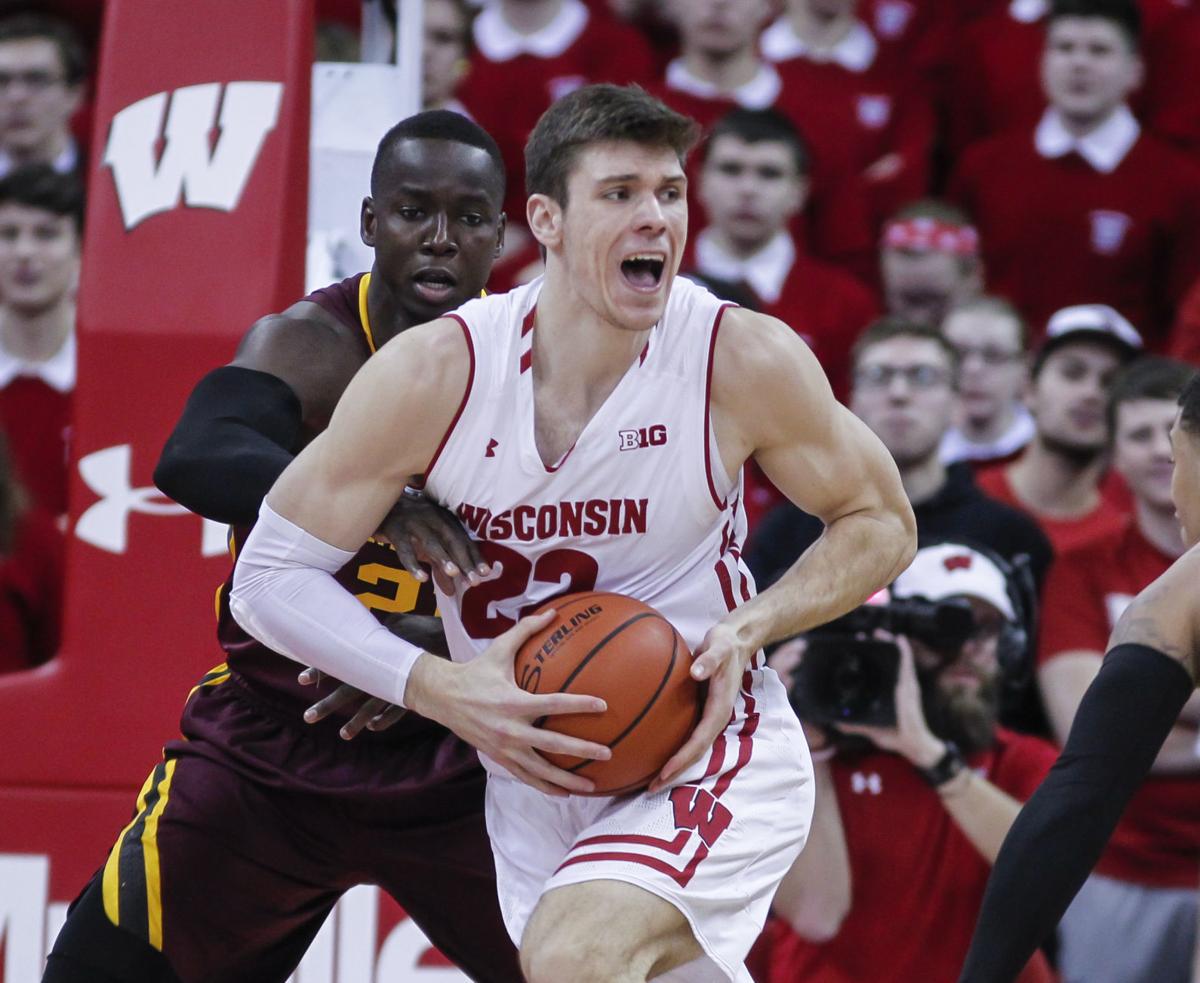 Ethan Happ is returning for one more season with the University of Wisconsin men's basketball team.
The senior center announced Wednesday he was withdrawing his name from the NBA draft pool. Happ had declared for the draft following his junior season but didn't hire an agent, leaving open the option of returning to UW.
Shortly before 5 p.m. Wednesday — about six hours before the deadline – Happ tweeted: "Have had some unbelievable experiences in Madison so far ... coming back for one more special season. Can't wait to get back in the gym w/the fam. #OnWisconsin."
Happ's decision is a big one for UW, which went 15-18 last season and missed the NCAA tournament for the first time since 1998. Greg Gard's team will return all five starters in addition to welcoming back two players who missed the final 23 games of the season with injuries: sophomore point guard D'Mitrik Trice and redshirt freshman wing Kobe King.
The group will be led by a player who has earned first-team All-Big Ten honors in back-to-back seasons. Happ averaged 17.9 points, 8.0 rebounds, 3.7 assists, 1.5 steals and 1.1 blocks per game as a junior, leading the team in all five of those categories.
He already is eighth all-time at UW in career points, second in rebounds, 15th in assists, third in steals and sixth in blocks.
"We're happy for Ethan that he was able to go through this experience and gather valuable feedback," Gard said in a statement. "That was the intent of the rule and Ethan learned a lot from this. We are also ecstatic as a program that Ethan will be back for what should be a terrific senior year. His teammates are excited to have him back and get started with the offseason workouts."
When UW's 2017-18 season ended with a loss to Michigan State in a Big Ten tournament quarterfinal in early March, Happ said he'd declare for the NBA draft with the intention on gathering feedback from front-office personnel on where his stock stands.
At the time, Happ said he believed he was a second-round pick in the eyes of NBA personnel. "That's not where I want to be," he added. "If the combine doesn't change that, then I'd probably say that I would come back."
Happ wasn't even invited to the combine, though he did work out for several NBA teams this month.
When Happ spoke to the State Journal earlier this month from Chicago, where he was working out daily with a handful of other prospects, Happ said his training was focused on three main components: becoming more explosive around the rim, being better able to get up and down the floor quickly and shooting.
As a junior, Happ became just the fifth Big Ten player since the 1996-97 campaign to produce at least 500 points, 250 rebounds and 100 assists in a single season.
But he struggled from the free throw line for the second consecutive season, shooting 55.0 percent after making half of his attempts as a sophomore. Most of his production during his career has come from around the rim.
Happ's determination to add a 3-point shot to his repertoire was well-documented last offseason, but he went just 1 of 11 from beyond the arc in 2017-18. Happ said he was encouraged by Gard and his staff following the season to work on adding a mid-range game.
"Talking with the coaches after the season, that was definitely one of the focus points was that it doesn't have to be 3s. If I could have an automatic 10- to 15-foot jump shot, that would do us just as good, which I agree with," Happ said in May. "But at the same time, for me, I've just always thought if you can shoot, you can shoot. I don't necessarily think it's limited to range or spot."
In addition to Happ, UW returns six other players who started games last season. That group includes sophomore guard Brad Davison, who had offseason shoulder surgery but is expected to be ready in time for the season opener in November.
Davison was excited by the news of Happ's return, tweeting Wednesday: "Yessir Brother!! Time to get to Work."