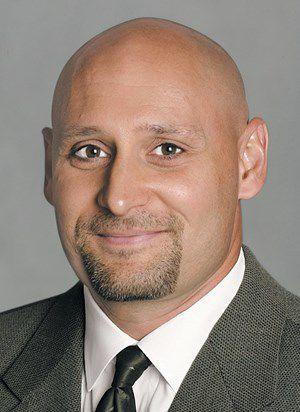 Erik Helland, the strength and conditioning coach for the University of Wisconsin men's basketball team, resigned Thursday after officials concluded an investigation regarding his use of a racial epithet in front of players more than a month ago.
UW, in a statement, announced Helland's resignation and confirmed it received information last weekend that Helland, "while recounting a story from earlier in his NBA career, had used a racial epithet in the presence of multiple Wisconsin men's basketball student-athletes. UW Athletics confirmed that assertion on Sunday."
Reached by the State Journal on Thursday, Helland said, "I'm devastated that I let the team down and my family down."
Helland said he used the epithet in the presence of a few players at UW's shootaround on Jan. 3 at Ohio State, where the Badgers shocked the then-No. 5 Buckeyes 61-57 later that night.
Helland also read a prepared statement to the State Journal and was emotional while doing so.
"In a recent conversation with members of the Wisconsin men's basketball team, I was sharing a story from my NBA career and explaining the intensity of a particular athlete, I quoted that individual, and in doing so, repeated a repugnant word. In no way were these my words, and I clearly stated my disapproval. From the beginning, I owned what I said and made apologies to the student-athletes affected," Helland said.
"I made a mistake in a moment of inattentiveness and for that I have the deepest regret.
"I can't overstate this, I would never do anything — nor have I ever — done anything to intentionally insult or hurt any of our student-athletes. I would never do anything to hurt the team.
"My years working at UW were some of my proudest moments. I treasured my time here and the relationships I made with coaches, staff and athletes. And I thank every one of them. On, Wisconsin!"
Helland was in his seventh season on UW's staff. He joined the Badgers in 2013 after a long run with the Chicago Bulls and was credited by then-UW coach Bo Ryan and players for his role in helping the Badgers make back-to-back runs to the Final Four in 2014 and '15.
Helland was among the people King thanked in an Instagram post announcing his departure.
Around the time UW was dealing with King's abrupt departure from the program on Jan. 29, Helland began hearing rumblings that his use of the epithet might be used by King as a way to gain immediate eligibility next season. Student-athletes are typically required to sit out a season after transferring, but some have received waivers from the NCAA after claiming mitigating circumstances.
After Helland initially said he self-reported to UW coach Greg Gard on Jan. 29 or 30, a question was raised why Gard didn't immediately let his superiors know about the incident. UW associate director Justin Doherty, who oversees the men's basketball program, maintained in a later interview that athletic department officials weren't aware about Helland's use of the epithet until Sunday, the timeline it used in a statement on Wednesday night.
More than two hours after his initial interview with the State Journal, Helland called a reporter to clarify that he informed Gard of the January incident following the Badgers' 64-63 win over then-No. 14 Michigan State on Saturday at the Kohl Center. According to Helland, he then informed two UW athletic department officials the following day.
Reached on his cell phone Thursday, King said he wasn't present when Helland used the epithet in front of three walk-ons, but his teammates told him about it.
King said he mentioned the January incident during a meeting with Doherty and UW associate athletic director for compliance Katie Smith last Friday.
The former Wisconsin Mr. Basketball and La Crosse Central standout had initiated the meeting with UW administrators so he could get his name in the transfer portal and begin talking to coaches from other programs. Over the course of that conversation, King said he was asked by Doherty and Smith if there were ways he thought UW could improve.
While King didn't believe Helland was being malicious in his use of the racial epithet, he said he raised the issue so UW could help its staff members be more informed on controversial societal issues. However, King said he didn't refer to Helland specifically at that time.
"To be honest, I didn't want it to go public," King said. "I like Coach E, he's been good to me, I just thought it was concerning. It was awkward for me for a few days, it was uncomfortable to me."
In its statement Thursday, UW said it "works to promote a safe and welcoming environment for its student-athletes and staff and the aforementioned language used does not align with the values of the athletic department, men's basketball program or the university."
The Milwaukee Journal Sentinel reported Wednesday night the epithet was directed at King by a UW staffer. The statement released by UW said that was not the case.
"Multiple public reports have indicated that UW Athletics has been investigating the alleged use of racially insensitive language directed at one student-athlete. That allegation is inaccurate. UW Athletics has no evidence — nor has it been alleged to the athletic department — that Helland directed racially insensitive language toward any member of the men's basketball program."
<&rdpStrong>Fans react on Twitter to Badgers' loss to Minnesota</&rdpStrong>