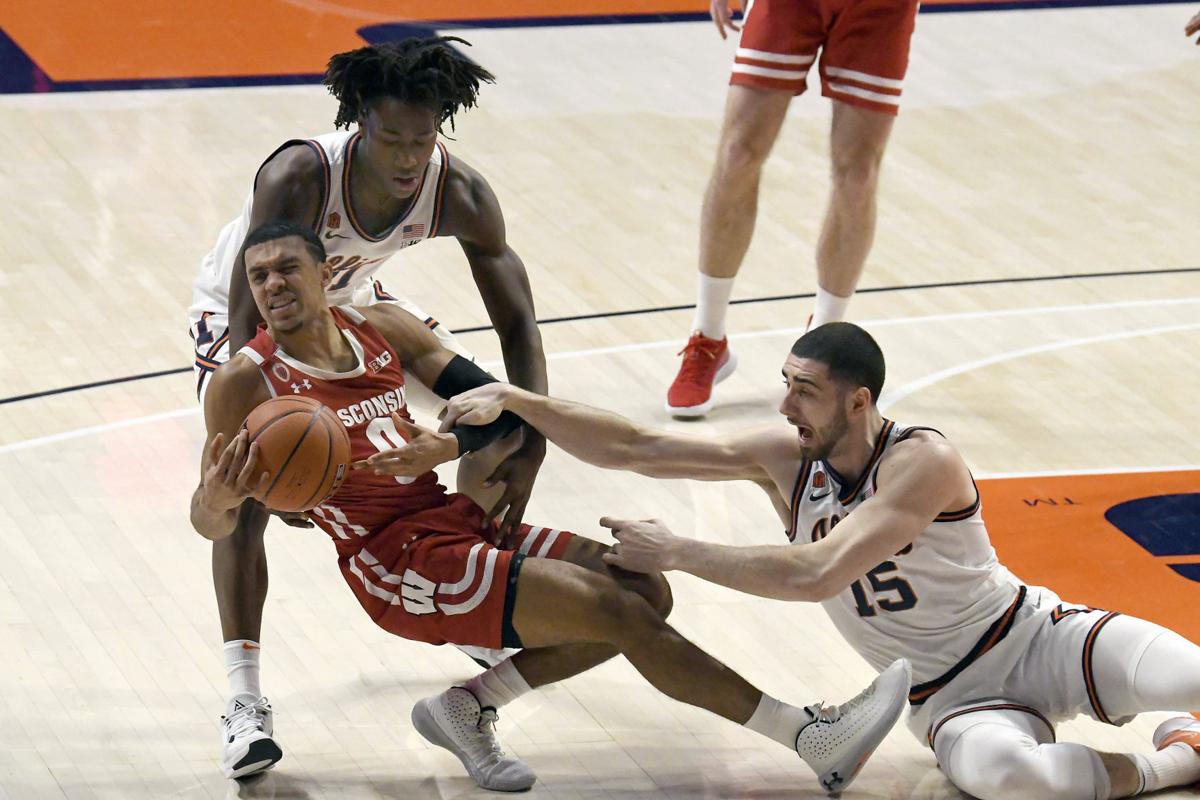 CHAMPAIGN, Ill. — It's a tossup which was the bigger headache for the University of Wisconsin men's basketball team Saturday afternoon.
Was it Ayo Dosunmu's playmaking ability or Kofi Cockburn's thunderous dunks?
The Badgers' self-inflicted wounds also deserve some consideration.
It all added up to a painful experience on national television for No. 19 UW, which dropped a 75-60 decision to No. 12 Illinois at the State Farm Center.
Cockburn finished with 23 points, 14 rebounds and eight dunks and managed to get outdone by Dosunmu, who produced a triple-double with 21 points, 12 rebounds and 12 assists.
"Those two guys," UW coach Greg Gard said, "were at another level."
Over and over this season, a television graphic has been shown that points out the Badgers have an older starting lineup than the Chicago Bulls.
That's great and all, but talent trumps experience and Illinois has two players who actually could play for the Bulls or a different NBA team someday.
Dosunmu, as he did last season at the Kohl Center, picked apart the UW defense and either scored on his own or created for his teammates.
His assists led to 28 points, including five baskets for Cockburn and four 3-pointers for the Fighting Illini (13-5, 9-3 Big Ten).
"He's a pro," Gard said. "Guys want to know what life is like at that (next) level, they just saw it."
Over and over, Dosunmu came off a high-ball screen set by Cockburn and forced UW to pick its poison. The Badgers didn't want to let Dosunmu get downhill with a head of steam, but he's so good at burning the help defense by finding an open shooter on the opposite side of the floor.
Plus, there's another great option: a lob to Cockburn, who sets physical screens, dives hard to the basket and, because he's 7-foot, 285-pounds, is sometimes impossible to defend.
Cockburn made two veteran UW defenders — fifth-year senior center Micah Potter and senior forward Nate Reuvers — look helpless at times. He was a big reason the Illini finished with 38 points in the paint and destroyed the Badgers 46-19 on the glass.
"I don't think it's any doubt him and Ayo, by far and away, are the two best players on the floor," Gard said. "That's not a shock. We thought that coming in that those two guy were going to be a handful and they were."
UW's only chance to counter that overwhelming talent was to play a clean game and knock down shots. It failed in both of those regards.
The Badgers committed 11 turnovers — their fourth consecutive game in double figures — and didn't take advantage of the many open looks they got during the game.
UW shot 41.7% overall and went 6 of 11 from the free throw line. Worse yet, the Badgers went 4 of 24 from 3-point range.
"Part of it is just confidence," Reuvers said. "We're all great shooters, we all can make those shots. We've got to get into a rhythm here."
After digging themselves a 16-point hole early in the second half, the Badgers (14-6, 8-5) cut their deficit to seven points on two occasions.
After an 11-2 run got UW within 48-41, it turned the ball over on three consecutive possessions and Cockburn scored on a pair of free throws and a dunk to restore Illinois' double-digit cushion.
The Badgers were within 57-50 after a three-point play by senior point guard D'Mitrik Trice with 8 minutes, 28 seconds to play, but Illinois answered with a 7-0 run that was sparked by Dosunmu. He made two free throws, assisted on a Cockburn dunk and fed Da'Monte Williams for a 3-pointer from the left wing that gave Illinois a 64-50 lead with 6:54 remaining.
"You can just tell that those two have played a lot together," Trice said of Dosunmu and Cockburn. "The chemistry is there and it just shows that a lot of hard work and a lot of dedication can pay off with the dynamic duo that they are."
Trice led the Badgers with 22 points, while Reuvers added 11. Reuvers thought UW may have let his poor shooting contribute to its play on the other end of the court.
"Coach Gard talks about, if you're not hitting your shots you can't let that affect you on the defensive end," Reuvers said. "Obviously that's tough to do when your shots aren't falling. It's kind of human nature to get a little down. We've just got to fight through that."
---
Photos: Badgers can't slow dynamic Illini offense