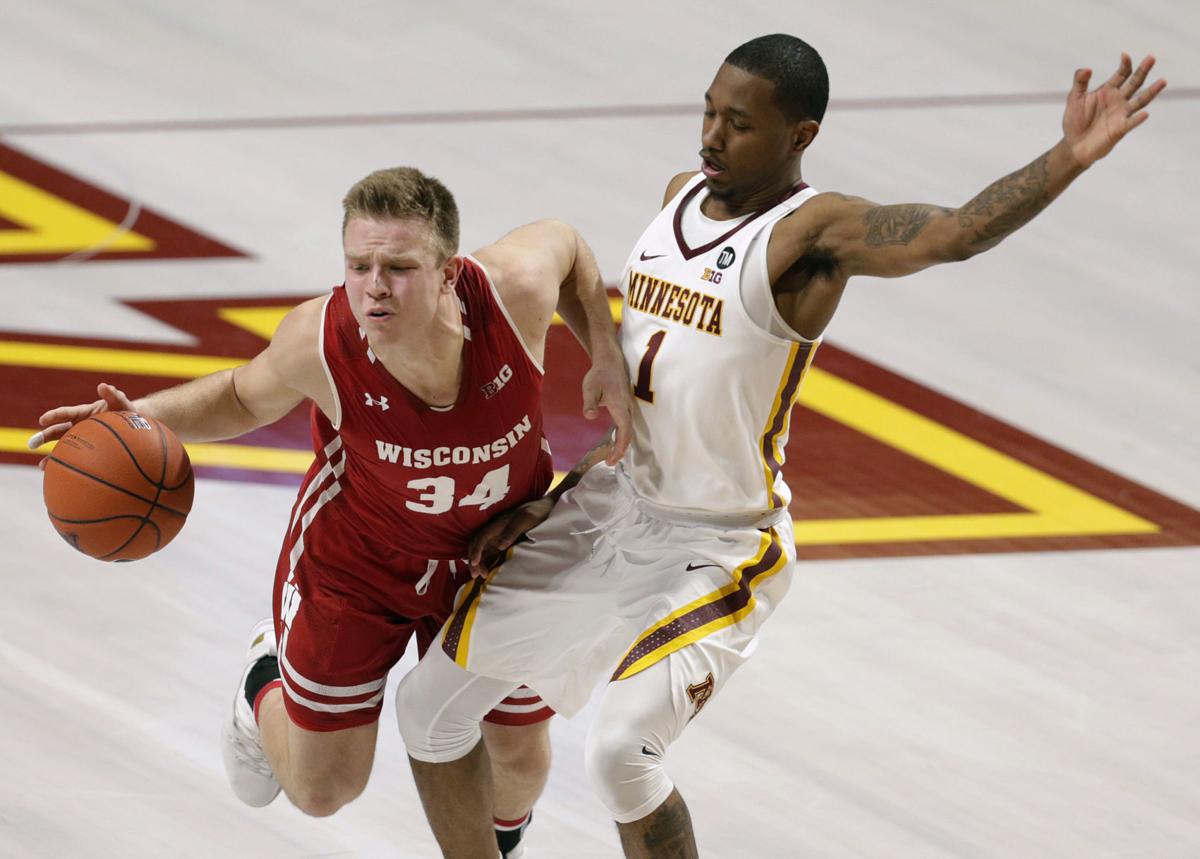 Two-thirds of the way through a 270-word answer Saturday afternoon at Michigan's Crisler Arena, Brad Davison turned his attention to how he's viewed by the world around him.
"Of course, I'd like everyone to like me," said Davison, a sophomore guard for the University of Wisconsin men's basketball team. "But at the same time I'm not going to let those opinions ever affect the way that I play, the way that I live my life and the person that I am because you're giving them way too much power if you do that."
It had been quite the eventful week for Davison, who was speaking after the Badgers' 61-52 loss to Michigan. There was plenty to discuss about that game, and it also was Davison's first interview since he was involved in a controversial moment during a win at Minnesota three days earlier.
A day before the Badgers beat the Golden Gophers 56-51 at Williams Arena, Minnesota coach Richard Pitino was asked about Davison's style of play. "Brad is a competitive player," Pitino said, according to the St. Paul Pioneer Press. "Got to know him recruiting him, a really good kid. He wants to win. I don't really look at it like that. I think he's just trying to help his team."
The day after the Gophers lost to UW, however, the Big Ten Conference office received a request from the Minnesota athletic department seeking clarification on whether Davison should have been penalized after a slow-motion video clip from early in the game was posted by a Minnesota fan on Twitter.
After Davison missed a layup, his left foot ended up underneath Gophers senior forward Jordan Murphy, who was coming down with the rebound. Murphy tripped slightly over Davison's foot but maintained possession of the ball, and both players ran to the other end of the court.
There was no foul called on the play and, afterward, Murphy appeared to have no idea what reporters were talking about when they asked him about it.
"When things like that happen the league's got to look at it," Pitino said on the Gophers Coaches Show a day after the game. "They've got to make decisions. It's kind of out of our hands. My thoughts on what it was or what it wasn't are kind of irrelevant. I'm a really, really big believer in focus on what you can control."
The Big Ten declined comment, but a spokesperson said in an email the conference's normal practice is to review every play. "If there was to be action taken, that would be the first and only comment."
Five days later, considering there's been no comment from the Big Ten, it appears the conference didn't feel Davison deserved to be penalized.
"Obviously, it wasn't intentional," Davison said. "What happened is I drove, or I got a catch going to the rim and missed a wide-open layup. And I was watching the ball, hoping and willing it to go through the net, and when it came out I was going to dig up like we're taught to try to get a rebound and I realized that Murphy's a little taller than me so there's no way I'm going to get it.
"So I went to run down the court and you know how it looks, perception kind of becomes reality and people can say what they want and they can twist it that way and this way. Again, that's something that I can't really control."
UW coach Greg Gard said immediately after the game that he hadn't seen a video clip of the play. Two days later, before the Badgers left for Michigan, Gard told reporters he didn't have an issue with what Davison did.
"We don't teach to that mode and I know he doesn't have any of that intent with him," Gard said. "He just plays the game extremely hard."
Early in the second half at Michigan, Davison was assessed a Flagrant 1 hook-and-hold foul after getting tangled up with Wolverines junior Jon Teske while going for a rebound.
Teske was awarded two free throws and made them both. Charles Matthews added a basket to finish off a four-point possession that broke a tie and gave Michigan the lead for good.
The Big Ten also declined comment on that play, though a strong case can be made that the hook-and-hold foul was administered correctly by officials Terry Wymer, Lamont Simpson and Kelly Pfeifer. While it's unclear from an overhead replay which player initiated the locking of arms, Davison can be seen momentarily latching on to Teske and preventing the 7-foot-1 center from jumping.
It was the third Flagrant 1 foul assessed to Davison this season: two were for hook-and-holds, the other was for excessive contact he made in overtime of a 74-69 loss to Marquette on Dec. 8.
A video clip of the play against the Golden Eagles also led to venom directed at Davison on social media. While pursuing Golden Eagles star Markus Howard around a staggered screen, Davison reached out with his left hand and connected with freshman forward Joey Hauser's groin area.
A foul was called initially, and officials upgraded it to a Flagrant 1 after watching the replay. According to the official rules of the game, "a Flagrant 1 personal foul is a personal foul that is deemed excessive in nature and/or unnecessary."
It's important to note officials also had the option of assessing a Flagrant 2 foul, which would have led to Davison being ejected. A Flagrant 2 "is a personal foul that involves contact with an opponent that is not only excessive, but also severe or extreme while the ball is live." An example cited in the rule book is "any contact by the offending player to the groin area of an opponent which is not clearly accidental."
Davison said a few days later that it was, indeed, an accident. He added he wasn't trying to hurt Hauser and offered an apology both on the court and in a text message after the game. The two have known each other since they were children because their fathers — Jim Davison and Dave Hauser — were teammates and roommates at Minnesota-Duluth.
"It's bad that it looks that way," Davison said in December. "I was just playing the game as hard as I can, trying to get over a screen. Sometimes, things happen."
Multiple rival fan bases believe it's more than coincidence. Davison, who soon after the loss to Michigan had turned his attention to the game tonight between the No. 20 Badgers (17-7, 9-4 Big Ten) and No. 11 Michigan State (19-5, 10-3), understands he can't change his critics' minds.
"I know who I am, I know what I stand for, I know where I find my identity and at the end of the day I'm really the only one who knows what my intentions are," Davison said. "I don't play for the approval or for the opinion of opposing fan bases or anything like that. I play for my family, my friends, my team and, to me, my Lord and Savior Jesus Christ."