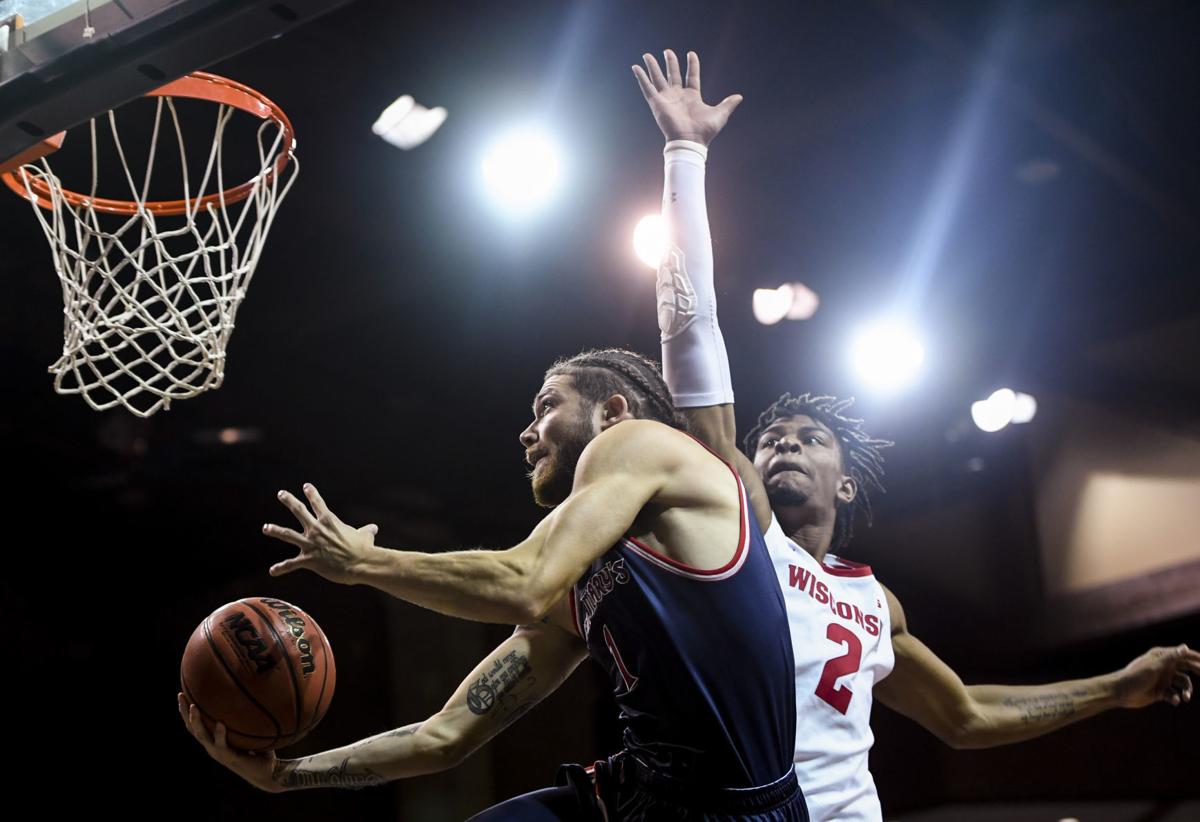 SIOUX FALLS, S.D. — It had been 7½ months since the University of Wisconsin men's basketball team played an official game, an eternity for cynics to analyze and pick apart a program in transition.
The Badgers probably lost track over those 228 days of how many times it was said, written or tweeted that they were headed for decline. Enough for them to know they'd heard enough, certainly.
UW had a terrific chance to quiet the it's-going-to-be-a-long-season crowd — at least for one night — but made too many mistakes down the stretch of a 65-63 overtime loss to No. 20 Saint Mary's at the Sanford Pentagon.
Opening the season against a ranked opponent for the first time in 24 years, the Badgers had chances to win the game both in regulation and the extra session but couldn't finish. Just as frustrating for UW coach Greg Gard and his team were the countless mistakes in the first 39-plus minutes of the game.
"Huge missed opportunity," UW junior guard Brad Davison said. "Definitely."
Nate Reuvers matched his career high with 22 points and Davison added 16 for UW (0-1), which couldn't overcome a 5-of-19 shooting night from 3-point range in its first game of the post-Ethan Happ era.
Poor shooting aside, there were two other numbers that jumped off the box score to Gard: His team committed 14 turnovers and allowed 13 offensive rebounds.
"He was talking a lot about not losing to ourselves," Reuvers said. "That's kind of how we're looking at this game is not having so many self-inflicted moments."
That's not to take away from an excellent performance by Gaels senior guard Jordan Ford, who finished with a game-high 26 points. Ford did most of the heavy lifting until finally getting some help in the second half from Malik Fitts, who added 16 points for Saint Mary's (1-0).
You have free articles remaining.
The Badgers dug themselves a double-digit hole late in the first half after allowing the Gaels to go on a 21-3 run. Ford had 13 points during that surge, including 10 over a span of four possessions during one stretch.
"He's so shifty with the ball and has great vision," Gard said. "He's a complete player."
Still, UW methodically worked its way back into the game and had forged a 54-all tie after Aleem Ford scored on a drive with 53.5 seconds left in regulation. The Badgers got a defensive stop, called a timeout with 13.3 seconds remaining and set up a play for junior D'Mitrik Trice. But Trice had no room after getting a high screen from Reuvers and was forced to swing the ball to Ford, who missed a 3-pointer from the left wing as time expired.
"I thought Trice made the good decision," Gard said. "He got shut off and the rim was protected, (so) he found the guy that was open."
Even more aggravating for the Badgers was the end of overtime. UW had taken a 63-60 lead on a jumper by Trice with 2:07 remaining and had two of Saint Mary's post players out of the game due to fouls.
But the Badgers didn't score the rest of the way and Fitts converted on back-to-back possessions to give the Gaels the lead for good. He made two free throws after what Davison admitted was a "dumb foul" that bailed out an ugly Saint Mary's possession and added a basket with 60 seconds left to give the Gaels a 64-63 lead.
After Reuvers missed a jumper, Gard made a questionable decision to let Saint Mary's final possession play out without fouling despite only a five-second difference between the shot clock and game clock. Freshman Kyle Bowen corralled an offensive rebound, was fouled and made one free throw with 4.4 seconds left to give the Gaels a two-point lead.
UW had one last look to win the game, but Aleem Ford came up short on a deep 3-pointer as the time ran out.
"This was our first opportunity to show kind of what we were about and we didn't necessarily play to our best," Davison said. "We didn't play Wisconsin basketball the way that we wanted to play it.
"There are so many things that we could control to do better. I kind of feel like we lost to Wisconsin in a lot of areas tonight."