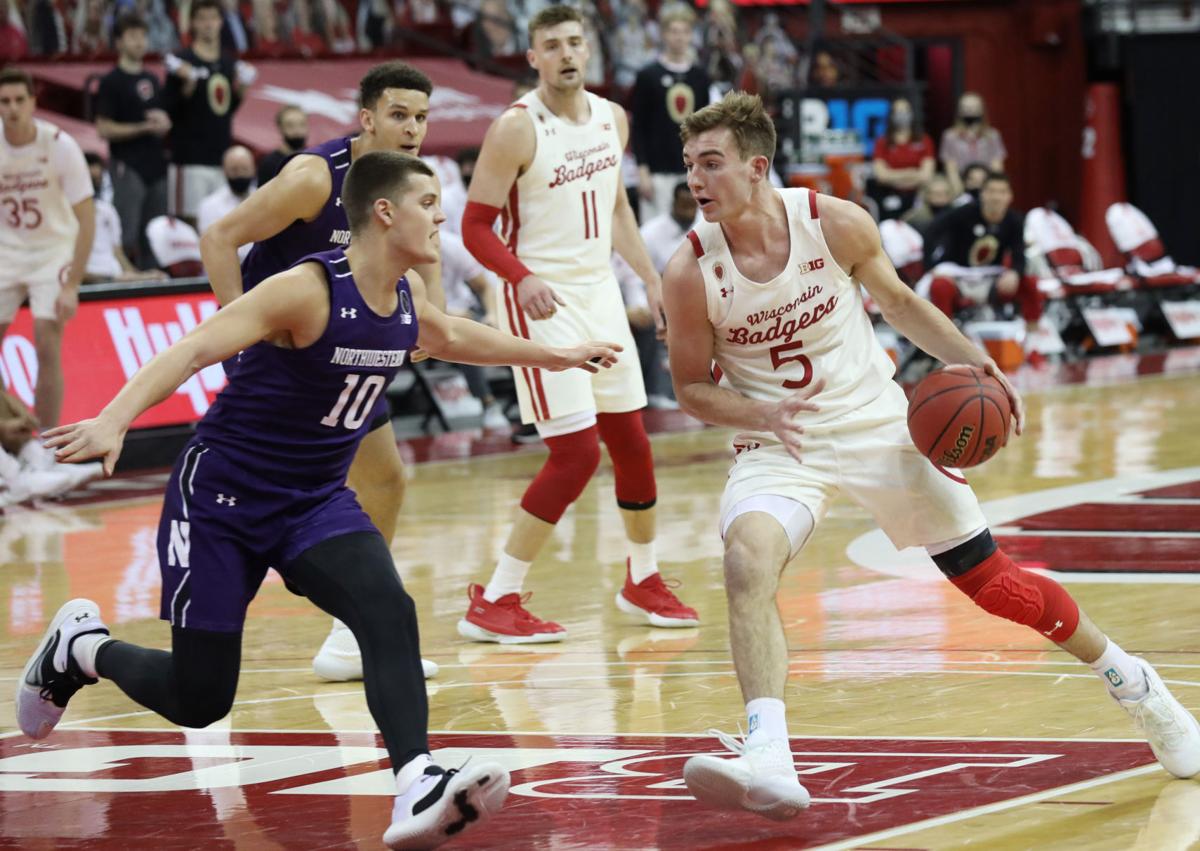 It had been three weeks since the University of Wisconsin men's basketball team was able to coast to the finish line, so Tyler Wahl and Co. sat back and enjoyed a rare stress-free Big Ten win Wednesday night.
"It's always nice," Wahl said. "It's nice to rest your legs kind of for those last three, four minutes and then it's always fun to see the guys that don't necessarily get out there every (game) on the court."
Wahl was a big reason the No. 10 Badgers didn't have to sweat it out at the Kohl Center. The sophomore forward scored a career-high 14 points as UW kept itself in the Big Ten title picture with a 68-52 victory over Northwestern.
The Badgers (12-3, 6-2 Big Ten) also got 12 points from senior point guard D'Mitrik Trice, 11 from senior guard Brad Davison and 10 from senior center Micah Potter. After relying heavily on Trice for a few weeks, it was the second consecutive game UW had four players reach double figures.
"That's something that I harped on in the beginning of the season, before the season even started, is we could have a lot of guys averaging between 10 and 12 points," Trice said. "I think that's what makes us dangerous. Over the last couple of games, I think that's when we're at our best is when a lot of guys are sharing the ball and we're scoring and we're high-fiving and getting assists and things like that."
One player who didn't reach double figures but was instrumental in the victory was freshman guard Jonathan Davis, who had all eight of his points in the first half. Davis, who had gone 3 of 19 from the field over the previous three games, attacked the rim early and often to help UW produce one of its most efficient 20 minutes of the season on the offensive end.
"I think the thing that got him going was getting to the free throw line," UW coach Greg Gard said. "He got there and got fouled in the first half, went up and made both free throws, and that seemed to ignite him. And that's often the case, whether it's a freshman or senior or anybody in between, if they're struggling a little bit or want to get some confidence going, find a way to get yourself to the line and I think that was big for him."
Davis also played a big role in the play that ignited a run that finally allowed the Badgers to pull away from the Wildcats (6-7, 3-6), whose losing streak reached six games.
UW was clinging to a five-point lead in the second half after missing nine consecutive shots, seven of which came from 3-point range. But Davis won a 50/50 battle with Northwestern's Robbie Beran for a loose ball after a miss by UW's Trevor Anderson, and Wahl ended the possession with a 3-pointer to start a 12-0 surge by UW.
Sandwiched between 3-pointers by Wahl and Potter were three baskets in the paint: two from Anderson and the other from senior center Nate Reuvers.
That blitz, combined with seven consecutive empty possessions by the Wildcats, gave the Badgers a 56-39 lead with 10 minutes, 50 seconds to play.
"We were able to get the ball deeper in the paint and get it into more high-percentage areas," Gard said, "which helped get us going a little bit offensively."
That a 3-pointer by Wahl started the run doesn't sounds as crazy as it may have a couple weeks ago. He's now 5 of 6 from beyond the arc over the past four games after starting the season 2 of 9.
"I feel very comfortable. I feel confident," said Wahl, who was 2 of 3 from 3-point range against the Wildcats. "It's kind of like my second season running through the offense, knowing the plays and kind of having that connection with my teammates. So I feel very comfortable and confident in our offense this year."
For all this talk about offense, it was UW's improvement on the other end of the court that was the biggest reason it didn't find itself in a nail-biter.
Northwestern, which got a game-high 16 points from sophomore guard Chase Audige, shot 27.3% from the field in the second half (6 of 22) and scored only 18 points after halftime.
The biggest difference came in the paint: The Wildcats had 18 points in that area in the first half and only four the rest of the way.
"I thought we did a better job of stopping the ball and not letting them get in the paint," Gard said. "I thought the first half, we didn't execute well enough in some of the ball-screen situations. Second half, we were better. We talked about some of those things at halftime and the second 20 I thought we were more aggressive in the ball screens and eliminated some of that dribble penetration."
It all added up to a comfortable finish for UW, much to the delight of Trice and others as the Badgers get set to host No. 15 Ohio State on Saturday.
"Obviously, that's big, especially in the Big Ten to not have to use so much of your legs … late down the stretch," Trice said. "I think that's going to be big for us moving forward."
---
Photos: Badgers finish strong to close out Wildcats