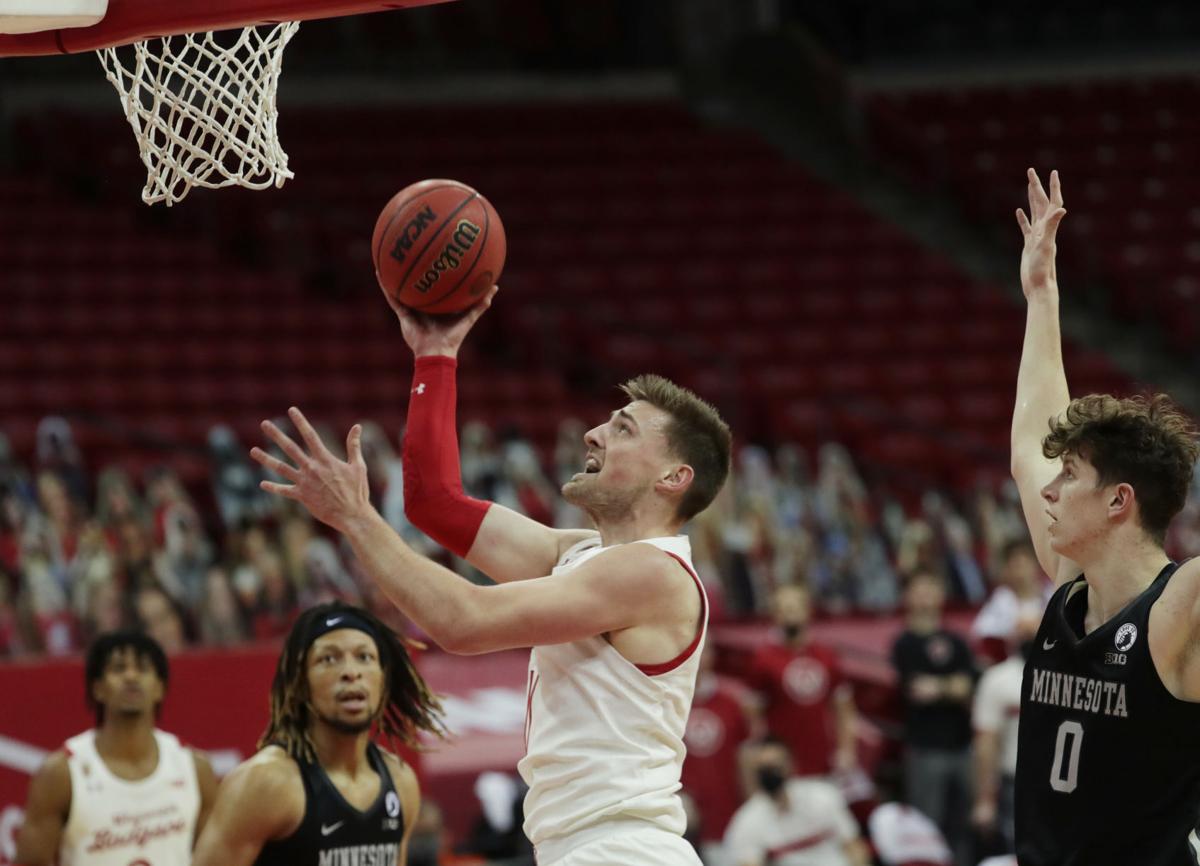 Recent history suggested the University of Wisconsin men's basketball team would react accordingly to its first Big Ten Conference defeat of the season.
While the sample size wasn't big, the Badgers had bounced back from their only other loss this season. Rather than dwell on its setback at Marquette back on Dec. 4, UW used it as a learning experience and followed it with a five-game winning streak.
Assistant coach Alando Tucker had no doubt the same response was forthcoming from UW following a surprising home loss to Maryland earlier this week.
"You can't take a loss and hang your head about it," Tucker said. "I have no doubt we're going to bounce back."
Indeed, the No. 6 Badgers' answer — a 71-59 win over No. 21 Minnesota on Thursday afternoon at the Kohl Center — was a resounding one. Senior center Micah Potter finished with 18 points and 11 rebounds for UW, which never trailed and led by as many as 26 points in the second half.
It was a completely different performance from the Badgers — both in terms of effort and execution — than the one they produced just three days earlier in the 70-64 loss to the Terrapins.
"All I know is that the 40 minutes they had today were pretty good," UW coach Greg Gard said. "I don't want to discredit the opponents when you take one on the chin, but I thought we were better in a lot of areas today on both ends of the floor. And that's a credit to the players."
UW senior point guard D'Mitrik Trice admitted the film session from the Maryland game "was pretty harsh on a lot of guys." But Trice said the Badgers took that criticism to heart and responded with two intense days of preparation heading into the matchup with the Golden Gophers.
"I think we came out in the Maryland game and we were kind of flat and they kind of punched us in the mouth," Trice said. "And we got up a little bit but they came back and counterpunched us. I think it was just about keeping energy and staying locked in defensively."
Trice and senior forward Aleem Ford added 14 points apiece for the Badgers (9-2, 3-1 Big Ten), but the star of the show was UW's defense.
Three days after getting torched for 38 points in the paint in the 70-64 loss to the Terrapins, the Badgers buckled down and made life miserable on what had been a red-hot offense.
Minnesota entered the game averaging 84.3 points per game and averaged 91.0 during a three-game stretch that included impressive home wins over Saint Louis, Iowa and Michigan State. The Gophers came nowhere near those gaudy totals while shooting 31.3% from the field against the Badgers.
"Give them credit, they were very physical on the ball, they were pressuring us and we didn't respond well by moving the ball," said Minnesota coach Richard Pitino, whose team shot 19.4% in the first half. "That's a very good, physical, old team, very good defensively, so you've got to give them credit as well."
Junior guard Gabe Kalscheur scored 15 points to lead the Golden Gophers (9-2, 2-2), while senior forward Brandon Johnson and junior center Liam Robbins added 12 apiece.
UW held Gophers star point guard Marcus Carr to 10 points, 14 under his season average. Trice was the primary defender on Carr, who was 3 of 13 from the field, but the Badgers' help defense was superb and kept Carr out of the paint.
"We wanted to make somebody else score and make somebody else have to beat us," Trice said. "I think the defensive scheme was planned perfectly. I can't take all the credit. I think that our bigs did a great job of hedging — Aleem, Micah, Nate (Reuvers) — they did a great job of getting him on his heels at times and allowing me to get back in front of him."
Trice was so locked in to his job keeping Carr contained that he sent Gard a text message Wednesday night to see if his coach had time to talk. The two discussed some things, including how to handle Carr on ball screens, and both went back to watching Minnesota film once the call had ended.
"He studies the game, he takes great pride in it," Gard said of Trice, who added five rebounds and five assists against Minnesota. "And that's been the biggest jump. I get asked a lot about his jump and his progression through his career. Over the last year, the biggest jump probably has been defensively. He wants to put the glove on other teams' best guard or perimeter player. He takes that personal."
UW took getting clobbered in the paint by Maryland personally and took it out on the Gophers to the tune of a 40-18 scoring cushion in that area.
The Badgers got the ball in the post early and often and didn't deviate from that game plan even after they had trouble finishing. Potter did the most damage, but UW as a whole was aggressive in its approach near the rim.
"We didn't get discouraged when it didn't go well," Gard said. "We had it deep and had it in some great positions early and throughout the game we really did a good job of finding guys. That's a high-percentage area that can be really rewarding if you do it well."
The Badgers did a lot of things well Thursday, a sign that they'd done exactly as Tucker had predicted earlier in the week: Learn from a tough defeat and turn the page without dwelling on it.
"Obviously, you've got to learn from your mistakes," Potter said. "That's something that with a veteran team it's not easy, but it's easier having all the older guys to help the younger guys learn. Just learn from your mistakes and improve."