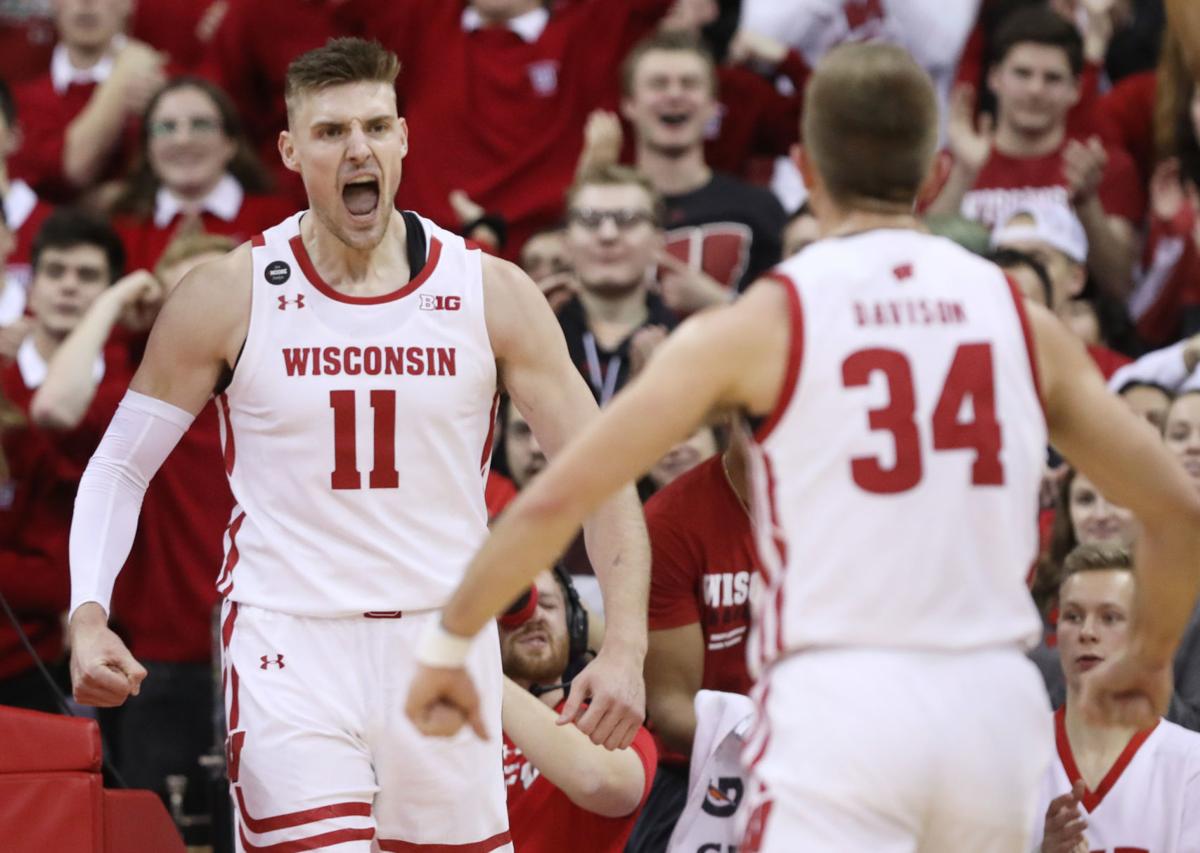 EAST LANSING, Mich. — As Micah Potter was going through the saga of trying to change the NCAA's mind on his eligibility status earlier this season, one of the things that most impressed coaches and administrators was how he handled multiple rejections with maturity and grace.
So it likely came as no surprise to anyone associated with the University of Wisconsin men's basketball program how Potter reacted while sitting on the bench for a long stretch during the second half of the Badgers' 56-54 home win over No. 17 Maryland on Tuesday night.
Afterward, there was an uproar from some fans that Potter, who scored 14 points in only 13 minutes, should have played more. Yet, as Potter was in the midst of sitting out the final 10:33 of the game, he was leading the cheers from the bench and being supportive of the lineup decisions made by UW coach Greg Gard.
"I told the coaches, 'Listen, that group's getting stops, keep them in the game,'" Potter said as the Badgers (11-6, 4-2 Big Ten) prepared for another difficult test, this one on Friday night at No. 15 Michigan State (13-4, 5-1). "I was hot, Nate (Reuvers) was also playing well. But really, the big thing we need to do is just get stops and that group's got a couple stops in a row and I was like, 'They need to stay in the game.'"
To some, it makes no sense that a team that sometimes struggles to put the ball in the basket would have its biggest offensive weapon of late watching from the bench during a critical stretch of the game. Over a three-game stretch counting the win over Maryland, Potter has gone 17 of 27 (63%) from the field, 7 of 11 (64%) from 3-point range and 10 of 11 (91%) from the free throw line.
Potter has scored 51 points in 56 minutes during that stretch, leading ESPN announcers Dave Flemming and Dan Dakich to wonder aloud multiple times during the telecast of the Maryland game why he was watching from the bench.
Gard addressed the issue after the game, without prompting, likely because he knew the question was going to be asked. He said he felt Reuvers was the better defensive option against the Terrapins, who were making a living off the high ball screen.
Maryland scored 14 points in the seven defensive possessions Potter played in the second half. It's unfair to pin the blame entirely on Potter, but he did make some critical mistakes that led to scores for the Terrapins and was pulled from the game after back-to-back easy baskets gave Maryland a 43-39 lead.
Reuvers was in for the final 14 possessions, and Maryland was held to 11 points in that stretch run. Again, giving all the credit to Reuvers is silly, but he did a better job of defending the ball screen and also scored eight of his team-high 17 points over the final 8:50.
That Reuvers is a more advanced defender in UW's system isn't a knock on Potter as much as it is a matter of experience. Reuvers has appeared in 79 games with the Badgers, including 66 starts, and logged over 1,700 minutes.
Potter has seven games and 106 minutes under his belt since becoming eligible in late December. As UW assistant coach Joe Krabbenhoft said, Potter is a "freshman in the Big Ten Wisconsin system," and sometimes it shows.
You have free articles remaining.
"It takes time," Potter said. "It's just reps. Wisconsin does defense differently than a lot of different teams. It's different than Ohio State was, so I'm still having to unlearn habits from Ohio State and learn the new ones here. It's just reps, that stuff comes in time and I'm getting more and more comfortable as time goes on."
Gard often talks about the importance of having synergy on defense. Getting to that point doesn't happen overnight, and Potter says he's still getting comfortable developing chemistry with the players around him while adjusting to a new set of defensive principles.
"Stuff takes time," he said. "But it's already gotten a lot better and going forward it's only going to get a lot better."
There's no question Potter's addition to the lineup has been massive for the Badgers, who are 6-1 since he made his debut. Not only has he provided scoring, rebounding, energy and toughness off the bench, he's allowed Gard to keep Reuvers' playing time around the desired sweet spot of 26 minutes.
Can Reuvers and Potter be on the floor together, a pairing of big men who also happen to be two of the Badgers' best scorers? Sure, but there are factors to consider.
The UW staff felt having Potter and Reuvers on the floor together against Maryland would leave the Badgers in defensive mismatches against the Terps' athletic lineup. "Which is all that matters, to us," Krabbenhoft said, perhaps anticipating a follow-up question about whether the Reuvers-Potter pairing would wreak enough havoc on offensive to make up for any deficiencies on the other end of the court.
So far, Reuvers and Potter have played together a total of five possessions on offense and five on defense. Any plans for an extended big-man pairing at Tennessee were scrapped due to Potter getting in foul trouble; at Penn State, it was Reuvers who was saddled with fouls.
"We are very comfortable playing together, we've done it in practice, we've worked on it and we're going to continue to work on it," Potter said. "But we've got to win basketball games. Whatever lineup needs to be in the game to win the game is the lineup that we want to be in the game. That's how it is going forward."
So while others were grumbling about how many minutes Potter played against Maryland, the thing in the box score that mattered most to him was the final score.
"When you have that kind of a chemistry going, you don't want to ruin it," he said. "No matter how well I was playing or however well everyone else was playing, if you have a group in there getting the stops that we needed to get, you want to keep them in the game and the offense will come with it. …
"That's what most important is winning basketball games, so minutes, not that big of a deal."
---
Preview: Badgers vs. No. 15 Michigan State
UW VS. NO. 15 MICHIGAN STATE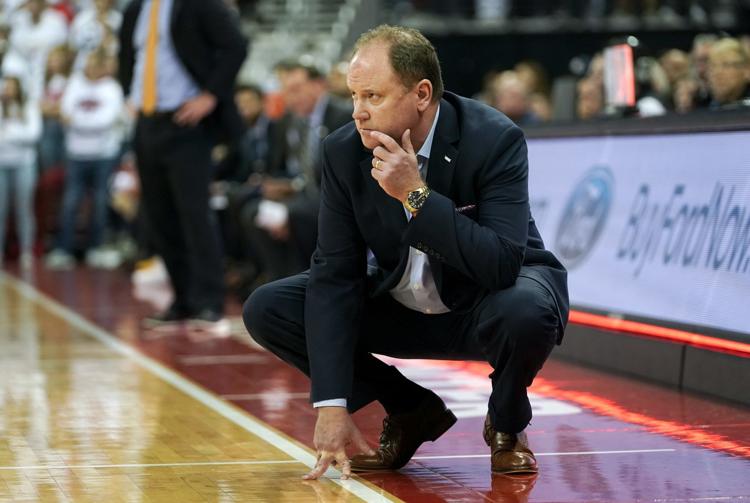 Where: Breslin Center in East Lansing, Michigan.
TV: FS1, with Gus Johnson and Donny Marshall.
Radio: 1310 AM and 101.5 FM, with Matt Lepay and Mike Lucas.
BADGERS (11-6, 4-2)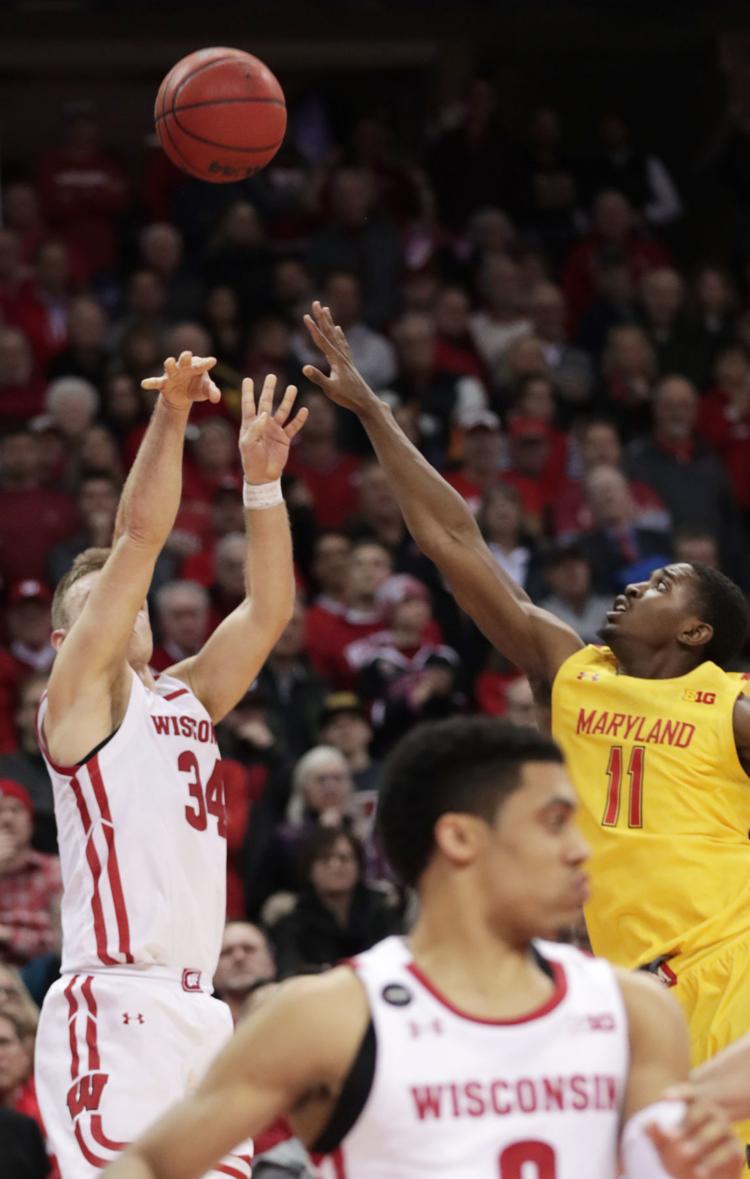 Coach: Greg Gard, 91-53 in his fifth season at UW.
Player to watch: Junior guard Brad Davison (right) finished with 14 points in UW's 56-54 win over No. 17 Maryland on Tuesday, including the game-winning shot with 9.1 seconds remaining. Davison has posted double figures in back-to-back games for the first time since November.
PROBABLE UW STARTERS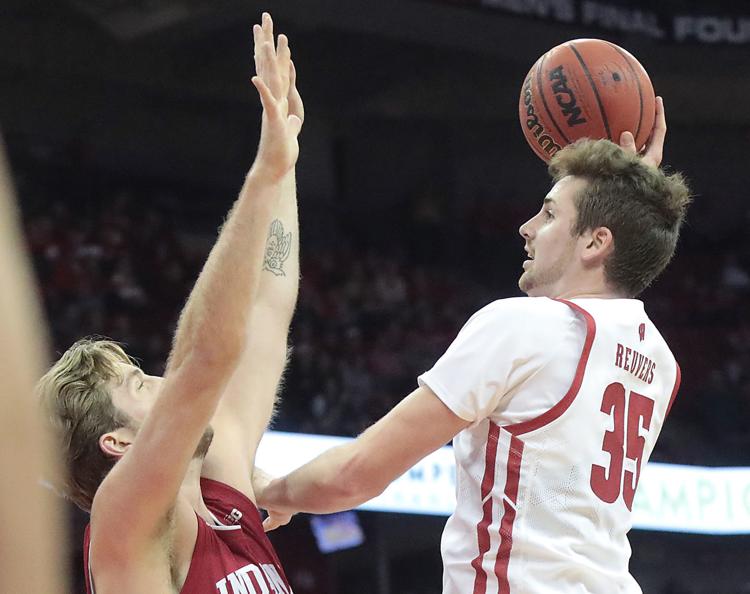 | | | | | |
| --- | --- | --- | --- | --- |
| No.    | Name      | Ht.    | Year    | PPG    |
| 2  | Aleem Ford     | 6-8  | Jr.  | 8.2  |
| 23  | Kobe King   | 6-4  | So.  | 10.7  |
| 35  | Nate Reuvers (above)     | 6-11   | Jr.  | 13.9  |
| 0  | D'Mitrik Trice      | 6-0  | Jr.  | 8.9  |
| 34  | Brad Davison  | 6-4  | Jr.  | 9.0  |
KEY BADGERS RESERVES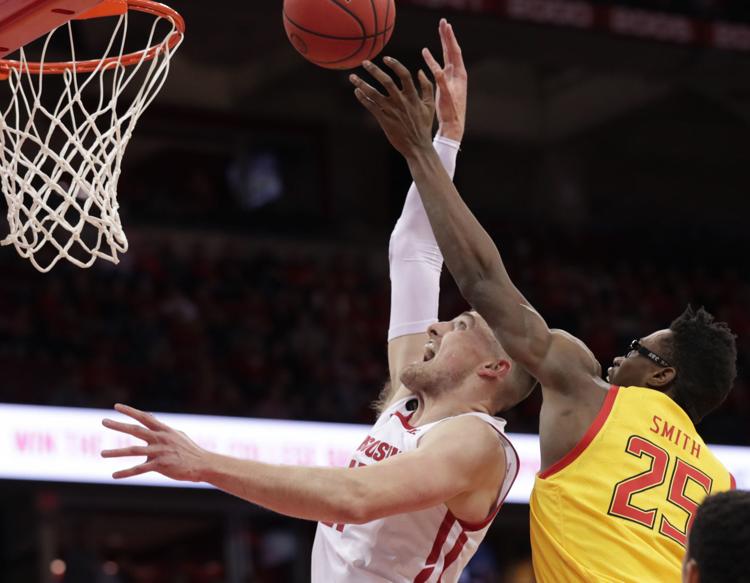 | | | | | |
| --- | --- | --- | --- | --- |
| No.    | Name      | Ht.   | Year    | PPG    |
| 11  | Micah Potter (above)     | 6-10    | Jr.  | 10.1  |
| 1  | Brevin Pritzl   | 6-3  | Sr.  | 7.4  |
| 5  | Tyler Wahl   | 6-7  | Fr.  | 3.0  |
| 12  | Trevor Anderson    | 6-2  | Jr.  | 1.6  |
YOU SHOULD KNOW
UW has lost seven consecutive times to Michigan State since beating the Spartans 77-76 on Jan. 17, 2016, Greg Gard's seventh game after taking over for Bo Ryan. … D'Mitrik Trice (above) and Aleem Ford are both in extended shooting slumps: Trice is 4 of 27 overall and 0 of 9 from 3-point range over his past four games; Ford is 3 of 13 overall and 0 of 7 from beyond the arc in his past three games. … Nate Reuvers is the only UW player averaging double digits in scoring (12.8) in the eight games away from home this season.
SPARTANS (13-4, 5-1)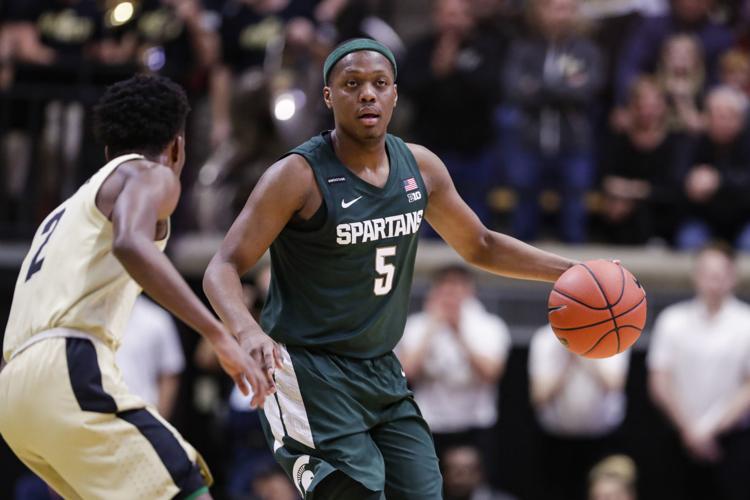 Coach: Tom Izzo, 619-236 in his 25th season at Michigan State.
Player to watch: Senior point guard Cassius Winston (above), the reigning Big Ten Player of the Year, is third in the conference in scoring and fourth in assists (6.2). He's averaged 18 points and 6 assists in six career games against UW.
PROBABLE MSU STARTERS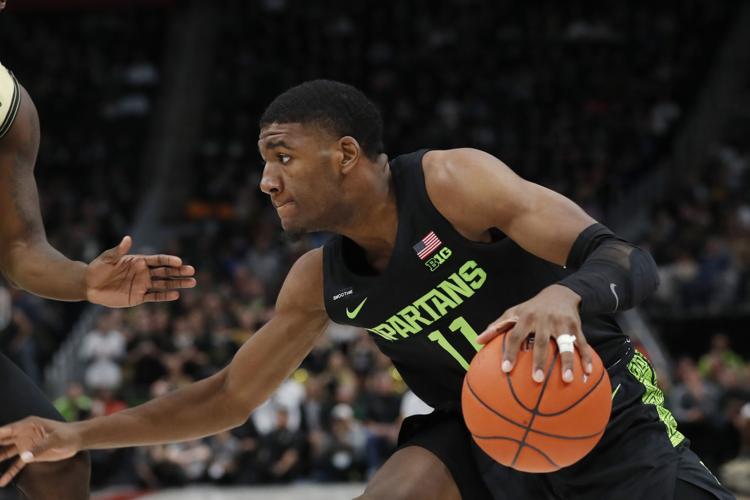 | | | | | |
| --- | --- | --- | --- | --- |
| No.     | Name     | Ht.   | Year   | PPG    |
| 23  | Xavier Tillman    | 6-8   | Jr.   | 13.9  |
| 11  | Aaron Henry  (above)    | 6-6   | So.  | 9.6  |
| 30  | Marcus Bingham      | 6-11    | So.  | 4.8  |
| 5  | Cassius Winston   | 6-1  | Sr.  | 18.8  |
| 44  | Gabe Brown   | 6-7  | So.  | 8.4  |
KEY SPARTANS RESERVES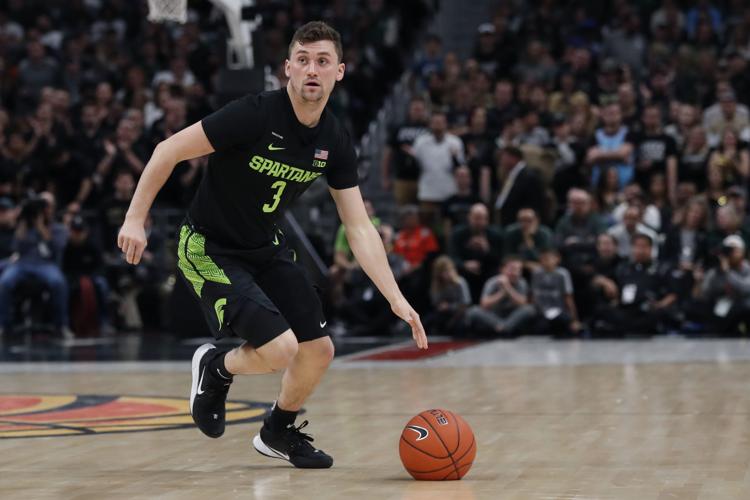 | | | | | |
| --- | --- | --- | --- | --- |
| No.    | Name      | Ht.    | Year     | PPG    |
| 2  | Rocket Watts     | 6-2  | Fr.  | 4.8  |
| 15  | Thomas Kithier      | 6-8  | So.  | 3.9  |
| 25  | Malik Hall  | 6-7  | Fr.  | 4.8  |
| 3  | Foster Loyer (above)   | 6-0  | So.  | 3.9  |
| 34  | Julius Marble  | 6-8  | Fr.  | 2.4  |
YOU SHOULD KNOW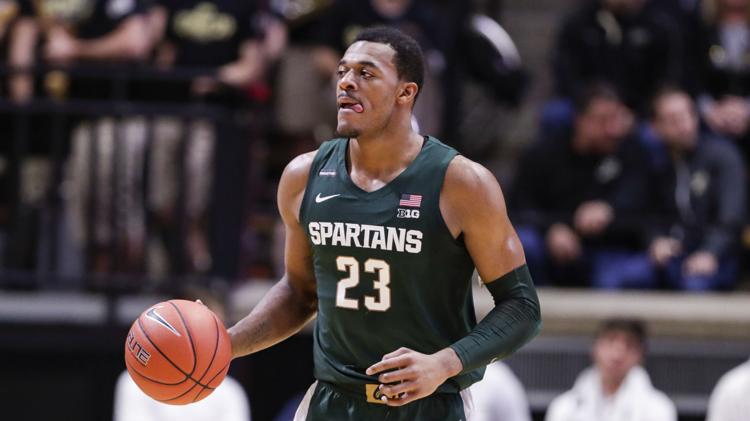 The Spartans are No. 7 nationally in adjusted offensive efficiency, per KenPom. They have assists on 68.4% of their field goals, which leads the nation. … Michigan State went 2 of 16 from 3-point range and committed 18 turnovers in its 71-42 loss at Purdue on Sunday. … Xavier Tillman (above), who is averaging 10.1 rebounds, has seven double-doubles this season and also leads the Spartans with 2.2 blocked shots per game.