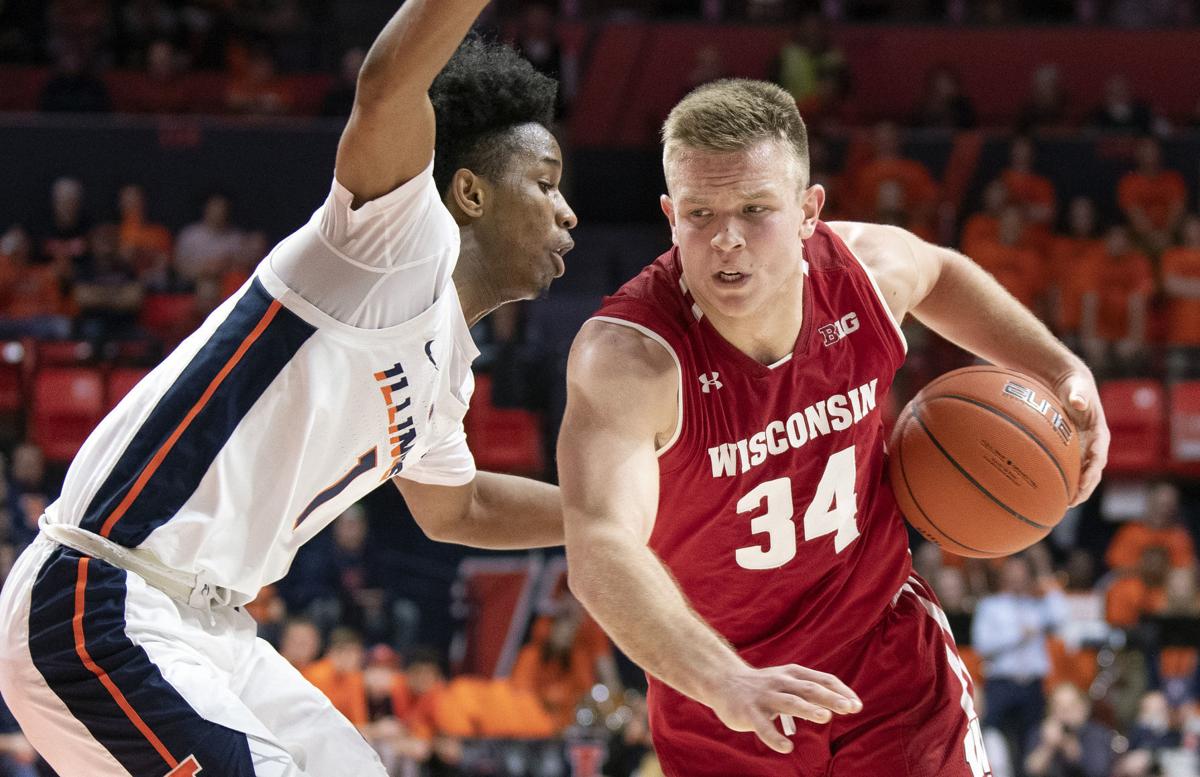 A collection of prognosticators from around the Big Ten are expecting a slight step backward for the University of Wisconsin men's basketball team this season.
The Badgers were picked to finish sixth in a poll of beat writers from around the conference. That's exactly where that same group of media members predicted UW would end up in 2018-19, and Greg Gard's team exceeded expectations by finishing fourth in the Big Ten.
Gone from that team that finished 23-11 after losing to Oregon in the opening round of the NCAA tournament are two starters: center Ethan Happ, a three-time first-team All-Big Ten pick whose name is plastered all over the UW record books, and forward Khalil Iverson.
The Badgers return their starting backcourt, juniors D'Mitrik Trice and Brad Davison, along with forward Nate Reuvers. Three other rotation players — junior forward Aleem Ford, senior wing Brevin Pritzl and sophomore wing Kobe King — also are back.
Junior forward Micah Potter, a transfer from Ohio State, is expected to be a factor in the frontcourt at some point. Potter, who arrived at UW last December, is awaiting word on whether the NCAA will grant his appeal to be eligible at the start of the 2019-20 season.
Meanwhile, junior point guard Trevor Anderson is expected to be on the court for the start of the season after missing most of 2018-19 with an ACL tear in his right knee. UW coaches are hopeful true freshman forward Tyler Wahl and redshirt freshman center Joe Hedstrom can provide some depth in the frontcourt.
The Badgers officially began practice last week and will tip off the season on Nov. 5 with a game against Saint Mary's in Sioux Falls, South Dakota.
"In our locker room, we know how good we can be and we block out everything outside," Davison said over the summer. "We know how much talent and how much capability we have in our own locker room.
"Losing Ethan and losing Khalil and losing Chuck (Thomas) is definitely a big challenge, but we also have a lot of guys who are hungry and are looking forward to the opportunity of filling their roles and also expanding their roles and showing more of what they can do."
Michigan State was a near unanimous pick to win the Big Ten title, finishing with 27 of the 28 first-place votes. Maryland is picked to finish second and got the remaining first-place vote.
Ohio State is predicted to finish third, followed by Purdue, Michigan, UW and Illinois.
Iowa leads the predicted order of the bottom half of the conference, followed by Penn State, Indiana, Minnesota, Rutgers, Nebraska and Northwestern.
The Badgers were picked anywhere from fourth to eighth. They received three votes each for fourth and fifth place, nine votes for sixth place, six votes for seventh place and seven votes for eighth place.
Michigan State senior point guard Cassius Winston received 27 of 28 votes for preseason player of the year. Maryland sophomore forward Jalen Smith got the other vote.
Ohio State point guard D.J. Carton is the preseason freshman of the year.
The preseason All-Big Ten first team consists of Winston, Penn State senior forward Lamar Stevens, Illinois sophomore guard Ayo Dosunmu, Maryland senior guard Anthony Cowan and Ohio State junior center Kaleb Wesson.
No Badgers received votes for All-Big Ten, freshman of the year or player of the year.
UW coach Greg Gard, Trice and Pritzl will represent the program at Big Ten Media Day on Wednesday near Chicago.