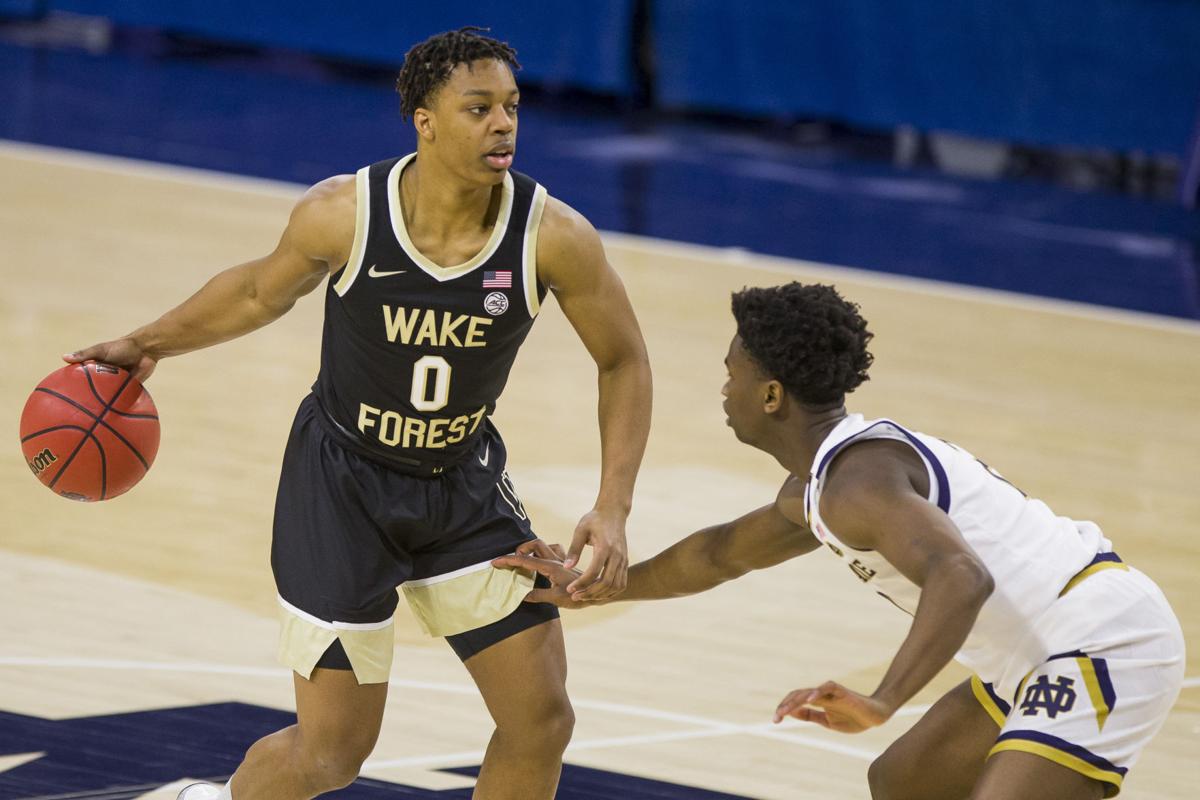 Jahcobi Neath was looking for a new home, and the University of Wisconsin men's basketball team needed to add some depth and experience at point guard.
Both parties found what they were looking for with the help of the NCAA transfer portal.
Neath, a 6-foot-3 point guard who played the past two seasons at Wake Forest, committed to the Badgers late Thursday night. He joins a roster in the midst of transition after losing five seniors who were part of the rotation in 2020-21.
UW coach Greg Gard said last month that his staff would be active in the transfer market as it tries to replace several key pieces from a group that won a share of the Big Ten title in 2019-20 but failed to live up to expectations during an 18-13 campaign this past season.
While Gard didn't mention specific positions he was targeting, it was clear that point guard and a big man were two major areas of need for the Badgers.
"There's benefit and value in having that old backup quarterback who has been around the track a few times," Gard said at the time. "Maybe they statistically don't wow you or have a large impact, but there's just value in a steadiness and voice of experience or a voice of reason at times."
Neath fits that description. The Canada native averaged 4.7 points, 1.8 rebounds and 2.0 assists while appearing in 50 games with the Demon Deacons, including nine starts.
He chose Wake Forest out of high school over offers from Western Kentucky, San Francisco, Tulane and Central Florida.
Ro Russell, who was Neath's coach at Crestwood Prep in Toronto, said Neath has a 40-inch vertical and is a physical player.
"Strong, aggressive, very talented and can go," Russell said. "He's definitely a high-major player that can be effective in the Big Ten."
Neath averaged 5.3 points, 1.9 rebounds and 2.2 assists in 18.5 minutes per game as a freshman in 2019-20 while playing under Danny Manning at Wake Forest. He went 12 of 25 from 3-point range that season.
One of the highlights for Neath that season was matching his career high with 16 points in a double-overtime loss to Duke.
After Manning was fired following the 2019-20 season, Neath entered the transfer portal before deciding to return to Wake.
His numbers went down under Manning's replacement, Steve Forbes. Neath averaged 3.8 points, 1.8 rebounds, 1.7 assists and 15.8 minutes in 20 games while going 6 of 27 from beyond the arc.
"Fresh start, different conference," Russell said. "He's still a high-major player, he just needed the opportunity. Fresh start, new location with an impact starter leaving."
The Badgers lacked experience at point guard after the departures of seniors D'Mitrik Trice and Trevor Anderson. Trice, who started 108 games over five seasons, decided to pursue a career playing professionally; Anderson is transferring to Valparaiso.
The UW coaching staff is high on point guards Lorne Bowman and Chucky Hepburn, neither of whom has played a minute at the college level.
Bowman spent the 2020-21 season away from the team while dealing with a personal matter, while Hepburn is a highly touted recruit from Nebraska in the 2021 class.
Russell said UW is getting a player with strong character who will be a good teammate.
"He really liked their reputation and culture and history of winning, of excellence, both academically and basketball-wise," Russell said. "Just the stability in terms of coaching. They've been doing it for a lot of years. He liked that."
Ilver signs
UW officially announced Markus Ilver as a member of its 2021 recruiting class.
Ilver, a 6-foot-8 forward from Estonia who played a reduced schedule this season at Western Reserve Academy in Ohio, said in a statement that he's "very excited to be a member of the Badger Family."
Ilver represented Estonia at the 2020 Baltic Sea Basketball Cup, earning MVP honors after he averaged 15 points and 6 rebounds per game. Ilver helped lead Estonia to wins over Sweden, Finland and Latvia during the event.
"Markus is an excellent addition to our recruiting class and program," UW coach Greg Gard said in a statement. "He impressed us from the very beginning with size, athleticism and a skillset that matches our style of play. Markus has a well-rounded game with room to grow in all areas. His ability to shoot the ball at his size has been his strength to this point. Playing at Western Reserve Academy under coach Pete Hutchins has helped Markus' game continue to grow on both ends of the floor.
"His path to Wisconsin is unique and we are excited to add such a high-character person to our locker room. Like his father, Priit, who played collegiately at St. Francis Brooklyn, Markus came to the United States from Estonia to earn an opportunity to live out his dream of playing college basketball. We are looking forward to working with Markus to help him continue to reach his goals as a player and person."
---
Get to know the Wisconsin Badgers' 2021 men's basketball recruits
Hepburn was named the Gatorade Player of the Year in Nebraska last season after helping Bellevue West go 21-3 and win the Class A state title. A two-time first-team all-state pick, Hepburn averaged 17.7 points, 6.1 assists, 4.6 rebounds and 3.1 steals as a junior. Off the court, Hepburn earned the HomeSchool Papillion TeenService Award and was a Special Olympics Volunteer Award winner.
UW coach Greg Gard: "Chucky is a proven winner. Our staff watched as he led his Bellevue West team to a state championship last winter. A true point guard, Chucky brings everything we look for at that position. He leads by example, always giving maximum effort on both ends of the floor. He has tremendous vision and feel for the game, combined with the ability to score from all three levels. As much as he is able to carry his team on offense, what makes Chucky a great fit here at Wisconsin is that his defense and toughness is where he hangs his hat. A leader and role model in the community and a motivated student, Chucky is the kind of person we are excited to add to our Badger Family. We're excited to get to work with him and to help him reach his potential as a Badger in the years to come."
Hodges, who played in the same Illinois Wolves AAU program that produced former UW standout Frank Kaminsky, was named Mid-Suburban League West Player of the Year after helping Schaumburg go 25-7 and winning the MSL title while advancing to the regional finals. He averaged 15.5 points, 8.0 rebounds and 2.0 blocks per game to earn second-team Class 4A all-state honors in Illinois.
Gard: "Chris is an excellent addition to our program and member of another strong recruiting class. He impressed our staff immediately during our advanced camp and has continued to improve since. Chris has tremendous potential with his large frame and natural strength, paired with an eagerness to get better. He will immediately bring both physicality and tenacity to our program. Chris fits in well with the work ethic and culture that our program has established. He comes from a great family that has clearly taught him to value hard work and education first. We are excited to welcome both Chris and his family to the Badger Family."
Mors is the reigning back-to-back Gatorade Player of the Year in South Dakota and has been named all-state four times during a career that began when he played on the varsity in the seventh grade. He averaged 19.4 points, 8.2 rebounds, 2.9 assists and 2.1 steals per game as a junior and enters his final season as South Dakota's Class AA all-time leading scorer with 2,127 points.
Gard: "We are very excited to add Matthew to our program. He has challenged himself as a student-athlete year in and out to become as well rounded a competitor as possible, both on and off the court. As a state champion in basketball and a successful multi-sport athlete in Yankton, Matthew has gained valuable lessons that will help him become the best leader and player possible. On the court, he plays with a certain level of toughness and physicality that fits our style of play, specifically in the Big Ten. He has a versatile skill set that will allow him to be effective in the post, off the dribble and is a terrific shooter from outside. Matthew's skillset, combined with a championship mentally, has us excited to begin working with him. We're excited for Matthew to join our Badger Family and we can't wait to begin working with him to help him reach his goals as a Badger."