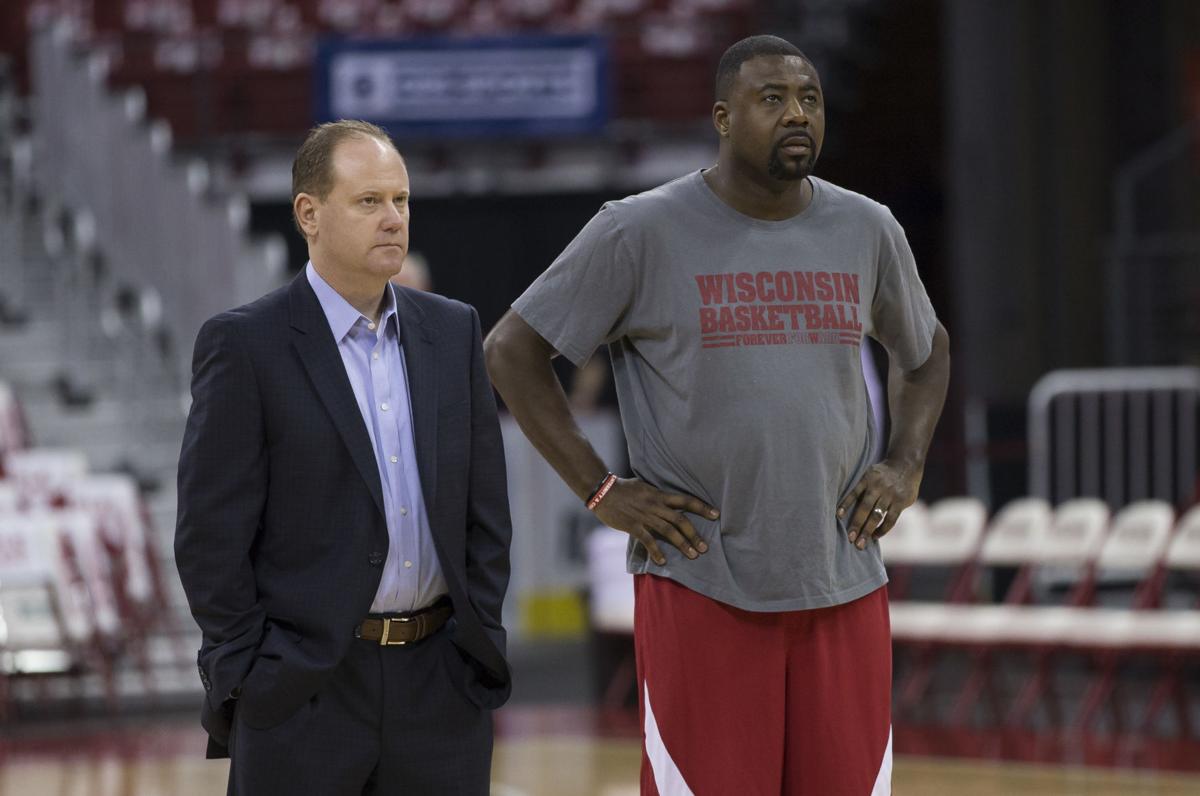 A shelf in Greg Gard's office at the Kohl Center is filled with books, with topics ranging from leadership to communicating to Xs and Os.
But there's nothing in that mini-library that could have prepared the University of Wisconsin men's basketball coach for the tragedy that rocked his program in May or the aftershock that came a month later.
"There isn't a manual anywhere," Gard said.
The Moore family was traveling to Michigan to spend time with Jennifer's family over Memorial Day weekend when their SUV collided with a vehicle driven by a wrong-way driver shortly after 2 a.m. on May 26 near Ann Arbor. Jaidyn Moore died at the scene, while Jennifer, 46, was taken off life support later in the day after being transported to the hospital.
Howard Moore sustained severe burns and his son, 13-year-old Jerell, escaped with minor injuries. Samantha Winchester, the 23-year-old wrong-way driver who also died in the crash, was found to have a blood alcohol content level of 0.207, about 2½ times more than Michigan's legal limit of 0.08.
After spending two weeks at University of Michigan Hospital, Howard Moore was transported back home and was coping with the loss of Jennifer and Jaidyn as best he could. He told friends he didn't want to move to a different house, because that was their home and where he wanted to raise his son. He set a goal of returning to work by September, when preseason practices would be starting up.
On June 18, UW players and coaches gathered at Moore's home in Middleton. For some, it was their first time seeing him since the crash. Naturally, there was some trepidation, because what do you say to a man grieving the loss of his wife and daughter? But Moore was his typical positive, jovial self that day and made those around him feel at ease.
Less than a week later, Moore was found unconscious in his home and went into cardiac arrest in the ambulance en route to UW Hospital, where he spent weeks there in the intensive care unit. Moore's family released a statement July 29 saying he'd been moved to a long-term care and rehabilitation facility and won't coach this season.
Due to privacy issues and concerns about spreading disease, there are limits on who can visit Moore. Gard has been in to see Moore recently, but none of the players have spent time with him since that day in June at his home.
Slowly but surely, the Badgers are getting back into a routine. They started classes last week, and strength and conditioning drills this week. Practice for the 2019-20 season officially will start later this month, and Gard acknowledged staying busy is a good distraction.
"I think you try to have some normalcy," Gard said. "I think you try to have some normalcy. You have to keep moving forward. Obviously, this world doesn't stop spinning. You acknowledge what is going on. That doesn't go away. But at the same time, you have to take a step forward."
Filling in
"That office sat empty and the door closed for a long time," Gard said. "I wouldn't even walk in it. I couldn't go in it."
The Badgers miss Moore's smile and booming voice, among other things. But Tucker's presence has helped fill the void.
Gard said it wasn't an easy decision for Tucker, who has a young family, to move from his job in the UW athletic department to the long and crazy hours that come with coaching. But Tucker and Moore have a strong relationship that dates to 2005, when Tucker was a junior and Moore had started his first stint as an assistant coach at his alma mater.
Tucker was unavailable to talk for this story because he was on the road recruiting. But he made it clear in an earlier statement he took the job because of how he feels about Moore: "I owe it to him," Tucker said.
Gard called Tucker "the right person at the right time" and said his transition to a staff that also includes Joe Krabbenhoft and Dean Oliver has been seamless.
"He's got street cred to no end," Gard said. "He's got a lot of horsepower when he walks into the gym. They know who he is."
Krabbenhoft, who played with Tucker for two seasons at UW, said his former teammate is "a natural" as a coach.
"We're lucky to have him from a basketball perspective," Krabbenhoft said. "He'll be great with our guys. He'll be great in the community. He'll be great with the game. With recruits, he's a rock star."
Team effort
One memory that will stick with Krabbenhoft forever is how Moore had command of the room that day in June when the players visited him. Moore's passion for UW had that effect on people. "The guys were locked in," Krabbenhoft said. "It was like they're in the locker room listening to coach Moore talk to get them ready for Purdue."
Moore's message that day was inspiring, according to those who were there. He stressed the importance of not taking life for granted. He talked about how he'd be back in September and the team would have a terrific season.
Even though he won't be on the sidelines with the Badgers, Moore's words still serve as motivation.
"At the end of the day, we've got a job to do," UW senior guard Brevin Pritzl said, "and that's what he'd want us to do."
But it's not the Badgers' only job. Pritzl and other players have kept tabs on Jerell Moore, who attended UW practices over the summer and keeps in touch with some of the Badgers via Snapchat. Pritzl, junior point guard D'Mitrik Trice and junior forward Aleem Ford took Jerell to "Toy Story 4" one night this summer and played video games with him afterward.
"For the most part, I've never seen him shed a tear, I've never seen him really down," said Trice, who said Jerell reminds him of Howard. "He's still that same, energetic, happy, smiling kid that I've always known."
The players, coaches and their families will miss Jennifer and Jaidyn, both of whom made lasting impressions with their kindness and bubbly personalities.
Jennifer was the ringleader on trips to tournaments, always making sure there was something to do for wives and children while Gard and his assistant coaches were busy at practice or prepping for games. Pritzl said the thing he'll miss most about Jennifer is how she was always there outside the Kohl Center locker room, ready to deliver a hug and words of support.
"Jen was a good match for Howard," Krabbenhoft said. "They had so much fun together. She was fun. She just made you laugh."
So would Jaidyn who, for reasons unknown, would call players "Jimmy" when they got on the bus. If Jennifer was the team mom, then Jaidyn was a mini-version of her mother in how she interacted with the other children in the group. During an early morning trip home from California during the 2019 NCAA tournament, Jaidyn kept a close watch over Krabbenhoft's 3-year-old daughter, Aneta, on the bus and plane.
"She was just so kind and nice to all the kids. Like her mom," Krabbenhoft said. "Everybody liked Jen, everybody thought Jen was cool. She could just relate and get along with anybody from anywhere. I was a kid from South Dakota. We had nothing in common and we got along, we could talk about anything. Same with Jaidyn."
With no how-to manual in his library and no magical words to say that could make everything OK, Gard is counting on instinct to help him through these tough times.
Gard and others have realized the best thing they can do is follow the Moore family way: Just be there for people.
"Jen would be pretty upset if we didn't handle this the right way, if we weren't saying and doing the right things for Howard now and for her son," Krabbenhoft said. "So I think about that. If I'm feeling sad or can't do it, I'm letting her down. She needs me to help in my little way. I can't make this better, but I can pull my weight."
Greg Gard, Howard Moore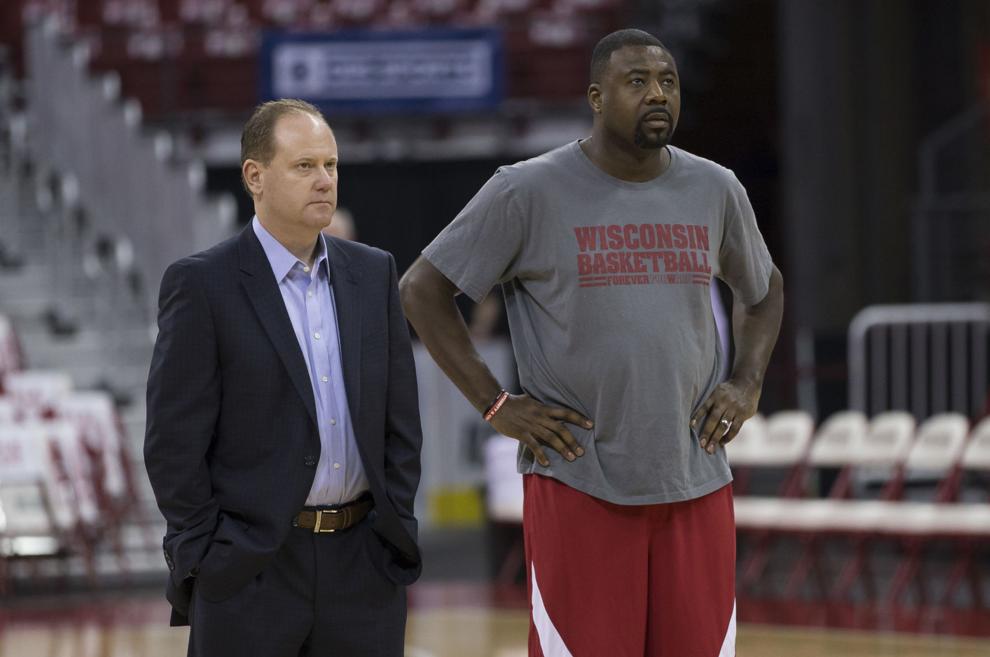 Moore, Illikainen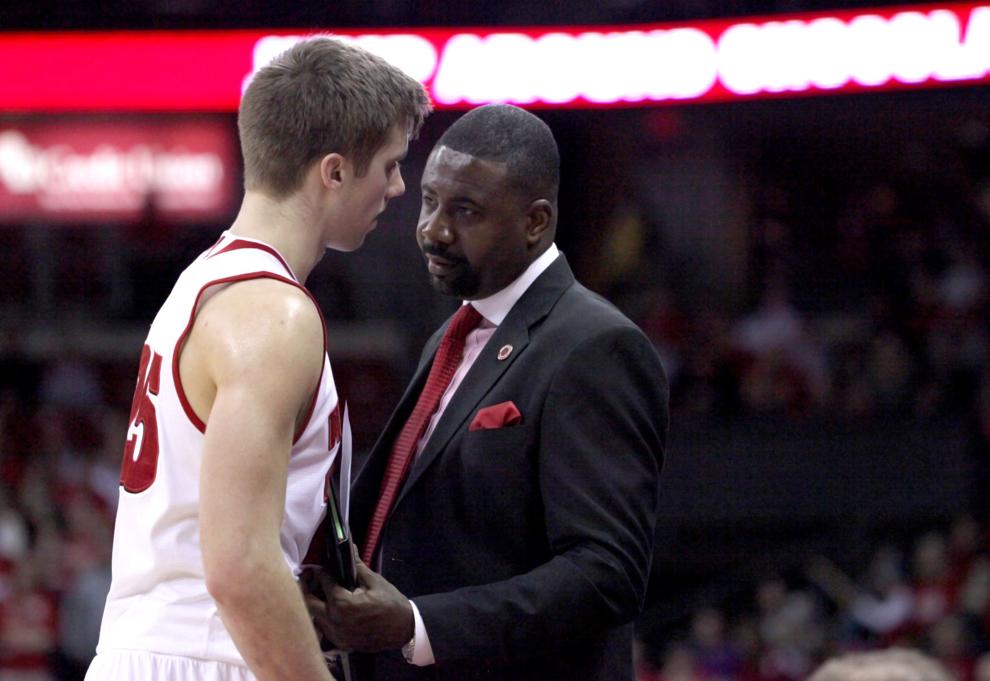 Moore and Kaminsky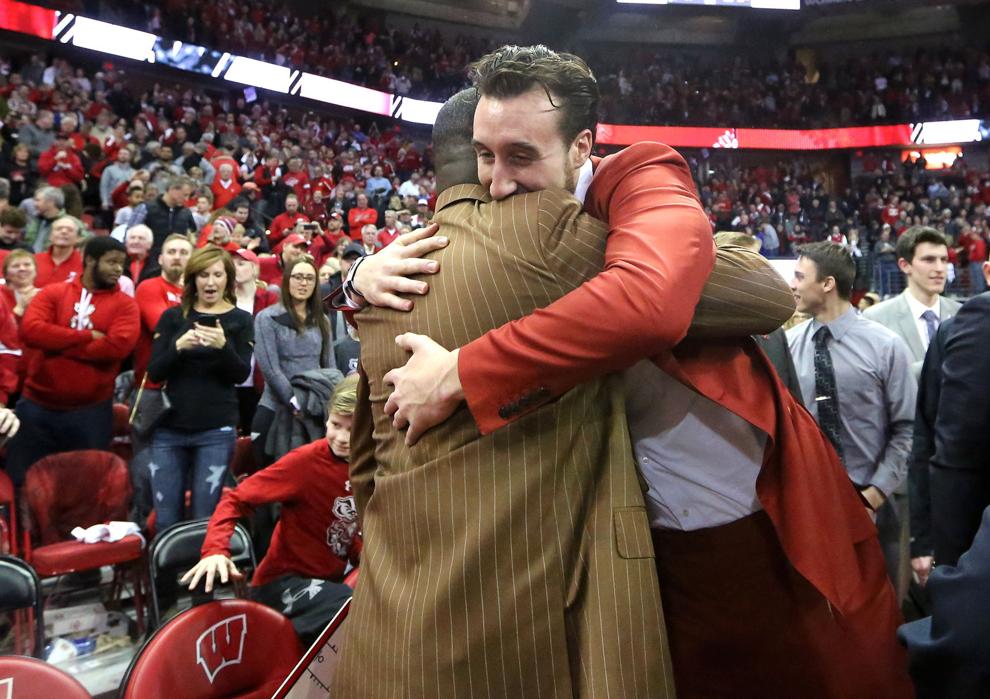 Howard Moore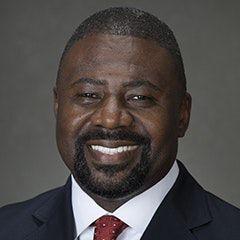 Howard Moore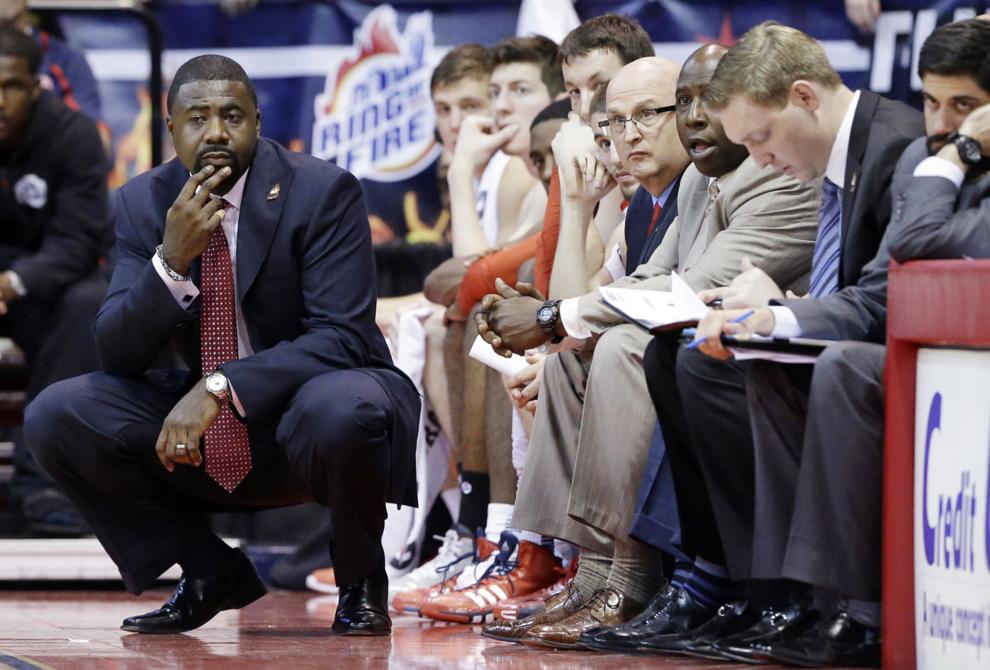 Howard Moore and Nigel Hayes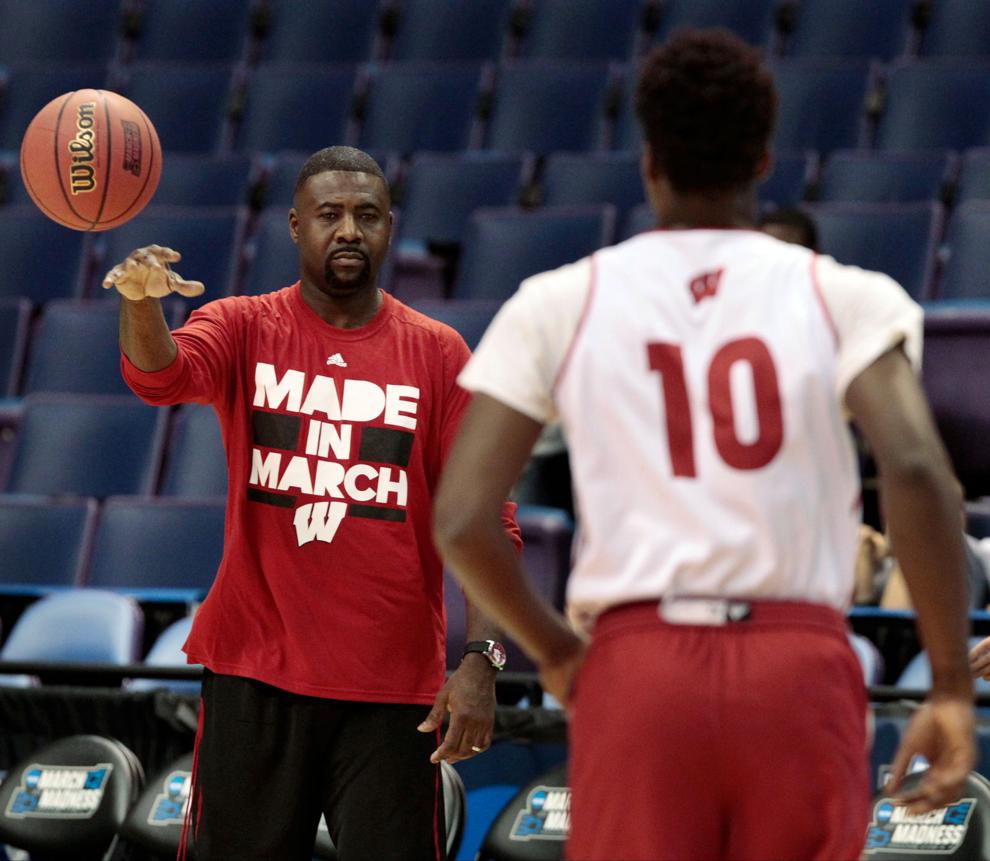 Moore and Hayes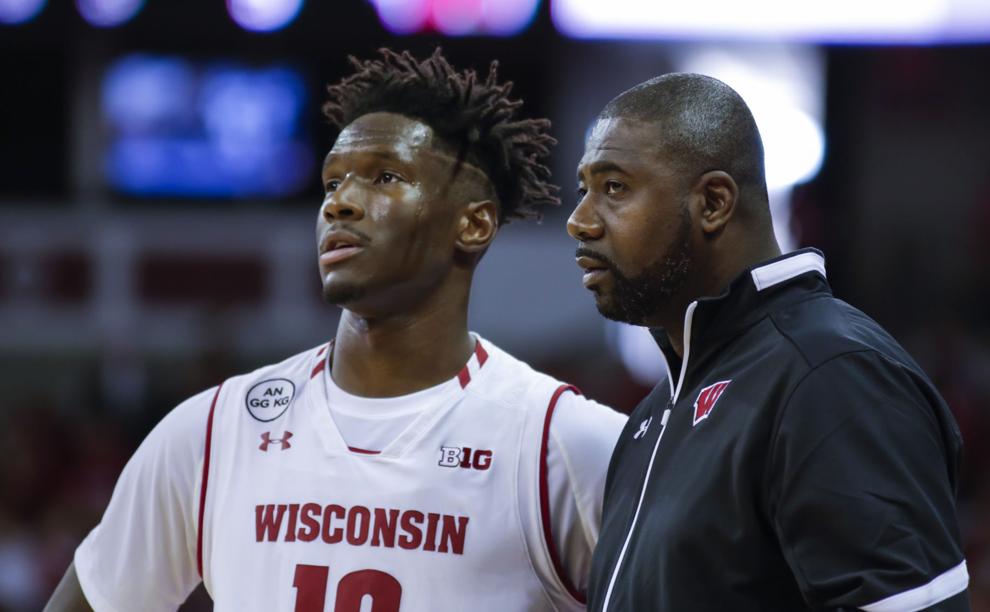 Wisconsin scrimmage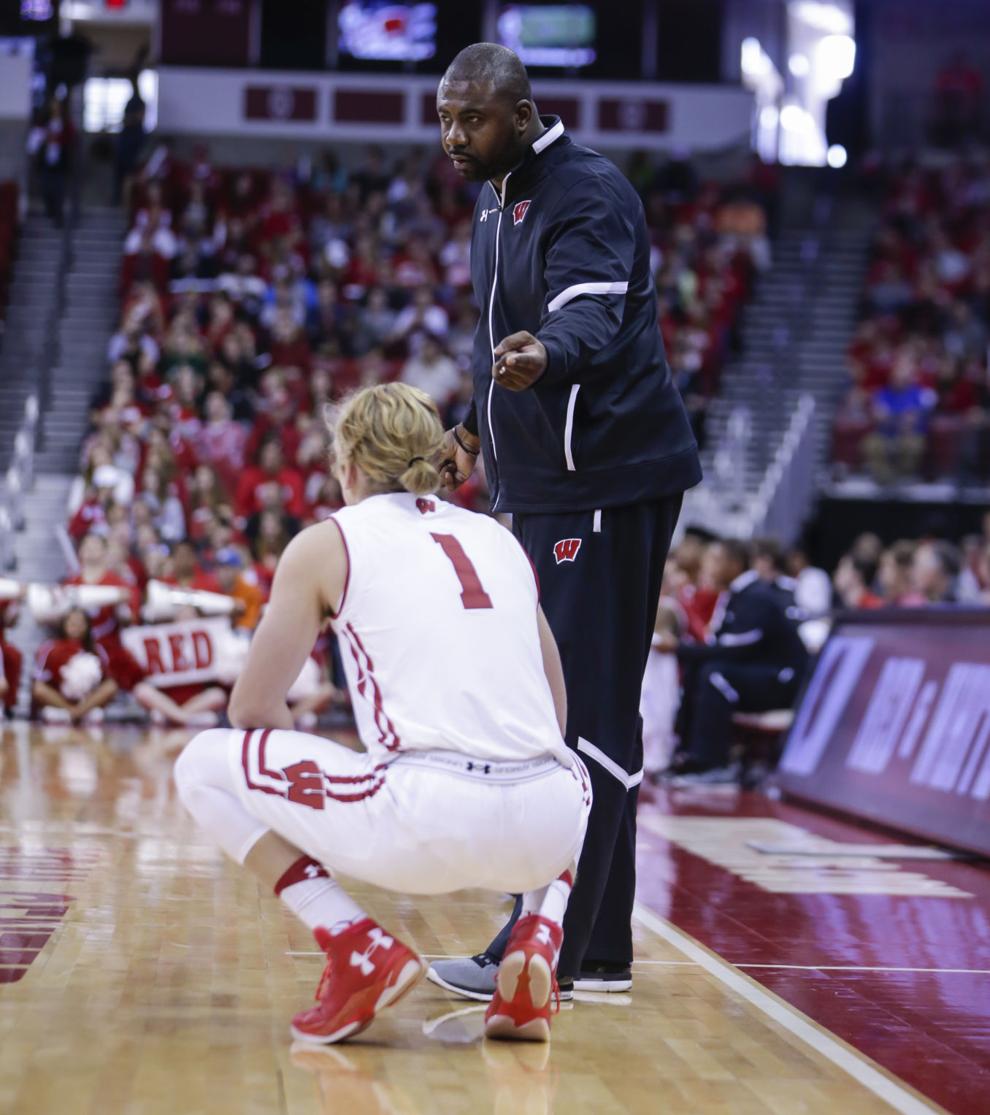 Watching a scrimmage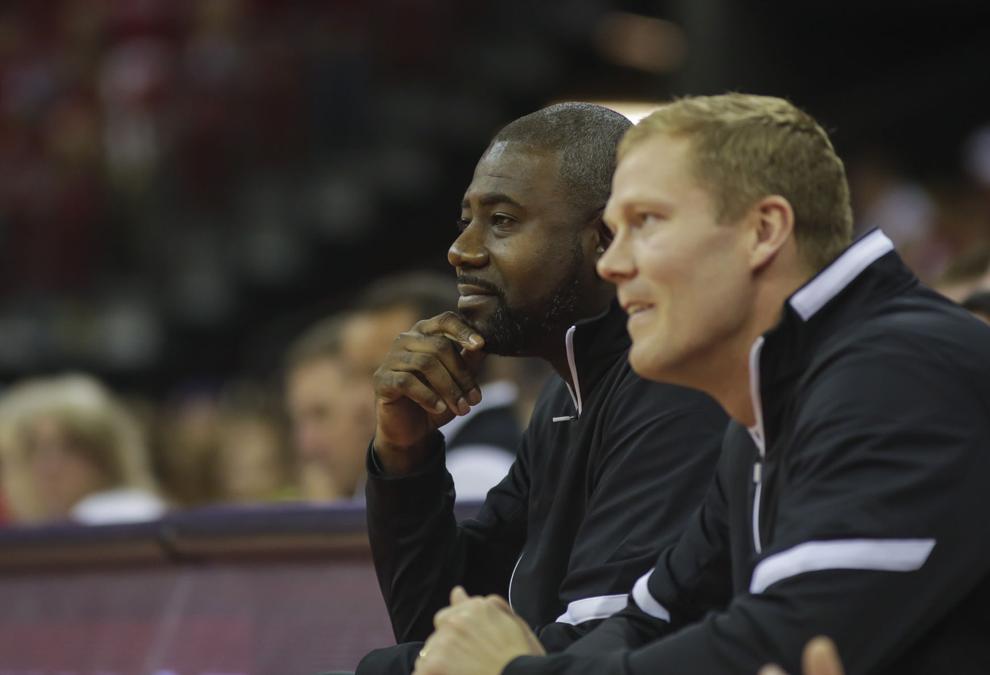 Greg Gard, Howard Moore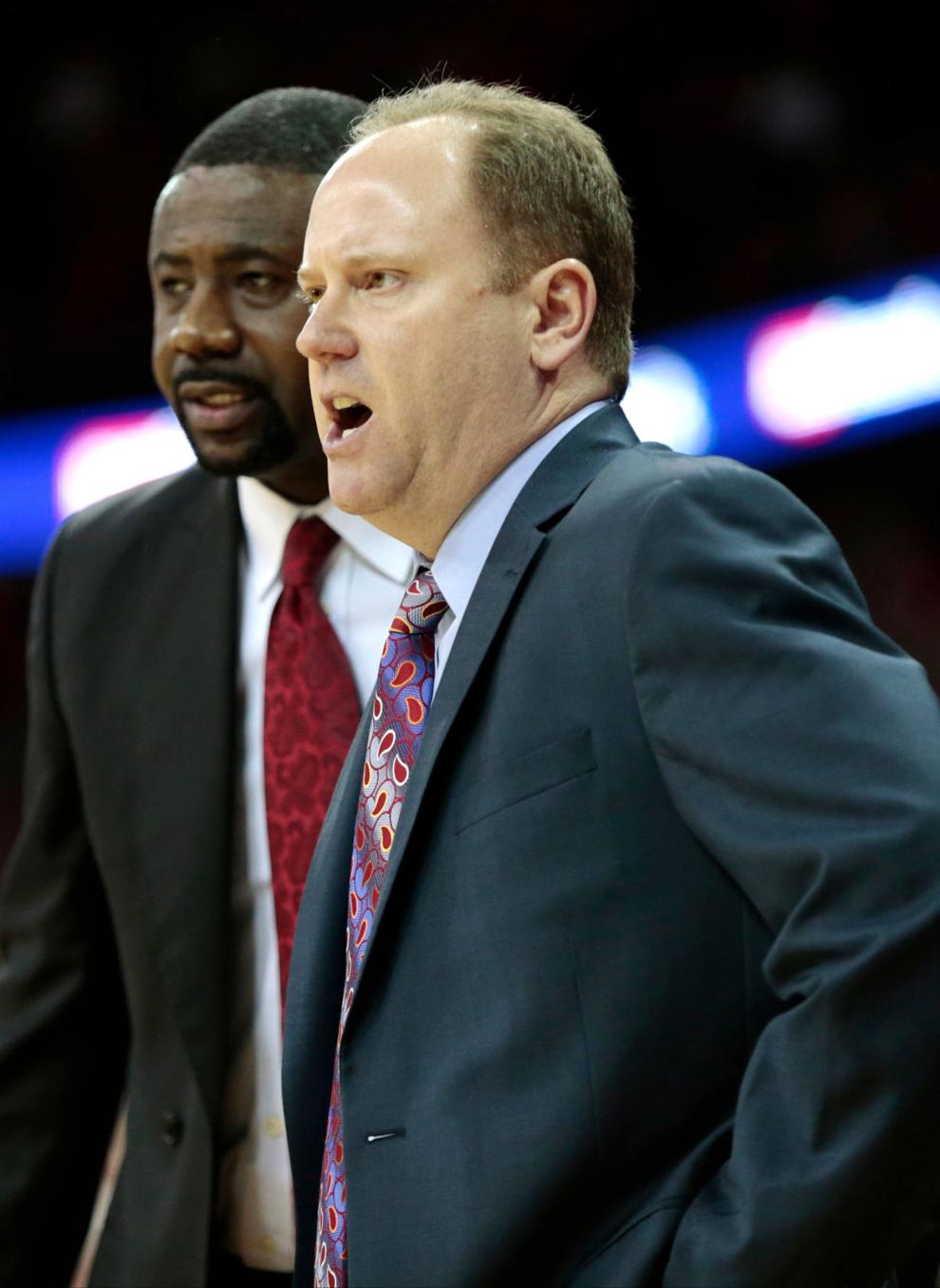 Moore during game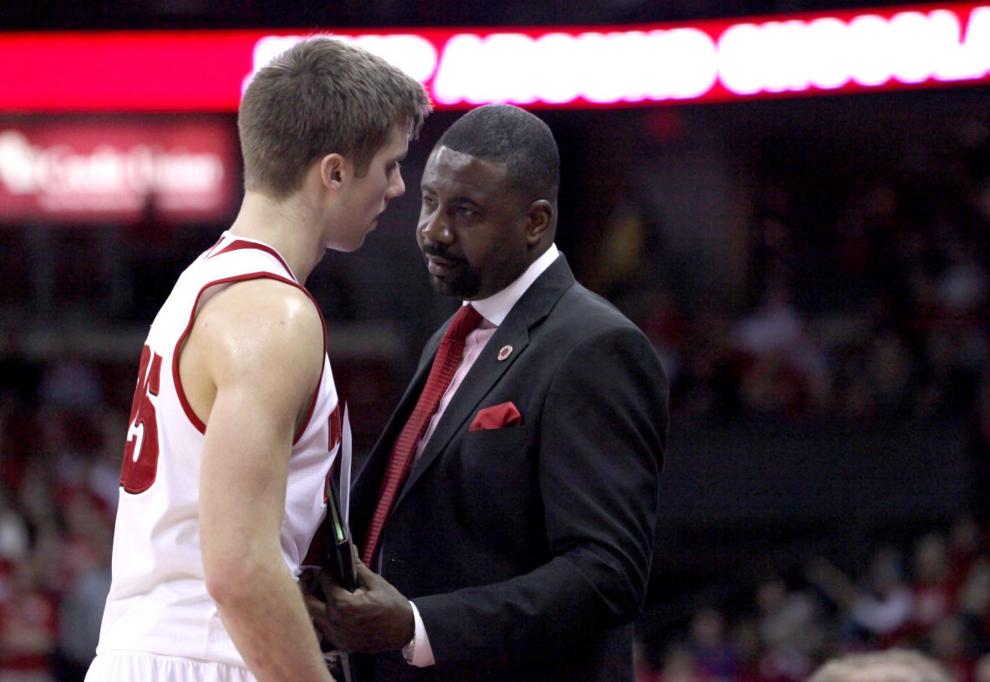 Moore and Ryan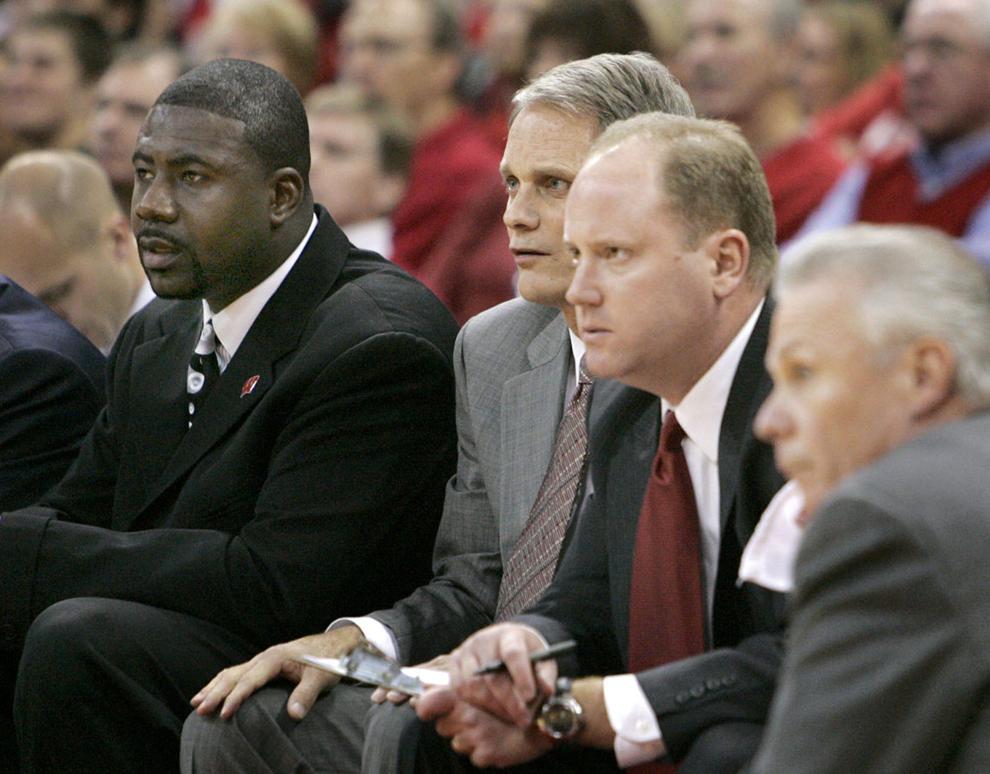 Jennifer and Jerelle Moore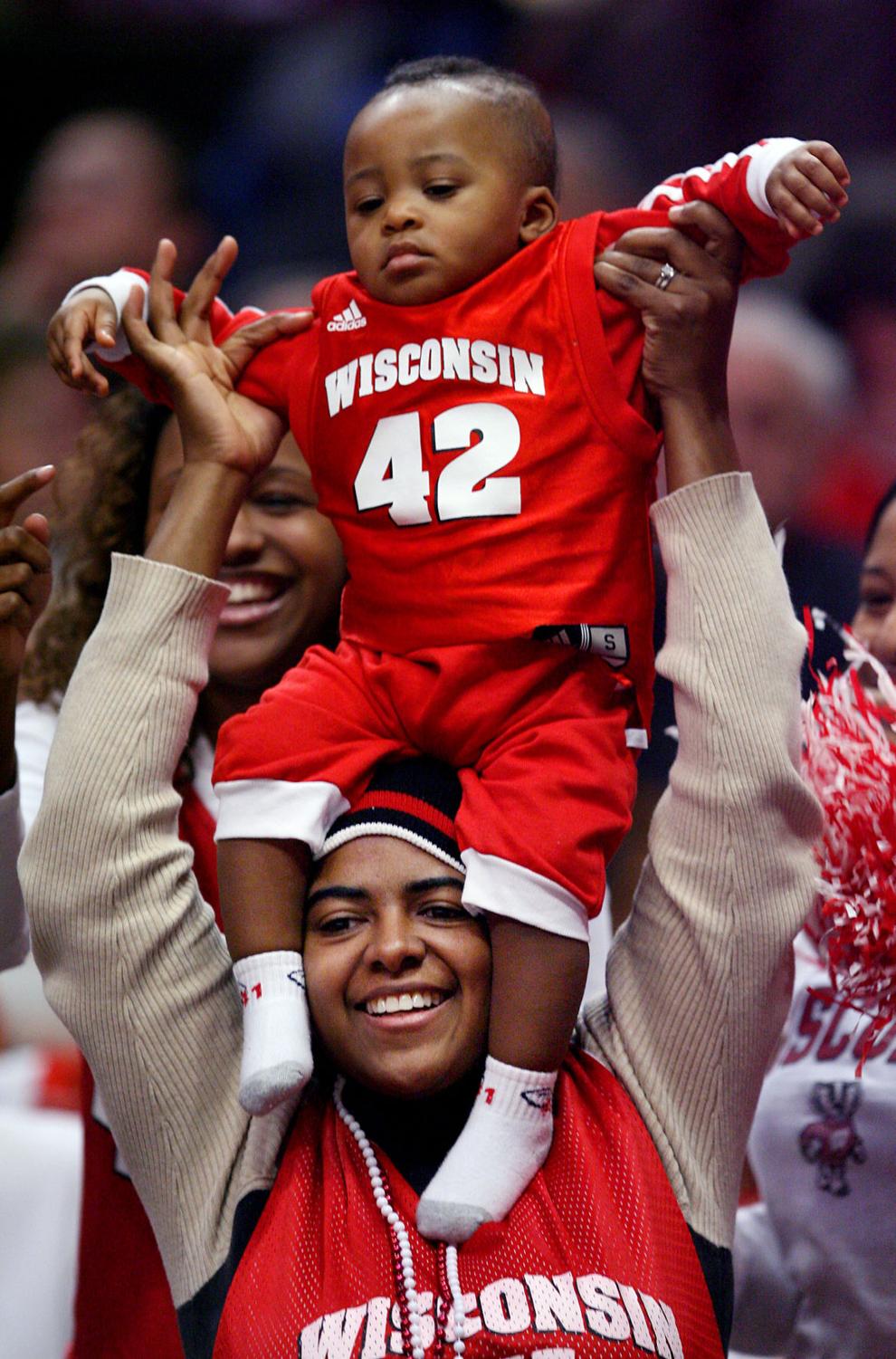 Wisconsin coaches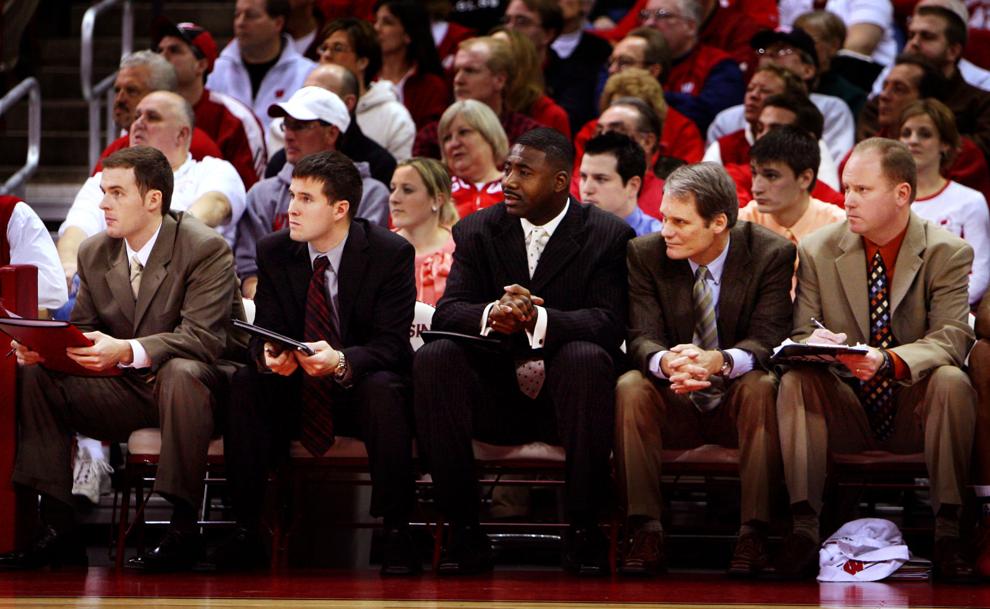 Howard Moore, 2005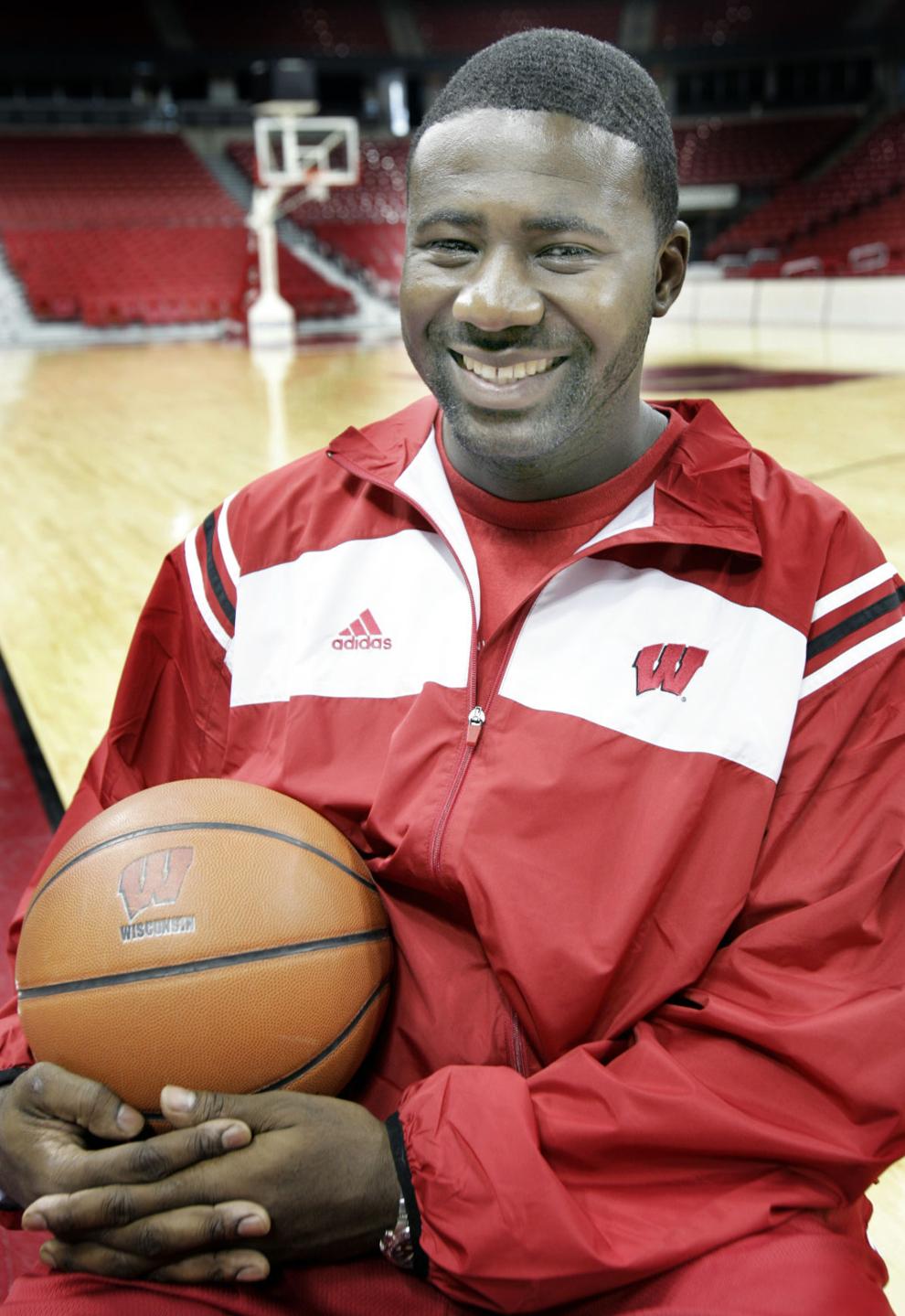 Moore as a player in 1995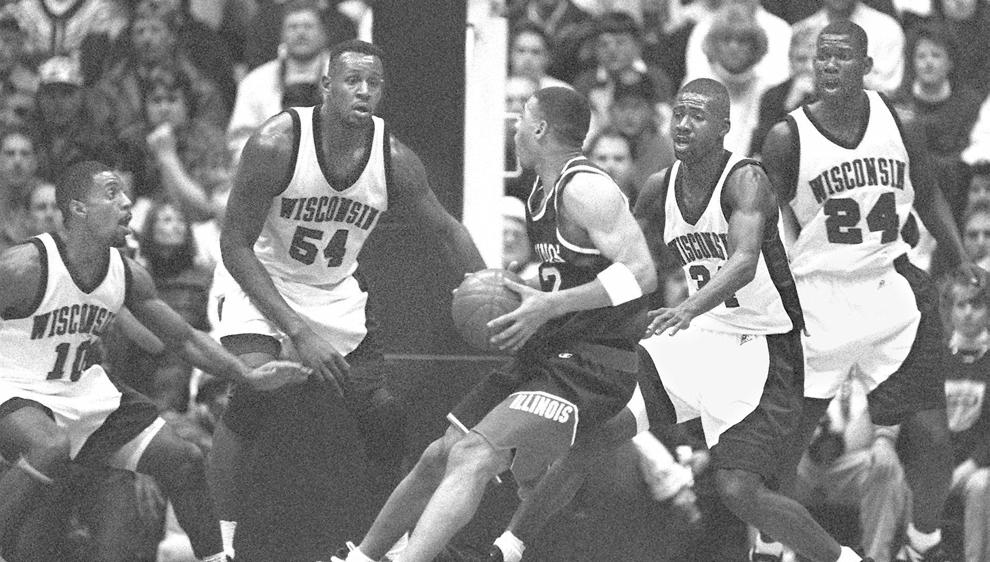 Moore in 1995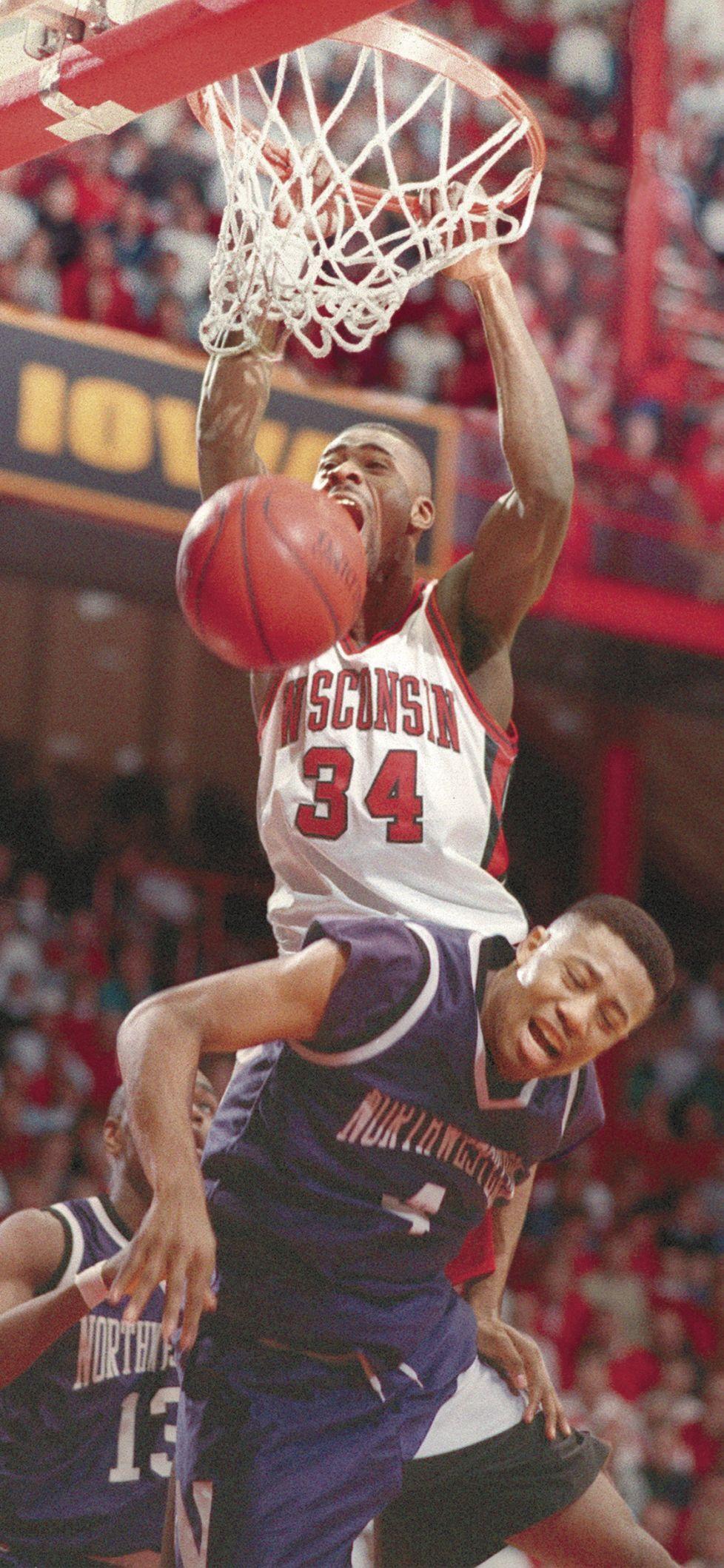 Moore as a player in 1995
Howard Moore 1991-92 season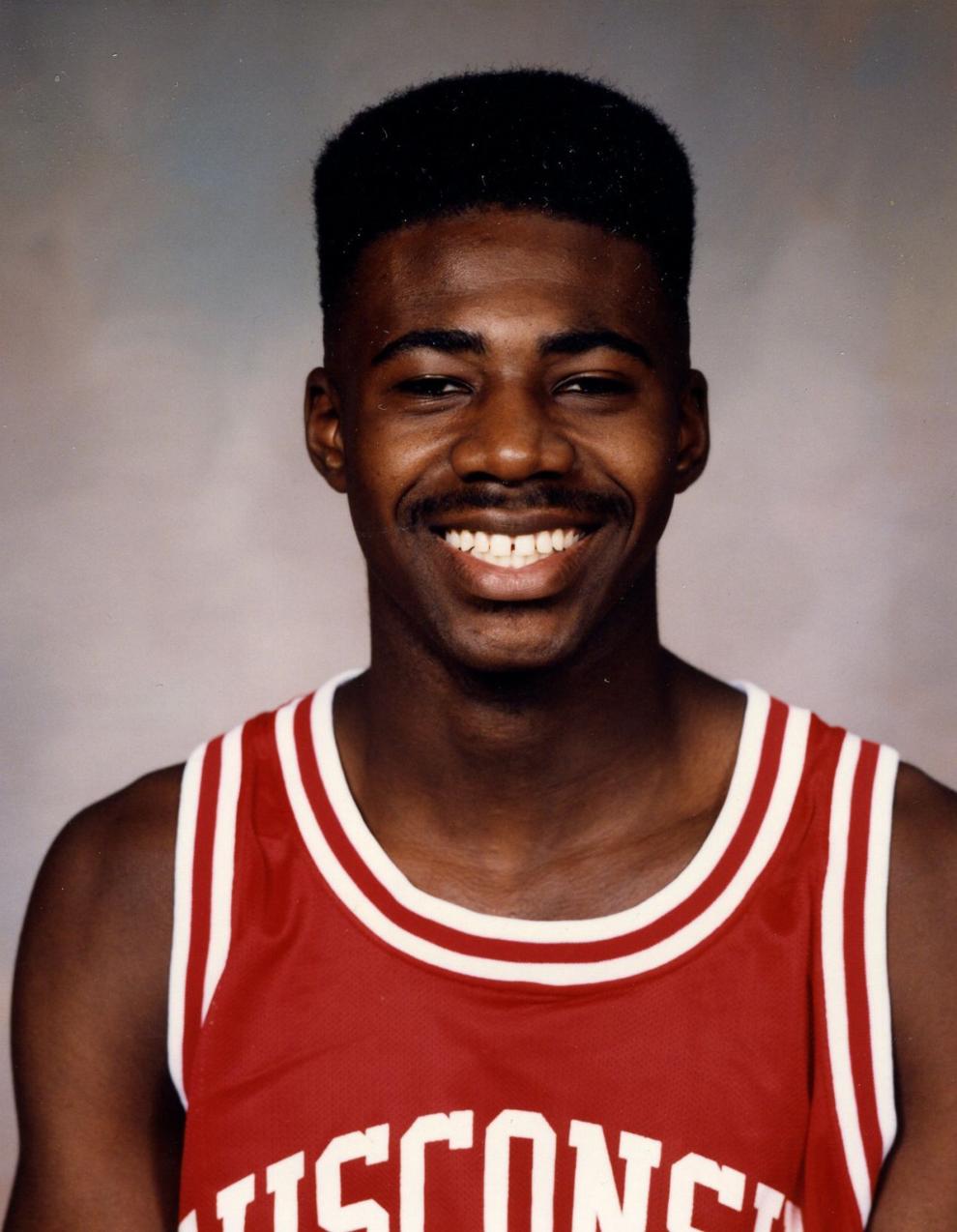 Video: Do Moore. Be Moore. 4 Moore.