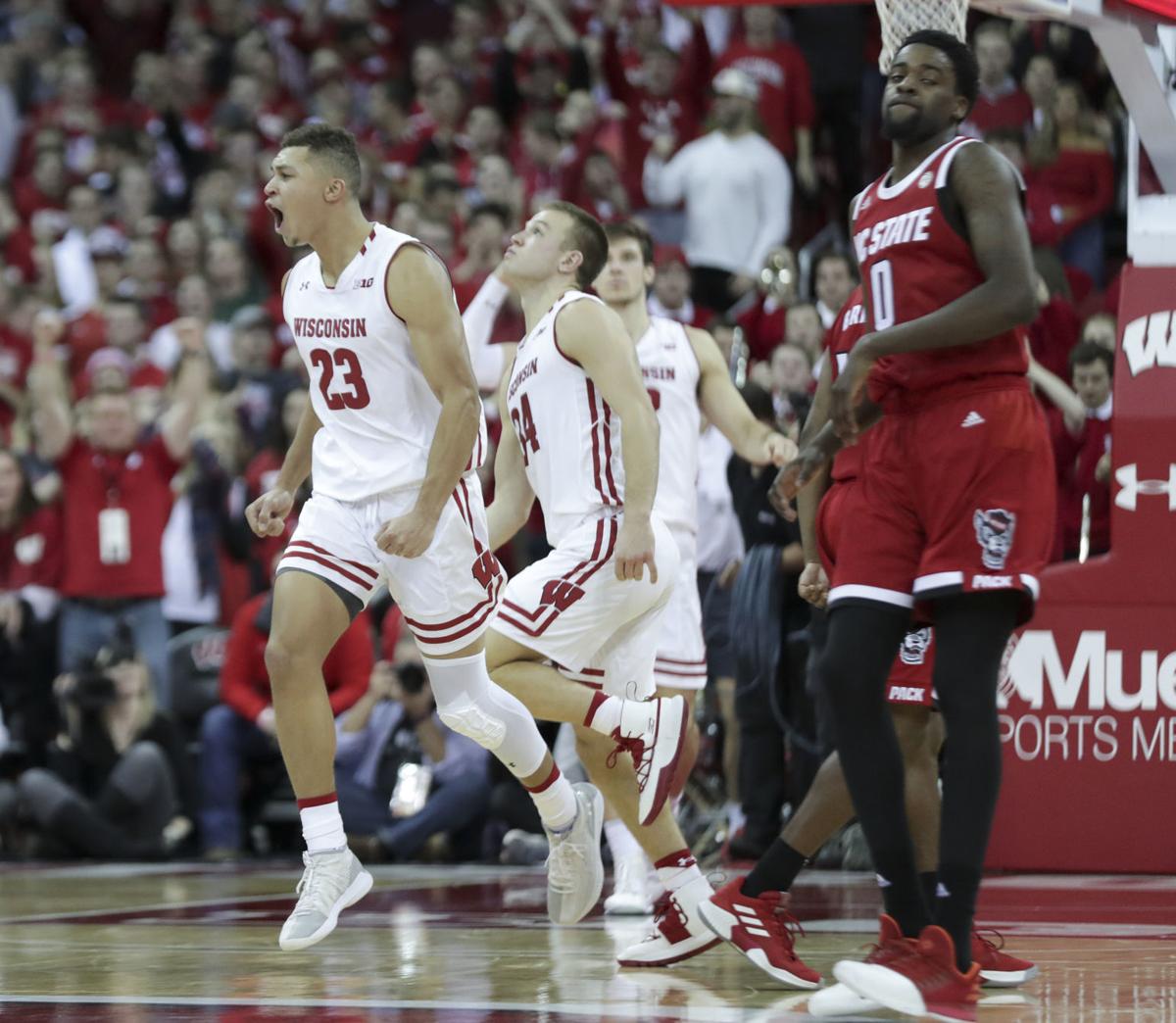 Rematches have become a thing for the University of Wisconsin men's basketball team in the ACC/Big Ten Challenge.
The Badgers will face North Carolina State for the second consecutive season. The matchups for the 2019 event were announced Thursday morning, and the Wolfpack will host UW on Dec. 4 in the three-day event.
UW beat North Carolina State 79-75 at the Kohl Center last season. The Badgers rallied from a 12-point deficit in the second half of that game, getting huge contributions from their starting backcourt of D'Mitrik Trice and Brad Davison.
Trice finished with 18 points, including a jumper late in the shot clock with UW clinging to a one-point lead in the final minute.
Davison added 12 points and drew four charges in the game.
The Wolfpack went 24-12 last season, finishing in eighth place in the ACC with a 9-9 record. Their season ended with a loss to Lipscomb in an NIT quarterfinal.
North Carolina State returns six of its top seven scorers from that roster. Leading the way are senior guards Markell Johnson (12.6 ppg), who recently decided to pull his name out of the NBA draft and return for his final season in Raleigh, and C.J. Bryce (11.6).
The Wolfpack will need to replace forward Torin Dorn, who led the team with 14.0 points and 7.2 rebounds per game.
UW returns three starters from last season: Trice, Davison and forward Nate Reuvers. But the Badgers must replace center Ethan Happ, a three-time first-team All-Big Ten performer who earned second-team All-American honors as a senior, and forward Khalil Iverson.
The Badgers went 23-11 in 2018-19, finishing fourth in the Big Ten. Their season ended with a first-round loss to Oregon in the NCAA tournament.
The North Carolina State matchup continues a recent surge of rematches in this event for the Badgers. UW were paired with Syracuse in back-to-back seasons in 2016 and 2017 and with Virginia in 2013 and 2014.