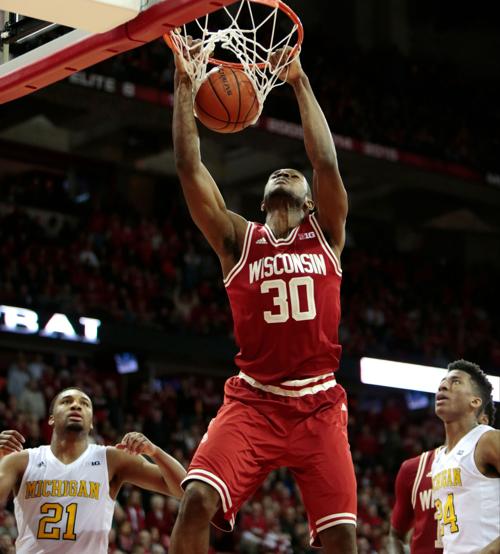 Interim coach Greg Gard brought up some bad memories in his pregame speech Sunday evening, reminding the members of the University of Wisconsin men's basketball team about home losses to Western Illinois, UW-Milwaukee and Marquette earlier in the season.
Those defeats seem like an eternity ago, but Gard thought it was important to bring up the low points as a reminder of the importance of holding serve at the Kohl Center during the Badgers' final scheduled appearance in the building this season.
"We've righted the ship," Gard told his players, "let's make sure we finish … on the right note."
The Badgers answered Gard's call, using a big second half to post a 68-57 victory over Michigan and continue their climb up the Big Ten Conference standings.
Junior point guard Bronson Koenig finished with a game-high 19 points, and junior forward Nigel Hayes added 16 points, seven rebounds and four assists to help UW win for the 10th time in its last 11 games.
A close loss to Maryland on Jan. 9 dropped the Badgers to 7-5 at home. They've won their remaining six games at the Kohl Center since that point, a big reason UW finds itself in a four-way tie for second place in the Big Ten and still in the title chase with a week to go.
Jordan Smith honored on senior night. Vitto Brown throws down a big dunk late in the game. Ethan Happ makes the nice layup getting around Michigan's Ricky Doyle. Jordan Smith comes off the bench, makes a few plays and leaves to a standing ovation.
In order to secure a share of their second consecutive Big Ten regular-season title, the Badgers need to beat Minnesota and Purdue on the road this week and hope first-place Indiana loses at Iowa and at home to Maryland.
After UW (19-10, 11-5 Big Ten) beat Michigan for the 16th time in the teams' last 18 meetings, Gard began his postgame news conference by saying thank you to several people. The first group he recognized was a home crowd that provided the Badgers with a great deal of energy.
"They were terrific through this whole transition and rough start to the season back in November and December," Gard said. "For them to be able to continue to show their support for us obviously means a lot.
"I thought they were terrific today. It was loud in there, and I'm happy to be able to send them off in the last regular-season (home) game with a good taste in their mouth."
You have free articles remaining.
UW outscored Michigan 39-27 in the second half, including a 21-8 run that began after the Wolverines took a 40-39 lead on a lob dunk by sophomore forward Ricky Doyle.
Junior swingman Zak Irvin scored 14 points to lead Michigan (20-10, 10-7), while Doyle, junior point guard Derrick Walton Jr. and sophomore swingman Duncan Robinson added 10 apiece.
The Wolverines fell to 8-7 without senior guard Caris LeVert, who is out with a lower left leg injury.
"They were a much better team than us in the second half today," Michigan coach John Beilein said.
UW junior guard Vitto Brown finished with 14 points after making a career-high four 3-pointers. Koenig connected three times from beyond the arc as UW made Michigan pay for doubling the post when Hayes and redshirt freshman forward Ethan Happ got the ball.
The Wolverines pulled within 52-47 on a basket by Doyle with 4 minutes, 44 seconds remaining, but Koenig drained a 3-pointer after an inside-out feed from Hayes.
After a Michigan turnover, Hayes got the ball in the post, was doubled and fed Brown for a 3-pointer from the top of the key that extended UW's lead to 58-47 with 3:37 left.
All four of Hayes' assists came in the second half, and they led to 11 points: two 3-pointers from Brown, one from Koenig and a dunk by Brown in the final minute.
"I tried to not force anything and let the double-team come," Hayes said, "because I know my guys are open and I know they're going to score."
UW's late surge gave Gard the opportunity to get guard Jordan Smith, the only senior on the team, in the game. Smith, who was honored in a video before the game, completed the Badgers' scoring by making two free throws with 19.0 seconds remaining and left the floor to a standing ovation.
All in all, it was a near-perfect script to a night that began with Gard asking his team to look in the rear-view mirror, when the picture wasn't so pretty.
"Personally, I thought this was one of coach Gard's best pregame speeches," said Happ, who scored 12 points. "He did a great job inspiring us to win.
"It was heartbreaking to lose those games, and I'll never forget how that felt and I know my teammates don't either. We're such a different team since that that it's just nice to see how far we've come."