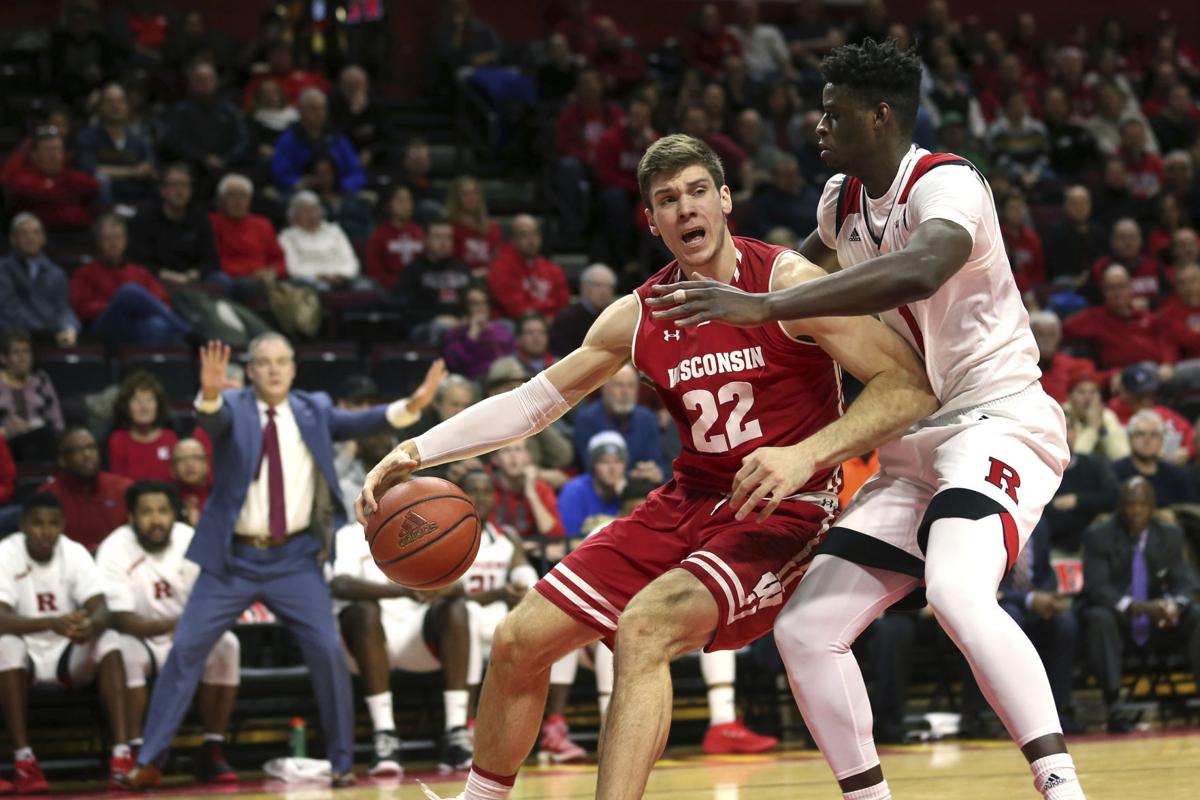 LINCOLN, Neb. — No matter which metric is used — turnovers per game or turnovers per possession — University of Wisconsin men's basketball coach Greg Gard admits his team has a problem taking care of the ball.
"We're too high," he said, "bottom line."
It's an issue that cost the Badgers in a 64-60 loss at Rutgers on Friday night and needs to be fixed if UW (9-8, 2-2 Big Ten Conference) hopes to beat Nebraska (11-6, 2-2) tonight at Pinnacle Bank Arena.
For the record, when Gard analyzes his team's turnovers, he prefers to view the issue in relation to the number of possessions UW has in a game.
Against Rutgers, the Badgers turned the ball over on 23.0 percent of their possessions (14 of 61). That was on the heels of UW posting a 25.0 turnover percentage (15 of 60) in a 71-61 win over Indiana earlier in the week.
For the season, the Badgers' turnover percentage is 17.6, according to the KenPom website. That would be the third-worst mark in the Bo Ryan/Gard era.
In 2001-02, Ryan's first season, UW earned a share of the Big Ten title despite posting a turnover percentage of 19.8.
In 2007-08, the Badgers won 31 games — a program record at the time — despite a turnover percentage of 19.0.
That team a decade ago, which included Brian Butch, Trevon Hughes, Marcus Landry, Michael Flowers and Joe Krabbenhoft, survived its high number of miscues on offense because it was tough as nails and relied on a defense that ranked in the top five nationally.
Seventeen games into this season, UW is still in search of an identity. The Badgers have been inconsistent on both ends of the court and their toughness comes and goes.
This season, more than any other in recent memory, is one in which taking advantage of every possession is extremely important. Instead, a team with limited offensive threats finishes too many possessions without even attempting a shot.
"The margin for error is very slim and that's what we have to understand," UW assistant coach Howard Moore said. "Those turnovers are costly. When you get up around 10, 11, 12 (in a game), you're really shutting down your opportunities in a low-possession game. The value of those possessions are critical.
"You've got to make sure you get something positive out of those possessions and not just throwing them away and giving (opponents) opportunities at the other end."
A breakdown of the 29 turnovers in the past two games includes a little bit of everything.
There were six traveling violations, five offensive fouls, eight poor passes and two instances of simply not catching the ball. There were five cases of a UW player losing the ball on a dribble and one double-dribble violation.
Finally, there were two shot-clock violations against Indiana.
"It's a (combination) of a lot of things," Gard said. "Younger guys in position for longer than maybe they should be in a position. Late in the game, sometimes are they fatigue-related (turnovers)? So we've got to fight through that. We've got to be better than that. We've got to be more disciplined in those situations."
Junior center Ethan Happ handles the ball more than a typical post player and is counted on to be the primary playmaker for the Badgers, so the fact he leads the team with 49 turnovers isn't surprising.
But some of Happ's miscues could be avoided. He finished with seven turnovers against Rutgers, including two traveling violations, two charges and two instances where he lost the ball while dribbling.
"They did some things defensively, they switched it up," Happ said. "It wasn't the same every time down, which is a credit to them. I think I just didn't have a good game."
Moore said Happ, who faces constant double-teams, needs to do a better job of understanding spacing and anticipating where the extra defender is coming from.
"Now people are collapsing on him hard and daring others to beat them," Moore said. "When you get in that situation, you've got to slow down a little bit more. … You don't have to go 90 (miles per hour). Sometimes you can go 50."
Junior forward Khalil Iverson and freshman guard Brad Davison have posted the next-highest turnover totals with 37 and 31, respectively.
UW assistant coach Dean Oliver said both players could lower those numbers by establishing better habits.
Iverson was stripped on a drive to the rim early in the second half. What Iverson needed to do after coming to a jump stop was secure the ball at his chin while using a pump fake to get the defender up in the air; instead, Iverson was loose with the ball and left it in a spot where it could be knocked out of his hands.
Davison had five turnovers vs. Rutgers, and one that stood out to Oliver came in the first half when the freshman drove baseline, picked up his dribble and ended up being whistled for traveling. Davison could have avoided the turnover by using a retreat dribble once the defender cut off his access to the rim.
The absence of sophomore point guard D'Mitrik Trice and freshman wing Kobe King has led to a lot of responsibility for Davison. In addition to being the Badgers' primary ball-handler, he also typically guards the opponent's best perimeter player.
All with one healthy shoulder.
"Yeah, but Brad wants it to be that way," Oliver said. "He wants the pressure, he wants to be on the floor. He'll take that responsibility. It's part of the game. I know he's a freshman, I know there's a lot going on his plate. But there's also a lot of things that he can do to get better and not have those turnovers."