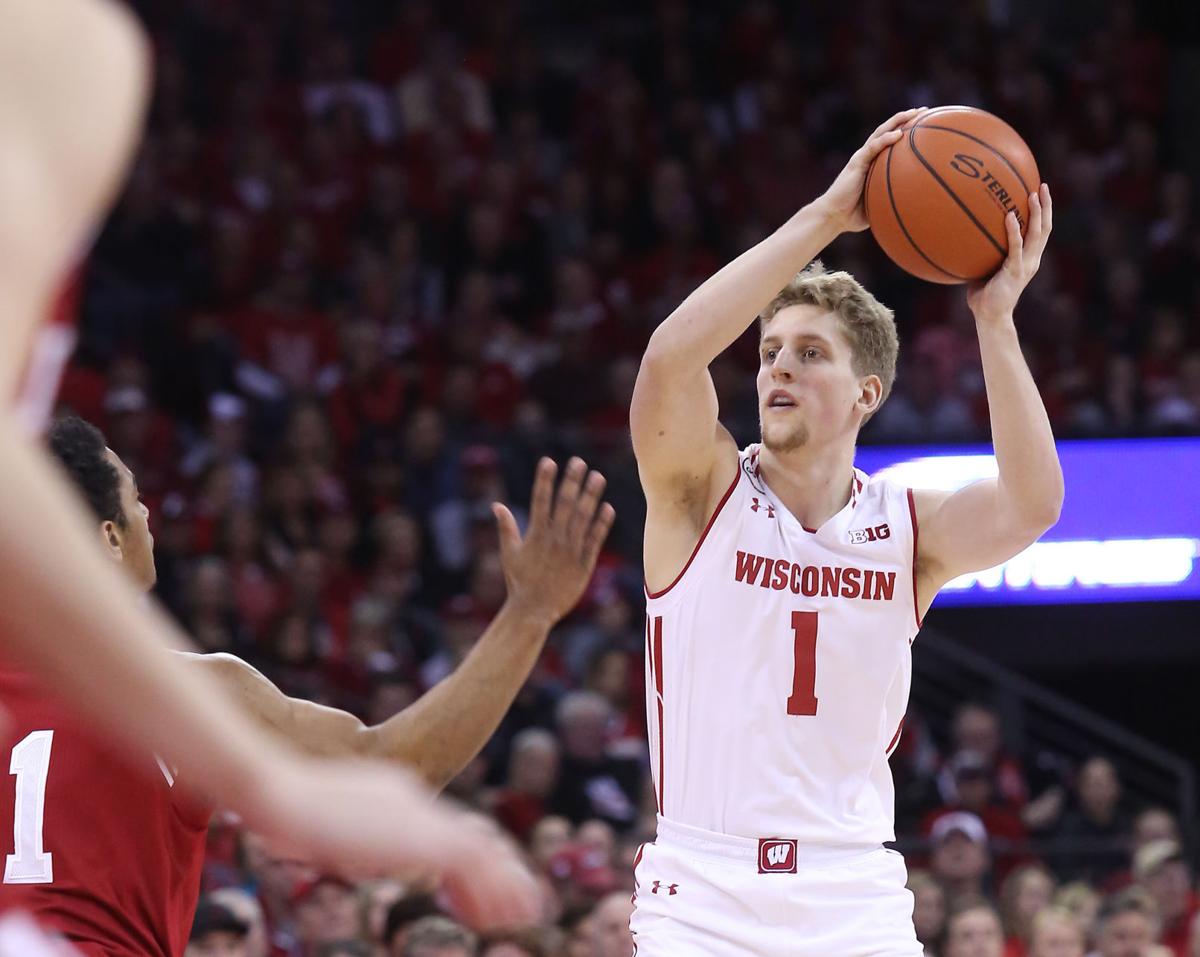 It would have been easy to glance at Brevin Pritzl's shooting line during a win over UW-Green Bay on Saturday — he missed six of his eight attempts — and stop there.
That's not how University of Wisconsin men's basketball coach Greg Gard operates. He breezed right past those numbers and focused on Pritzl's other contributions during the Badgers' 81-60 victory over the Phoenix.
One thing Gard tells his players over and over is the importance of finding ways to be a factor on days when their shots aren't falling. Pritzl was able to do that against Green Bay, and it's the reason he was rewarded with a team-high 31 minutes.
By the time the final buzzer sounded, Pritzl had tallied career highs in assists (four) and steals (three). He also matched his career high with seven rebounds.
"We know he can shoot the ball," Gard said after the game. "It's just a matter of can he grow in other areas of his game to become a more complete player. (Saturday) hopefully was a step in the right direction."
The performance against Green Bay came two days after Pritzl sat in a chair on the baseline at the Kohl Center and voiced frustration over his lack of consistency.
"Right now, it's just so hit and miss with my play," Pritzl said. "That hurts us as a team."
Pritzl was coming off a practice that had put him in a foul mood. Afterward, he was blunt while summing up the session:
"I just suck at certain things and it bothers me," he said. "When you hear that you suck at it, you start to think about it all the time. And then at the end of the day all you think about is, 'Don't do it wrong,' and you end up making more mistakes that way."
You have free articles remaining.
Pritzl is the first to admit he gets in his own head too often. Rather than moving on after making a mistake, he dwells on it.
"When things aren't quite going right," UW assistant coach Dean Oliver said, "he has to continue to grow and be able to respond in a better way every single day.
"It's maturity. It's experience. It's self-confidence. But the way you build that is through repetition in practice and knowing that you've put the work in. And that's what my constant message to him is to bring it every day and play for your teammates and get outside of yourself. If you can play for your teammates all the time, everything kind of works itself out."
Prior to a break for semester exams, Pritzl matched his career high with 17 points during an 81-80 victory over Western Kentucky. But Pritzl couldn't even enjoy that breakout performance on offense — he went 4 of 5 from 3-point range — because he had struggled on the other end of the court against the Hilltoppers.
Pritzl said he "got ripped apart in film" after allowing easy access to the rim on multiple occasions.
"I just don't defend well enough and it bothers me," Pritzl said. "I don't like not being a great defender. The more and more I'm not good at it, the worse I feel about it and the more mad I get."
Gard challenged Pritzl for the Green Bay game by assigning him to guard junior guard Sandy Cohen III, who was playing his second game with the Phoenix after transferring from Marquette last season. Cohen finished with a team-high 13 points against the Badgers, but nine of those came after UW had built a 25-point lead in the second half.
After the game, Gard said Pritzl's defense has improved but still needs a lot of work.
"Habits, technique, it's everything," Gard said. "Attention to detail. Not losing focus, specifically away from the ball. And then obviously understanding some (other) things: How you play angles and things that Brad (Davison) does in terms of setting up guys that are out of control and getting charges. It's being in a gap. 'When do I help, when do I not help?' It's harder than you think — it's because of all the pieces that go together.
"And the biggest thing is the repetition. The best defensive players we've had and the best defensive teams that we've had here have been by and large the most experienced teams because they've had the reps. They figure out what works and also what won't work. There's not a better teacher than getting burned and having something go against you that you did the wrong way and seeing on a film and then working to improve it."
The Green Bay game was a step in the right direction for Pritzl, who now would like to put together a complete performance … and then another … and then another.
"I can't string things together right now and that's bothersome," said Pritzl, who will try to help the Badgers (6-7) get back to .500 tonight when they host Chicago State (2-13). "I've got to find some consistency somewhere."