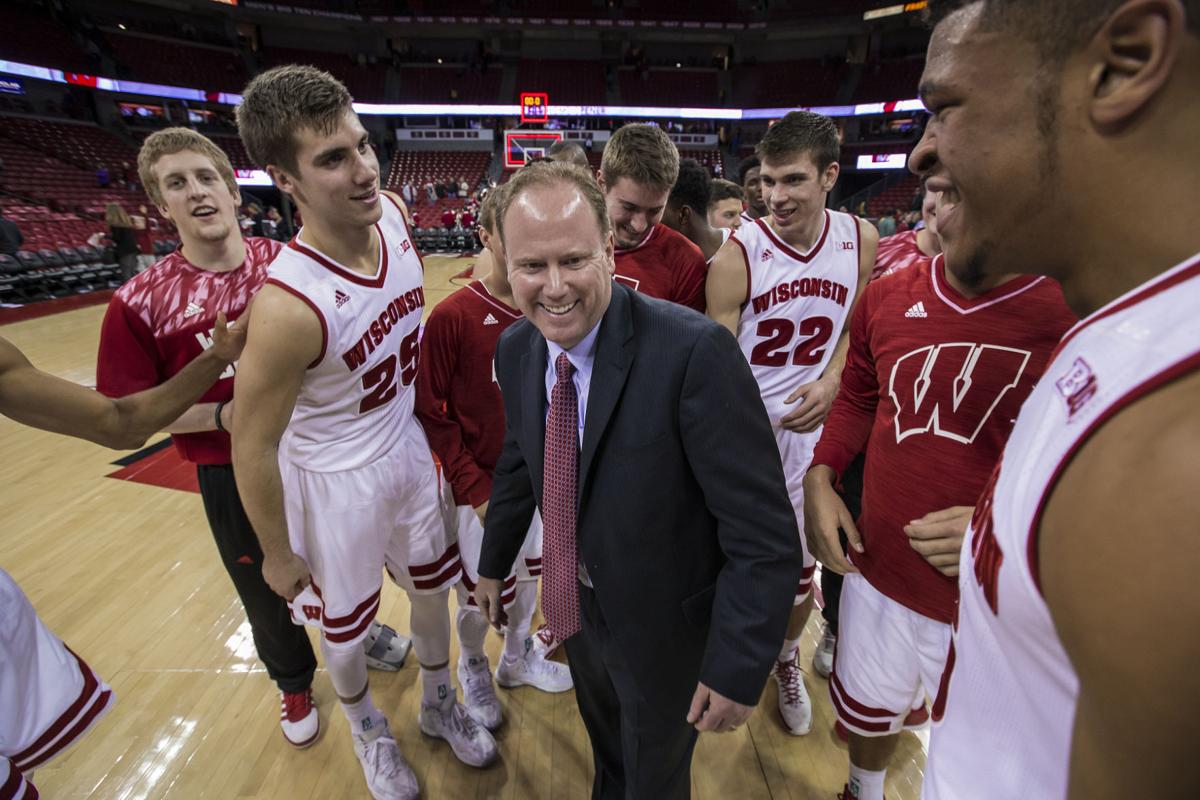 The DVD is 20 years old, a classic in the world of basketball coaching instructional videos.
It begins with Bo Ryan, dressed in khakis and a blue polo shirt and fresh off the second of what would become four NCAA Division III national titles as UW-Platteville's coach, looking into the camera and explaining to viewers what they should expect to see in the video. It's a topic, the star of "Bo Ryan's Offensive System" stresses, "we feel very strongly about."
For the next 30 minutes, Ryan teaches the basics of the swing offense with the help of 10 men on the court at Williams Fieldhouse. One of those helpers is a fresh-faced 24-year-old who, two decades later, would succeed Ryan as the University of Wisconsin men's basketball coach.
"I think they paid us," Greg Gard said of his supporting role in the video, "with two pizzas."
The swing played a big role in Ryan's success during a legendary coaching career that included stops at UW system programs in Platteville, Milwaukee and Madison. Slowly but surely during his time with the Badgers, Ryan began using the swing less and less to the point it essentially had been phased out completely during his 15th and final season at UW.
But it has been resurrected by Gard, who took over as interim coach when Ryan retired 12 games into the season on Dec. 15. Gard installed it in practice over the week of finals and the Badgers used it early and often in Wednesday's 84-79 victory over UW-Green Bay.
Two days before his debut, Gard sat in his office and wouldn't tip his hand on whether he'd bring back the swing. But he made it clear that a stagnant offense needed some sort of spark.
"I think basketball in general is still about spacing, angles, the geometry of the game," Gard said. "There are areas of the game we have to get better at regardless of what you run. We have to become better basketball players. Our basketball IQ has to increase. Our decision-making has to improve.
"It's not necessarily the offense specifically, it's all the intangibles that go into the game itself. Spacing. Movement without the ball. Not having the ball stick in one spot. Things that traditionally we've been known for, we've got to get better at."
'Perfect remedy'
The swing was Ryan's baby, yet this season it remained buried in the playbook. His reasons for doing so remain unclear.
Ryan's former assistants are understandably reluctant to publicly question his decision-making, and a text message to Ryan seeking comment for this story wasn't immediately returned.
Perhaps Ryan felt a shortage of outside shooters would decrease UW's ability to stretch the floor and lessen the effectiveness of the swing.
Perhaps he believed the move to a 30-second shot clock — it was previously 35 — would leave the Badgers with less time to break down the defense and wanted to be able to get into the offense more quickly with the use of ball screens.
You have free articles remaining.
Perhaps he felt that since UW had only two proven scorers — junior forward Nigel Hayes and junior point guard Bronson Koenig — it was important to get the ball in their hands as much as possible so they could read, react and make plays.
The morning after Ryan retired, Howard Moore was asked why he thought UW had gone away from the swing offense. Moore was working for the Big Ten Network at the time but has since been hired by Gard for his second stint as an assistant with the Badgers.
"I can only give an assumption," Moore said. "I think Coach was a little bit shy of doing that because of the rule changes and the shot clock and a little bit of personnel-determined things.
"I think this is a perfect team to run swing with. I think they need to get Nigel and Bronson moving and get them in certain spots instead of having them pound the ball. They're just not there offensively right now. What the swing would do is put them on tracks and put them in positions where they're coming off screens and coming off backcuts. I think that would be the perfect remedy for the offensive woes they've had by giving a little bit more structure."
The Badgers didn't run very much swing the previous two seasons, both of which ended with trips to the Final Four, because movement and spacing came naturally to a group that included two players, Frank Kaminsky and Sam Dekker, who'd become NBA first-round picks.
"They were so experienced and we had so many different weapons in different places, we could create things on the fly at times based on what we saw with isolations or matchups or who was playing well or whatever," Gard said. "Plus, that group could just go out and play. They did more talking in the huddle than any group we've had. The coaches talked less than they did."
Infant stages
This season, with a team that includes three new starters and four freshmen among the top nine players in the rotation, the coaches are doing the majority of the talking in the huddle. "This," Gard said, "has been totally different in terms of nuts and bolts instruction of how to (do this) and why to (do this)."
UW led the nation in adjusted offensive efficiency last season but has struggled with consistency in 2015-16. The Badgers (8-5) shot 41.8 percent from the field during non-conference play, putting them on pace to finishing as the worst shooting UW team since the 1997-98 season (40.8 percent).
Gard and Co. open Big Ten Conference play Tuesday night at the Kohl Center against No. 14 Purdue (12-1), which is No. 1 nationally in Ken Pomeroy's adjusted defensive efficiency ratings.
Regardless of the offense the Badgers run, they need to take better care of the ball and improve their shot selection. Gard notes that he'd like to see the players make crisper cuts, improve at knowing when to make cuts and avoid situations in which one side of the floor gets overloaded because of poor spacing.
Back on Dec. 16, when he was still wearing his analyst hat, Moore predicted that Gard would quickly put his own stamp on the offense.
"I think Greg's going to have to revaluate how they play and what they do," Moore said. "I wouldn't be surprised if you see him go back to the traditional Wisconsin basketball and running more swing and more of the things that have made Bo successful and Wisconsin successful."
Sure enough, Gard introduced the swing offense to the players in two light practices during finals week. UW only had two full practices before the UW-Green Bay game, but Gard felt his players had enough of a grasp of it to run a "very elementary" version vs. the Phoenix.
"It's nothing elaborate from a standpoint of spacing, ball and body movement, making sure our angles were proper," Gard said afterward. "You've seen it here before in different formats, called the swing."