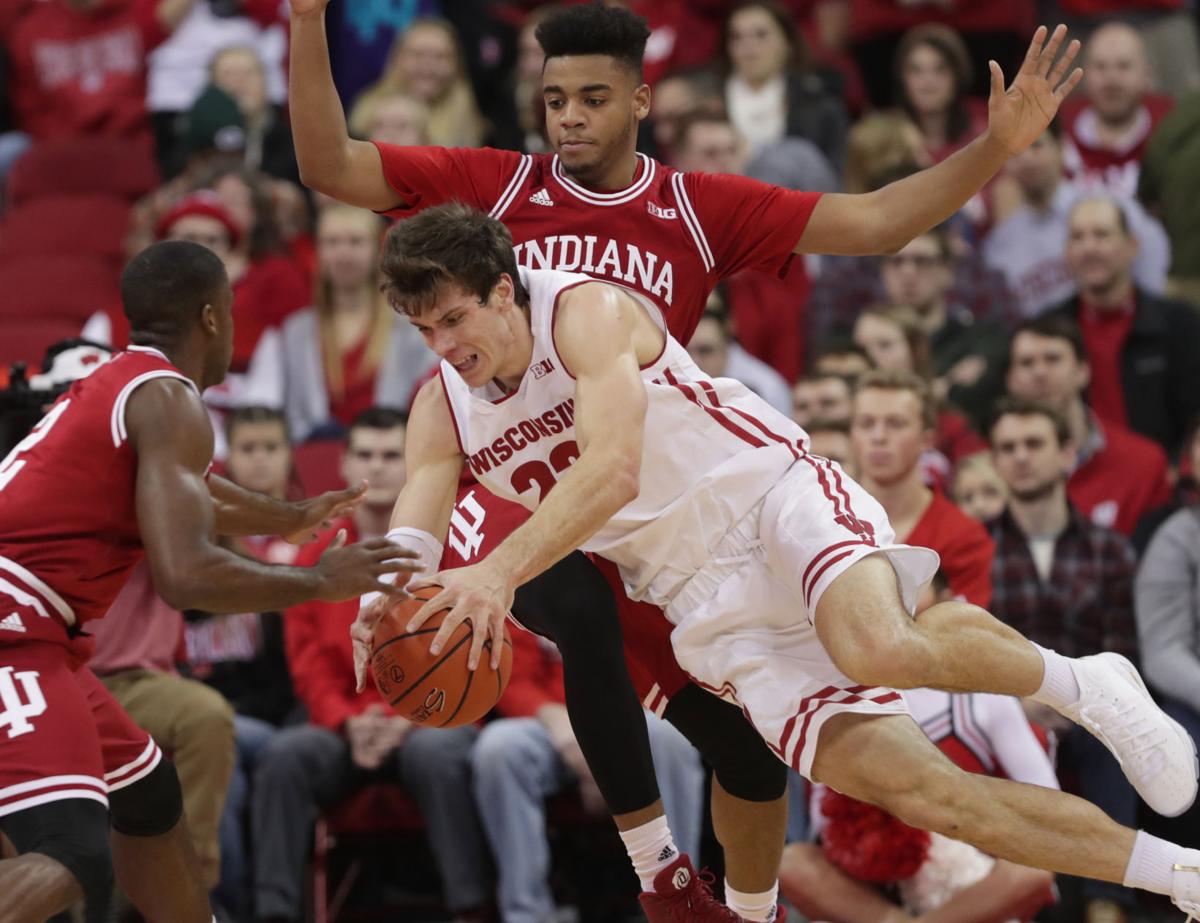 At one point Tuesday night, the University of Wisconsin men's basketball team used a lineup that included a redshirt freshman, a freshman walk-on and two former walk-ons.
In the first half of a Big Ten Conference game, mind you.
But the fifth member of that group just happened to be the player who set the tone from start to finish for the Badgers during their 71-61 victory over Indiana, the Hoosiers' 16th consecutive loss at the Kohl Center.
The injury bug bit UW again, but Ethan Happ was there to guide a depleted roster to its fifth consecutive victory. The junior center finished with a season-high 28 points to go along with 10 rebounds, four assists, four steals and two blocks.
"Happ," UW coach Greg Gard said, "was terrific."
He had to be. The Badgers (9-7, 2-1 Big Ten) were down three guards after sophomore Brevin Pritzl sustained a concussion after colliding with a teammate in a drill during the team's shoot-around session earlier Tuesday.
Photos: Wisconsin Badgers 71, Indiana Hoosiers 61
The Wisconsin Badgers men's basketball team defeated the Indiana Hoosiers 71-61 on Tuesday at the Kohl Center. 
Pritzl joined an injury list that already included freshman wing Kobe King, who's out for the season with a knee injury; and sophomore point guard D'Mitrik Trice, who's sidelined indefinitely after undergoing foot surgery last month.
The Badgers' backcourt is so depleted that Gard went with a starting lineup that included freshman point guard Brad Davison surrounded by three forwards and Happ.
Gard also relied heavily on two players who were walk-ons until being awarded scholarships prior to this season. Forward Aaron Moesch, the only senior on the roster, logged a career-high 25 minutes and junior guard T.J. Schlundt was on the floor for 20.
UW survived thanks to Happ and the fact it showed a collective sense of urgency that has been missing for the most part this season.
"In terms of the toughness factor, that needs to be our identity," Gard said. "That's something that we've shown in spurts, but we haven't shown it consistently enough sometimes. Part of it is guys that are going through a growing process and the understanding and appreciation of how important that aspect is, that it's not always pretty but there are times when you have to get gritty and grimy and gut things out and find a way."
Davison scored all 14 of his points in the second half to help UW outscore Indiana 41-28 after halftime.
The Badgers outrebounded the Hoosiers 20-8 in the second half and finished with a 15-4 cushion in second-chance points for the game. Happ grabbed six of UW's 13 offensive rebounds.
You have free articles remaining.
"I thought they did a really nice job, especially in the second half, of really playing hard, playing physical and the game really changed on the glass," Hoosiers coach Archie Miller said. "That was a big reason the game changed for us. We were really, to be honest with you, soft on the glass."
Indiana (8-7, 1-2) got a career-high 18 points from senior forward Collin Hartman, who entered the night averaging 5.3 per game.
Junior forward Juwan Morgan added 17 and senior guard Robert Johnson had 14 for the Hoosiers, whose only win at the Kohl Center came in 1998, the same year the building opened.
After allowing 1.18 points per possession in the first half, UW did a better job after halftime of shutting down Indiana's transition game and forcing the Hoosiers to take contested shots for the most part.
"We were just more aggressive and more forceful in terms of stopping the ball and forcing tougher shots," Gard said, "and then obviously doing a pretty good job of rebounding the misses."
Indiana, meanwhile, had no answer for Happ. He got Morgan and sophomore center De'Ron Davis in foul trouble in the first half, drawing six of the 10 fouls called on the Hoosiers in the opening 20 minutes.
Davis ended up playing only 10 minutes in the game, while Morgan was limited to 22.
"He gets fouled, he draws a ton of fouls," Miller said of Happ, who is averaging 19.2 points on 41-of-59 shooting in five career games against Indiana. "But as a player, you have to be smart, you have to understand where in his spots he likes to go. That's part of personnel, that's part of knowing the scouting report.
"I didn't think we did a really good job of defending Happ in particular, even in one-on-one situations of just understanding what he's going to try to do when he gets the ball in certain areas."
Happ scored six points during a 16-4 run in the second half that helped UW turn a one-point deficit into a 60-49 lead with 5 minutes, 26 remaining. He also had two assists during that stretch that led to 3-pointers by Davison and redshirt freshman forward Aleem Ford.
Davison and Happ combined for 27 of UW's 41 points in the second half, but junior forward Khalil Iverson (10 points) and Ford added baskets at key moments.
Moesch's stat line wasn't special — he finished with two points, three rebounds and two assists — but he gave Gard exactly what he was looking for: stability.
Happ said the Badgers needed "guys that come in, be solid defensively and move the ball on offense, and when it's opportune for them to score, they do. I think Moesch, especially, did a great job tonight of doing exactly that."
Be the first to know
Get local news delivered to your inbox!