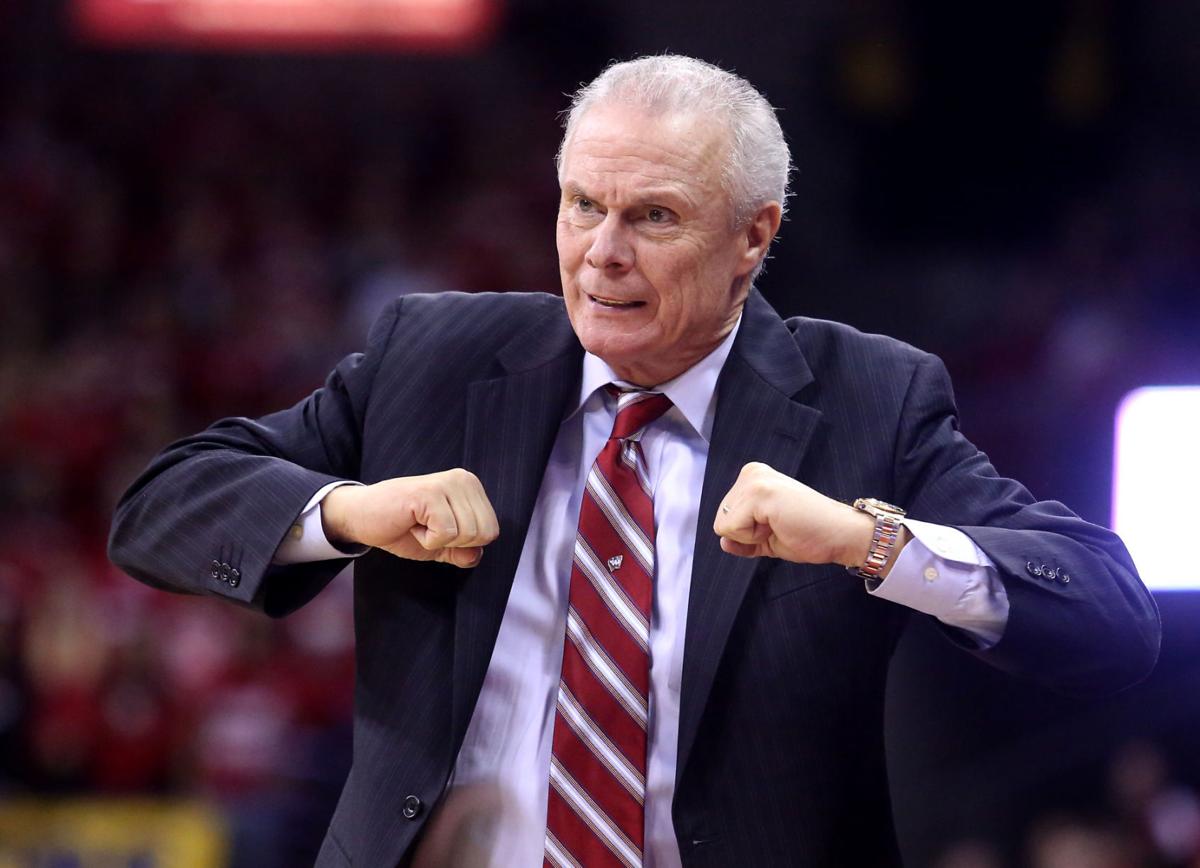 SHEBOYGAN FALLS — If you thought it was hard watching the University of Wisconsin men's basketball team in all those important games the second half of the season, put yourself in Bo Ryan's shoes.
Following his surprise retirement as coach of the Badgers in mid-December, Ryan and his wife, Kelly, spent the winter at their condo in Palm Springs, California, watching UW from afar as it turned its season around and eventually made the NCAA tournament under then-interim, now-permanent coach Greg Gard.
"I'm having fun on the golf course; I'm enjoying the weather," Ryan said Tuesday night in his first public appearance in Wisconsin since his retirement. "The toughest nights were pacing the kitchen watching the Badgers play."
The Ryans were superstitious as they watched, making sure they sat in the same place with each victory the Badgers piled up. Ryan couldn't stay put for long, though.
"Coaching was a lot easier than being a fan," he said. "Now I know why my dad never sat and watched when I coached. He always paced around."
Ryan retired on Dec. 15, saying the time was finally right to turn the job over to Gard in hopes of giving him a chance to prove to athletic director Barry Alvarez that he should succeed Ryan permanently. Ryan hadn't been heard from since then except for a short statement released after the story of his marital infidelity and UW's subsequent investigation into his use of university funds broke in early March. UW cleared him of any wrongdoing regarding the use of funds, but he has shed little light on what caused him to pull the plug when he did.
Appearing at the fifth annual Wisconsin Sports Awards, where he and Gard shared state coach of the year honors, Ryan didn't respond when asked if rumors about his private life had anything to do with him stepping down. Earlier, he reiterated he wanted to retire during the summer but didn't feel the time was right because Gard's father was terminally ill.
"It would have happened sooner and I wouldn't have had to come out in that interview on that walker that I did back in the summer," he said. "Unfortunately, his dad had been diagnosed with cancer, so some changes had to be made."
It ended well as Ryan gave Gard a chance to prove himself and Gard took advantage of it, coaching UW to a 15-8 record after a 7-5 start under Ryan. That came as no surprise to Ryan.
"You'd like to think that every once in awhile you made the right decision," he said. "There's other assistants I've had that could do the job. But Greg, what he did in every position I put him in, whether it was running camps, head of recruiting, scouting, whatever it was, his work was always top-notch. So he had it all going in and I knew he had the trust of the players, too."
Although UW had a young team after suffering heavy personnel losses from the group that reached back-to-back Final Fours, the way it played en route to its 7-5 start caused many to wonder if Ryan was fully engaged, a notion that gained momentum when the revelations about his private life became public.
Ryan disputed that, saying he "absolutely" was engaged early in the season.
"When we beat Syracuse at Syracuse and VCU in New York, all that was always the same," he said. "I looked at this team and saw some tough losses, saw those really good wins as it turns out, so it was just a matter of our guys becoming consistent. Greg is one of the most consistent people I've ever been around and I felt that he could really, really bring this group along."Gard did that well enough to earn the permanent job. He didn't win any national coach-of-the-year awards, though Ryan thought he should have.
Ryan said he and Kelly just got back from California and that they will stay out there even longer next year. He said they "had a blast just getting away and reflecting on a lot of things." Mostly, though, they were excited to watch the Badgers conjure up another special season, especially after the slow start.
"They just took off," Ryan said. "Greg and his staff and the rest of the guys, everybody was in unison and they were playing well. We were obviously a little inconsistent early. We maybe lost some games we'd like to have back, but also by beating Temple, VCU and Syracuse, we knew we had something and then those guys just finished it off."