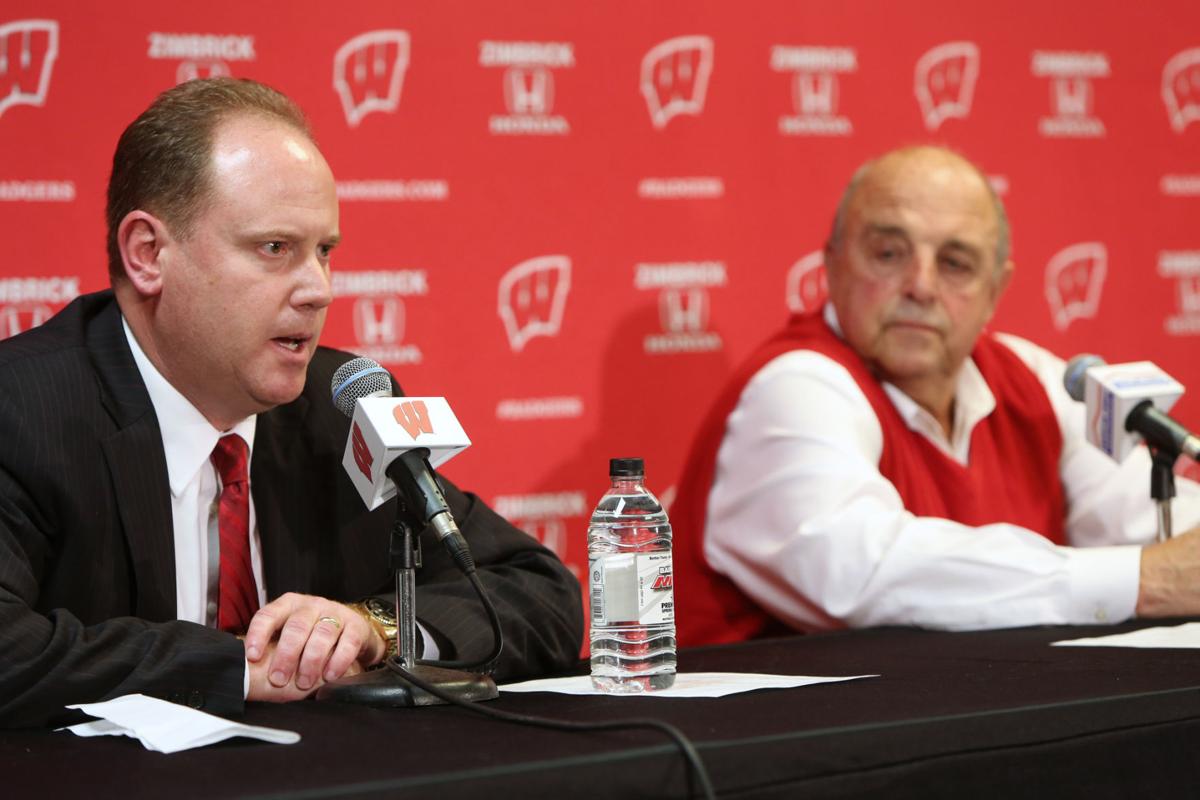 University of Wisconsin athletic director Barry Alvarez says he hasn't spoken to Bo Ryan since Ryan's stunning late-night announcement last Tuesday that he was stepping down as men's basketball coach effective immediately.
One important piece of correspondence did arrive at Kellner Hall on Monday, however: Ryan's signed retirement papers, officially ending his long and successful run at UW.
Interim coach Greg Gard, Ryan's longtime assistant, will be leading the Badgers (7-5) when they close non-conference play with a game against UW-Green Bay (6-4) on Wednesday night at the Kohl Center.
Even though nearly a week has passed, Ryan's abrupt departure is still head-scratching on multiple fronts. During an interview with the State Journal on Monday, Alvarez addressed the timetable of Ryan's retirement and also elaborated on what he expects to see from Gard.
Ryan said during his retirement announcement — he made a 10-minute opening statement after his final game, a 64-49 victory over Texas A&M-Corpus Christi, but left without taking questions from reporters — that he and Alvarez had spoken recently and decided semester break was the right time for Ryan to walk away.
Asked when the conversations about that specific end date started taking place, Alvarez said he wasn't sure.
It wasn't until Tuesday afternoon, just a few hours before the game, the situation had moved to end-game mode. Alvarez, along with deputy AD Walter Dickey and senior associate AD Justin Doherty, met with Ryan and two of his attorneys at Ryan's condominium.
"(Ryan) said he was ready," Alvarez said, "and felt this was the right time. And we walked through everything."
Gard, meanwhile, didn't find out until Tuesday afternoon. It seems odd that if Alvarez and Ryan had discussions about pulling the plug at semester break, that Gard, who would be taking over, wouldn't have been notified so he could begin planning.
Instead, Gard was left scrambling. Among the major items on Gard's to-do list is potentially finding an assistant to fill out the staff, a huge challenge midway through the season.
"I think that's when (Ryan) finally decided," Alvarez said. "He talked about it, but you know Bo well enough, just throwing things out. You don't know whether it's etched in stone. You don't know if he's ready.
"When I went to that game, I wasn't 100 percent sure. I thought I was. … But that doesn't mean he couldn't have changed his mind by the end of that night. But I was prepared."
Another puzzling thing about the timing of Ryan's announcement was he dropped a major bombshell on his players as they were preparing for final exams. Ryan spoke glowingly over the years about UW's academic reputation and how the student-athletes he coached were in school for the right reasons, so it seems odd he'd leave them with a major distraction during such an important stretch on their academic calendar.
Was Alvarez concerned Ryan's announcement would put undue stress on the players?
"Things happen when they happen," Alvarez said. "The thing I've learned, kids are resilient. Players are resilient."
Finally, Ryan said in October he wouldn't feel right retiring abruptly and leaving UW to fill his position with an interim coach. "That's not me," he said at the time.
A call to Ryan's cellphone on Monday went straight to his voicemail, which was full. Ryan didn't return a text message seeking comment about the timing of his departure.
Alvarez, for his part, said Monday that he doesn't feel like Ryan left him in a bad position.
"I think it's really an easy transition, quite frankly," Alvarez said.
Gard said Monday he's in the process of meeting with each player individually. He has decided to close at least the first four full practices of his era — two prior to the UW-Green Bay game and two more before the Badgers begin Big Ten play against Purdue on Dec. 29 — to the media.
When Ryan was in charge, practices at home were typically open to the media for at least an hour.
"I wanted to make sure that there was one voice in that practice," Gard said. "They've had to deal with enough distractions; with finals, their minds are in enough places.
"You have so many young guys going through it for the first time that I wanted to make sure that when we were in there, it was just us. This is what's most important. Eventually, in the coming days we'll open it back up as normal, but to start with here, I wanted to make sure the communication is really smart and clear."
After Ryan announced in late June the 2015-16 season would be his final one with the Badgers, Alvarez said he'd open up the job to a national search. Nothing has changed in that regard, he said Monday.
"I always keep a short list," Alvarez said. "I have a short list of people that I would be interested in and Greg is on that short list. This is an audition for him. It's a great opportunity for him."
The one major item missing on Gard's resume is head coaching experience. Now, he'll have at least 20 games of experience under his belt at the season's end.
"It gives Greg an advantage," Alvarez said. "I think it puts Greg in a spotlight where he can show to me and a lot of other people that he can handle the job. He can make decisions, he can manage kids. He can handle all the things that come up around being a head coach."
There's no question Gard has a significant challenge in front of him. The Badgers, who have four freshmen in their eight-man rotation, already have lost three home games during non-conference play.
After it appeared UW turned a corner with victories at then-No. 14 Syracuse and at home against Temple, the Badgers looked awful at times during back-to-back home losses to UW-Milwaukee and Marquette and an ugly win in Ryan's final game.
Ups and downs were expected from an inexperienced group — five key players are gone from a team that won a program-record 36 games in 2014-15 — but it appears UW took a major step backward over the final week of the Ryan era. The Badgers look particularly lost at times on offense.
Alvarez said he'll look beyond wins and losses during Gard's first few months on the job.
"I'd like to see them get back to playing our brand of basketball," Alvarez said. "I'd like to see them grow. I'm not naive to think we're the same team we had the last two years. But when you have a young team, you want to see growth.
"I want to see competitiveness, a team that's well-coached, well-drilled. I don't want to see a lot of turnovers. I want to see us play like we normally have — make people beat us."